Letters: 'It Is Devastating Every Time I Read of Another Child Who Was Not Protected'
Readers respond to the story of one child's fatal abuse—and the child-welfare system that failed to save him.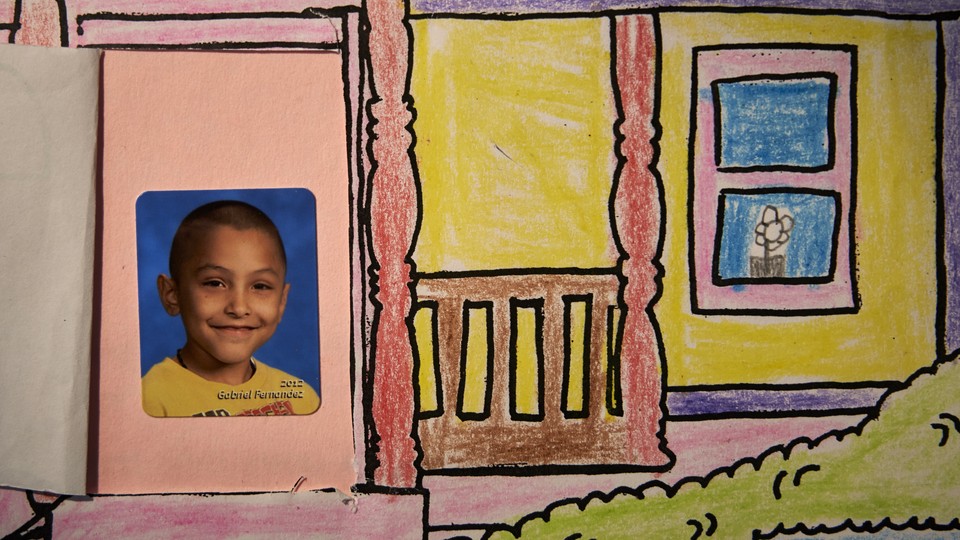 Why Did No One Save Gabriel?
Gabriel Fernandez was 8 years old, and the signs of abuse were obvious. Yet time and again, caseworkers from child-protective services failed to help him. In a recent article for TheAtlantic.com, Garrett Therolf investigated what went wrong.
---
Thank you for this thoughtful piece. Also, thank you for not weaving this story into a cheap political narrative. This is an American tragedy and we should all own it. As an infantry officer in the Marine Corps, I consider myself pretty assertive, but I had to ask myself, would I have done any more than the security guard, Mr. Martinez, did? This story, while painful to read, forced me to ask myself tough questions about how far I would go if I had suspicions about child abuse. I will personally recommit myself to trust my instincts and fight for those who are the most vulnerable. I hope enough people read this story and find the courage to decide not to be bystanders.
Major Nickoli Johnson
Oceanside, Calif.
---
Thank you for your superb reporting on the case of Gabriel Fernandez. The noun case deserves an appropriate adjective in this instance, but no word in my vocabulary seems remotely appropriate, as even horrific fails as an adequate depiction of the child's abuse and suffering. Tears flowed three times during my reading of your report, so anguished was I by your description of the failures of so many responsible adults to save this child when given not just the opportunity but the duty.
Why wasn't Gabriel saved? Your reporting makes a case for multiple contributing factors that seem to fall into three interrelated categories: (1) people, (2) incentives/disincentives, and (3) systems/processes. Had even one person among many who had the opportunity made a firm decision to save the child, he likely would be alive today. But even those most troubled by their observations and motivated to help allowed themselves to be persuaded, out of concern for their job, to stop short of saving Gabriel. Money appears to have played a significant role—the fewer children sent to foster care, the better, from the bureaucracy's financial standpoint. Software and processes were easily evaded and subverted.
So we have the wrong people in positions of grave responsibility, many of them acting badly; we have an incentive structure at odds with what should really matter, which is saving children from abuse; we have ostensibly good people failing to act out of fear for their jobs or how their superiors will view them; and we have supervisory and management systems that fail to detect or prevent irresponsible, negligent, or even criminal conduct by those responsible for protecting children.
But as you reported, this is not a one-off nightmare, and Los Angeles enjoys no monopoly on failed child-protective services. Thus, the question I beg your pardon to ask: What do you think should be done, based upon what you've learned? As a society, what changes can we make to greatly reduce the chances of future cases such as Gabriel's?
John Harris
Tomball, Texas
---
I was deeply moved by Garrett Therolf's article, "Why Did No One Save Gabriel?" I'm glad that you so thoroughly and eloquently covered this important story.
As someone who has spent many years working with child-welfare departments across the country, I have seen the complex problems illustrated by Gabriel's story in many state and county systems. Some of these problems are truly what C. West Churchman would call "wicked problems"—problems that, because of complex interdependencies, when effort is made to solve one aspect of them, other problems may be revealed or created. The issue of parental rights is just one such problem, since protecting children often means terminating a parent's right to care for them.
Right now, across the country, many in the child-welfare field are reading this article and finding within it a reflection of the system in which they work. Often, those people are decent, hardworking, and idealistic, and they hope that what they do everyday will make a difference. Articles like this one, however important, will only serve to disillusion the very workers who came to help these vulnerable children in the first place.
I would challenge your magazine to not let this article be your last word on child fatalities or the child-welfare system. If you want to move this issue forward, to really build support for a robust, comprehensive child-welfare system that works, help the field by finding the answers to these problems. An article of this depth about positive change in the child-welfare system, or radical ideas for positive change in the child-welfare system, would be extremely helpful. It could help point the way for many in the system to be champions. It may even give them hope to go on helping these kids in spite of the systems they find themselves in.
Thanks again for this important article, and for bringing a very needed, complex, but human face to this issue. Please don't make it your last word on the subject.
Michael Stiehl
Evanston, Ill.
---
I am a licensed clinical social worker and worked for the Los Angeles County Department of Children and Family Services (DCFS) from 1987 to 2000. I began as a children's social worker in what was then referred to as South Central Los Angeles. My last five years were spent working as a manager at the downtown headquarters. I was part of the team that initially developed Family Preservation units. I represented DCFS and was part of the Los Angeles County Child Death Review Team, the Los Angeles County Domestic Violence Council, and numerous other multidisciplinary projects that were considered cutting-edge at the time. A constant were the "bad apples" in DCFS, who were tolerated and frequently promoted. I witnessed firsthand how atrocities within the department hindered child safety, which negated any of the good work being done by some of the well-qualified and caring people at DCFS. It is devastating every time I read of another child who was not protected. The headlines today in 2018 are the same headlines as when I began in 1987. It is a truly horrific system that has completely failed, and it is truly unfathomable that there are children's social workers today who are so lacking.
Elly Baidoo
Santa Monica, Calif.
---
"Why Did No One Save Gabriel?" is a heartbreaking reminder of the challenges facing a child-welfare system that tries to keep children and families safe against the frightening reality of parents who do the unthinkable. As the director of the Los Angeles County Department of Children and Family Services, the largest child-protective-services agency in the nation and where Gabriel's case took place five years ago, this article really hit home.
After Gabriel's tragic death, Los Angeles County convened a blue-ribbon commission and began pursuing a series of child-welfare reforms to help change the way we do our work. Thousands of social workers were hired to reduce caseloads and provide the one-on-one time that workers need to really engage with families and support children. We revamped our training program to provide simulated real-life case examples in a more collaborative learning environment and tools to help social workers identify signs of abuse and neglect.
I came to Los Angeles County last year after having led Georgia's child-protection agency, and I have seen firsthand the meaningful changes the department has made since these recommendations were implemented. Social work is a field that must continually be evaluated for improvement and refined with new and best practices. With that in mind, I have also identified additional opportunities for improvement through an enhanced operations plan, which will help our agency be more reflective and evaluate new strategies to help us better protect the most vulnerable children in our community.
I got my start in life as a foster child, adopted as an infant from an orphanage into a loving home, thanks to the help of a social worker. I went on to dedicate my entire professional career to the calling of child protection. And I know that there will never come a time when we can sit back and say there isn't more that we can all do. We must relentlessly pursue every opportunity to ensure that the most vulnerable children in our communities are protected and able to grow
up in stable and loving homes.
Bobby Cagle, M.S.W.
Director, Los Angeles County Department of Children and Family Services
---
Garrett Therolf replies:
I am so gratified by the outpouring from readers in response to Gabriel's story. My editor and I honestly worried that the circumstances were so grim, and the impulse to look away so strong, that it might not find such a large, engaged audience. I'm thankful to be wrong.
For me, personally, one of the most depressing realities in the story is that child protection is one of the very few lines of work where almost everyone operates under the assumption that some child deaths are inevitable, no matter how hard we try to stop them. As the story notes, since Gabriel's death, 143 children have died of abuse following involvement with Los Angeles County's Department of Children and Family Services. That's the capacity of a commercial airliner. I think we can reverse the assumption that so many children will die this way, just as we did in a previous generation with the airline industry, where safety is paramount and commercial-airline crashes are never seen as inevitable.
To do this, and to answer John Harris's question about what should be done, experts believe that we need many different solutions. Every so often, someone comes up with a magic-bullet initiative—and child welfare seems especially prone to fads—but the fundamentals are what count most. We need to have enough caseworkers to process the flood of calls, and they need to have the expertise they don't always possess to decipher what's going on and how it should be addressed. Requiring a master's degree in social work is one way to improve on this. Pairing caseworkers with public-health nurses, especially when the alleged victim is younger than 1 year old, is another measure that has shown good results in the few places where it's been tried.
Another good step is to weed out bad apples among agency staffers. Then the parenting classes and other programs we use to heal families need to be tested to determine whether they actually affect maltreatment rates.
Outside of the child-protective-services agencies themselves, we need everyone to follow Major Nickoli Johnson's pledge to take personal initiative anytime he sees real danger. I also agree with Michael Stiehl that reporters like me need to pay attention to what's going right, and I've tried to do that over the course of my career.
One of the programs frequently mentioned in Los Angeles as a bright spot is one that Bobby Cagle highlights in his letter: the simulation lab where caseworkers are trained with actors playing out some of the complex situations they will confront in the field. I had recently planned to visit the lab and document its work, but my appointment to do that was canceled after I reported on the death of another child who had been overseen by DCFS. (The department said the denial came because it was overwhelmed with media requests about this particular case and that staffers were reluctant to participate in visits by reporters.)
Coincidence or not, secrecy following bad news is contagious. It's understandable that a beleaguered agency would react this way, but if the programs the director touts are ever to gain real credibility and support, reporters and members of the public need to be able to take an independent look at the good and the bad. In a democracy, there's no other way.