Letters: 'The Orca Should Not Be Seen As a Vanity Project'
Readers reflect on the lessons of a grieving whale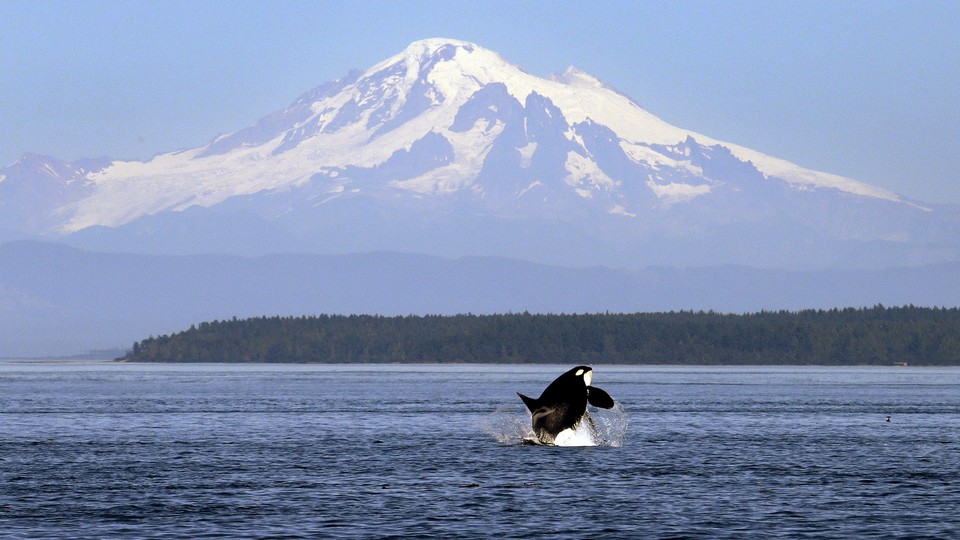 What a Grieving Orca Tells Us
In August, Ed Yong wrote about Tahlequah—the Pacific Northwest orca that carried around her calf, who died shortly after birth, for 17 days—and how she exemplifies the larger plight of killer whales.
---
Thank you for Ed Yong's thoughtful "What a Grieving Orca Tells Us." As a Puget Sound resident, I've felt Tahlequah's grief as keenly as others in our region. It is not anthropomorphizing to acknowledge that another species clearly demonstrates cognitive and emotional intelligence, though it is different than humans'. Tahlequah, J-Pod, and other orcas are members of our community. We're as responsible for their survival as our own.
Yvette Waters
Redmond, Wash.
---
Ed Yong writes movingly about the threat to the southern resident orca community. He talks about the decline of salmon from overfishing; about climate change, toxic chemicals, and warming waters; and about sonic pollution and marine traffic.

It's ironic that it takes a threat to the survival of such charismatic megafauna as these family-centered mammals to attract sympathy and attention. As in so many other crises we humans now face, we tend to focus on the symptoms and not the disease: in this case, the rescue of the apex predator and not the root cause, which is our way of life. Climate change and the strip-mining of ocean life are what threaten the whales. Our unsustainable lifestyle and cultural assumptions need to change, radically. Whatever quixotic plan the well-meaning Washington Governor Inslee comes up with will not be nearly enough.

And what hubris to think that we can, like some technological deus ex machina, swoop down and make things right. Our faith in ourselves and our inevitability will lead to our demise. The orca should not be seen as a vanity project for the protection of a picturesque species. These animals should be seen as the canaries in the coal mine they are.
Dr. Brian P. H. Green
Thunder Bay, Ontario
---
I really enjoyed your article on the orcas.

It is sad that we cannot take steps to protect wildlife, instead of acting to remove protections that have previously been put in place. Consider Trump's appointment of administrators who are undermining the purposes of the agencies they head, and his denial of human-caused global warming as he expands carbon-based fuel outputs. In Florida, Governor Rick Scott is stripping funding for environmental programs, which may have played a role in the latest round of red tide and other algae blooms along the east and west coasts—areas in which I grew up and spent my days on the water as a kid and teenager.

What blind greed has done to our environment is simply outrageous.
Andrew Coutant
North Haven, Conn.