Letters: 'Cute, but Is It Really Worth Keeping?'
Readers debate the proposition that it's okay to toss children's artwork.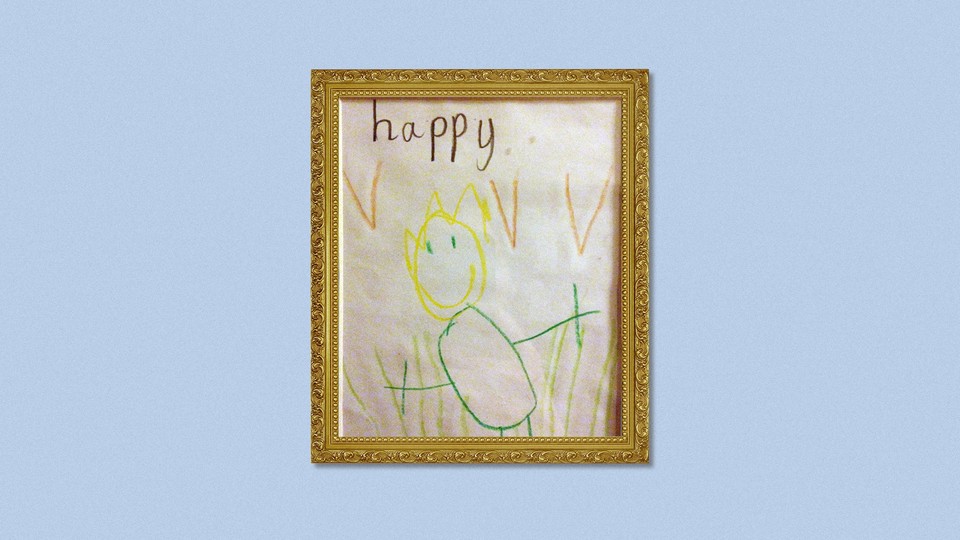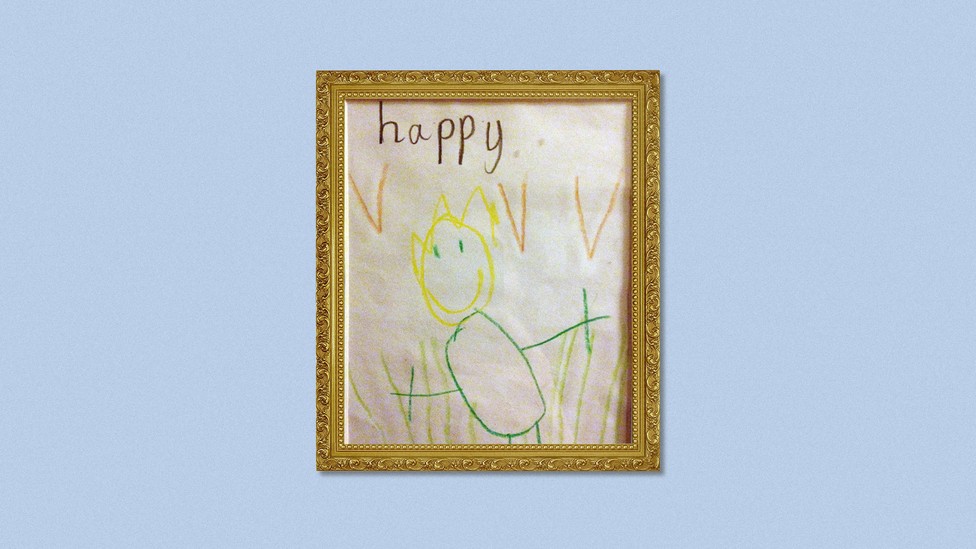 Throw Your Children's Art Away
"The point of life isn't to prolong youth, but to have grown up," Mary Townsend wrote recently, advocating for parents to throw away their children's art. "That requires discarding things along the way, and enjoying the appropriate relief."
---
We have a framed picture of two sunflowers that my son, Sebastian, painted in elementary school. I would never discard that picture, or indeed any of the earlier scribblings from his infancy, later hand-drawn Father's Day and birthday cards, or sketches made as he grew older. I can't imagine finding any reason to do so.
Memories fade, become distorted, or retreat into a locked chamber of our minds. Those pictures, however simple or primitive, return to a parent not only the memories of periods of a child's life but also the emotions of love, pride, and the unbreakable bond between a parent and a child. They salvage from the depths of our souls the sensation felt when little hands in front of an expectant and precious face offer their artistic renderings as if to say, We are in this together. This is for you. It is so much more than a memory.
Sebastian died in May 2015 at age 20. The death of your child is a devastating and lifelong injury. Those paintings, drawings, and scribbles are an integral element of my long and painful healing process. It is far from over.
Matthew Witt
Vancouver, British Columbia
---
My son died when he was 17. I cherish the art he made at all ages, and I wish I had kept more of it. It is all we have anymore.
David Foreman
Philadelphia, Pa.
---
Many parents now may well choose to keep and discard their children's art via a junk drive and a camera. That seems the best alternative to me. I have often wished my parents had saved at least an example of my art at various ages. The earliest evidence of my art is a photo of me at age 4, sitting at the blackboard that my wonderful parents had placed on the kitchen wall. My chalk drawing is of a kitty. No one minds that chalkboard drawings get erased, as that must happen in order for more art to happen. I also have a painting on glass of a red bird from first grade (photos were placed under glass and we were to duplicate them), and my first oil painting from age 13 (a still life), when I took private lessons. These are treasures. After I am gone they may not mean anything to anyone, but they are heartwarming to me, because they serve to remind me of my parents' support of my art talent.
I hope parents will digitally document and treasure their children's art. After all, some of them may grow up to get art degrees and produce meaningful art that makes the world a better and more beautiful place.
Jim Harris
Saunton, Va.
---
Digitize it. Take pictures of it. Let kids decide for themselves what to do with it when they grow up.

Renata Homolya
Seattle, Wash.
---
The same might apply to 90 percent or more of parental photography, especially with the first child.
Robert DeLisle
Battle Creek, Mich.
---
Why not delete the videos of my 5-year-old daughter trying to shoot a basketball? She's absolute garbage; she's made two baskets after about 50 attempts. I have the video; it's adorable.
We don't always remember how much we've improved, or how we've developed over time. Capturing and saving the highlights of my child's past can be a good thing, and both she and I can appreciate it later on.
Michael Perenich
Clearwater, Fla.
---
My first thought after reading Townsend's article on tossing children's art was to ponder the age of the author. I am nearly 70 now and made a major move just three years ago. At the time, my husband and I went through boxes and filing cabinets filled to the brim with bits and pieces of our lives together, which included raising three children. We were pretty good about tossing things that were nothing special and things we thought the kids would not really be interested in. But among the things we did keep were a number of their art projects. Some we kept because the kids had had art lessons from their aunt for a few years, so their projects had actually gotten pretty good—a few are even framed and hanging in the living room. Others, although not worthy of framing, were saved anyway. Why? Not because they were valuable to anyone, not because the kids might treasure them someday, but because they made us smile when we looked at them. In my middle age, I would see them and think, Hmm—cute, but is it really worth keeping? Is it just clutter?
I'm so glad I kept their work. We didn't save it for them—we saved it for ourselves in our old age. We sat together and read essays written for college admissions, and first attempts at a short story, and we looked at many, many paintings after an early one that appeared to be a bunch of scribbles, which my 3-year-old told me was actually a group of cats hiding behind their tails. Another picture that I am glad we kept is a very wobbly still life of a vase of flowers on a table; the charm of it is the open window with the curtain blowing that was added halfway through the project because it was getting hot in the room and she decided her painting was probably feeling the heat, so she opened a window. If she hadn't commented on it while painting, I would never have known. When I look at it now, I smile. Report cards from teachers take me right back to fourth grade, fifth grade, a teacher I truly admired, a fund-raiser I helped with. Sometimes you have to be patient and wait until more time has passed before you decide whether something is of no value anymore. That doesn't mean that I like clutter or hoarding—just that if you have room for a filing cabinet or a couple of boxes in a closet, then don't be too hasty about tossing out simple daily memories of the life you lived and the people who were with you.
Now on to our next move, which is in three weeks. I have already packed the little kneeling man made of black modeling clay, created on a cloudy indoor day for no reason at all.
Sylvia Wallace Myrvold
Long Beach, Calif.
---
Several readers responded on Facebook:
Eileen Minor Spillman wrote: A wise person referred to children's art as a process not a product. I feel like they are a history of my child's artistic progress though. I try to save a few pieces from each stage as historical artifact. Recently, at 14, he started scanning them into the computer and tossing them. Why didn't I do that?
---
Robin Crandall wrote: Today, after sending my youngest off to college this past weekend, I was cleaning out closets and came across the box of some of his saved artwork. Admittedly, I've tossed much of the artwork over the years, but I cried today over these pieces I'd saved, especially the intricate doodles of a one and two year old ... I'm glad I have them ...
---
Jonathan Daniel wrote: My mother used to send me things she kept from my childhood creativity or letters from camp and they were all crap! The letters were fun to read once, but then I tossed them. Keep a digital record and back it up onto a CD or memory stick. Send the memory stick to the grown kids and let them do with it what they want.
---
Jason Zigray wrote: I still have a great deal of mine, and I love flipping through my life through my portfolios. It brings back so many memories. Two or three of my pieces are framed and on my walls, along with my pottery, which is all over my place. I love it, and guests seem to notice it as well.
---
Emily K. Wilson wrote: My son drew a family picture last spring after our dog passed away. He drew it because he never wanted to forget what she looked like. He was a few months shy of 6. I framed it. I love it. It was his way of coping with our loss.