What Should the Girl Scouts Stand For?
In 1955, readers weighed in on changes made to the Girl Scout Handbook and the international objectives of the organization.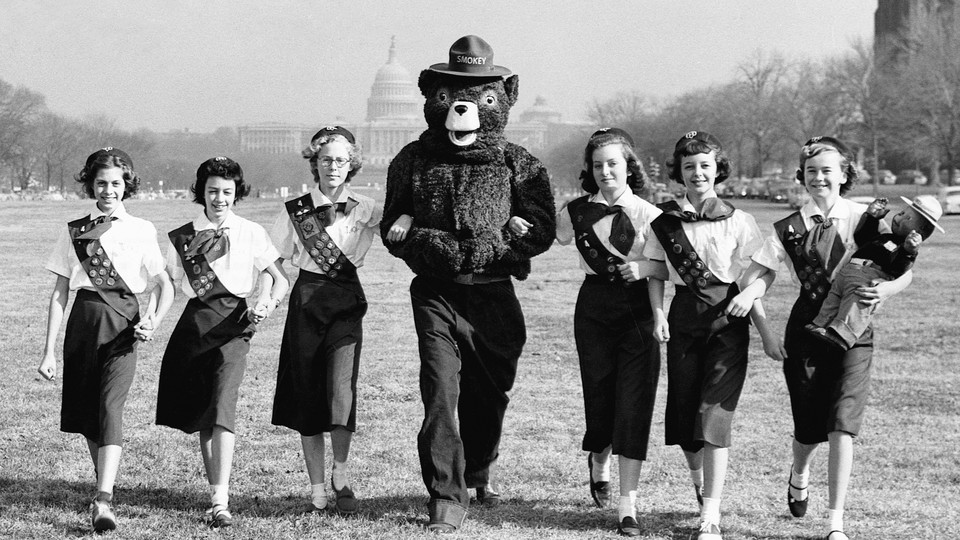 Letters from the Archives is a series in which we highlight past Atlantic stories and reactions from readers at the time.
---
When Juliette Gordon Low founded the Girl Scouts of the United States of America in 1912, her vision was one of international understanding and cooperation. It's unlikely she anticipated backlash from far-right extremists. But 42 years later, in March 1954, an article in an "ultraconservative magazine" criticized the organization's internationalism, and sparked a wave of isolationist sentiment in response to its founding principles. People sent letters to the Girl Scouts' headquarters; organizations such as the Illinois Legionnaires spoke out condemning the group. The debate even came up in Congress. At headquarters, this response caused a panic: Over sixty changes were made to the Girl Scout Handbook as a result of the outside pressure.
In the May 1955 Atlantic, Ben H. Bagdikian published an analysis of these modifications. Bagdikian discerned that the changes had more to do "with the climate of the nation" than the ideals of the organization itself. Juxtaposing language from the 1947 and 1953 versions of the Handbook and the "emergency pamphlet" sent to scout leaders in 1954, he wrote of a "growing nervousness about international friendship":
Page 86. Change the sentence beginning with Line 2 to read: "Service is your way of making a contribution to your community." A few months before, it had read: "Service is your way of making this a better world in which to live."
Among other things, the activists had pushed for the Girl Scouts to limit references to the United Nations, eliminate references to international professionals who had once been presented as role models, and remove language that emphasized Low's original concept of engendering "One World."
Bagdikian concluded that because they were prompted by outside actors rather than members themselves, the changes littered throughout the Handbook ultimately did not affect the core values—"idealism, good citizenship, and international friendship"—or practices of the Girl Scouts. First and foremost, they were meant to appease extremists who felt internationalist language was "un-American" and had "dangerous political connotations."
In The Atlantic, reactions from readers ranged widely. Katherine G. Fenimore Cooper from New York City, who alluded to being involved in the organization, understood the inclination to keep principles apolitical: "It has long been a policy of the Girl Scouts not to take part in anything political or controversial in nature," she wrote. While she personally supported the United Nations, if references thereto were "objectionable to many, [they] should be deleted." Her letter elicited a direct response from the editor of the piece (who remained anonymous). He explained that through their research, he and Bagdikian found that commitment to the United Nations was "a national policy endorsed by both parties for a decade and objected to today by only a very small remnant of rabid isolationists."
As someone who had served in the armed services, William A. Pease felt "ashamed" that the proponents of isolationism had become powerful enough to "intimidate so great an international influence as the Girl Scouts into acquiescence." While "boastingly proud" of some of his fellow countrymen, he felt "ashamed" of others who were associated with McCarthyism. It was "paradoxical," he explained, for people "who fought in three wars for an international cause" to "sever" themselves from internationalism.
No one felt more passionately, however, than Jean Gleason, a former Girl Scout from Berkeley, California. To begin with, she wished the article had contained "a little more editorializing." If she were a scout under the new rules, she wrote, she would have "serious doubts about the competence" of her leaders and "be pretty sore about their lack of courage in backing up their own convictions." If she were a leader, asked to keep quiet about these changes, she believes her "impulse would be to yell bloody murder instead" or, at the very least, "ask the National Council a few questions." While Bagdikian seemed to think everything would turn out alright, Gleason felt the policy of appeasement was "downright dangerous":
I'm not against compromise as such—in fact, I know of no way of existence that doesn't include it. But as a way of life, it's for the birds. Any belief that's worth believing in is worth fighting for.
As for the future of the organization, Gleason wrote, changes would have "tragic consequences":
How much more respectable it would be for its leaders and members to be willing to battle a bit for their beliefs, whether they concern internationalism or the correct way to tie a square knot!