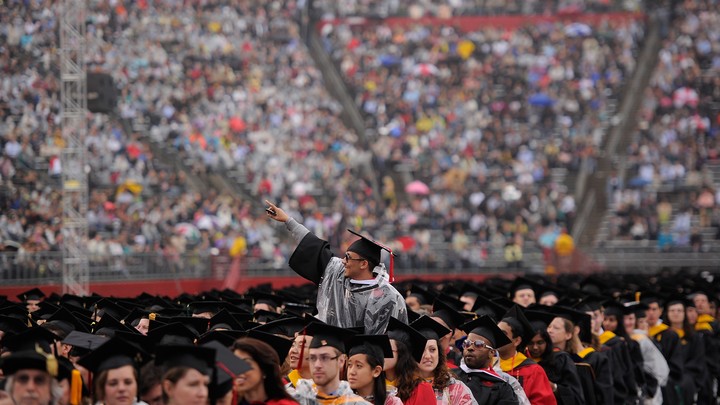 American Higher Education Hits a Dangerous Milestone
Ronald Brownstein reported recently that state funding for public colleges and universities has declined as student populations have become more racially diverse.
---
Ronald Brownstein accurately documents the catastrophic loss of public confidence in American higher education, but the causes may be more wide-ranging than he suggests.
The past several decades have seen a marked deterioration in academic quality due to overspecialization and the unravelling of core curricula. Over the last few years, we've witnessed a crisis of free speech and academic freedom on college campuses that has occasionally spilled over into outright violence at places like Middlebury and Berkeley. Against this backdrop, tuition has steadily increased—in large measure to fund expansive university bureaucracies—which has contributed to a staggering $1.5 trillion in student debt.

It's no wonder that states are questioning whether tax dollars are being effectively spent. For public higher education to flourish, universities will need to regain the trust of the communities they serve through a renewed focus on academic quality, viewpoint diversity, and reigning in spiraling costs.
Nicholas Barden
Administrative Director
The American Council of Trustees and Alumni (ACTA)
Washington, D.C.
---
Several readers responded on Twitter:
This is Reagan's legacy. When he became governor of CA in 1967 he argued higher ed was a private good. As demographics changed he continued that as president. So now lawmakers look nothing like most kids being born today, so they openly say "those... https://t.co/6atKehF4uk

— Walter M. Kimbrough (@HipHopPrez) May 4, 2018
---
This troubling milestone illuminated by @TheAtlantic in this article exposes the fatal flaw in Bernie Sanders Free College proposal. As the student body in public universities grows more diverse, government support for college education decreases. https://t.co/yUG7nhpZwF

— (((🌊Nasty Cajsa🌊))) (@Cajsa) May 3, 2018
---
I wish more more voters and elected officials in the US faced up to the consequences of this nearing future now and worked vigorously towards funding public education well. A superbly educated citizenry is an inherent public good.https://t.co/Tr55cQb0ya pic.twitter.com/ztJVWWoB5p

— Jeffrey J Cohen (@jeffreyjcohen) May 6, 2018
---
The way I see it, shifting the burden of funding higher education to individual students is not just economically disastrous, it has also accelerated levels of injustice and inequality. It doesn't have to be this way.https://t.co/z8OotRXUJu

— Matthew Williams (@matthewcw) May 3, 2018
---
Ronald Brownstein replies:
Nicholas Barden's letter advances arguments against higher education that have grown common among conservatives. Undoubtedly some legislators' distaste for the academic policies public higher education institutions pursue explains part of their resistance to funding them at levels comparable to earlier generations. But history suggests that states are still pursuing a very different approach to public higher education today—when the student body is increasingly diverse—than it did during the 1960s and early 1970s—when the level of campus unrest was far greater, but the student body remained much more preponderantly white.
As I calculated in a column a few years back: "The contrast with the baby boomers is revealing: Measured in inflation-adjusted dollars, tuition for public universities increased by about $450 from 1964 to 1976, while waves of boomers attended. By contrast, public-university tuition soared by more than $3,200 from 2001 to 2012 as the millennials poured onto campuses." Tuition has increased at public colleges and universities another 15 percent since then. In public policy, as in political scandals, the best advice remains: Follow the money. It speaks loudly about priorities. And the money trail in the funding for public higher education shows a clear determination, unfolding everywhere but often most rapidly in red states, to shift the burden from the community collectively to families individually precisely as the student body is reaching historic levels of diversity.
We want to hear what you think about this article. Submit a letter to the editor or write to letters@theatlantic.com.