Letters: Legalizing 'Free-Range' Parenting Is a Step in the Right Direction
Readers push back on the notion that 'free-range' parenting laws benefit some more than others.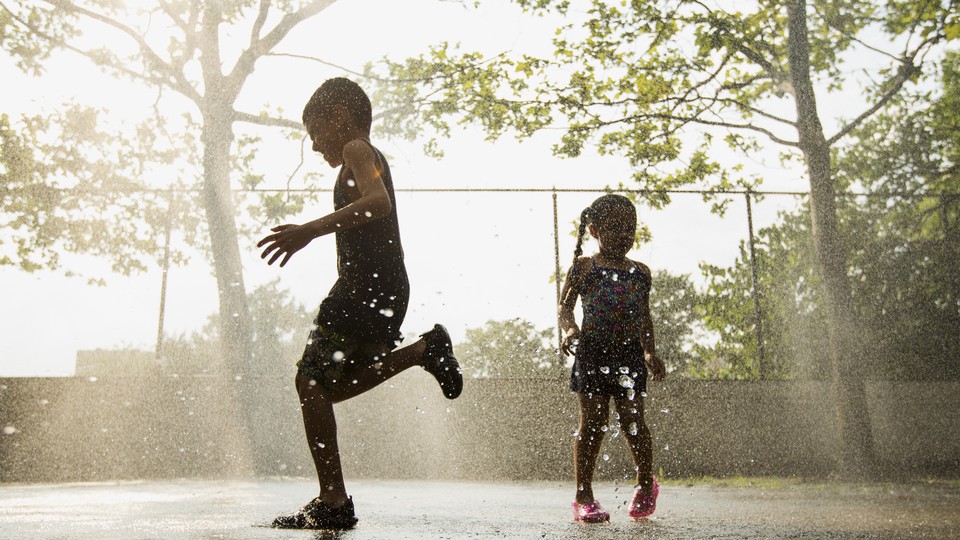 'Free-Range' Parenting's Unfair Double Standard
In a recent article on TheAtlantic.com, Jessica McCrory Calarco examined Utah's new "free-range" parenting law, and argued that issues of interpretation may put poor and working-class families—particularly poor families of color—at a disadvantage.
---
Is the "free-range" parenting bill that passed in Utah "unfair" to the poor and people of color, as the title of a piece by sociologist Jessica McCrory Calarco suggests?
It is not. When helicopter parenting becomes the only legal way to parent, we all lose—those who choose to give our kids some independence and those who, because of necessity, must. No decent parent, rich or poor, should be second-guessed by the state.
Is it possible that some people in authority—cops, child-protection workers, judges and prosecutors—may interpret or apply the law unfairly? Unfortunately, yes. But that is true of any law. The "free-range kids" law exists to protect all families of all backgrounds from government intervention triggered by everyday parenting decisions.
I'm the gal who coined the phrase "free-range kids," prompted by the massive media blowback to a column I wrote in 2008, "Why I Let My 9-Year-Old Ride the Subway Alone." Joyce McMillan, the head of the Child Welfare Organizing Project, told me in a phone call that she's glad about the law. "They call it 'free-range parenting,' I call it 'the rights of parents.' We all have differences we raise our children by." She's thrilled that the Utah law says those differences are no longer enough of an excuse to investigate a family. The less opportunity to open a case, the less opportunity to break up a family.
The New York University law professor Martin Guggenheim added that the law "liberates parents legally to make child-rearing decisions for themselves. And, although it is true that officials will discriminate against poor parents by denying them the freedom that privileged parents enjoy, [these] efforts help contribute to establishing the principle of what all parents have the right to do."
But beyond the right of parents to raise—and keep!—their children, the law actually recognizes another class of humans whose rights have been trampled: Kids.
The other day I got a note from a Newton, Massachusetts, dad of three, Irwin Jungreis, who put it perfectly:
People have a right to freedom and kids are people. Childhood is a significant fraction of a person's life and to deprive them of freedom year after year can only be justified if it is absolutely essential for their future well being. There is no evidence that the level of control overprotective parents are exercising over their children is essential for their future well-being, and without such evidence we  must defer to giving them more freedom. Society must stop thinking of the rights of children as dispensable, just as it used to for women and minorities.
Amen. A law that protects the rights of moms, dads, and kids is a good thing for all Americans. Here's hoping it gets passed in the other 49 states.
Lenore Skenazy
President, Let Grow
Founder, Free-Range Kids
Queens, N.Y.
---
Jessica McCrory Calarco objects that Utah's new "free-range" parenting law  "benefits some families more than others." The new law allows parents to make reasonable decisions that their children can play outside, sit in a car while their parent runs into a store, or stay home alone after school, all without facing neglect charges. She complains further that Utah's new law, and the broader "free-range" parenting movement, are "susceptible to a problem of interpretation."
What law and what movement aren't?
More significantly, McCrory misses the larger context: Neglect laws currently are sweeping in millions of poor and minority families under amorphous standards.  These laws and policies  allow child-protection caseworkers to declare healthy and happy children to be "neglected." Often, parents get their names registered in child-abuse blacklists on the say-so of caseworkers without so much as a scintilla of evidence of neglectful care. 7.4 million children were the subject of hotline calls in 2016, and 3.4 million children were subjected to highly intrusive investigations that left over 650,000 of them labeled "maltreated." But many of these maltreatment findings involved vague neglect claims.
In my Chicago law office, where we defended parents accused of neglect, dozens of these cases involved children in poor or minority families. For the parents who worked, one consequence could be a downward spiral—they would lose their jobs, be blocked from volunteering at their kids' schools, and isolate themselves more from social and community supports.
These terrible consequences hit my client Natasha Felix especially hard. She let her three kids play in the park next to her apartment. A passerby, taught to "see something, say something," didn't realize Natasha could see her kids from her window. Child-protective services discovered that her 11-year-old had attention deficit disorder and therefore declared that he couldn't watch his younger siblings while playing outside. It took two and a half years and some national attention, thanks to Lenore Skenazy, the "free-range" parenting movement, and the well-publicized case of the Meitiv family in Silver Spring, Maryland, before family-defense advocates in Illinois were able to achieve some meaningful changes that benefited families like Natasha's.
Some studies have shown that 53 percent of African American children have had a child-protection investigation. Millions of parents—including middle class parents—do fear the heavy hand of the state. They won't let their kids play outside anymore. This is the worst sort of helicopter parenting, because it is parenting based on fear.
The "free-range" parenting movement has been essential in getting people to pay attention to the harm of amorphous neglect charges. This call is not something McCrory should complain about as "unequal."
I didn't complain when the white, middle-class Meitiv family got daily media attention while Natasha Felix's case languished in the Illinois courts. I considered it a wake-up call and decided to write a policy report on why neglect laws needs to be tightened. The Utah law is an excellent first step in the direction of creating a better system for everyone.
It is not the final step, though. Neglect needs to be defined much more stringently. After an Illinois Supreme Court decision and subsequent class action suit eliminated neglect findings for 26,000 people (the findings had been made under an unauthorized and vague neglect rule), Illinois's neglect definition more stringently focuses on parents who have blatantly disregarded their duty of care to their child through a dangerous parenting decision. Tight neglect definitions, not discretion for caseworkers to substitute their ideas for parents', are an overdue solution that will benefit all families.
It is not a mark against any law that it needs to be interpreted. The first step is to pass better laws, the second step is to enforce them, and the third step is to interpret them on the margins. Poor and minority families need advocates to make the application of the law equal. If McCrory wants to fix something about laws that disproportionately hurt the poor and minorities, let's pass more laws like Utah's and Illinois's and help low-income families access counsel to enforce their rights. That would let good parents make decisions for their kids and let child-protection caseworkers focus on real child abuse, not children who play outside.
Diane Redleaf
Legal Director, National Center for Housing and Child Welfare
Founder, Family Defense Center
Chicago, Ill.
---
Jessica McCrory Calarco replies:
As a parent and a sociologist who studies children and families, I am grateful to Lenore Skenazy and the Free-Range Kids movement for their efforts to promote children's independence. I also deeply appreciate that lawyers like Diane Redleaf are fighting for families suffering under unjust laws.
I agree with both Skenazy and Redleaf that Utah's "free-range" parenting law offers important protection for parents. It may help to normalize (or rather re-normalize) "free-range" parenting. And it will likely encourage well-meaning citizens and authorities to think twice before reporting a child they see in public alone.
The point of my article was that this law may not protect all parents equally. And it may not guarantee all children the same chance to live "free-range."
Utah's law protects middle- and upper-middle-class parents, and especially middle- and upper-middle-class white parents. Under the new law, those privileged families have the freedom to choose whether to parent "free-range." And privileged parents deserve that protection. They shouldn't have to spend months in court fighting ridiculous neglect charges. Their children shouldn't have to live in fear of a knock at the door.  
My argument is that all parents—regardless of race or resources—deserve that same protection.
Unfortunately, the new law may not extend those protections to poor and working-class parents and parents of color. That's because the law protects only "good" "free-range" parents. It says that "free-range" parents can avoid neglect charges only if their child's "basic needs are met" and only if their child "is of sufficient age and maturity to avoid harm or unreasonable risk of harm."
Poor and working-class parents and parents of color may struggle to reach that "good parent" bar. Some of those parents may have no choice but to leave their children unsupervised, even at young ages and even without sufficient resources at home. And others may be implicitly perceived as "bad" parents, even when they have done nothing wrong.  
If policymakers, activists, and legal advocates want to make "free-range" free for all, they can use their power (and privilege) to fight for:
1. Laws that protect all families equally, regardless of their needs.  
2. Policies that give all families the resources to meet their basic needs.
3. Programs to educate police officers, caseworkers, prosecutors, and judges about implicit biases against poor and working-class parents and especially parents of color.
Skenazy and Redleaf see Utah's "free-range" parenting law as an important first step. But should vulnerable families really "need advocates to make the application of the law equal," as Redleaf suggests? Why not aim for laws that protect everyone equally from the start?