Letter: Leaving America Behind Amid the Turmoil of 1968
A reader reflects on the country's racial struggles, then and now.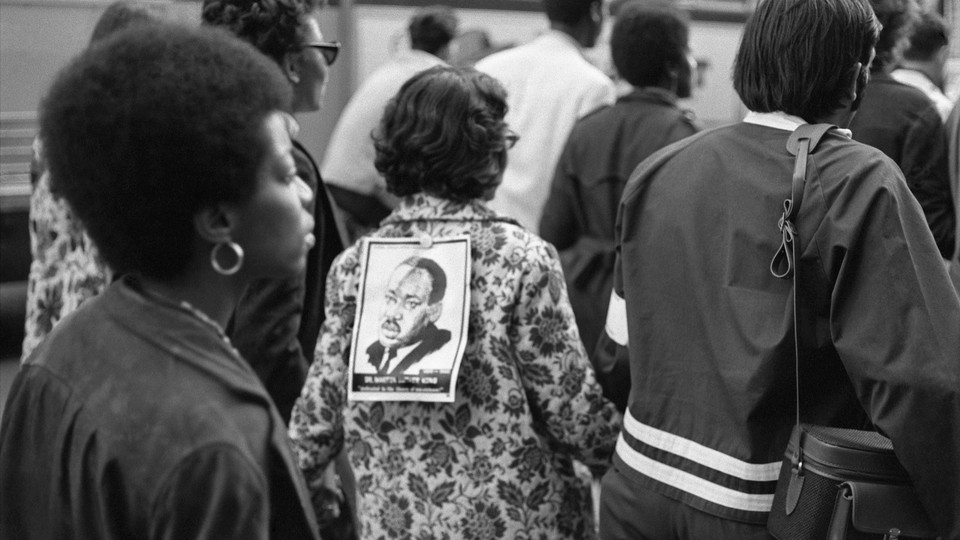 Five Decades of White Backlash
In January, Vann R. Newkirk II argued that the Trump presidency can be traced to the politics of white backlash in the wake of the civil-rights movement. "Trump's only real concrete policies," he wrote, "have been negations of King."
---
" … built on King's bones." What a fine phrase.
The Atlantic's article about the white backlash in the U.S. helped me see a lot of things. I'm a 70-year-old white lady who left the U.S. for good to go live in Canada (though I didn't know that at the time) in late August 1968, right after the Democratic National Convention, in Chicago, and the riots that went with it. The first day I had ever seen Canada was the day Martin Luther King Jr. was murdered. Driving eastward across Ontario, 45 minutes after we had passed through the tunnel from Detroit, my friend and I heard on the car radio that the border had been closed behind us because of the spreading riots. That night I sat with friends in a living room in Kitchener watching big cities burn on the 11 o'clock news. I was 20 years old, and it felt so weird to be in a country that wasn't at war—with itself or with half of Vietnam—and to be shut out of a country that was.
When I became a Canadian citizen some years later, I renounced my U.S. citizenship. I didn't have to, but I did; I was so disgusted with that country. And I thought I had made my peace with it all until Donald Trump was elected 48 years later, and now it is all coming back. I find I can't just shrug and say, "That's their problem." When I was talking about leaving for Canada in '68, some of my friends said, "If you think there's a problem, you should stay and fight for what's right," but in a (rare) moment of self-knowledge, I saw that I didn't have the stamina to dedicate my life to that fight.  There were all those bumper stickers at the time:  America: love it or leave it. Since I could neither fix it nor love it, I left. And I was right about me, but fortunately, so many other folk were stronger than I.
As I recall, John Fowles, in The French Lieutenant's Woman, says something along the lines of: We can recognize many faces from out of the past when we see them, but we cannot recognize faces from the future—meaning among the people we meet every day. Today I watched "AM Joy," with the Reverend James Forbes, Mark Thompson, and Jelani Cobb.  Then I read your piece in The Atlantic. I feel now as if I am at last seeing the faces of the future—your faces—and that America is going to be all right.  Not right away, probably, but after 70 years, I think I can finally see the way for the first time, and the good people who will be there to make it happen.
I regret that I was not made of sterner stuff, but at least I can encourage you who are, and who are in the thick of the struggle. Not just the U.S. but the world is watching, and you are right about what's been going on. However, any backlash will eventually spend its force, and hopefully that is what we are starting to see in 2018—with your help—even if it doesn't feel like it yet.
Not that you seem to show any signs of flagging, but keep doing what you do. And thank you for doing it.
Linda S.