Is This the End for Erdoğan?
His support looks weaker, but his grip on power has never been stronger.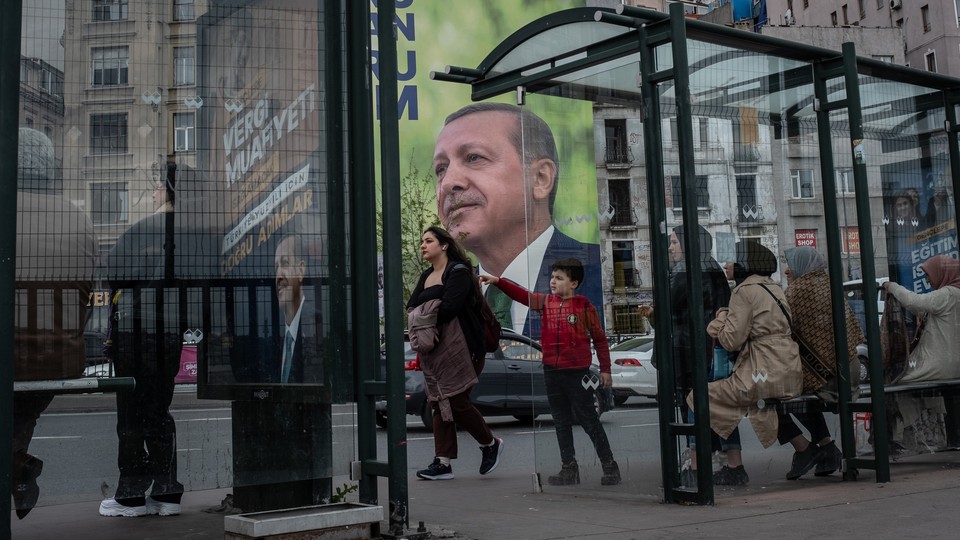 Since a 7.8-magnitude earthquake and its aftershocks killed nearly 60,000 people across Turkey and Syria in February, the Turkish town of Pazarcık has stood as an example of the failures of President Recep Tayyip Erdoğan's rule.
When I visited in April, modern apartment blocks were still abandoned, with deep cracks or gaping holes where whole walls had been sheared off—reminders of how shoddy construction, often the result of corruption, made the disaster's toll worse. Rubble had been cleared in some places, but work to replace the collapsed buildings had not begun. Only about half the town's pre-quake population remains, the rest having fled or perished. Shops had reopened in the buildings that weren't destroyed, but the sidewalks were largely deserted; inflation in Turkey topped 85 percent last fall, thanks largely to Erdoğan's monetary policy.
The two crises—the earthquake and the economy—have left Turkey's strongman leader in what might be his weakest political position yet after nearly 20 years in power. Ahead of Turkey's presidential election tomorrow, polling shows Erdoğan several points behind his main opponent, Kemal Kiliçdaroğlu, a grandfatherly former bureaucrat from the center-left Republican People's Party (CHP). Kiliçdaroğlu has united a coalition of secularists, nationalists, and defectors from Erdoğan's Justice and Development Party. The opposition senses that victory might be attainable. They see the election as their best chance yet to pull Turkey's century-old secular republic back from the brink of full-blown autocracy.
It might also be their last chance: Many Turks worry that if Erdoğan gets another five-year term, he will destroy the last vestiges of democracy in the country. Doing so would provide encouragement to other illiberal leaders around the world and put even greater stress on Turkey's relations with the West. And then there is the fear that Erdoğan has consolidated power so fully in Turkey already that a democratic victory against him might not be possible.
"This is our only hope," said Pelin, a 20-year-old first-time voter who attended a large opposition rally in Istanbul with her friends last weekend. (Like many people in Turkey who speak out against Erdoğan, she did not want to give her last name.) "We are all thinking of ways to leave the country if Erdoğan wins again."
Erdoğan, 69, came to power in 2003 as a wildly popular, charismatic leader who promised to liberalize Turkey despite his conservative Islamist roots. That support has ebbed over the past decade as he has morphed into an autocratic religious nationalist, alienating secular Turks, minorities, and young people. To compensate, he has gripped harder, changing the constitution (via a referendum) to create an executive presidency in which he rules by decree, installing loyalists in the courts and the military, and using legislative loopholes to cement his dominance over this country of 85 million people. He has locked up thousands of journalists, academics, leftists, Kurds, and other opponents. His allies have closed or forcibly taken over dozens of opposition news outlets. Erdoğan and his circle now rarely speak with Western reporters.
Internationally, he has allied himself with Russian President Vladimir Putin, and his regime has been accused of helping Iran and Russia evade Western sanctions (he denies this). Although Turkey is a NATO member and a candidate for membership in the European Union, Erdoğan repeatedly has threatened to declare war against Greece in the Aegean Sea, and launched three invasions of Syria that have, on occasion, brought Turkish and American troops into contact. In doing all of this, he has created a playbook that other strongmen around the world can follow.
The presidential election could become a new case study in that playbook. Erdoğan has changed electoral boundaries and tinkered with candidacy rules to the disadvantage of the smaller parties in the opposition coalition. During a 2017 constitutional referendum, the Turkish electoral board changed the rules as votes were being counted so that unstamped (and therefore unverified) ballots could be counted. This week, Erdoğan's interior minister, Süleyman Soylu, has been insisting that police and gendarmerie officers, rather than civilian electoral staff, should collect ballots from polling booths—though the electoral board has pushed back on this.
"We are not taking on a party. We are taking on the state," Unal Ates, the chair of a CHP district branch in the city of Kahramanmaras, told me.
If Kiliçdaroğlu can beat Erdoğan by double-digit figures, his victory would be difficult to dispute. But if he wins by a slim margin, Erdoğan is almost certain to contest the result. He's done this before: In the spring of 2019, Ekrem İmamoğlu, an upstart opposition challenger, won Istanbul's mayoral election by a small margin, dislodging Erdoğan's party from city hall. Erdoğan, a former Istanbul mayor himself, was furious and leaned on the electoral board, the state authority that confirms the results, to declare that there had been irregularities at polling booths and to call for a rerun.
Yet over the next few months, İmamoğlu's team embarked on an intense grassroots campaign, one that could serve as a model for the opposition in the presidential race. Shut out of traditional media channels, the businessman-turned-candidate spoke daily with supporters and detractors alike; his team filmed the interactions and posted the best ones on social media, aiming to draw as much attention to İmamoğlu as possible, including on pro-Erdoğan TV channels, according to Necati Özkan, the political strategist who ran İmamoğlu's campaign. "We learned from history, mythology, legends, even from Hollywood," Özkan told me. "They all tell us the same simple truth: Do not go to war with your rival's tools. Change the way you fight."
During the election, thousands of volunteer ballot-box monitors sent vote counts from polling stations via an app to İmamoğlu's campaign team, which used the findings to fact-check state media tallies. İmamoğlu's won Istanbul again with a margin nearly 60 times bigger than his first, and Erdoğan was forced to concede. Huge street parties broke out across the city. Depending on your perspective, it was either a vital sign for Turkish democracy or a warning of how far Erdoğan is prepared to go.
"We have the capacity to overcome them. We are very creative in finding solutions," İmamoğlu told me in March, as he prepared to set off on the campaign trail alongside Kiliçdaroğlu. (He is on the opposition's ticket as a vice-presidential candidate, but he's likely to play a mostly ceremonial role if Kiliçdaroğlu wins.) "People showed how they will respond if they see pressure or bullying."
The opposition is now deploying similar tactics on a national scale. Hundreds of thousands of volunteers across the country have signed up as ballot-box monitors. Kiliçdaroğlu is releasing nightly videos, often from his kitchen, where he sits at a table surrounded by books and discusses issues such as Turkey's minorities and its economy. A video in which he spoke about his faith as an Alevi, a minority Muslim sect, has gotten tens of millions of views on Twitter.
There is another possible scenario that could unfold on election day: If Kiliçdaroğlu does not win more than 50 percent of the vote in the first round, the elections will go to a second vote on May 28. Many Turks fear that, in that case, the rhetoric and threats will escalate, and there could be violence. A week before election day, a group of demonstrators attacked İmamoğlu as he held a rally in the Anatolian city of Erzurum, pelting him with stones. Video footage of the incident appears to show the police standing back during the chaos, though several arrests have now been made. Erdoğan allies have accused the opposition of plotting coups and conspiracies against the president, which some observers see as laying the groundwork for a January 6–style insurrection should Kiliçdaroğlu win.
"They are trying to use fear to keep people away from the ballot box," Kiliçdaroğlu said after the incident in Erzurum.
As he makes his case to voters, Erdoğan is sticking to a well-honed script focused on Islamic fundamentalism and resurgent nationalism. At his rallies, he provokes his crowds with invective against his opponents, rails against LGBTQ people and minorities, and blames the country's woes on shady outside powers who, he claims, are manipulating the lira on global currency markets. The message is tuned to appeal to his base of long-marginalized Turks in both poor urban districts and conservative villages. In Pazarcık, Erdoğan's campaign has put up posters announcing that he will build tens of thousands of new homes. A few miles away, he has already opened a small clutch of houses since the quake.
Even in such towns, many of which have formed Erdoğan's bedrock for 20 years, there are some signs that Kiliçdaroğlu's message is getting through. The opposition has posted its own billboards in the disaster zone telling victims that new homes should be not an election pledge but a right. In Kahramanmaraş, Volkan Kaya, 28, who was living in a tent on the outskirts of the city with his pregnant wife when I met him in April, told me that he previously supported Erdoğan but that he now planned to vote for Muharrem İnce, a marginal candidate who has since dropped out of the race, and to back Kiliçdaroğlu if the election goes to a second round. "The earthquake changed my mind," Kaya said. "I think people under 35 will give their vote to anyone but Erdoğan."
Kiliçdaroğlu has also won the support of the Peoples' Democratic Party, the main party representing Turkey's Kurds, its largest ethnic-minority group (making up nearly 20 percent of the country's population). At his rallies, he promises the crowds that "spring is coming," before flashing what has become his trademark symbol—a heart formed by his thumbs and index fingers.
But a large part of the country remains loyal to the incumbent, who has persuaded many Turks of his effectiveness. In Pazarcık, I met a tailor named Orhan Aygordu, who chalked up a set of pants as he explained to me why—despite the earthquake and the economy and even his own desire to emigrate to Europe—he will vote again for Erdoğan. "I really love him. I am behind him," Aygordu, 46, told me, working from a drafty temporary building in the town's center. "Who else could organize the country after something like this?"