The Kremlin Has a Security Problem
Drone attacks in Moscow, incursions over the border—Russians are starting to wonder whether Putin really does have, as he promised, "everything under control."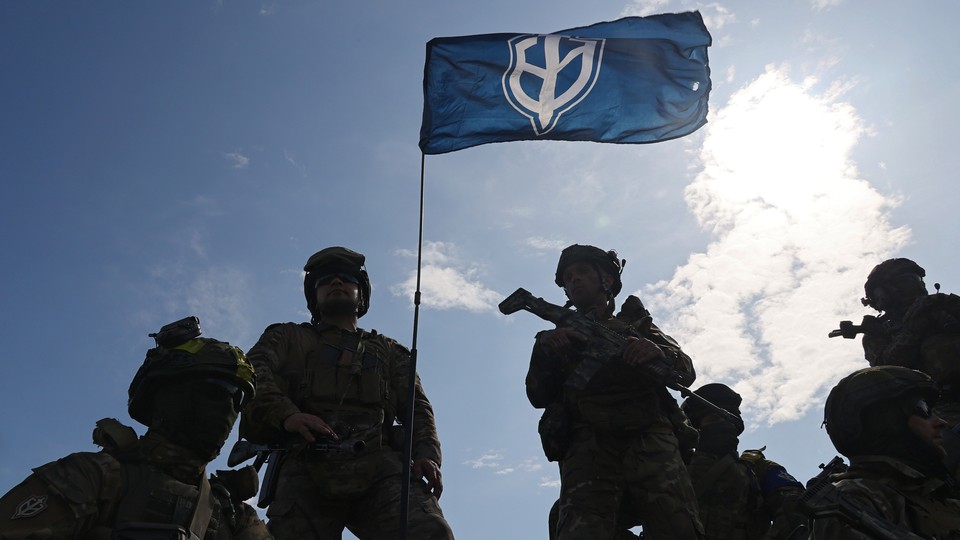 President Vladimir Putin sustains his power on the promise to Russians that he has, as he put it in 2010, "everything under control." This week's attack on the southern Belgorod region, launched from Ukraine, would have been alarming under any circumstances, but Putin's posture as the man in command makes it particularly hard to explain away.
A string of bad news that began earlier this month suggests to Russians that their security system is crumbling. First came the drone attack on the roof of Putin's residence in the Kremlin on May 4. Now comes an incursion into Belgorod, demonstrating that a year and a half into the war, the Federal Security Service, or FSB, which is in charge of the borders, does not have the manpower to protect against small units attacking from Ukraine. Russia was not even able to secure a nearby storage site for nuclear-weapons components, known as Belgorod-22—instead it reportedly moved the materiel away.
Russians in the border regions are beginning to realize that the war that has destroyed dozens of towns and villages in Ukraine is coming to their own land. Nobody seemed to be defending Belgorod, so on Tuesday, locals demanded answers from their governor, Vyacheslav Gladkov, in a live chat on Vkontakte, a social-networking site.
Governor Gladkov read the questions aloud: "They said that everything was under control, that fortifications have been built, some pyramids and so on, but the enemy is coming to our regional center by tanks. Why is the border full of holes?" he read from one message. "And we are not mentioning the constant artillery and mortar fire, wounded residents—how come?"
The complaint seemed valid enough. And the more information that emerged, the more the episode risked turning the entire nationalist rationale behind Russia's war in Ukraine back on the Kremlin: The invaders were Russian nationalists serving in the Ukrainian armed forces who claimed that they were liberating Russia from Putin's regime.
Somebody had to be honest with locals, and Governor Gladkov, surprisingly, was. "I agree with you," he said, looking tired and grim. "I have many more questions for the Defense Ministry than you." He called on his listeners to draw their own conclusions "from the mistakes that have been made."
Russians have been drawing conclusions rather quickly this week. Thousands jumped into their vehicles and left their villages in the Belgorod region, without waiting for further explanation or assistance from the security services. One video shows local residents trying to break into an old Soviet bomb shelter, screaming at the top of their lungs.
Ilya Ponomarev is a former member of Russia's Parliament now in exile. He acts as a spokesperson for the Freedom of Russia Legion, the anti-Kremlin group that crossed into the Belgorod region. Ponomarev told me that the legion's soldiers were "just four kilometers away" from the Belgorod-22 nuclear-storage site, and that the group's goal was to demonstrate to Russians that their border was unprotected.
The attack seems to have struck its psychological target. Tsargrad, a nationalist television channel in Russia, headlined a program with the question of whether, after a year of "bombs raining on … Russian regions," the "special military operation" in Ukraine was coming to resemble the second Chechen war. The comparison jabbed at dark memories of fighting that killed thousands of civilians in the Northern Caucasus and created streams of internal migrants.
Now again, Russians have been internally displaced. "This is just a shock; there is no safe place in the south," 72-year-old Nina Mikhailova, a pensioner from Russia's Krasnodar region, south of Belgorod, told me by phone on Tuesday. "There is no end to this war, to killings, and nobody tells us when or how it will end. The jokes and threats about nuclear mushrooms are not funny. If the only solution is to nuke America, we are all in real trouble."
Boris Vishnevsky, a city-council member in St. Petersburg, is one of the very few opposition figures left in government in Russia. I spoke with him by phone yesterday. Russia's generals, he observed, can "promise us to destroy everything alive coming our way"—but then they will come up against the problem that "the FSB, who are actually responsible for protecting the borders, are busy hunting down and imprisoning Russians for their posts on social media."
This week, some of my Russian friends said they caught themselves walking around with their mouths open in absolute shock. "The border is supposed to be protected by the FSB, but it is not; they just look more and more like some dumb thugs," a former Russian member of parliament, Gennady Gudkov, himself a veteran of the KGB, told me on Tuesday. Like many of his friends and colleagues in Moscow, he gasped at the news of tanks and armored vehicles rolling from Ukraine to Russia, unstopped. Nothing was under control.
Putin pretends to love history. While his security services were in Belgorod chasing armed invaders from Ukraine, he was staring at a French map, allegedly dated from the mid-17th century, with the word Ukraine on it, but still insisting that Ukraine did not exist before the Soviet times.
Meanwhile, Yevgeny Prigozhin, the founder of the Wagner mercenary group, is building political capital from every failure of the Russian military. When the attack began from Ukraine, and the legion took over village after village, Prigozhin took aim at the armed forces on his Telegram channel: "Instead of providing security for the state, some of them are dividing cash and the others make fools of themselves. There is no leadership, no desire and no personalities ready to defend their country."
Ukraine, however, is only getting stronger, according to Prigozhin: "Ukraine had 500 tanks in the beginning of our special operation and now they have 5,000. If before, 20,000 of their men knew how to fight, now 400,000 men know how to fight. So it turns out we militarized them in a big way."
Prigozhin has predicted an apocalyptic ending for Putin's regime as a result of the attack on Belgorod. "People will come out with pitchforks to the streets," he told Russian media. When that day arrives, he warns, he will be the one taking the situation under control: "And then we come."