Prince Philip, a Man of His Time
The life of the Queen's husband, who has died at 99, reflects the turbulence of the last century.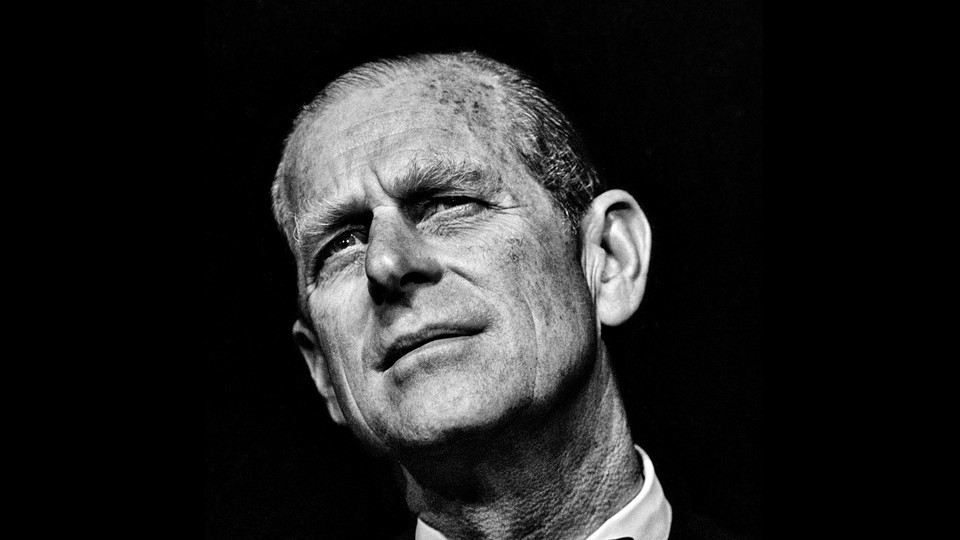 Like other members of the British Royal Family, Prince Philip's reputation is now defined by his portrayal in The Crown: a stern father, a reluctant consort, a man's man who struggled to play second fiddle to his wife. It could be worse.
The Queen's husband has died two months short of his 100th birthday, and his death inevitably invites comparisons between the world he was born into and the one he has left behind. He was born a prince on the island of Corfu, in the line of succession to both the Greek and Danish thrones, but his uncle, King Constantine I of Greece, abdicated when Philip was just a year old, and the family had to escape to France. (The baby Philip was famously carried away from his home in a fruit box.) His four elder sisters all married German princes, and he saw them only sporadically as he was raised at boarding schools. His mother was committed to a mental institution when he was 9, and later joined a religious order.
The First World War had already created an awkward distance between the British royals and their German cousins: George V renounced all his German titles in 1917, and the Saxe-Coburg-Gothas became the Windsors. The outbreak of hostilities against Nazi Germany two decades later prompted another schism in the royal families of Europe. The Queen's uncle, the former Edward VIII, was known to be sympathetic to the Nazis, and so was dispatched to the Bahamas for the duration of the war. Philip had been educated in Germany until the Jewish founder of his school fled the Nazis, moved to Scotland, and set up a new boarding school called Gordonstoun. Philip followed him there, and when the call came, the prince served in the British navy.
This fractured youth left Philip restless, isolated, and independent. When he married Princess Elizabeth, in 1947, his German relatives were not invited to the ceremony. Still, the match looked to be perfect: Back then, tradition held that an heir to the British throne should not marry a "commoner." Philip was not just royal, but handsome and brave. And unlike the man Elizabeth's sister, Margaret, fell in love with, he had not been married before.
He was also a man who had to take second place to his wife—a phenomenon experienced by more and more men as the 20th century wore on, but still an unusual one. Even today, less than a third of men in straight couples earn less than their wives, and less than 3 percent of men take their wife's surname on marriage. At their wedding ceremony, Princess Elizabeth had promised to "love, honour, and obey" Philip, but she was adamant that the Windsors would remain the Windsors, rather than becoming the Edinburghs. (Philip renounced his Greek and Danish titles before the wedding, and was granted the British title of Duke of Edinburgh.) He felt this humiliation acutely, once describing himself as a mere "amoeba." When Elizabeth became Queen in 1952, it meant the end of his career in the navy. He was a kept man, a consort, No. 2 in the pecking order.
Philip was partly mollified by his wife's decision to defer to him on family matters, although that sometimes had poor consequences. He chose to send Prince Charles, his eldest son, to his beloved Gordonstoun. But the sensitive Charles hated the dour, disciplinarian Scottish school. Indeed, the parenting styles of the Royal Family reflect a broader shift in upper-class British attitudes toward children: Like the Queen's cut-glass accent, they have softened over the years. Once the belief was that children needed to toughen up, that whatever doesn't kill you makes you stronger. Now Charles's sons, William and Harry, are pictured hugging their children. It's hard to imagine who would have hugged the young Philip, alone in a strange land, with an absent father and troubled mother.
The latest season of The Crown focused on the relationship between the Queen and Britain's first female prime minister, Margaret Thatcher. The untold story is that of Thatcher's husband, Denis. Like Prince Philip, he faced a challenge few alpha males had confronted before: How would a traditionally minded man cope with the very nontraditional role of support act to his wife? Denis found solace in sports. He was a rugby referee for many years, and then turned to golf. Meetings at the prime minister's country residence, Chequers, would be interrupted by the sound of Denis using the lawn as a putting green. He carved a new type of masculine persona, in contrast to his wife's bluebottle diligence: supremely relaxed, self-assured, a man who enjoyed a drink and a fast car.
Philip found that challenge harder, but he applied himself to it. In 1956, he founded the Duke of Edinburgh's Award, which was designed to teach young people self-reliance. Medals were given for serving one's community, starting a business, or trekking for miles across Britain's rainiest moors, armed only with a map and compass. Sent around the world as a representative of Britain, Philip became known for puncturing pompous diplomatic events with aristocratic bluntness. He developed a reputation for what were then referred to as "gaffes," but what we would now call casual racism. ("If you stay here much longer you'll all be slitty-eyed," he told a group of British students in China in 1986, and while looking at an electrical circuit a few years later, he remarked: "It looks as if it was put in by an Indian.") When I was growing up in the 1990s, this was the popular perception of Philip: Britain's Poshest Racist. He was a staple target of left-wing comedians and a hero to those who felt that "political correctness" was going too far. Even now, Amazon is full of books with titles such as Do You Still Throw Spears at Each Other?: 90 Years of Glorious Gaffes From the Duke.
His reputation has improved since then, because he took the Denis Thatcher route: a vow of silence. Philip gave up many of his royal duties on his 90th birthday, in 2011, and retired entirely from public life in 2017. By then, he had completed 22,219 solo royal engagements. At the time of his death, he and Queen Elizabeth II had been married for 73 years. He might have been a reluctant consort, but he was also an energetic one. The Archbishop of Canterbury, who conducted Meghan Markle and Prince Harry's wedding ceremony, recently described royal duties as a "life sentence without parole," and Britain came to respect Philip's decades of public service.
Once the initial, respectful tributes are over, Philip's reputation will be as contested as that of Britain's great wartime prime minister, Winston Churchill, whose early colonial career makes for uncomfortable reading. Philip was a man of his age. He was born into a world of deference and tradition that no longer exists: Greece has been a republic since 1973, while the heir to the Danish throne is married to an Australian marketing consultant. In 1937, the 16-year-old Philip walked through German streets for his sister's funeral as onlookers gave Nazi salutes. His grandson Harry, meanwhile, married a biracial American actor, moved to California, and launched a podcast.
The 20th century was a hell of a ride, and one in which men's expectations for their lives changed as dramatically as women's. No one encapsulated that quite as strangely, or as remarkably, as a man who lived for nearly a century himself.