The Place With Surprisingly High Vaccine Hesitancy
Hong Kong has the doses. What it lacks is trust between its leaders and its people.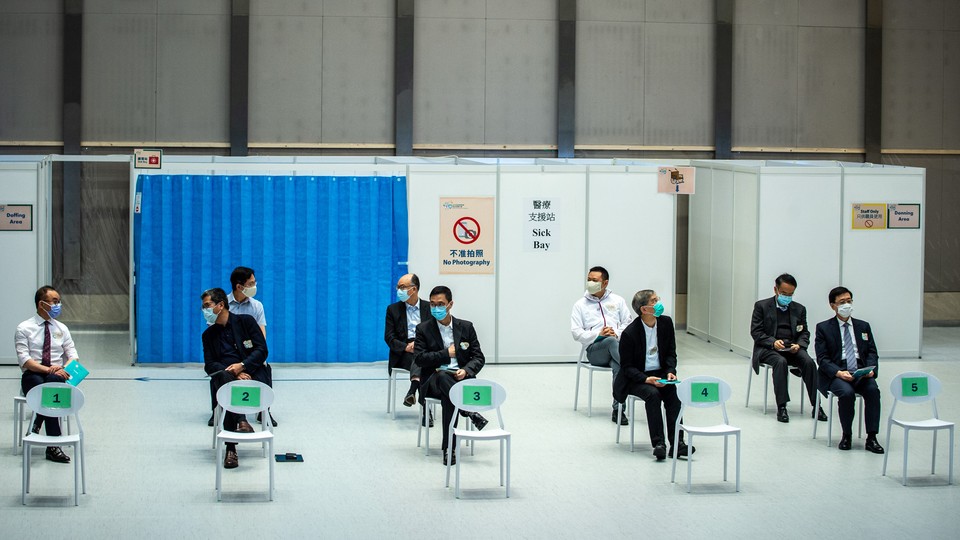 Hong Kong's fight against the coronavirus pandemic has put it in an enviable position. Bolstered by a public that learned difficult lessons from the 2003 SARS pandemic, and because of a relatively swift government response this time around, this city of roughly 7 million people has suffered fewer than 12,000 cases and only 205 deaths. It never underwent the large-scale, harsh lockdowns implemented elsewhere. The inconveniences that the pandemic brought here—closed beaches, overly crowded hiking trails, and an on-again, off-again curfew for bars and restaurants—seemed rather minor, petty even, in comparison with the collapsing health-care systems and mass burials experienced in other countries.
Now, however, the city is having trouble getting the public to take part in its vaccination drive, an effort hampered in large part by deep suspicion of the government and a historically unpopular leader who has struggled mightily to convince the public of the benefits of getting inoculated. An abundance of vaccines, officials are discovering, means very little when trust is in such short supply.
The problems plaguing Hong Kong's vaccine efforts are unique, coming as they are at a time when Beijing is setting about on a program to comprehensively restructure the city's institutions. But numerous other countries across Asia that did well in their initial efforts to suppress the pandemic are also stumbling in their vaccination programs. Along with Hong Kong, Japan and South Korea are struggling to get vaccines distributed at speed. In mainland China, where the virus originated and where officials have touted the superiority of homegrown vaccines and deployed them as a diplomatic tool, the rollout has also been rocky. The reasons in each country differ, but the delays threaten to put the region behind places such as the United States and Britain that were previously hit hard by the pandemic but have quickly vaccinated large swaths of the population, opening the possibility of economic rebound, freer travel, and a greater sense of normality.
Hong Kong's experience illustrates the litany of challenges at play in this part of the world. Carrie Lam, the city's chief executive, who provoked mass protests two years ago with a bumbling adventure to push through an extradition bill, remains wildly unpopular. Her government has appeared at times more focused on reengineering Hong Kong's voting process further in favor of pro-Beijing politicians and attacking prodemocracy figures than on addressing the pandemic. These various campaigns have at times merged with the obviously uneven application of social-distancing regulations and pandemic controls. There have also been hard-charging "ambush style" lockdowns, racist comments, and quickly aborted restrictions, all of which have dented the government's credibility. Even wealthy expatriates have had their protective bubble of political aloofness and boozy brunches popped, recently turning their anger on the authorities for their quarantining mandates.
As a result of this mass alienation, nearly every pandemic measure announced by Lam and her government is viewed with intense suspicion, particularly when they relate to CoronaVac, a vaccine produced by the Chinese firm Sinovac, which was given rushed approval by a Hong Kong panel of experts last month despite a lack of data from the company. These huge levels of distrust, as well as a halt to administering the BioNTech shot because of an issue with packaging, have helped slow vaccine rollout efforts to a crawl. (Though BioNTech partners with Pfizer for its distribution in most countries, its vaccine is distributed in Hong Kong through a deal with China's Fosun Pharma.)
"Vaccination rates to date have remained fairly tepid," Keiji Fukuda, the director of the University of Hong Kong's School of Public Health and a member of the government's vaccine advisory committee, told me. The authorities' "biggest issue has been—and this really has continued through the entire pandemic—their difficulty building public trust and support." Lam herself has admitted that achieving the goal of herd immunity will take "quite a long time."
Elsewhere in East Asia, the reasoning differs, but the outcome is similar: a perilously sluggish vaccine rollout. Taro Kono, the official in charge of Tokyo's plan, told Bloomberg this week that Japan's effort would be "very slow." Less than 1 percent of the country had been vaccinated as of Monday, and no timeline has been established for when widespread vaccination may be completed. The slow pace comes despite the looming Olympics, already delayed because of the pandemic. Japan ranks among the countries with the least vaccine confidence in the world, according to a study published in September in The Lancet. The authors believed this lack of confidence could be linked to human papillomavirus (HPV) vaccine safety scares beginning in 2013. South Korea, another early pandemic success story, is attempting to ramp up its vaccine drive after concern prompted by the deaths of eight people who got the AstraZeneca vaccine and who had underlying conditions. (The deaths were found to be unrelated to the vaccine.)
An exception is playing out in Singapore, the small city-state that is often compared to Hong Kong and with which Lam is fervently competitive. The government there has refrained from distributing the Sinovac doses donated by Beijing, citing the lack of data, while shots of Pfizer-BioNTech's and Moderna's vaccines are being administered. After a slow start, vaccinations have risen sharply. "On the ground you can hear mumblings where individuals are still concerned with the safety of the vaccine," Leong Hoe Nam, an infectious-disease specialist at Mount Elizabeth Novena Hospital, in Singapore, told me. But "in general, the majority of the population is taking it on well. A lot of individuals have come forward for vaccination." (There has been some angst and frustration, though, he said, from people who must receive the Sinovac vaccine in order to travel to China, a stipulation from Beijing.)
Hong Kong, by contrast, moved ahead with administering Sinovac's vaccine, even to those over the age of 60. The situation was unusual and less than ideal, Fukuda, a member of the panel that reviewed the Sinovac findings, told me. "I really wish that Sinovac and the other companies would simply publish the data," he said. He added, however, that the pandemic had created an extraordinary situation, that the review had been rigorous, and that he stood by the process.
The Hong Kong public has been less trusting. On March 3, the day after a man was reported to have died after taking the Sinovac shot—and the day that BioNTech's vaccine became publicly available—government data showed a decrease of 10,300 appointments for Sinovac's vaccine. The Department of Health has recorded 13 deaths of people following immunization: 11 after receiving the Sinovac vaccine and two after receiving the BioNTech shot. The department found that the deaths were not directly associated with the vaccines and that there was no unusual pattern, compared to local mortality data. Yet in an indicator of just how politicized the vaccine program has become in Hong Kong, an editor of at least one Western news outlet was recently admonished by China's Ministry of Foreign Affairs office in Hong Kong after publishing a story about the city's vaccine struggles, according to a person familiar with the situation.
Vaccine efforts hit another hurdle here last week, when the government, as well as officials in nearby Macau, abruptly stopped offering the BioNTech vaccine after they found that more than 50 vials had sustained damage. Before the suspension, administered doses of the vaccine were trending toward 10,000 a day by mid-April, as compared with a trend toward just 2,500 doses a day for Sinovac's, according to government vaccination data. Just over 490,000 doses of all vaccines have been administered in the city, meaning less than one percent of the population has been fully vaccinated.
Although a complete investigation was needed to fully detail the issue, "it doesn't seem to be related to the overall safety of the vaccine or quality of the vaccine itself," Wallace Lau Chak-sing, the chair of rheumatology and clinical immunology at the University of Hong Kong and the convener of the government's vaccine advisory committee, told me. He said that the regulations had proved effective, and the damaged vials had been identified and removed from circulation by health-care workers. No one was injected with vaccines from damaged vials, but it took hours for the government to clarify this, causing a brief panic. Initial findings related to the defects show "no evidence indicating any safety risks." More than a week later, however, the vaccine program remains paused. "Why are they halting the whole program? I really don't have a full answer for you," Lau said. A spokesperson for the government did not respond to multiple requests for comment. In the meantime, the companies have announced the vaccine has been found to be highly effective in kids aged 12 to 15 years old.
Singapore, again, offers a corrective. Leong, the infectious-disease specialist, said that much of the success there could be attributed to a high level of trust in the health-care system, coupled with a localized effort to spread awareness about the benefits of vaccination. Leong himself starred in a recent video campaign dispelling rumors about the safety of the vaccines and stressing that it was "the job of every Singaporean" to get one. Hong Kong has few options for trusted vaccine ambassadors: Many of its most popular lawmakers, as well as activists, are in jail or have gone into exile. Pro-Beijing lawmakers and celebrities have been focused recently on other topics, such as defending China's labor practices in Xinjiang.
Hong Kong is battling a "crisis of confidence," Alvin Chan, a co-chair of the Advisory Committee on Communicable Diseases at the Hong Kong Medical Association, told me. The "index of suspicion" among the population, he said, was very high. To sweeten the offer, the city is mulling easing restrictions and dangling a return to travel for those who receive vaccines, but Fukuda told me he was wary of such measures, likening them to "trying to buy people off." Communication, he and others said, had been a weak spot for the government, which continues to inundate a wary public with facts and data.
"It's one thing to simply give a bunch of numbers out or facts out," Fukuda told me. "It is another thing to really try to understand why people are afraid and what is it that they are seeking and to address those fears and concerns."