The Jarring Reality Hong Kong's Dissidents See From Jail
Prodemocracy activists in the city still have hope.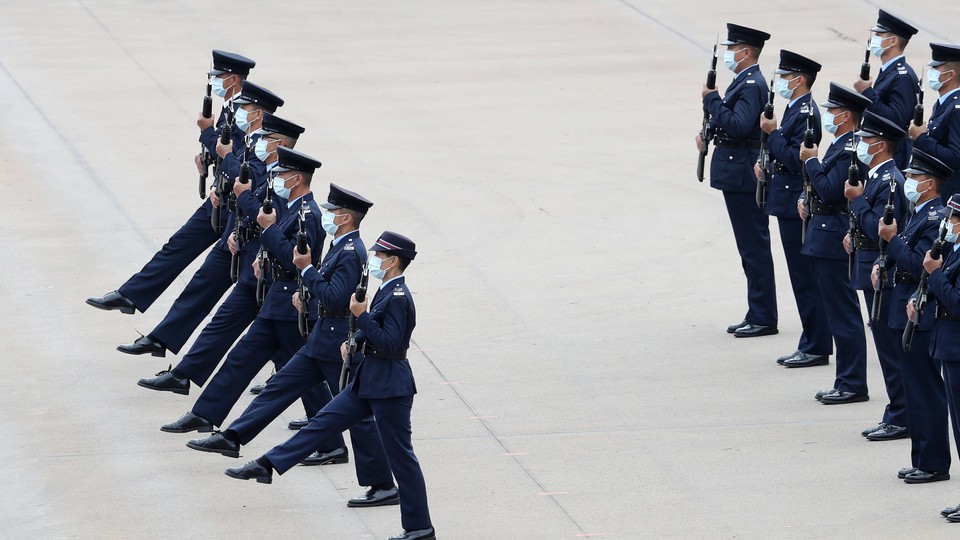 Earlier this month, I stood in line alongside an aide to Tam Tak-chi, both of us readying to meet with the imprisoned political activist at the Hong Kong prison complex where he is being held. As Tam's assistant waited her turn for supplies she brought for Tam to be inspected, a woman approached from the nearby waiting area and the two exchanged excited hellos before hugging and chatting briefly. The woman was the friend of a man facing charges under Hong Kong's sweeping national-security law, like Tam. With so many of the city's prodemocracy figures and protest participants now jailed, these types of run-ins aren't uncommon, the aide explained to me. Visits sometimes turn into small reunions, chances to check in on one another, swap updates on respective cases, and scoff at the authorities' latest steps to reengineer Hong Kong.
The misleadingly named Lai Chi Kok Reception Centre holds a number of prominent prodemocracy advocates. Tam, who is also facing charges under Hong Kong's colonial-era sedition law, has been kept there, largely in solitary confinement, since September, making him a sort of elder statesman. (An effort to have the case scrapped failed on Monday.) Before his arrest, Tam very much embodied Hong Kong's legacy of brash and boisterous protest: He manned street booths while bellowing at police through a megaphone, and once dressed up as a People's Liberation Army soldier to mock a high-speed rail line linking Hong Kong and the mainland. Even after the national-security law was imposed last year, he kept demonstrating.
In February, the law was used to round up Tam and 46 other prominent activists. Some pledged in court to step back from public life in exchange for bail. Tam declined to do so, and even behind bars, he seems to have lost little of this bravado. Unlike many of his co-defendants, he continues to weigh in on political developments by having his assistant update his Facebook page after visits. He has granted interviews to a few journalists, myself among them. Giving up the right to free speech, he told me, was tantamount to conceding defeat without a fight—something he had no interest in. He now spends much of his time reading, often the works of famous activists who spent time in jail themselves: Václav Havel, a former Czech dissident who later became his country's president; the civil-rights icon Martin Luther King Jr.; and Liu Xiaobo, the Chinese Nobel Peace laureate who died in detention after belatedly being given medical care. Their accounts, Tam said, provided him with new views and ideas on resistance against oppressive regimes.
Seats were scarce in the waiting room when I visited, and the din was constant as guards sternly gave visitors orders about procedures. Dirty paint peeled off the walls in large patches. Dusty air fresheners gave the stagnant room the scent of malodorous imitation flowers. An unoccupied rat trap was tucked in a corner. One man wore a black T-shirt with It's A Good Day printed across the back in a large '70s-style disco font, though for most people in the waiting room, and almost everyone in the cells, it presumably was not.
Two TVs dangled from the industrial ceiling, only one of which was working. Its broadcast served to amplify how much Hong Kong has changed. Here I was, waiting to talk with a man jailed for speaking his mind, as a news broadcast aired scenes from the city's first National Security Education Day taking place outside. Students watched marching drills and police cars screeching through an action movie–esque terrorism drill. At one point a helicopter dropped from the sky and officers rappelled to the ground. People seated near me turned their heads up to watch the action.
The day was an unabashed festival of agitprop and newspeak, a victory party held to celebrate developments few people in Hong Kong wanted: a national-security law that has landed dozens in jail since being handed down 10 months ago, and a drastic reworking of the city's election system designed to keep out all meaningful opposition. Millions of people demonstrated in 2019 and into 2020 demanding the opposite. They were ignored. Instead of more democracy, this city has far less. Rather than seeking compromise, the government is stamping out dissent. Upcoming elections are all but fixed. The police are empowered, and are now an unrivaled security and political apparatus. Only Beijing-approved "patriots" will be allowed to hold public positions. Dramatically recasting a city in such short order is taxing work and, apparently, called for a celebration.
Luo Huining, the most senior mainland political official based in Hong Kong, delivered fiery remarks at a morning ceremony to kick off the festivities, decrying foreign forces attempting to use Hong Kong as a "pawn," adding that anyone who tried to exploit the city would be met with "impactful countermeasures." His speech was a battle cry and an ominous warning that the reconfiguring of Hong Kong is far from complete. The national-security law, he said, provided authorities with a "sword," and the election changes were a "shield." Now armed and protected, they could press on with their campaign of rectification. (Notably, Luo spoke, as most of the guests of honor did, in Mandarin, rather than the local language, Cantonese.)
Much of the day focused on students. Since 1997, when Hong Kong was handed back to China from Britain, the Chinese identity Beijing had hoped to see flourish has largely failed to take hold, particularly among young people. Instead, a distinct Hong Kong identity has risen. In 2014 and again in 2019, students played a major role in demonstrations; teenage activists such as Joshua Wong captivated the media. What wasn't taking root organically would thus need some outside assistance, so students as young as 6 have been subjected to cartoons in their classrooms about the importance of national security and upholding Chinese values.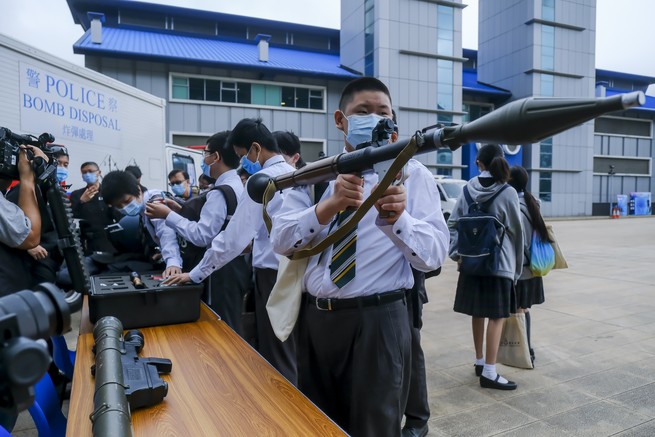 At Hong Kong's police college, kids in school uniforms were treated to a field day of militarized policing. A few pointed mock automatic weapons at one another. Photos showed one young boy in a striped tie and crisp white shirt at a booth on bomb disposal, shouldering a replica rocket-propelled grenade with his finger wrapped around the trigger. Teddy bears dressed in tactical police uniforms were for sale, a cuddly commodification of state-backed violence. The toys came complete with tiny signs that warned of imminent tear gas or of demonstrators' possible violation of the national-security law, replicas of those carried by police during the 2019 and 2020 protests. Police for the first time goose-stepped their way through parade drills, their legs swinging high and unbending in a marching style most closely associated with the rise of fascism and the militarism of World War II. Unsatisfied with tightening their control only over the future, authorities continued their selective revision of history as well. Speaking with reporters, Hong Kong's police commissioner conspiratorially declared that prodemocracy protests had not been sparked by an extradition bill, as was actually the case, but rather by the actions of U.S. agents.
As for Tam, the imprisoned activist I was meeting, none of the charges against him involve violence, but he looks to very much be getting the sword. At visitor's booth No. 28, he sat opposite his assistant and me, separated from us by a pane of glass foggy with scratches and a row of gray bars. He was skinnier than when I last spoke with him, when he was free, his slightly chubby face now considerably more narrow. His hair, normally spiked in the front, was longer and flopped across his brow as he excitedly started chatting with me via the phones connecting us through the barrier. Despite what has been a lengthy pretrial detention, he was remarkably upbeat. He had recently started folding envelopes as part of a prison work scheme, and his wife had visited with updates about his much-loved but aging dog, Cream. (Still "very greedy for treats," his assistant told me.) He had thought of a new catchphrase for National Security Education Day that he was excited to share. "To me, the slogan should be 'Uphold national security, destroy free speech and liberty in Hong Kong,'" he said smiling.
A digital clock ticked down from 15 minutes, and I struggled to keep up with Tam, scribbling notes on index card–size scraps of paper provided by the jail. The drastic changes in the elections meant that the prodemocracy camp no longer had a place within the legislature, he said. Any prospective lawmaker who successfully made it through an onerous new vetting system risked serving only as a "flower vase," providing a decorative veneer of legitimacy to a deeply corrupted process. The national-security law meant that Hong Kongers should "prepare for the new ages, the very dark ages," he told me. Parents would need to take greater responsibility for "anti-brainwashing," to counteract patriotic education in their child's classroom. A former theology student, he was also reading works by Pope John Paul II and other religious figures. Hong Kongers should "have some faith," he said. "A little bit of faith can nurture your heart and mind."
In terms of his own future, Tam told me, he did not think it would be that bad to serve eight to 10 years in prison, the sentence he faces. Others charged with national-security-law offenses were older and some, he surmised, would likely die in jail. But he already seemed to be percolating new ideas and plans. "I have a lot of things to do when I get out," he said.