Canada's Vaccine Mess
Canada has universal health care and millions of doses on order. So why are so few of its citizens vaccinated?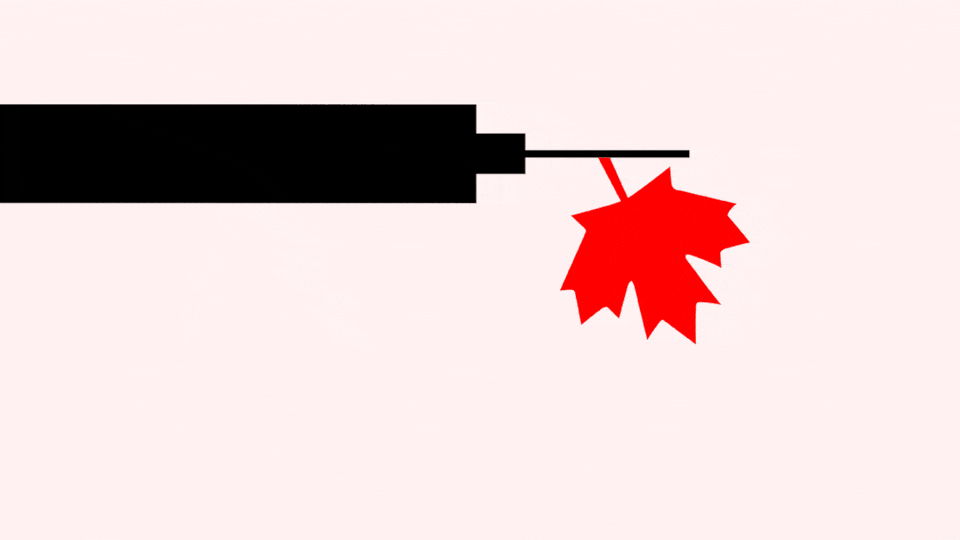 By the time you read this, at least a quarter of Americans will have received at least one dose of a COVID-19 vaccine. It's a stunning turnaround for a country where a bungled early response, inadequate financial support to keep people home, and a mishmash of mask requirements have led to more than 30 million infections and more than 554,000 deaths.
Just north of the border, Canadians—usually so smug about our universal health care—are looking on with jealousy. "Here, vaccine envy has turned into a national psychosis, another reason to beat ourselves up for some fatal national flaw," wrote Alan Freeman, a journalist turned public servant and academic on iPolitics, a Canadian news website. In The Globe and Mail, the columnist Ian Brown retells an encounter with a vaccinated person: "I immediately wanted revenge. Nothing serious: steal his car, maybe, or his wallet."
Canadians have been overwhelmingly compliant with public-health directives, wearing masks, limiting social interactions, washing and sanitizing our hands 'til our fingertips prune. And what do we get? Per capita vaccination numbers lagging behind those of 50 other countries, including Brazil, Chile, Turkey, and much of Europe, according to Johns Hopkins University's immunization tracker. The country currently has a level-four travel advisory: "Travelers should avoid all travel to Canada," warns the CDC. In March, the Department of Homeland Security announced that the U.S.-Canada border—closed for nearly a year, since American COVID-19 infection rates began escalating out of control—would remain closed for at least another month.
"I think we have nothing to be proud of on this, that's for sure," André Picard, a health expert in Canada and a longtime columnist for The Globe and Mail, told me.
To some degree, this is the natural result of living in a small country during an unprecedented global health crisis that has scrambled supply chains all over the world. Without much domestic manufacturing capacity to speak of, Canada had to sign advance-purchase deals with international vaccine companies. The country hedged its bet by mostly going with companies funded by Operation Warp Speed, and so far its strategy has been to overbuy doses in the hopes of securing enough to vaccinate all of its citizens. A mounting critique, however, is that perhaps Canada should have been more specific than "first quarter of 2021" in terms of arranging vaccine-delivery timing. Picard said that Canada, by not giving manufacturers a specific week, or even day, allowed them to push delivery until the outer limit of the quarter.
"The time between the vaccines being approved and the vaccines getting into people's arms is one where you can't do it fast enough," says Tim Evans, the head of McGill University's School of Population and Global Health as well as Canada's COVID-19 Immunity Task Force. "A large majority of people see vaccines as our ticket out of this pandemic. So I think that's part of the issue—every day seems like an eternity."
But Canada's problems run deeper: Through a combination of bureaucracy and legislation, the country has slowly lost its drug manufacturers that were doing original R&D, its capacity to respond to potential pandemics early, and its federal clout in organizing national strategies for pandemic response and emergency vaccine rollout.
"I think it's a frustration for Canadians, especially to see this massive rollout in the U.S. next door, and to see some countries around the world have much more vaccination per capita," Picard said. "But I think a lot of it is historic, unfortunately."
---
To Robert Van Exan, a lifer in the Canadian pharmaceutical industry, the reasons for the country's vaccine shortages are as plain as day.
"Canada has watched its pharmaceutical industry slowly move out of here over decades, because they created an environment that was not conducive to investment in this country," charges Van Exan, a semiretired vaccine-industry consultant who spent nearly 35 years at Sanofi Pasteur working on policy, immunization campaigns, sales, and product development.
He cites long-standing Canadian policies in three areas as being particularly antagonistic to vaccine makers, especially multinationals: patents, prices, and procurement.
Most countries give pharmaceutical companies drug patents guaranteeing them a term of market exclusivity as a sort of reward for the 10 to 15 years the companies spend, on average, in research and development. Van Exan notes that Canada's patent protection can be years shorter and much more complex than in other countries, such as the United States, which makes developing drugs in Canada less inviting. The Canadian government also has the ability to regulate drug and vaccine pricing—another turnoff. "And in fact, we're in the process right now of adding even more teeth and more rigor to the price regulator than we had before," Van Exan explains. (In Canada, provinces run partially subsidized drug plans, which is why control pricing is so popular.)
Then there's what he calls a "virtually monopsonistic" procurement system. The federal government is the single largest purchaser of vaccines, according to Canada's procurement department—meaning that drug companies looking to sell to the Canadian market are sure to come up against the price-control system sooner or later.
"I think that in Canada, there's much more appetite for controlling drug prices, which is what we do, and that turns off the manufacturers," Picard told me.
In short, it's a hell of a mess decades in the making. The blame, though, has fallen squarely on Justin Trudeau, in his sixth year as prime minister, who is now tasked with cleaning it up.
"Our domestic-production issues in particular—every flavor of government has had a chance to correct that over 20 years and hasn't done it," Picard said. "So it's easy to now say that the current government's failed, but we all had the chance to do it earlier."
Today's solution doesn't necessarily look like the one Canada would have created 20 years ago, though. Vaccine nationalism—which, in Canada, would look like making publicly unfavorable concessions, such as more lenient pricing, to Big Pharma in an effort to stake a claim in domestic drug and vaccine supplies—isn't necessarily the answer for the country, which despite being geographically huge has only 38 million people. But Canada could exchange its smarts and its medical-accessories-manufacturing capacity for better vaccine deals, Van Exan says.
"We are miles ahead of most of the rest of the world in terms of academic and small biotech research on vaccines," he says. "We somehow need to bring in the big industry that has the manufacturing capability, to link up with those resources."
---
We've had opportunities to change.
In 2003, SARS killed 44 Canadians, a small number compared with the 23,000 who have died of COVID-19. After the SARS pandemic, the government commissioned a 234-page report warning about its failures, compiled by David Naylor, who was then the dean of the University of Toronto's Faculty of Medicine. The Naylor report led to the creation of the Public Health Agency of Canada and called for a number of reforms, including a recommendation that the Canadian government foster a better public-private relationship with biotech, IT, and pharmaceutical industries, particularly in the realm of infectious diseases, vaccines, and diagnostic technology; and that the federal government reexamine intellectual-property and patent issues keeping Big Pharma at arm's length. It also recommended that Canada develop a national legislative and policy framework for a "measured, harmonized and unified response to public health emergencies" and that it invest $100 million a year in "a major reinvigoration of the National Immunization Strategy."
But Canadian memories are short. In 2016, Canada committed just $25 million over five years to increase immunization coverage. The position of chief public-health officer of Canada, also a Naylor-report recommendation, lost much of its power in a maze of bureaucracy. And as Van Exan notes, the federal government hasn't exactly laid out a welcome mat for pharmaceutical companies with large R&D departments to set up shop or expand in Canada.
Moreover, provincial leaders weren't particularly enthused about a call for a national strategy in a country constitutionally bound to divide health care along provincial lines. Ultimately, all the federal government could do was make recommendations to its provinces and territories. As Naylor wrote at the time, "Because first-line outbreak response occurs at the local or regional level, the general renewal of public health infrastructure will pay dividends in better preparedness for 'the next SARS.'"
---
However imperfect—and slow—Canada's rollout has been, Picard and other experts suggest that envious Canadians looking toward the U.S.'s speedy vaccination rollout consider why Canada has been slow. "I think, in Canada, we've obsessed a lot about who gets vaccinated in what order, and I think, in the U.S., it's been much more 'Just let 'er rip'—you know, vaccinate whoever: if you can get their arm, stick a needle in it. The Canadian are very, very cautious about this, and I think that has slowed our rollout," Picard said.
"But I don't think that's a bad thing," he continued. "I think it's worth giving some thought to trying to do it fairly."
Tim Evans, of the COVID-19 Immunity Task Force, says a more centralized, deliberate approach to vaccine distribution allows for more equitable access. The immunization committee's recommendations "were very, very clear," Evans says. "One: the institutionalized elderly population, and then older people as a group, and then with particular attention to disadvantaged communities, racialized minorities, Indigenous people."
Most Canadians know this, objectively. And so we wait in line, begrudgingly and complainingly. Complaining is, after all, our national pastime. But if Canada's plan to secure 44 million doses by July 1 materializes, Canadians will gladly forget all about COVID-19—until the next pandemic, of course.