They Get Taxed, but Not Vaxxed
Millions of citizens living outside the United States are waiting for their COVID-19 vaccines. What responsibility does the government have to help them?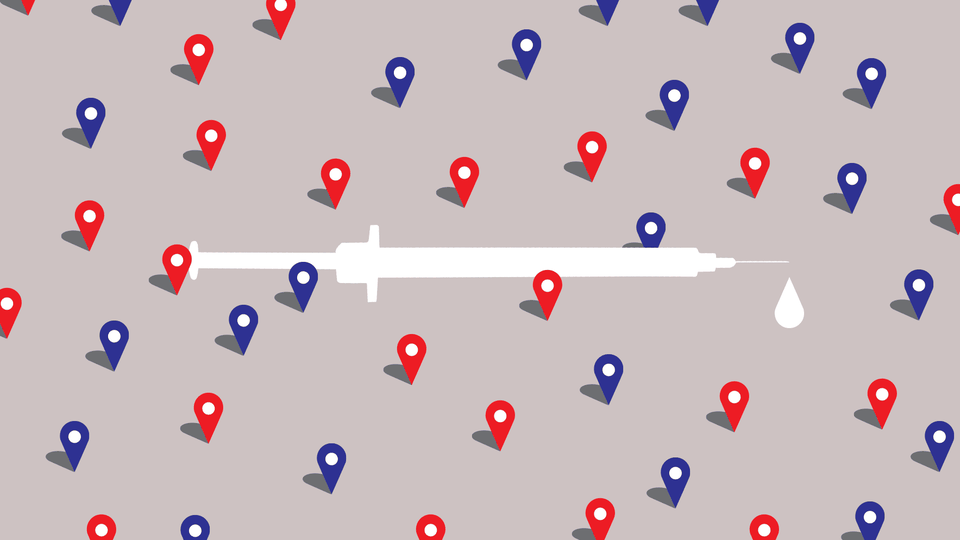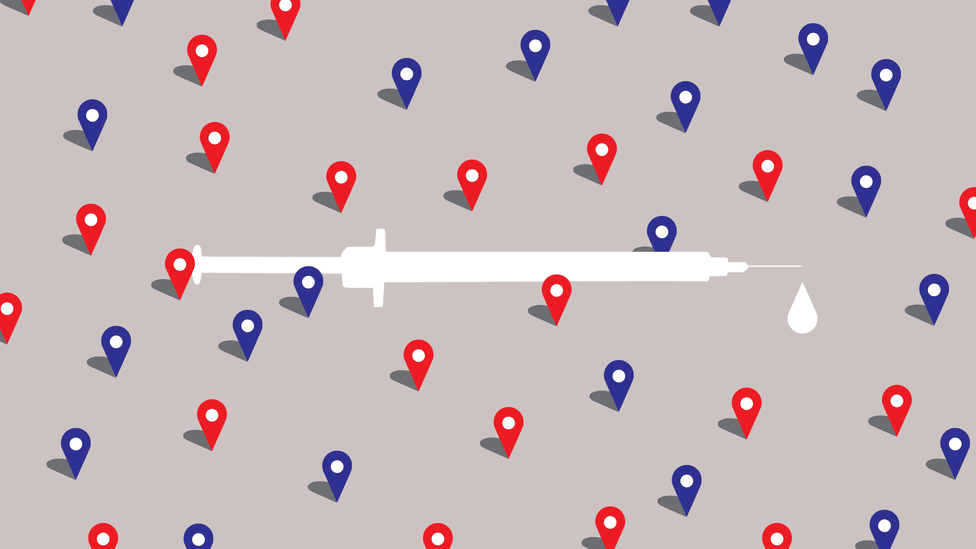 Like many Americans, Ariane Dvir is eligible for a COVID-19 vaccine. Only, she doesn't live in America. From her home near Cologne, in western Germany, she has spent much of this year hearing about her loved ones back in the United States getting vaccinated. Her husband, an Israeli citizen, has heard about his family and friends in Israel doing the same. Though the couple had intended to wait their turn in Germany, the slow pace of vaccination there, and across much of Europe, has made them reconsider. Come summer, Dvir and her husband will take separate trips to their respective home countries. They plan to return to Germany fully vaccinated.
"We refrained from so much in the past year, it feels out of step with the spirit of things to travel without a vaccine," she told me. "Then again, what is more important than getting vaccinated?"
More than 5 million Americans residing outside the United States face a similar predicament, watching the country's successful inoculation drive, some from places where vaccination has scarcely begun. With all stateside American adults due to be eligible to receive a vaccine as early as this week, some expats have already opted to travel home for the jab. Others are calling on the government to direct some of the hundreds of millions of doses it's projected to have left over to its overseas citizens, wherever they happen to live. President Joe Biden has repeatedly stated that the U.S. will share its excess supply only after the needs of Americans are met. Why, some overseas Americans are wondering, should they be left out?
The answer to that question is more than just a logistical matter. It comes down to what responsibility, if any, the U.S. government has to its overseas citizens. The U.S. is unusual among most countries in that its citizens must still file annual tax returns even if they don't live in America. All of its citizens, regardless of where they live, are also eligible to vote. So as taxpayers and voters, don't these citizens have a legitimate claim to the U.S. government's aid in a public-health crisis?
Though there are no rules preventing an American citizen from returning to the U.S. right now, going back isn't as easy as it used to be. Although Americans living abroad (myself included) might have been accustomed to going home at least once or twice a year, the pandemic put an end to that transient lifestyle: In addition to the public-health concerns surrounding pandemic-era travel, returning to the states now carries a number of new complications—COVID-19 tests, potential quarantine requirements, the risk of needing medical care in a country where many of us do not have health insurance, and the possibility of being locked out of your country of residence (Americans living in France, for example, are barred from returning to the country if they leave under current restrictions).
For many Americans, though, the benefits of traveling back to the United States have outweighed the risks. Ameya Acharya, a software engineer based in Barcelona, who got vaccinated during a visit to her native New York this month, told me that she hadn't flown home with the intent of being vaccinated. But when she realized that she was eligible, she jumped at the opportunity. In Spain, she would have likely had to wait until the end of summer to get a first dose, if not longer. James Osterlund, a student and writer living in Berlin, told me that he too discovered that he was eligible in the days leading up to a trip to see his parents. Within three days of arriving in Florida, he had been vaccinated.
Others I spoke with told me that the apparent uptick in vaccine tourism to the U.S.—in which wealthy foreigners travel to America for vaccination—as well as the country's vaccine surplus influenced their decision to travel or extend their stay. "It was kind of a free-for-all, as I understood it," said Daniel, a London-based American currently visiting family in Miami, who asked to be identified by only his first name. "There was this general feeling that if people are getting [a vaccine] and they aren't even U.S. citizens and they don't even live here, then surely we can get it."
Not every American has the means to travel home, though, and some don't think they should have to. They pay taxes. Many vote. They are eligible to receive stimulus checks as part of the government's economic-relief program. So why shouldn't they be granted access to the government's vaccination program too?
"I keep seeing news about how soon America will have a surplus of the vaccine and they will start sending it to other countries to help out," Jeff, an American living in Paris who asked to be identified by only his first name, told me in an email. "While that is an honorable thing to do, they should ensure Americans overseas are offered access first."
Marylouise Serrato, the executive director of American Citizens Abroad, a nonprofit that advocates in Washington, D.C., on behalf of overseas citizens, told me that she has received dozens of messages from Americans around the world who share the same opinion. She has called on lawmakers to provide clearer guidance for Americans overseas, including about any opportunities they might have for vaccination at U.S. embassies and consulates in their country of residence. Though the U.S. government aims to vaccinate its military and Foreign Service officers, that assistance doesn't extend to private citizens. But, the way Serrato sees it, "if you're going to have this kind of tax regime, then you've got to be able to service all the citizens who fall under the umbrella."
When I put this to the White House, a Biden administration official told me that although the government is working to identify additional avenues for individuals to obtain vaccinations, "At this time the U.S. government is not providing vaccinations for private citizens overseas."
This issue can understandably seem trivial, particularly for non–U.S. citizens. Sure, American expats might not be vaccinated yet, but look around—hardly anyone else is! With the U.S. and other wealthy nations siphoning off most of the available vaccine supply for themselves, many of the world's poorest countries aren't projected to have broad access to doses until 2023 or later. In the meantime, Americans who are young and healthy are lining up for jabs while many older and more at-risk populations elsewhere remain at the back of the queue.
The United States is projected to have more than 300 million spare doses (not including those earmarked for most of the country's children when they become eligible), according to the Duke Global Health Innovation Center. Allocating a small chunk of those doses to Americans overseas might seem reasonable. But exporting the U.S.'s vaccine success to citizens beyond its borders is "one bridge too far," Lawrence Gostin, a health-policy expert and the director of the O'Neill Institute for National and Global Health Law at Georgetown University, told me. It would be a logistical nightmare—one that would overwhelm the country's already-strained efforts to vaccinate its overseas service members and embassy staff. It would also be inconsistent with the long-standing expectation that private citizens based overseas rely on their local health system for medical care (which, in pre-pandemic times, many expats, particularly those living in countries with universal health care, saw as a benefit).
Crucially, it would also be a bad look for the Biden administration, which has already faced plenty of criticism over the country's vaccine nationalism. While it's one thing for the U.S. to sit on more doses than it will likely ever need, it's quite another for it to prioritize sending its surplus to American citizens around the world, locals be damned.
"The moral claim of the United States donating doses to low-income countries is much stronger than giving it to its own citizens living abroad," Gostin said, "and it hasn't even done that."
Not all Americans may see this as an ethical choice. They can't fix the U.S.'s hoarding problem, nor is the U.S.'s donation of spare doses to countries that need them most even guaranteed—at least not anytime soon. Many Americans abroad I spoke with saw their options as either waiting for a vaccine that could be many months away or taking a flight that would get them inoculated and reunited with their loved ones. Without clear guidance from Washington, or options to get vaccinated more quickly where they live, some might not see it as a choice. After all, Ariane Dvir is right: What is more important than getting vaccinated?