The Pandemic Has Given Women a New Kind of Rage
As Gloria Steinem said, "The truth will set you free. But first it will piss you off."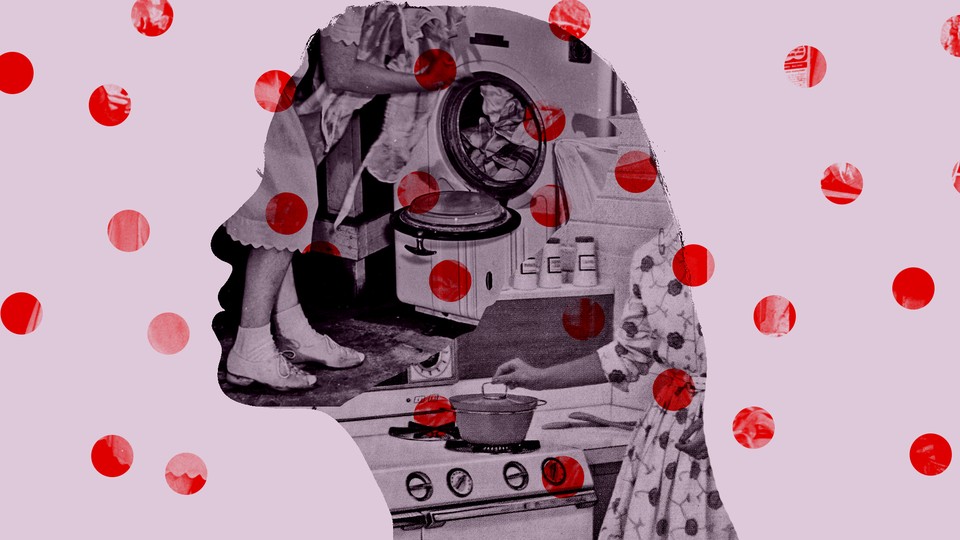 In July, Clare Wenham—and her daughter, Scarlett, and Scarlett's picture of a unicorn—went viral. Wenham researches global health policy at the London School of Economics, and she was giving an interview to the BBC about Britain's attempts to manage the coronavirus pandemic. But Scarlett had another pressing issue on her mind: Which shelf displayed her unicorn to its best advantage?
Wenham soldiered on through Scarlett's entreaties, and her interviewer even offered his opinion (the lower shelf, if you're interested). The moment provided a neat contrast with another incident three years earlier, also on the BBC, when the South Korea expert Robert Kelly was interrupted by his children during a live interview from his home. Back then, the clip's humor came from Kelly's wife desperately trying to salvage his professional facade by running into the room to retrieve his 4-year-old daughter and nine-month-old son. For Wenham, that wasn't an option: Her partner was working in another room, oblivious to the chaos. She just had to get on with it.
The idealized image of working parents as swans—serene on the surface, frantically paddling away under the water—has been an unexpected casualty of the pandemic. Zoom meetings have ensured that employers, and the outside world, can't help but see the struggle.
And what a struggle it has been. A year ago, I wrote that the coronavirus would be a "disaster for feminism." Not a disaster for the empowering T-shirt kind of feminism, but for the kind that asks governments and employers to change their spending priorities. Researchers who had studied previous epidemics predicted that school closures would force parents out of the labor market, and that the burden of homeschooling would fall harder on mothers. Women are more likely to be single parents, and when they're in straight couples, they're more likely to be the lower earner. Most couples who were forced to protect one partner's job would pick the man's, researchers predicted, either for sensible economic reasons or for unconscious cultural ones. The pandemic would send many families back to the 1950s, with a revival of the breadwinner/homemaker divide.
All of that has happened. Whereas Kelly's interrupted interview was rare enough in 2017 to be newsworthy, Wenham's went viral for the opposite reason—because it was so relatable. "Complete strangers reached out" to ask her for parenting advice, she told me, although she preferred to talk about policy data. "At home I only have a sample size of two."
Feminism is a fractured movement. After all, what does a single mother in a favela have in common with a Manhattan socialite? Yet the pandemic—or more accurately, the economic shutdowns imposed to contain it—has affected women and girls around the world in remarkably similar ways. Spikes in domestic violence have been recorded in countries as varied as Sweden and Nigeria, and women have borne the brunt of joblessness in 17 of the 24 Organization for Economic Cooperation and Development countries that reported an overall rise in unemployment last year. In the U.S., 275,000 women left the workforce in January 2021, compared with 71,000 men; in South Africa, a survey in July found that two out of three respondents who had lost their jobs or been furloughed in the early months of the pandemic were women.
Wenham, who co-leads the international Gender and COVID-19 project, attributes some of this global trend to the complacency of rich countries: Places that could have done more didn't. The message she got from the British government when she tried to discuss COVID-19's gender impact, she said, went something like this: "London is not Liberia. It won't happen here."
That attitude has also hampered attempts to collect better data on the medical and social effects of COVID-19. In the case of medical data, indifference has had worse effects for men. A recent study found that fewer than 5 percent of nearly 2,500 registered COVID-19 clinical trials planned to disaggregate their data by sex, though men are more likely to be hospitalized with the coronavirus, and more likely to die from it. As the British Medical Journal asked in an editorial last year, why pass up the opportunity to learn more and perhaps save men's lives?
A lack of information is also a problem for social scientists and policy makers. "On my more cynical days, I think the government doesn't want the data," Wenham said, because hard figures would show women just how screwed they have been. By law, British companies are obliged to report their gender pay gap—but they were given a year off in 2020, and this year the figures do not have to be submitted until October.
In the meantime, the data gap has been filled by academic researchers and international organizations such as the Bill & Melinda Gates Foundation. In Britain, the Women's Budget Group, a collective of independent researchers, has chronicled the pandemic's unequal impact. A survey of 1,003 people found that parents with low incomes were nine times more likely to report a risk of losing their jobs if schools and nurseries were closed, while one in five mothers was made redundant or lost hours because of caring responsibilities, compared with 13 percent of fathers. Alongside investment in child care and the inclusion of more women in political decision making, the Women's Budget Group has called for targeted support of female-dominated sectors, such as hospitality and retail.
The raw statistics are one thing, but what strikes you when talking with parents is their sheer exhaustion, often laced with a sense of injustice. Susannah Hares, a senior policy fellow for the Centre for Global Development, is a single mother of a 2-year-old. Her day job involves studying the gendered effects of COVID-19, so it feels strangely fitting that her son's nursery class has been sent home to self-isolate three times in the past year, for more than a week each time, with no notice. "I've had to pull out of panels," she told me. "I've felt it has impacted my career."
Last March, I also quoted the Emory University epidemiologist Rachel Patzer, who had to care for a three-week-old baby and two young children while her husband—who works in the emergency department of a local hospital—lived above their garage to reduce his chance of infecting the family. Like Hares, and many other women I have spoken with over the past year, when we caught up recently, Patzer stressed her privilege—she has kept her job. Nonetheless, repeated quarantines, a lack of child care, and the toll of virtual schooling have made her life difficult. Worse, others around her have struggled to comprehend the challenges she faces, or preferred not to acknowledge them. "Many of my colleagues who were male, childless, or who even had older children could not understand," she told me. "I have voiced these concerns to colleagues and have been advised to stop mentioning my children as an excuse impacting my work."
Realizing that school reopenings have been such a low political priority has felt like a particular insult for many American parents. "I'm still incredibly disappointed with our culture and our leadership in allowing for the opening of bars, restaurants, and other nonessential businesses when there are still schools that are not open," Patzer said. "I have seen so many of our friends suffer this past year."
For now, many women are too busy trying to hold everything together to translate this anger into political action. But could this heightened awareness of the modern economy's unfair load shape politics over the next decade? In the United States, where "rage moms" and "wine moms" were credited with influencing the results of the presidential election, having children is held up as the pinnacle of female achievement. And yet the pandemic has shown us how little support the country gives parents—the lack of federally mandated maternity leave, for example, makes the U.S. an outlier among rich countries. The Biden administration has deputized a Gender Policy Council, which reports directly to the president, to address the issue.
In Britain, there was an immediate backlash when the chancellor of the Exchequer, Rishi Sunak, praised "mums everywhere" for "juggling child care and work." Praise is nice, ran the typical response, but money is better. The statement also managed to offend dads, who felt insulted at not having their contributions recognized, although population-level data show that unpaid caring labor falls more heavily on women. That has always been the great paradox of feminism: It's hard to find time to campaign against inequality when you're elbow-deep in diapers, or dinner needs to be on the table. At the same time, the movement has long relied on "consciousness raising" as a first step to action. As Gloria Steinem said, "The truth will set you free. But first it will piss you off."
The past year has forced many women to confront the inequality in their own life—and every kid sitting on a lap in a Zoom meeting, or bursting in to show off a unicorn, has forced that knowledge on the rest of us. The effects of the pandemic will last for years, even decades. More women than men appear to suffer from "long COVID." Those who have taken career breaks to care for children are likely to be first in line for redundancies if companies need to downsize. The pandemic will have a long tail in which anger can turn into action.
For Hares, the picture is not all bleak. She found surprising reassurance in reading about the medieval Black Death pandemic, whose death toll caused a shortage of farm labor, which in turn "encouraged techniques that didn't require the strength to use the heavy plough, making those jobs accessible for women," as Hares put it. Some historians suggest that those women married later and had fewer children, increasing their independence. Hares believes that the switch to working from home could benefit women in professional roles by accelerating a trend toward flexible working that many employers had previously resisted. "My pre-pandemic life was characterized by always being late and stressed—trying to manage nursery pickups and drop-offs," she added. "That part of my life has become so much easier since last March."
Still, much of what researchers predicted last year has come true. The coronavirus has been a disaster for feminism—and a huge setback for the gains of the past 50 years, such as the domestic-violence-refuge movement and women's increased economic independence. It has also smashed the idea that the developed world has no more use for feminism, and revealed that while women are divided by race, class, nationality, and plenty else, we still can and should talk about women's issues. A generation of little girls—some of them right now drawing unicorns with felt-tip pens—deserves nothing less.