What the Hong Kong Protesters' Trial Reveals About Beijing
In cracking down on dissent, the government has jailed many of Hong Kong's loudest progressive voices.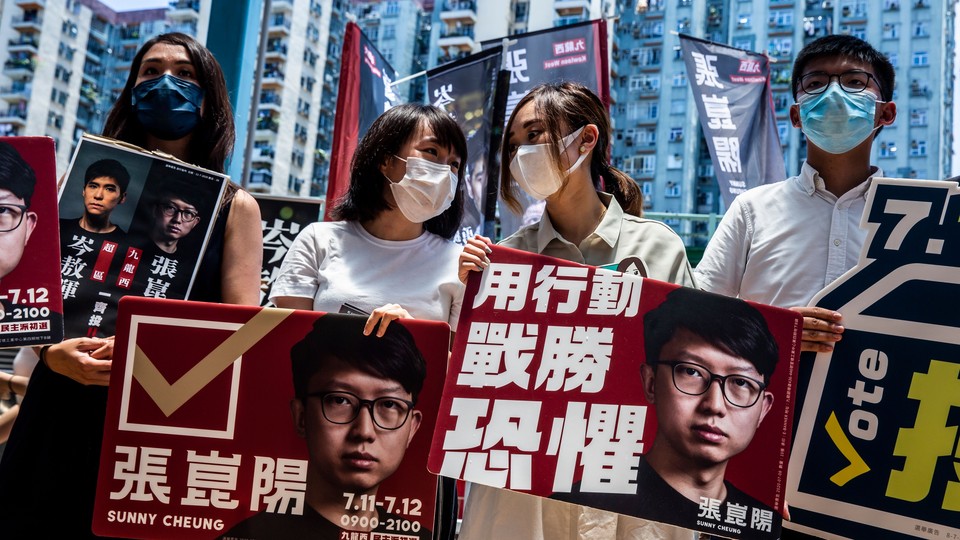 The police report refers to it simply as "the Scheme." It was, in law enforcement's telling, a conspiracy aimed at overthrowing Hong Kong's government. For seven months, an eclectic array of prodemocracy activists and political hopefuls held meetings, raised funds, and gave media interviews in preparation for an unofficial primary election. One of them, the police report states, went so far as to locate "appropriate venues for polling stations." The winners of that contest would then run in the city's legislative-council elections with the explicit goal of gaining a "controlling majority" of seats. Once they accomplished that, the new lawmakers would use their positions to vote against the sitting government's agenda, including the budget, in an effort to carry out their own political goals, with a mandate from those who voted for them.
It sounds a lot like a simple exercise in democracy. That's because it was. The transgressions listed appear to be the type of banal shoe-leather politicking that goes into running a local campaign. That's because they were.
More than 600,000 people voted in Hong Kong's primary over the course of an oppressively humid weekend in mid-July, far exceeding the organizers' estimated turnout of 170,000. Shortly thereafter, the warnings came, as Beijing declared the process a "provocation" and "revolution." Officials in Hong Kong began disqualifying winning candidates from competing in the legislative-council elections, which had been scheduled for September but two weeks after the primary were postponed for a year, ostensibly because of the pandemic. In the months that followed, efforts to eliminate Hong Kong's opposition and break the city's democratic spirit continued without pause.
On the last day of February, authorities charged 47 people with conspiracy to commit subversion for partaking in the unofficial primary for an election that never happened and in which many were barred from participating. Their alleged crime is a violation of the sweeping national-security law enacted by Beijing last year, and can be punished by life in prison.
The next day, bail proceedings began, a grueling multiweek affair during which numerous defendants were admitted to the hospital for exhaustion. The process looked at times like a political show trial, calling into question the ability of the city's common-law courts to retain their credibility.
The proceedings started at the same time officials met on the mainland to discuss drastically retooling Hong Kong's electoral system to make sure that only "patriots" rule the city. The plan was approved by the National People's Congress without a single dissenting voice; details were not revealed before the rubber-stamp vote. The city's leader said the public would not be consulted on the implementation of the changes.
Taken together, the events of early March are the most significant yet in China's efforts to reengineer the boisterous Hong Kong into a more palatable, and more subservient, city. Many Hong Kongers see these developments as "essentially eliminating political opposition in Hong Kong," says Michael C. Davis, a law professor at O. P. Jindal Global University, in India, and the author of a book on the city's rule of law.
On trial in Hong Kong is not just the democracy movement, but a surprisingly wide swath of Hong Kong itself. Observers tend to describe the protesters as part of the city's prodemocracy movement, but that flattens them and their ideology: Among the defendants are champions of Hong Kong's progressive values, noted gay-rights activists, pioneering labor leaders, feminists, and medical workers, all swept up in a dragnet deployed to stifle democratic development and pluralistic politics. In one mass trial, authorities are "removing the voice of Hong Kong people," Davis told me.
---
When Wahsung Yau joined British Airways as a member of the airline's cabin crew in 2010, he was on a one-year contract, and co-workers told him not to be too vocal about working conditions if he wanted to return. In particular, he says, they warned him to steer clear of the cabin-crew union and its leader, Carol Ng. "They called her the leader of the rebellion," he told me from the United Kingdom, where he now lives. Yau, who, by his own admission, rarely shies away from speaking his mind, made a point of ignoring their advice.
At the time, it was "like a sin to say or do anything against your seniors," Yau said of the corporate environment. But Ng, who had worked for the airline since the early '90s and helped form the union in 2003, had little patience for deferentialism. She led the union as it successfully battled the airline over wages and triumphed in a years-long race- and age-discrimination case. "It was quite hard to imagine that someone could overthrow a company's decision," said Yau, who became the chairperson of the union in 2016. "She did that a few times."
The prodemocracy protests that began in 2019 and carried into the following year led to a groundswell of support for Hong Kong's labor movement, a not-insignificant development in a city of turbocharged capitalism. Veterans like Ng, who had become the chairperson of an umbrella group of unions in 2016, were joined by upstarts such as Winnie Yu, who led a new union of health-care workers in a strike early in the pandemic, pushing the government to institute more stringent public-health measures. Both stood in the primary. Ng was defeated; Yu was victorious. Both were charged.
So too was Tiffany Yuen, a district councilor elected in 2019, when prodemocracy candidates, buoyed by months of protests, humiliated the pro-Beijing camp at the polls. Yuen recently launched a YouTube channel with two friends on which they candidly, and humorously, discuss sex and feminism, often with cameos from Yuen's cats. The trio explain menstruation cups in one episode, and struggle to replicate the intricate knots tied by a rope-bondage expert in another. Yuen does not see the channel as disconnected from their prodemocracy activism, Lily Wong, one of Yuen's co-hosts, told The Atlantic. "Talking about sex is an inevitable part of social activism in Hong Kong, because it's ultimately a discussion about equality and respect," she said. The channel has racked up more than 1.2 million views. In a letter from jail, Yuen said she hoped it would still be up and running when she is released.
Read: Eradicating a democracy movement
Others now on trial include the LGBTQ activist Jimmy Sham, who headed the group that organized the city's largest prodemocracy protests, as well as Ray Chan, the city's first openly gay lawmaker. Their arrests, coupled with the wider crackdown on the opposition, mean "the future of advocating for minority rights in Hong Kong looks gloomy," says Brian Leung, the chief operating officer of BigLove Alliance, an LGBTQ-advocacy organization.
None of the defendants, nor any elected politician in Hong Kong for that matter, has the popular mandate of Eddie Chu, who captured the most votes in 2016's legislative-council elections. Chu, a former journalist who reported on conflicts in the Middle East, rose to prominence when he returned home to Hong Kong and began advocating for the conservation of historical sites. As a lawmaker, Chu waded into everyday issues—pest control, traffic flow, garbage pickup—as well as contentious land issues and unsparing rural politics, Chu's friend Matthew Chapple told me. The two met when Chapple emailed Chu about motorized carts that haphazardly barrel around an island that is part of Chu's constituency, hoping he might help find a way to regulate them. Chapple, who admitted he didn't vote for Chu and thought that Chu might be more combative than helpful, said he was so impressed with their initial meeting that he went on to volunteer with Chu's office and host a podcast with him. "There is no better livelihood-focused politician in Hong Kong," Chapple said. "He serves the community by dealing with these small, small things."
---
On the first day of March, all of these people sat at the back of the courtroom, some behind a plexiglass wall, as prosecutors and defense lawyers began arguing over their fates, reducing them merely to numbers: D31, D47, D6, D12, D36, D25. The hearing that day would run into early the next morning, and was paused by the judge only when one of the defendants collapsed and needed to be transported to the hospital. Seven others would join her in the coming days, wheeled from ambulances on stretchers, covered with red blankets. Jerome Cohen, a Chinese-law expert at NYU, wrote on his blog that the scene was an "unthinkable travesty of justice."
On the sidewalks around the courthouse, hundreds of people showed their support. Cardinal Joseph Zen, the former bishop of Hong Kong and a longtime critic of Beijing, sat on a small stool. Alexandra "Grandma" Wong, an eccentric protest fixture who was detained for more than a year on mainland China for participating in demonstrations, waved a British flag and hoisted a yellow umbrella each day. Others were less conspicuous: A few former prodemocracy lawmakers who resigned en masse last year waited quietly to see their ex-colleagues. At least one other person who served jail time for participating in the protests mingled in the crowd, keeping an eye on the dozens of police officers stationed around the courthouse.
The atmosphere was at times not unlike that of the prodemocracy protests. A van pulled up one day and a young man unloaded crates of lemon tea, water, and sandwiches, which he handed out for free. Shirts with protest slogans and the movement's iconography were abundant. At one point, dozens of people broke into popular protest chants that had not been heard on the streets for months. Police hastily pushed the crowd back, warning that those shouting outside might be violating the same national-security law that those inside were charged with breaking. As a decision on the defendant's bail applications drew near on the evening of March 4, the protest anthem "Glory to Hong Kong" could be heard in the media room, where more than 50 reporters strained at a TV showing a live feed of the court.
Fifteen of the 47 were granted bail. The government, however, immediately appealed that decision, sending them all back into detention, before just four were allowed out. The appeals process dragged on over multiple hearings. On Monday, two weeks after the accused first appeared in court, the proceedings finished, with a total of 11 defendants granted bail under strict conditions, including curfews and limits on who they could interact with. The defendants who remain behind bars, according to their lawyers and local media reports, are largely kept in solitary confinement. In recent days, Yuen's friends started selling off some of her possessions, kitchen appliances, her old TV and a pink ukulele, to help pay for her mounting prison fees.
The contrast in the courtroom between two competing visions of Hong Kong—one that believes in not only a more democratic but more liberal city, the other dutifully carrying out Beijing's bidding in hopes of purging the territory of such ideas—was jarring. The situation is "really striking," Davis said, "that here, in an open society, where all members of the government actually grew up and lived and were educated in an open society, that they could be so completely committed to all of this repression." They are, he added, "in fact orchestrating and very complicit in it."
Karina Tsui contributed reporting from Hong Kong.