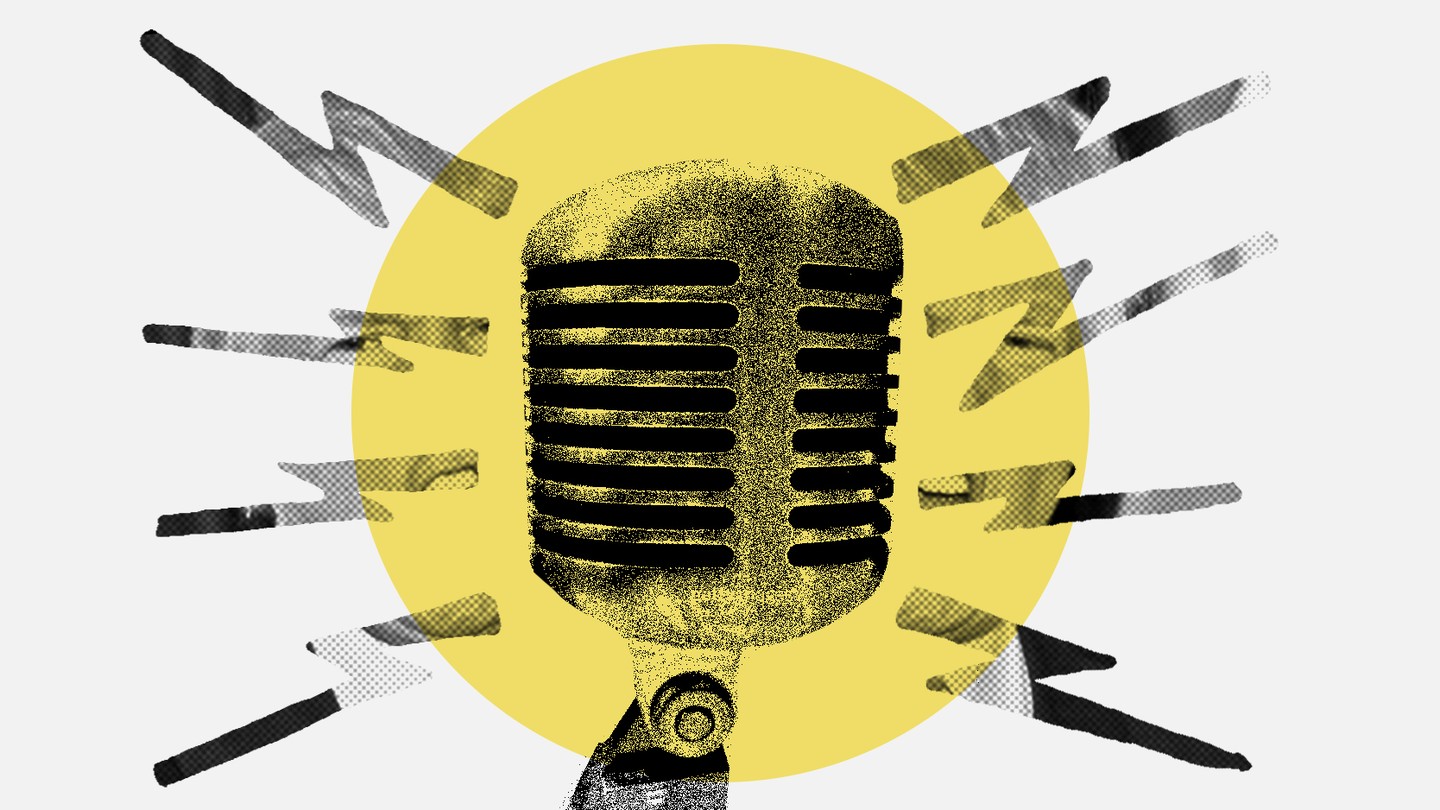 The Ultimate Symbol of America's Diminished Soft Power
The Trump administration's partisan takeover of the United States' international broadcasters failed. What's to prevent a future administration from trying again?
Among the visible remnants of Donald Trump's presidency is a blank patch of wall along a hallway a short distance from Capitol Hill. Just eight months ago, that wall in the headquarters of the United States Agency for Global Media, the independent body charged with overseeing the country's five federally funded international broadcasters, held a portrait of the agency's first CEO, John Lansing, as well as a quote from him: "A set of unimpeachable facts, and the existence of a baseline of truth, is the foundation that undergirds our democracy … Since our country's founding, journalists and journalism have stood watch over private and public officials in power to hold them accountable to what is factual and what is true."
Within days of the Senate's June 2020 confirmation of Michael Pack, a conservative filmmaker nominated by Trump to run the agency, the portrait was removed and the quotation painted over. Steve Capus, Lansing's former senior adviser, told me it was "a petty move"—a precursor of the changes to come.
Over the course of his seven-month tenure, Pack undertook a near-complete overhaul of the agency: purging its senior leadership, undermining the editorial independence of its broadcasters, and entrenching its traditionally bipartisan governing boards with right-wing ideologues, in an apparent effort to assure a conservative hold on the agency well past Trump's presidency.
Not all of those changes stuck. The first few weeks of Joe Biden's term saw the swift dismissal of Pack and all the other Trump appointees installed at the five networks—the independently run Radio Free Europe/Radio Liberty, Radio Free Asia, and the Middle East Broadcasting Networks, as well as the federally run Voice of America and the Office of Cuba Broadcasting—and a public recommitment to the independence of their journalists.
At its core, the Trump administration's takeover of USAGM threatened the delicate status quo that its broadcasters enjoyed as outlets financed, but not editorially controlled, by the state. For the staff at Radio Free Europe/Radio Liberty, this threat bordered on existential: it was designed to serve parts of the world where independent journalism is heavily suppressed or nonexistent. Its presence as a source of unfettered news and information is what sets it apart in the countries it covers. Autocratic regimes such as the Kremlin have seized any opportunity to drive it out. By attempting to erode its editorial independence and sow doubt in its credibility, the Trump administration appears to have done much of their work for them.
To understand the Trump administration's legacy at RFE/RL—and how that legacy extends to other parts of government, civil service, and foreign policy—I spoke with a dozen current and former staff members, many of whom asked to remain anonymous for fear of retaliation. In their telling, what was at stake was not just their safety and that of their colleagues, some of whom have been detained and killed over their work in the past year, but decades of trust with their audiences. Even if the institution survived an attempted takeover by one administration, what's to prevent another from trying again?
"We seem to have been just lucky that they were incompetent," one staffer told me. "Maybe the next ones won't be."
Most Americans have little reason to know much about USAGM or its broadcasters, having never been part of their target audience. The oldest, Voice of America, was established during the Second World War to reach listeners in Nazi Germany. Its goal was in its name: To relay American values and information as a means of combatting Nazi propaganda. In its first broadcast, in February 1942, the journalist William Harlan Hale told listeners, "We shall speak to you about America and the war. The news may be good or bad. We shall tell you the truth."
Radio Free Europe and Radio Liberty (then separate entities serving Eastern Europe and the Soviet Union, respectively) were created during the Cold War, providing uncensored news and information to audiences that had access to neither behind the Iron Curtain. Though covertly funded by the U.S. government, the services weren't designed to be a bullhorn for the State Department. RFE and RL's utility was in their impartiality. Propaganda, the logic went, couldn't be defeated with propaganda. To promote democratic values, RFE and RL simply had to embody them by showing the value that a free press could provide.
Even after the Soviet Union fell, that mission didn't change; instead, it expanded. Today, RFE/RL reaches tens of millions of people worldwide, broadcasting in 27 languages across 23 countries. In many of these places, it's one of the only independent news outlets available. Its focus is local, and so are many of the journalists who work for it, many at great personal risk. Their mission isn't to be a mouthpiece for U.S. foreign policy. If that were the expectation, many staffers told me, it would do untold damage to their credibility.
One person who did have that expectation, though, was Pack. His role, as he saw it, was to ensure that all of the U.S.'s state-funded broadcasters were adhering to what he and the White House believed was, or certainly should have been, USAGM's mission—to "tell America's story" to the world. Trump, who in April accused Voice of America of amplifying Chinese propaganda over its failure to follow his pandemic narrative (a charge that was rejected by the broadcaster's then-director), has long believed that the U.S. should have its own state-controlled media apparatus. Steve Bannon, Trump's former chief strategist who recommended Pack for the job, told the Los Angeles Times in 2018 that he advised Trump to take over Voice of America, which Bannon considered to be "totally controlled by the deep-state apparatus."
Because of Trump's apparent fixation on Voice of America, some within RFE/RL presumed, perhaps naively, that Pack's nomination wouldn't necessarily affect them directly. Obama-era reforms, however, gave him huge control, shifting powers from a bipartisan governing body to the chief executive, an effort seen at the time as a necessary antidote to the agency's dysfunctional inefficiency. ("To many observers," Martha Bayles wrote in The American Interest last year, "this change was worrisome, because at no point in its history had this large, complex, diverse, globe-spanning media organization been under the direct control of a single individual, much less a political appointee in an era of intense partisanship.")
Pack wasted little time using those new powers, firing all five network heads within two weeks of his confirmation, including RFE/RL President Jamie Fly, a former foreign-policy adviser to the Republican Senator Marco Rubio. (Fly was among a number of conservative voices who signed a letter opposing Trump's nomination in 2016.) Pack also replaced RFE/RL's traditionally bipartisan corporate board with a slate of conservative activists and Trump-administration officials, imposed a spending freeze, and scrapped federal regulations protecting the networks from political interference on the grounds that it was "harmful to the agency and the U.S. national interest." For the role of RFE/RL president, Pack appointed Ted Lipien, a Voice of America veteran and the author of a blog known for its regular critiques of the agency and its coverage (some of which echoed Trump's attacks on the Voice of America).
At no point did Pack ever meet or engage with RFE/RL journalists to explain these changes, multiple staffers told me. "He came in with this single-minded focus of 'Everyone is supposed to tell America's story; everyone should stick closer to the party line of whatever administration is in power,'" a former staffer said.
Perhaps the most consequential change Pack made was to push through a new grant agreement, the legal mechanism by which RFE/RL receives its federal funding, stipulating that those whom he appointed cannot be dismissed from their roles for at least two years, unless they are convicted of a crime—a move that many of the staff, including more than two dozen members of its senior management, viewed as tantamount to signing away their independence.
In a virtual town hall in January, Lipien said the agreement was necessary to ensure the organization's financial stability, and insisted that the changes did not threaten the network's editorial independence. "There is no threat to our independence because I intend to be independent," Lipien said, according to an audio recording of the meeting obtained by The Atlantic, adding: "The only person in charge of RFE/RL is myself."
These assurances rang hollow, however. "We come from countries where we have seen what happens when politicians step in media," one staffer told me. Another said that although Lipien's commitment to independence was welcome, "I believe more in institutional guarantees than in personal ones."
For others, the claim that Lipien could be a sufficient replacement for editorial safeguards was simply disingenuous. "We're branded in Russia as foreign agents who are constantly accused of being government operatives, of being partisan, of not being the journalists we say we are," one staffer told me.
"When you look at some of the things the new people on our board write or say, it dovetails with what you'll see on [the Russian, state-controlled network] RT," the staffer added, in reference to one newly appointed board member's recent defense of Russia's annexation of Crimea. "It's like some kind of dystopian nightmare."
The fight over RFE/RL's editorial independence was never limited to Washington or Prague. Around the world, the broadcaster faces a multitude of threats against its journalists and, in some places, its very existence.
In Afghanistan, the targeted killing in November of Mohammad Ilyas Dayee, a journalist for RFE/RL's Dari- and Pashto-language service, marked the latest in a string of deadly attacks against its journalists in the country in recent years. The security situation has become so dire that the network has since pulled bylines from its Afghanistan coverage, in a bid to protect the identities of its reporters.
In Belarus, the situation is similarly alarming. At least half a dozen RFE/RL journalists have been detained in recent months. One of them, a social-media consultant to the network and one of Belarus's most influential bloggers, went on a six-week hunger strike in protest of his months-long detention by authorities. Hanna Liubakova, a former RFE/RL journalist, told me that the Belarusian government's targeting of the outlet's staff was not accidental. Radio Svaboda, as it's known in Belarus, is one of the most important sources of independent media in the country—a role that Liubakova said became particularly pronounced during the pandemic (it countered President Alexander Lukashenko's claims that the crisis was being overblown) and the August 9 presidential election, which has since spurred the largest protest movement in the country's history. In a demonstration outside one of the country's state-run television stations, protesters could be heard chanting, "Radio Svaboda!"
"When Lukashenko saw these mass protests erupting … he got scared of bloggers and people who have influence," Liubakova said. "It's a sign that the authorities just consider RFE/RL [to be] something super important, because they are scared of it."
The greatest threat facing the network, however, is in Russia, where the broadcaster faces millions of dollars in fines and possible criminal charges against its employees, whom the Kremlin has designated as "foreign agents." Daisy Sindelar, RFE/RL's editor in chief, told The New York Times that the situation could force the broadcaster out of Russia. If it does, it will mark the end of the RFE/RL's three-decade presence in the country.
Though some of these challenges predate the Pack era, many people I spoke with said his changes made the situation worse. One senior staffer told me that having to worry about the developments in Washington while juggling crises around the world was simply overwhelming. Others noted how the situation could undermine the trust the broadcaster has with its local reporters, many of whom count on the broadcaster for their safety and protection. If RFE/RL can't protect itself from its own government, the thinking goes, what hope should its journalists have that the broadcaster can protect them from theirs?
Of all the things Pack did that made the staff question his commitment to their safety, the most cited example was an interview he gave to The Federalist, a conservative commentary site, in which he suggested that being a journalist was "a great cover for a spy." Though the remark was made in the context of his decision not to renew visas for dozens of foreign-national Voice of America journalists working in the U.S., who Pack alleged were not properly vetted, several people I spoke with said that the comment could easily be twisted by hostile regimes. "If you ask yourself, Cui bono?," one staffer said, "it's Putin."
In June, my colleague Anne Applebaum noted that the oddest part of this whole saga is that no one knows why it all happened. What was the Trump's administration's endgame for USAGM and networks such as RFE/RL? Even now, the answer is unclear. Any hope Pack might have had of cementing his hold on the agency evaporated with Trump's defeat in November. Biden announced his intention to fire Pack in the summer, and within hours of entering the Oval Office, he did just that. (Pack, who tendered his resignation at the new administration's request, called it a "partisan act.")
The predominant theory is that the Trump administration simply wanted to turn U.S. broadcasting into its own propaganda arm, akin to Russia's RT or China's CGTN. When I put this theory to Amanda Milius, a former State Department official and pro-Trump filmmaker whom Pack appointed to the RFE/RL board, she told me she didn't buy it. "I don't think anybody was like … 'We're going to turn it into [a] Rush Limbaugh broadcast all over the world,'" she said, adding that "it would be impossible" for the board to have a say in RFE/RL's coverage in every country where it operates. "[Board membership] is an unpaid position. I'm extremely busy. I'm not interested in some kind of power grab."
We may never know what Pack's intentions were (he declined through a spokesperson to be interviewed for this story), but in many ways why it happened matters less than the fact that it could happen at all. In less than a year, the Trump administration managed to wrest control over one of the world's largest media networks using tactics tested in places where democracy is under threat, such as Poland and Hungary. Had Trump won a second term, that takeover probably would have succeeded.
The Biden administration's efforts to reverse the damage of the Pack era in some ways mirror how it all began: In addition to dismissing Pack, who has since been replaced by the longtime Voice of America journalist Kelu Chao, the administration fired all of the network presidents and board members whom he appointed—a move that paradoxically prompted some of those affected to accuse Biden of waging a partisan takeover of his own. Whether any of those dismissals will face legal challenges is unclear, given the two-year contracts that many of Pack's appointees signed. Roger L. Simon, a columnist for the pro-Trump newspaper The Epoch Times who was appointed by Pack, wrote ahead of their dismissals that the RFE/RL board "intends to fight" any removals. Lipien, who did not respond to multiple requests for comment, suggested in a blog post that he would not.
Among those I spoke with at RFE/RL after Biden's inauguration, many expressed relief. Their worst fears, after all, had mostly been averted: The firewall protecting the broadcaster's editorial independence had been rescinded, but not breached; the norms and values underpinning its existence as a source of unfettered and independent journalism had been undermined, but not broken.
Personnel changes alone, however, can't make up for some of what was lost during Pack's reign, particularly when it came to addressing RFE/RL's crises abroad. "On Belarus, we did not get a great deal of support or any support, and on Russia, we simply lost time," Sindelar told me. "We were literally trying to protect ourselves against the oversight agency that is supposed to protect us, and that's a waste of time. That's time that is much better spent committing ourselves to the safety and security of our journalists in-country—and that's time that we lost."
Some institutional steps have been taken toward protecting RFE/RL and its sister networks in the future: Under a series of reforms inserted in the latest defense-spending bill, future USAGM executives will no longer be able to fire network heads unilaterally, nor will they or any other federal employees be permitted to serve on any of the broadcasters' corporate boards. Chao, in a memo to the agency's staff obtained by The Atlantic, confirmed that their editorial independence would be restored.
But some think that these reforms should be even more ambitious, arguing that RFE/RL should be spun off further from the federal government. Establishing the full independence of corporate boards from USAGM is one suggestion that Fly, who returned to RFE/RL as president last week, and four other former RFE/RL presidents have made to the Biden administration.
In some ways, Biden is particularly well suited to oversee these changes. When he was in the Senate in the 1990s, he played a crucial role in sparing RFE/RL from being absorbed into the federal government. "RFE/RL, Inc., have enjoyed credibility for four decades precisely because their analysts and broadcasters have not been employees of the U.S. government," Biden wrote in a 1993 report, noting that if the network were to become an agency of the federal government, as was being considered at the time, it would "maintain neither the appearance nor the reality of journalistic independence."
If the past eight months have proved anything, it's that securing RFE/RL's independence in both senses will require more than personnel changes, just as overcoming the past four years of Trump will require more than quick political corrections. The task for the current administration is to ensure that the norms and values underpinning America's state-funded broadcasters—as well as its democracy—can't be as easily erased as a quote on a wall.