The End of the Indian Idea
A crackdown on the country's press is the latest in a pattern of intimidation against news outlets.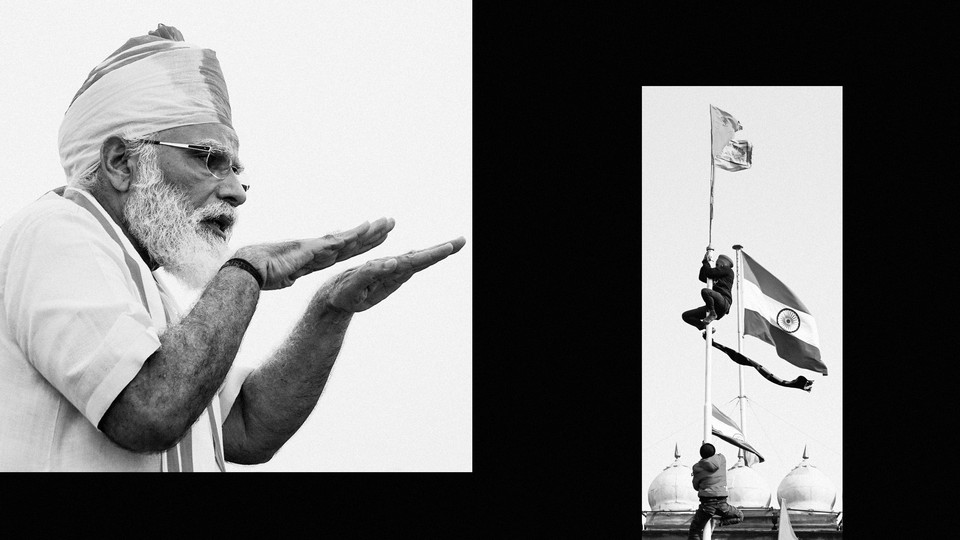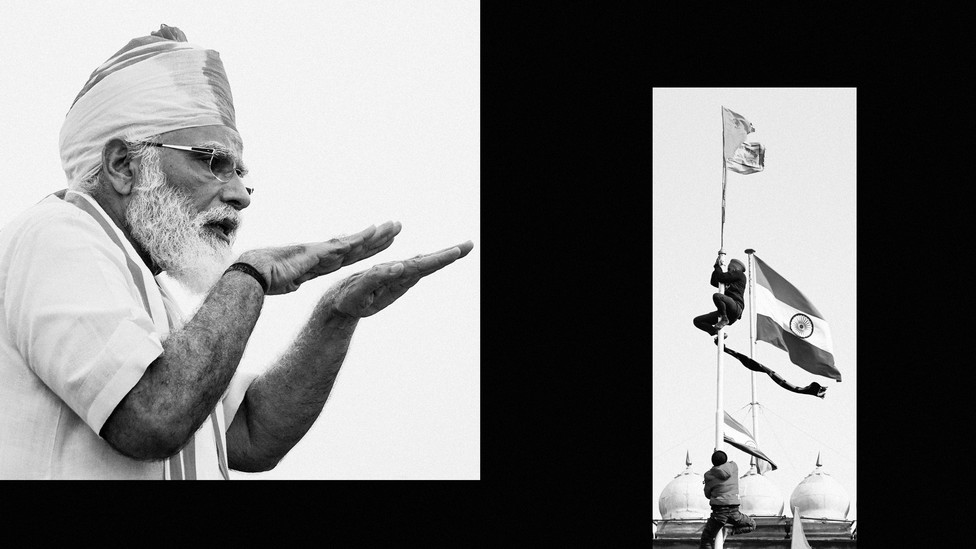 For the past several years, warnings have been sounded about democracy in India—whether they be about the fate of the country's minorities, its courts, its intellectuals. These worries steadily build, before erupting into some major protest, taking over the popular consciousness, both domestically and abroad. For the past several years, India's government has steadily chipped away at the edifice of its free press and, over the past week, once again gone too far. This was the week my government attacked my home.
Home for me is in a multistory building in the center of New Delhi, on the edge of a sprawling park, a short walk from the markets of Karol Bagh and the upscale shops of Connaught Place. I have not visited in some time, but it is where my heart is. This is where you can find the offices of The Caravan.
The Caravan is a small magazine—it has a staff of just a few dozen people—and its readership pales in comparison with other members of India's English-language printed press. Yet its diminutive size masks its power: The publication is read by government ministers and opposition leaders, and larger outlets regularly follow up on its stories. Its team of talented staff writers is supported by a glittering list of contributors, all of whom see the magazine's strengths as standing apart from India's larger mainstream publications. These people are my family. For the past seven years, I have contributed stories to The Caravan as a freelance journalist, typically on health and science with a particular focus over the past year on the coronavirus pandemic. It is a place where reporters and editors uniformly believe in the power of the written word, where speaking truth to power is a minimum expectation.
Over the past week, multiple state police forces have opened investigations into the editors of The Caravan, as well as a host of other journalists and writers, for covering protests by farmers opposed to agricultural reforms being promoted by Prime Minister Narendra Modi's government. Twitter's India office suspended the magazine's account, as well as those of hundreds of other users, after a "legal demand" from the government. (The Caravan's account has since been restored, but the government is reportedly threatening legal action over Twitter's apparent noncompliance.) Press-freedom groups have voiced outrage, but it is unclear how much impact they will have.
These latest attacks, part of a pattern of legal cases, personal threats, and intimidation against news outlets and individual journalists, make certain what was becoming evident: The freedom of the press, a constitutional right, is endangered in Modi's India. The brazen use of social-media networks to censor journalists, the use of the police and courts to silence them, and, more fundamentally, the belief that those who report on protests are somehow undermining the state illustrate how much has changed in India, and how far the country has strayed from its founding ideals.
The authorities claim that The Caravan and other outlets, by reporting on a particular hashtag, sparked or fueled unrest that began on January 26, India's Republic Day, during which New Delhi police tear-gassed protesting farmers—among them elderly men—as a parade was under way to showcase India's military might and rich cultural heritage.
The dueling images—a celebration of India's democracy on the one hand, the crushing of dissent on the other—were carried on a split screen by many news channels, inadvertently offering the perfect visual metaphor for modern India.
To outsiders, the idea of India is centered on spirituality and mysticism, Gandhi and nonviolence, backpackers and yogis. Though these are stereotypical beliefs, they stem from truth: The country's founding idea was a union of states, diverse in religion, and liberal in acceptance of that diversity. Republic Day marks the enshrining of our constitution, debated and agreed on in the years following independence. The preamble of that document notes India's "resolve to constitute" a nation with "Justice in social, economic and political life; Liberty of thought, expression, belief, faith and worship; Equality of status and of opportunity, and to promote among them all, Fraternity."
This was the central ethos of India once.
Now we are a very different country. Today, that a majority of Indians are Hindu is not a demographic fact, but a governing premise; whereas liberty of thought was once prized, journalists are now arrested; and what was once a union of states, united in their diversity, is a society divided, where Muslims are not welcome, where farmers are beaten for defending their rights.
To blame all of this on Modi would be overly simplistic. It is true that since his reelection less than two years ago, the prime minister has revoked the constitutional autonomy of Jammu and Kashmir, India's sole Muslim-majority state; established a religious test for citizenship that excludes Muslims; and promoted reforms that triggered civil unrest from farmers' groups. This is to say nothing of the doctors who protest his government's decision to allow Ayurveda practitioners to perform medical surgeries, the students who protest attacks on intellectuals, the women who speak up against India's rape culture, and the Dalits who fight caste oppression.
The erosion of democracy in India did not happen in a single moment, or because of a single man. It came as a court directive to moviegoers, making it mandatory to stand for the national anthem. It came in the form of police officers forcing wounded Muslim men to sing that anthem while filming it, without fear of being punished. It came as Bollywood championed police brutality and vigilante justice.
Yet Modi is central to all this. Much as India has a founding myth, so too does Modi: He was a tea seller who managed to work his way up to the most powerful position in the land. This story, which the prime minister repeats often, forms a sharp contrast with the familial privilege of the opposition Congress Party, their current leader a descendent of former prime ministers, and gives Modi the power to demand sacrifices of Indians. It is what allowed him to impose a brutal lockdown in the early stages of the pandemic, to demonetize huge amounts of India's currency overnight, to remove Kashmir's special autonomous status.
And each time Modi has done so, his support has remained buoyant, even as the promised benefits have not come. India's recorded coronavirus cases are the second-highest in the world, and its reported deaths are fourth-highest; taking large amounts of cash out of the system in an apparent bid to fight corruption did little of the sort and instead introduced significant economic hardship; and ending Kashmir's autonomy has not brought peace to the region. This is in large part thanks to his government's standard playbook, which involves denying facts, spreading lies, and telling half-truths that turn catastrophic failures into celebrated triumphs.
This is precisely why the actions against The Caravan and other journalists and media outlets are so troubling. Many news organizations have picked away at the government's narratives, as a free press must do in a democracy, not because they are opposed to Modi, but because they are committed to truth. The Caravan, for example, profiled Modi's predecessor, Manmohan Singh, with the same rigor and journalistic scrutiny that they currently bring to bear upon the current government.
The war on truth in India is very much like the war on truth in the United States, where I am currently spending a year as a Nieman Fellow at Harvard; the scale of devastation may never be fully understood. It has jolted the foundation of the common realities we Indians presuppose as a nation, much as it has here in America.
A country as enormous and complex as India is more than its flags, anthems, and monuments. It is made up of things that are at once powerful and fragile: ideas of equality, justice, liberty, fraternity.
In its outright assault on the press, on truth, Modi's government has hollowed out these ideas, and thus the soul of the nation. Like Americans, Indians do not share a common set of facts any longer, or attribute the same meaning to words. Citizens must be "obedient faithfuls," or bhakts, as Modi's supporters are known. India's inherent complexity—stemming from its religious and cultural diversity—has been weaponized. With each sacrifice, we will chip away at the founding ethos, outlined in our constitution and heralded on Republic Day, until those words have no meaning.