The Permanent Colony
Despite having a distinct language, identity, and culture, Hong Kong has never been in full control of its development and future.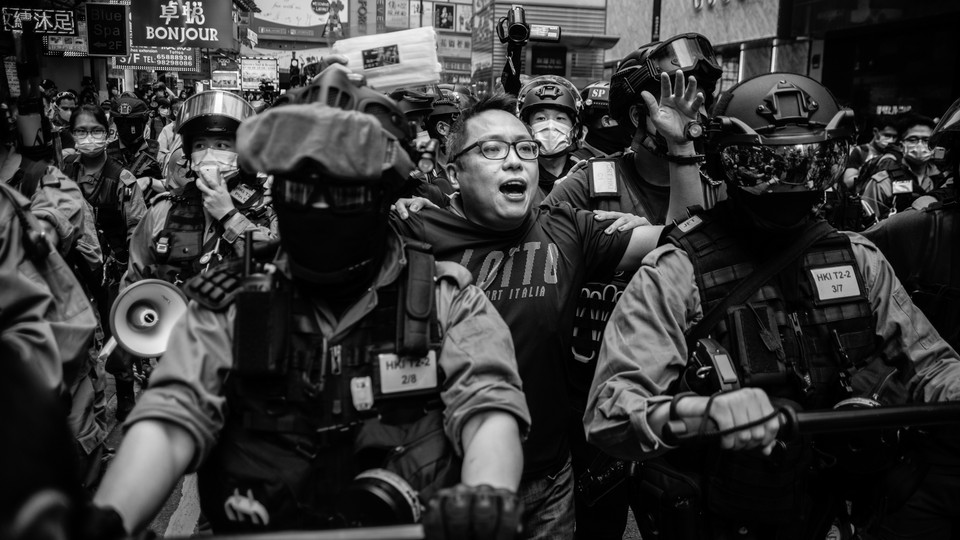 Tam Tak-chi has spent much of the past two decades talking. First as a popular radio host, then as a prodemocracy activist, Tam had opinions, many of them, and cared little about holding them back. So it was not entirely surprising—perhaps even expected in Hong Kong's rapidly atrophying space for dissent—that his words eventually drew the ire of authorities. Early one September morning last year, Tam was arrested at his home.
His case has not drawn as much media attention, either domestically or abroad, as some other recent incidents in the city—the day he was arrested, police nabbed some 300 others, fired pepper balls at demonstrators, and tackled a 12-year-old girl to the ground. In the months that followed, a steady, unrelenting clampdown included the jailing of the newspaper executive Jimmy Lai, and the mass arrest of prodemocracy figures has continued.
Yet in many ways, Tam's legal ordeal helps explain contemporary Hong Kong better than those other episodes, pointing both to the city's fast-changing political and legal landscape and to its more deeply rooted history.
Initial reports speculated that Tam, 47, was being charged under the sweeping national-security law imposed on Hong Kong by Beijing last year to snuff out dissent, but after mulling over his offense, the authorities said he would not be pursued under the new rules. Instead, prosecutors reached deep into the pages of Hong Kong's law books for something far older: a colonial-era sedition law. By chanting protest slogans at street booths often set up under the guise of solely providing information to the public about the pandemic, Tam tried, police said, "to incite hatred and contempt against the government" and to "raise discontent and disaffection between people from Hong Kong and other places." The law had not been used for decades, since before Hong Kong's 1997 handover from London to Beijing.
Then, well after Tam's arrest, a judge who oversees national-security law cases was installed to oversee the proceedings. The appointment melded Hong Kong's colonial legacy with new, harsh, and ill-defined directives from the mainland, showing that despite China's lambasting of British rule, it has no problem using—indeed strengthening—the framework of political repression left behind nearly a quarter century ago. (Tam was arrested again this month along with more than 50 prodemocracy figures. All were accused of violating the national-security law for taking part in an unofficial primary election, but they have not been formally charged.)
More symbolically, Tam's case provides a reminder of Hong Kong's existence as a place trapped in constant suspense. Despite having a distinct language, identity, and culture, the city has never been in full control of its development and future, always being pushed and pulled at the behest of a faraway capital. Once that was London; now it is Beijing.
"It's definitely unique," Simon N. M. Young, a professor and associate dean at the University of Hong Kong's law school, said of Tam's case. Since 1997, colonial laws have not been used to curb protest or activism, he told me, but the national-security law appears to have "emboldened the police" to deploy them. "There is a clear intent for the [national-security law] to be integrated with the existing local laws rather than to be a standalone law."
Tam's own life and career mirrors the transition from British to Chinese rule. When he was a fresh university graduate in 1994, he landed a spot as a broadcast trainee at a Hong Kong radio station, where he met Ray Chan, who himself had just graduated from a university on the other side of the city. The two balanced each other, making for enjoyable radio banter: Tam a born entertainer, brash and outspoken; Chan a former Catholic-school prefect, more reserved and conservative. They soon landed a daily show, where they talked about entertainment gossip, the weather, and music, taking on new monikers in the process: Tam was "Fast Beat," Chan was "Slow Beat."
Almost by accident, Chan told me, the pair were slowly drawn into Hong Kong's political scene, disappointed by the parties that monopolized the prodemocracy space and, they believed, failed to deliver on the movement's promises. Chan founded a more radical grouping and was later joined by Tam. "I learned to be anti-establishment from Fast Beat," Chan, who was elected as a lawmaker in 2012, said. (Like Tam, Chan was arrested on suspicion of subversion, shortly after we spoke. He has not been formally charged and was released on bail.)
The bespectacled Tam was a persistent, exuberant, and sometimes abrasive presence in the prodemocracy movement. He ran unsuccessfully in a number of contests but was expected to fare well in legislative elections scheduled for last September, capitalizing on the enthusiasm and anger of the protest movement. Those polls were postponed, but, undeterred by the setback and the national-security law, Tam continued to set up streetside stalls that he said were to educate the public about the pandemic. While he did hand out masks and information about staying healthy, he also kept up protest chants and drew crowds as he derided Beijing's crackdown.
These events frequently drew the attention of police, whom Tam relished needling, calling for the deeply distrusted force to be disbanded. The animosity was not one-sided, a frontline police officer told me, speaking on condition of anonymity because he was not cleared to talk to the media. His peers were elated when Tam was arrested: As the news spread in police chat groups, the officer told me, it was met with a stream of celebratory profanity directed at Tam.
Typically defiant, before his first court appearance Tam posed with a large yellow sign emblazoned with black Chinese characters, "You want me to shut up? I'll speak even louder." He was soon slapped with another charge for conspiracy to commit sedition: Tam, prosecutors argued, had passed his microphone to an attendee at one of his booths, and that person had used the device to shout slogans of their own. In all, Tam was charged with seven counts related to sedition, along with a host of other offenses.
Denied bail, Tam will have spent nine months in jail when his trial begins in May. Chan, who before being arrested visited Tam each week, said his friend had been kept primarily in solitary confinement. The proceedings had led Chan to see just how encompassing the national-security law is and how it has already been interlaced with the existing criminal-justice structure. The legislation is "not just a law, it is a system," he said. "It is the power for the government to do anything."
In that, the national-security law is layering on top of a regime that is nearly 200 years old. The British colonial government in Hong Kong began developing sedition regulations in the 1840s, according to Fu Hualing, the dean of the University of Hong Kong's law school and the author of a paper on the history of the law. The legislation was originally intended to regulate the press in the new colony but was most notably wielded in 1967 when anti-colonial, leftist riots broke out in Hong Kong, fueled by the Cultural Revolution sweeping the mainland.
At the time, the law was used to prosecute pro-Beijing newspaper figures, whom Britain accused of playing a role in stoking tensions, as well as to suspend printing of their papers. The arrests created a diplomatic crisis: Red Guards surrounded the office of the British charge d'affaires and set it on fire. The same pro-Beijing outlets that today cheer the erasure of freedoms in Hong Kong called the arrests an infringement on the free press and "fascist atrocities."
Two additional types of seditious intent were added and police powers expanded in 1970, before the law was folded into another measure the following year. It then sat unused and unchanged for the next 20 years, Fu wrote. During the twilight years of the colonial government, Martin Lee, a longtime prodemocracy activist, urged Britain's last governor to repeal a host of outdated laws, describing them as "land mines'' that could be abused when Hong Kong returned to Chinese control. Lawmakers in Hong Kong agreed, writing in 1997 that "the offence of sedition is archaic, has notorious colonial connotations and is contrary to the development of democracy." Yet they settled for narrowing the law and bolstering defenses against it, rather than removing it entirely. These changes passed four days before the handover but were never enacted. For the more than two decades that followed, the law was again left undisturbed. Lee's warnings of "a bleak, Orwellian future" if colonial ordinances remained on the books seemed hysterical and hyperbolic, until protests erupted in 2019.
What the Hong Kong government has lacked in creativity with regard to addressing the protest movement, it has made up for in finding ways to punish those involved. Carrie Lam, the city's chief executive, who began her bureaucratic career as an enthusiastic member of the colonial administration, rarely misses an opportunity to lavish Beijing with praise and trumpet Hong Kong's achievements since the "return to the Motherland." She is also apparently unbothered by the contradictions of retaining a fondness for colonial-era laws.
Lam used a pre-handover ordinance to ban the use of face masks at protests in 2019, a move that sparked further demonstrations but was upheld by the city's top court. She deployed the same ordinance last year to postpone the scheduled legislative elections. Police, too, have made liberal use of colonial-era rules to arrest people for taking part in protests deemed illegal. In addition to Tam, city authorities are pursuing at least 11 other cases of sedition, according to a spokeswoman for the Security Bureau.
Colonial ordinances are "one component of a big, messy smorgasbord of laws for the purpose of essentially political repression," Kevin Carrico, a senior lecturer in Chinese studies at Monash University in Australia, told me. The government's renewed embrace of these laws comes as it tries to force Hong Kongers, particularly the youth, to become more patriotic Chinese citizens. The efforts, which will almost certainly broaden, already include the beginning of an overhaul of the education system, passing a new law to protect the Chinese national anthem, and a push to bring mainland culture to the city through state-controlled films and publications.
The notion that Hong Kong is being treated like a colony is fiercely rebutted by Chinese officials, however. Tian Feilong, an associate professor at Beihang University's law school in Beijing and one of a number of scholars who have offered academic justification for the ongoing reengineering of Hong Kong's legal system, accused those making the comparison as lacking understanding of Chinese history. Tian told me the idea that Hong Kong is a colony of China is a "radical political thought" held by those pushing for the city's independence (though this is still largely a fringe idea in the city and was not the objective of the protests). These people were, he said, seeking "to meet their imagination of Hong Kong's future."
The handover from Britain was billed as a move away from colonialism, with Beijing believing that Hong Kongers would embrace the mainland and that identification with the Chinese nation would steadily strengthen. The prediction proved to be badly off the mark. Instead, many Hong Kongers forged a more independent identity and continue to harbor a deep resentment of Beijing. This week, some prodemocracy activists and organizations even celebrated the 180th year since British forces took control of the territory.
"Essentially Hong Kong was being handed over from one colonial regime that was quite geographically distant to another regime that is geographically a lot closer," Carrico said. "But that geographic closeness doesn't really indicate cultural similarity."