Eradicating a Democracy Movement
Mass arrests in Hong Kong show both the power of an organized opposition and the authorities' fear of it.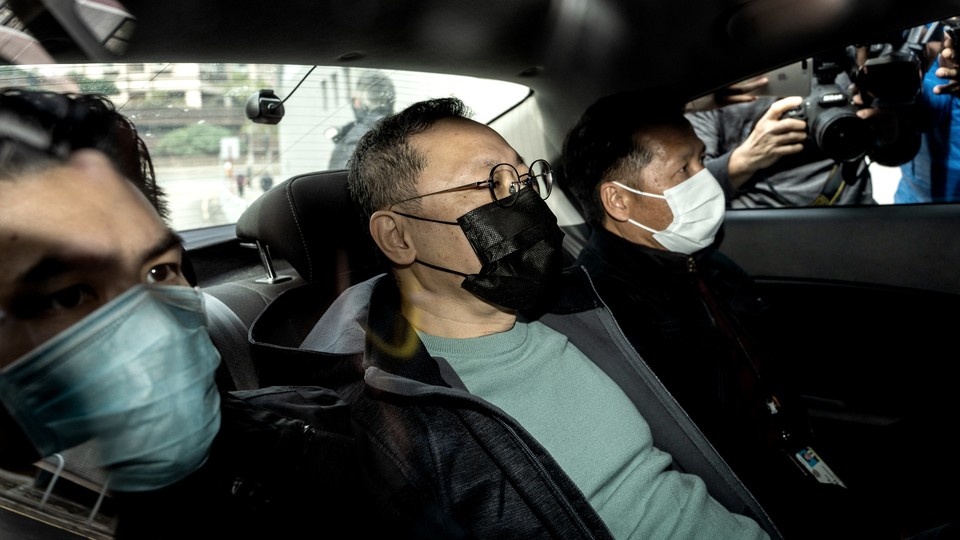 The days in Hong Kong have recently been bookended by two numbers, neither of them comforting. One, the day's COVID-19 infections, is announced at a set time by health officials, and despite the city's relatively low numbers compared with Europe and the United States, remains stubbornly high compared with some regional neighbors.
The other is compiled more chaotically and is in many ways more worrying. Beginning in the early morning, alerts land on social media, normally in the form of a note written by a trusted associate on a prodemocracy politician's Facebook page, alerting the public that the politician has been taken by police. In some cases, the arrests are filmed, shaky clips that capture the moment a group of officers descends on a sleepy suspect whose alleged crimes might be as minor as shouting a few words, but whose punishment may be as severe as life in prison. News of the first arrest is almost always followed by news of others, the tally ticking upward through the day.
Even with this now-familiar rhythm, buttressed by tightening political repression and persistent sickness, this morning was stunning. Before 7 a.m., reports of the first arrest landed in the familiar form, but unlike days before, when the number of suspects would settle at a handful or even a dozen, for the next few hours the number rose sharply. In total, 53 prodemocracy politicians, activists, lawyers, and academics were arrested, police said. (The number was more than double the 25 new COVID-19 cases announced.)
The arrestees were rounded up for allegedly committing subversion, a violation of the national-security law imposed last year by Chinese authorities and an offense that carries the possibility of a life sentence. They allegedly took part, to varying extents, in an unofficial primary election held last summer by prodemocracy groups. The primary was part of a plan based on laam caau, an idea adopted by the most fervent protesters that roughly translates to "burn with us," a philosophy of mutual destruction meant to punish Beijing. China's intention appears to be different: to reshape Hong Kong's political system into one that maintains the veneer of a democracy, which sets the city apart from the mainland, but is completely devoid of meaningful opposition, eliminating the unwanted surprises and embarrassing public rebukes of the past two years.
Those taken spanned the political spectrum, and generations of Hong Kong's prodemocracy movement. They included an American lawyer, a social worker, and dozens of younger, more radical activists who rose to prominence during the 2019 protests. Officers from the police's national-security unit also visited the newsrooms of three media outlets, demanding that staff turn over materials to authorities within a week, and raided the office of a well-known law firm. No longer satisfied with simply stifling Hong Kong's boisterous opposition, the authorities have sought to eradicate the prodemocracy camp and anyone even loosely affiliated with it. The future of Hong Kong's already stunted democratic system looks gravely imperiled.
The breadth of the authorities' response today pointed to the surprising success of what at first appeared to be a wildly optimistic effort to sustain Hong Kong's democracy effort. The primary contest, organized by the former law professor Benny Tai, was meant to select candidates who would then run in legislative elections scheduled for last September. Tai, who was instrumental in coordinating the 2014 Umbrella Movement and was subsequently jailed for his role, envisioned prodemocracy candidates taking their struggle inside the halls of power by winning a majority of seats in an assembly whose electoral system heavily favors Beijing's preferred candidates. They could then use their newfound power to upend the legislative process, possibly forcing the city's chief executive to resign. If Beijing interfered, or used the chief executive to do so, the fallacy of the "one country, two systems" framework under which Hong Kong is governed would be on full display.
The idea was bold, but prodemocracy figures were coming off a resounding victory in local elections months prior and the government—in Hong Kong as well as in Beijing—continued to ignore many demands and renege on promises. Over a sweltering weekend in July, people waited for hours at businesses that had been turned into temporary polling stations—a budget lingerie shop, sympathetic restaurants, and a vintage bus among them—to cast their ballots. The event was orderly and ran without a hitch, factors that perhaps made it more alarming to authorities, running counter to the image they had hoped to portray of protesters as a motley crew of violent, foreign-funded radicals intent on destroying the city.
The vote went ahead despite the national-security law's enactment 11 days earlier and warnings from officials and pro-Beijing media that it might violate the new law, among them Carrie Lam, Hong Kong's chief executive—and someone who has never won a popular election herself. In total, some 610,000 people cast ballots, far exceeding expectations and breathing an air of reality into Tai's idea. (Shortly afterward, a number of candidates who won the primaries were disqualified from the September election, and the polls themselves were postponed because of the pandemic.) Still, warnings from the authorities were not followed up with actions, and in the subsequent months, the polls were largely relegated to memory, until this morning.
Police said about 1,000 officers took part in the operation, arresting 53 people. These people—for organizing themselves and attempting to win an election, then planning to use the power granted to them by voters to reject government proposals—are "suspected to be involved in the crime of overthrowing or interfering seriously to destroy the Hong Kong government's legal execution of duties," Secretary for Security John Lee said. At a press conference, police unveiled a flow chart highlighting the steps that led to the alleged offense, including "announced to hold [sic] a primary election in July" and "publicized at [sic] social media."
The individuals arrested weren't just election winners or high-profile political figures. Among them, local media reported, was Lee Chi-yung, who campaigned on a platform of increasing accessibility for people with disabilities, an issue he was drawn to after his severely disabled daughter found it difficult to make her way around the city when she was alive. Lee received just 304 votes. Another, according to a Facebook post, was Jeffrey Andrews, regarded as the city's first ethnic-minority social worker, who assisted refugees and campaigned for a more inclusive Hong Kong, work that drew accolades from Manchester United and Cathay Pacific. John Clancey, an American lawyer who has lived in Hong Kong for more than two decades and was involved with the group that organized the primaries, said that he hoped people would continue to work for democracy and human rights in Hong Kong as he was slowly led away by police, a crutch tucked under his arm. It is unclear if and when those arrested will be formally charged.
Last year's postponed legislative elections are now slated to be held this September, but it seems unlikely that the vote will resemble anything close to the semi-democratic contest it was in the past. Many of the most popular candidates could be behind bars and, even if they are not, disqualification of prodemocracy supporters is now the norm. Furthermore, today's arrests show that any organized challenge to the authorities carries the possibility of violating the national-security law. The moves all but ensure that the city's unpopular pro-Beijing parties will avoid the type of humiliating rout faced during November's local elections. "It was clear that Beijing was not going to let them be embarrassed like that again," a senior Western diplomat told me.
Though unofficial, the primaries may well have been Hong Kong's last free vote, an act of resistance that—while lacking the violent flourishes of Molotov cocktails or water cannons that helped garner worldwide attention for much of 2019—showed both the potential power of an organized opposition wielding even limited clout in a system tipped steeply against it, and the authorities' extreme fear of it.
Claudia Mo, a former prodemocracy lawmaker who resigned from the legislature in protest along with her colleagues last year, told me recently that she was exhausted by the past two years. Officials, she said as her aides packed up the contents of her office, were working to build an atmosphere of fear. "They are trying to create this sensation of the high walls of the authorities closing in on you," she said, "and you should be feeling suffocated."
Mo was arrested today as well.