When You Live Next to an Autocracy
How does a country balance its values and its interests when it shares a border with China?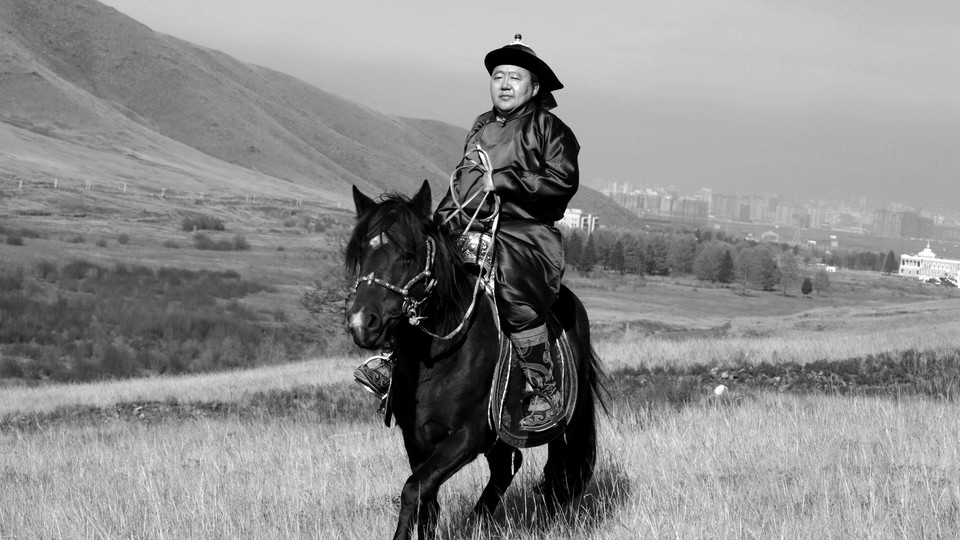 Bundled against Mongolia's frigid late-November air, thousands clamored to see and hear the Dalai Lama four years ago, their boots crunching against a dusting of snow at the Gandantegchinlen monastery in Ulaanbaatar. Mongolia's officials insisted then, in 2016, that the visit was strictly religious, and had nothing to do with politics: The country has connections to Tibetan Buddhism that reach back hundreds of years—the title "Dalai Lama" is actually of Mongolian origin. Of course, that mattered little to China, which views the octogenarian spiritual leader as a separatist.
Beijing promptly canceled meetings with its Mongolian counterparts and slapped fees on commodity imports from Mongolia, which was already suffering from an economic downturn. A month later, the Mongolian government said the Dalai Lama was no longer welcome. He has not returned since.
Tsakhia Elbegdorj, Mongolia's president at the time, told me recently that the decision was, as was widely assumed, due to "pressure from the south," a reference to China, with which Mongolia shares a border. Elbegdorj has an outsize role in modern Mongolian politics: He served two terms as the country's president, from 2009 to 2017, and prior to that, two terms as prime minister. He was one of the leaders of the 1990 democratic revolution that peacefully ended seven decades of Mongolia's serving as a Soviet satellite state. Given his country's location, hemmed in by Russia and China—two countries that "really don't like our way of life," as Elbegdorj put it—and its economic dependence on Beijing, he has spent much of his political life interacting with the highest levels of the Chinese government. By his count, he has met Chinese President Xi Jinping some 30 times. In 2015, Xi hailed China-Mongolia relations as the "best ever."
Now a harsh and high-profile critic of Beijing's recent efforts to stamp out the Mongolian language and its distinctive, vertical script in Inner Mongolia, an ostensibly autonomous region within China that is distinct from Mongolia, Elbegdorj and his country offer an extreme example of the difficulties facing nations that are heavily reliant on Beijing. Those challenges are amplified for places such as Mongolia—democracies that profess even limited support for human rights. China's economic and military power allow it to demand uncomfortable concessions, and as the country becomes more and more antagonistic, its less powerful neighbors are left with little room for maneuver. How, then, does a smaller nation choose between its values and its interests?
"Of course, when you are in office, you have certain responsibilities," Elbegdorj told me in one of two recent interviews, struggling at times to square his current vocal denunciations of Chinese policies with his more muted tone when he occupied the highest echelons of government. "But when you are out of office, you also have more freedom to express your ideas." When I asked him whether he still believed, as his foreign minister said four years ago, that the Dalai Lama should be barred from visiting, he was briefly evasive, before relenting, "I'll say it publicly now: We are always happy to see his holiness in Mongolia."
When Elbegdorj, a journalist turned democracy advocate, became president in 2009, the country was becoming one of superlatives. It was, briefly, the world's fastest-growing economy, powered largely by mineral wealth, housing the world's best-performing stock exchange, located in what is often referred to as the coldest capital city in the world. Prospectors, geologists, heavy-equipment operators, and a stream of carpetbaggers of all varieties arrived from Australia, the U.S., and Europe. The boom brought flashes of wealth to Soviet-influenced Ulaanbaatar: Ostentatiously kitted out Hummers idled in traffic, inching past the softly lit glass front of a Louis Vuitton store. The city's last statue of Vladimir Lenin came down in 2012. (The boom would prove short-lived—by 2017, the country needed a bailout from the International Monetary Fund.)
While he upgraded relations with China, Elbegdorj also worked to bring Mongolia to a more prominent position on the international stage, involving it more heavily in the United Nations and other multinational groups. (He had a moment of viral stardom when former President Barack Obama inadvertently obscured his face during a 2011 photo op.) He pushed for the abolition of the death penalty, which, when it occurred in 2015, brought praise from human-rights groups. President-elect Joe Biden in 2011 hailed Mongolia under Elbegdorj as an "emerging leader in the worldwide democratic movement." The enthusiasm was tempered a year later, though, when Elbegdorj faced U.S. and UN criticism for the jailing of a former president.
But praise from the West for democratic progress cannot make up for uncomfortable geography. "Mongolia's strong economic dependence on China is worrisome," Oyunsuren Damdinsuren, a senior lecturer at the National University of Mongolia's School of International Relations and Public Administration, told me. "If China decides not to buy Mongolian products, our economy will be paralyzed." This power imbalance has helped fuel broad anti-Chinese sentiment among Mongolia's population, aided by a history of "200 years of Manchu rule, 70 years of anti-China communist propaganda, and 30 years of China-bashing electoral campaigns," Damdinsuren said.
The Dalai Lama's visit was not Elbegdorj's first, or only, China-related controversy. Two years earlier, in 2014, his country's officials stopped two Mongol-rights advocates from Inner Mongolia who had made their way across the border and were reportedly seeking exile. The pair were sent back to China, and what has happened to them since is unclear. Elbegdorj took both domestic and foreign criticism for the move at the time, and, indeed, still does. He now calls the incident an "unfortunate mistake," but claims that the decision was made without his input. He added that Mongolia's current government, led by a populist political rival, should take a stronger stand and allow Inner Mongolians to seek refuge. "I'm openly saying to our government, 'Don't give those people back to China,'" he told me. "They should be granted refugee status."
Unbounded by elected office, in recent months Elbegdorj has emerged as one of the most consistent and highest-profile critics of Beijing's attempts to curb Mongolian language and culture both within its own borders and internationally. During our conversations, he repeatedly said that his outspokenness was not caused by a sudden shift in his thinking—though he acknowledged that there is a distinct challenge in the diplomatic balancing act required to run a country so dependent on China.
"I didn't change," he said when pressed on these seeming contradictions. "My standing—to keep and continue to protect Mongolian identity, language, culture, and script—since I entered public life, it remains the same." Rather, he told me, "the Chinese actually changed," and he noted what he called a "very aggressive" assimilation policy being undertaken by the authorities in Inner Mongolia.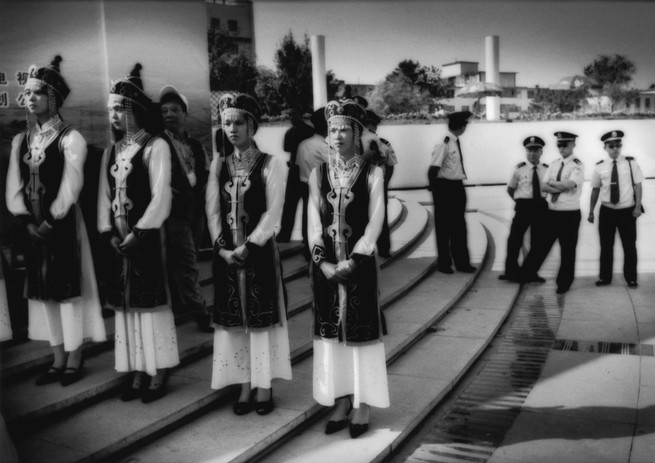 The full scope of these efforts came to light in September, when China started transitioning students in Inner Mongolia to using state-compiled textbooks and changing the language of lessons from Mongolian to Mandarin Chinese. The situation drew speculation that the Mongols of Inner Mongolia would soon be treated like minorities in Tibet and Xinjiang, two regions where China has gone to extraordinary lengths to assimilate ethnic Tibetan and Uighur populations with the national Han Chinese majority.
Beijing has responded to criticism of its Inner Mongolia policy with predictable furor. Chinese officials have singled out Elbegdorj, deploying a familiar tactic of accusing him of meddling in its internal affairs. He disagrees with the assessment. "This is not a foreign issue," he told me. "It is an issue related with my language; it is an issue related with my culture; it is an issue related with my tradition. Mongolians who live in Inner Mongolia, Mongolians who live in Mongolia, they are the same people, the same blood, the same traditions, the same history." (Elbegdorj's activism has, so far, been confined to Mongolia, a decision over which he has little say: He is facing a corruption probe and has been barred from leaving the country for the past few months, he told me. He denies the charges and said the investigation was politically motivated.)
Mongols make up about 17 percent of the population of Inner Mongolia. The group has sometimes been described as a "model minority" within China. Though notable flare-ups have occurred, Mongolian nationalists have not been as openly radical as Uighurs and Tibetans, and Beijing's repression there is not nearly as severe as in Xinjiang or Tibet, according to Christopher P. Atwood, a professor of East Asian languages and civilizations at the University of Pennsylvania. Society and culture within Inner Mongolia "remains 'legible' to Han Chinese in a way that Uyghur and Tibetan society and culture, seen through the lenses of Islamophobia and secularist discourses about 'primitive superstition', has not been," Atwood recently wrote.
Beijing has also generally taken a soft approach to Mongolia, never muscling in, for example, on a major mining project. Julian Dierkes, an associate public-policy professor at the University of British Columbia who is an expert on Mongolia, has long argued that this dynamic is due in part to nervousness about China's sizable domestic Mongolian community and the potential for ethnic conflict. There "has always been this implicit concern or threat around having a large minority population that actually has a country outside to which it refers, unlike Uighurs and unlike Tibetans," he told me. Elbegdorj similarly described the Mongols of Inner Mongolia as a "living wall" protecting Mongolia from China.
These factors made it more alarming when, in July, initial reports of the education reforms began to surface. As the start of a new school year drew near, petitions against the move circulated on Chinese social media, and a number of popular bands backed calls for the decision to be reversed. Students and their parents staged large protests. China's response was swift: According to human-rights groups, the authorities carried out numerous arrests, harassed journalists, censored social media, and sacked academics who spoke out.
In a September letter delivered to the Chinese embassy in Ulaanbaatar and addressed to Xi, Elbegdorj opened with a stinging line: "You, perhaps, have heard and are aware of the fundamental provision in the Constitution of your country that states 'All nationalities have the freedom to use and develop their own spoken and written languages' which is now being flagrantly infringed upon with respect to the Mongolian children of Inner Mongolia." The Chinese ambassador was incensed, dismissing Elbegdorj's claims as baseless hype, and the letter was promptly returned. Elbegdorj told me a few weeks before we spoke that his brother had received a menacing phone call warning him that Elbegdorj should stop his advocacy and keep quiet. The call, he said, came from a Chinese phone number.
China has not confined its efforts to erase Mongolian identity to its own borders. Château des ducs de Bretagne, a medieval castle in Nantes, France, houses a natural-history museum that was until recently preparing to host an exhibition on the 13th-century Mongol emperor Genghis Khan, organized in collaboration with the Inner Mongolia Museum in Hohhot, China. As preparations progressed, however, Chinese officials began asking that words such as empire, Mongol, and even the name Genghis Khan be removed from the exhibit, the museum director, Bertrand Guillet, wrote in a statement. They then went further, demanding that the exhibition synopsis be rewritten by Beijing. The text that emerged was "aimed at making Mongolian history and culture completely disappear for the benefit of a new national story," according to Guillet. He finally postponed the exhibit, "in the name of the human, scientific and ethical values defended by the institution." It will open at a later date but with collections from Europe and America, rather than China.
Mongolian politicians have been loath to speak out, likely worried by Beijing's reaction. The power imbalance was again made clear when China's top diplomat, Foreign Minister Wang Yi, visited Mongolia in September and was met by protesters angry over the actions in Inner Mongolia. Neither Wang nor Mongolia's current president made any public statement on the situation. But the Chinese ambassador, in an interview with a local newspaper, noted that China's demand for Mongolia's biggest export earner, coal, was falling. The implication was clear. "Frankly," he was reported as saying, "we are working in your interests."