Europe Can't Blame Donald Trump Anymore
The question for the Continent's leaders now is whether they can agree on what they are collectively for, not just what they are against.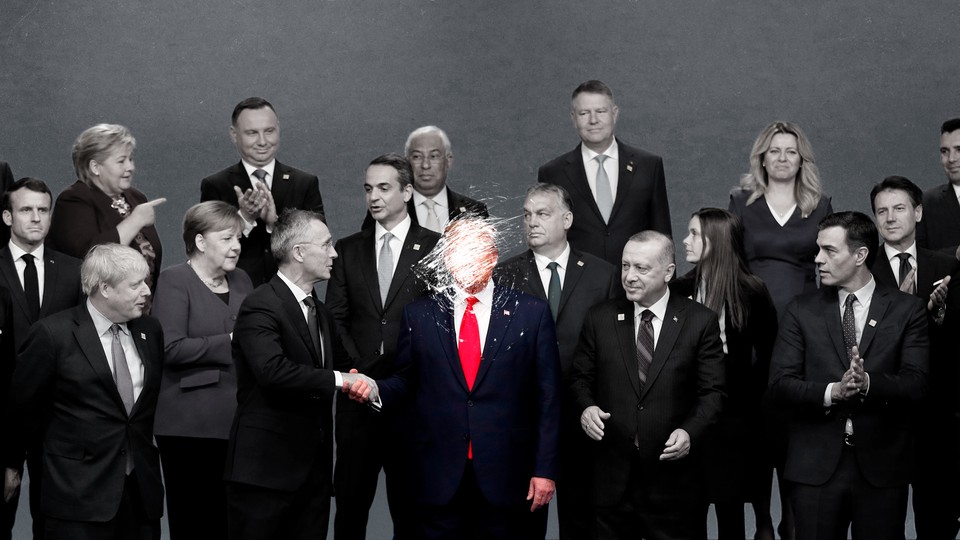 Donald Trump didn't win, and neither did Trumpism. For the world beyond the United States, these facts are of fundamental importance. Whatever happens in the coming weeks and months, most American allies—certainly in Europe—are thankful that he will soon be leaving the White House. And yet the result nevertheless sparked very little of the joy one might have expected from those who had come to loathe the U.S. president and his perceived threat to the transatlantic alliance.
Had Trump won, many in Europe would have thought that the "rules-based liberal order," as it is now known and revered, was in real jeopardy. That Europe's own commitment to that order had been ambivalent at best before 2016, marked by resentment toward successive U.S. administrations, is largely ignored on this side of the Atlantic. Europe's veneration of the old order was less a genuine desire for its restoration than a declaration of independence from Trump. But with Joe Biden soon to take over the White House, Europe has lost its unifying bogeyman. The question for the Continent's leaders now is whether they can agree on what they are collectively for, not just what they are against.
In one sense, Biden's victory returns a recognizable, reassuring figure to the Western throne—a restoration of the old dynastic order—a figure who will hear Europe's petitions with respect and grace. Yet in another sense, his success only reminds Europe of its own impotence, as France's Europe minister, Clement Beaune, hinted in comments criticizing the neediness implicit in much of the elated commentary surrounding the election result. "Let's not behave like children eagerly seeking American benevolence," Beaune told the French broadcaster C News. "What's important for Europeans is that they don't expect their future to be determined by America." (An uncomfortable reality for Beaune and other Europeans is that, despite the scale of Trump's Electoral College and popular-vote defeat, had a few thousand votes gone a different way in Pennsylvania or Wisconsin or Nevada, then a man committed to a very different world order would once again be in charge.)
Trump's defeat has thus removed the boot placed on the neck of the transatlantic alliance—with Biden in charge, there will be no question as to the American president's commitment to NATO's treasured Article 5, for example. But some regional officials I spoke with are concerned that without such a threat, the Continent may revert to a comfortable status quo, and pass up the opportunity to reach a more equanimous settlement between the two halves of the Western alliance. Many European politicians, for example, have concluded that they should no longer subcontract the Continent's basic security to a country that appears to be losing its appetite for imperial rule. Without Trump, will Europe be able to rouse itself to address the legitimate American grievances about European defense and security policies that have united U.S. administrations predating him? Equally, will the incoming Biden administration be creative enough to think beyond the old tenets of American foreign policy, in which moves toward European "autonomy" were seen as threats to the supremacy of NATO—and, by extension, the undisputed supremacy of the U.S.?
At the heart of these issues lies a question: Can Europe agree on a common vision for what it wants its relationship with the U.S. to be, beyond the preservation of an order that was already fraying?
Before the result of the election had even been called (but when Biden's victory appeared secure), French Foreign Minister Jean-Yves Le Drian publicly declared that the U.S. and the European Union needed a new settlement. "We will have to build a new transatlantic relationship, which will be a new partnership," Le Drian said. In Germany, however, the government was not so sure. Writing in Politico, German Defense Minister Annegret Kramp-Karrenbauer argued that Europe should abandon "illusions" of strategic autonomy. This view was immediately countered by Germany's Green Party spokesperson for EU affairs in the Bundestag, Franziska Brantner, who criticized that stance as a "message of despair."
Europe's splits over the transatlantic alliance run much deeper than a difference of opinion between (and within) France and Germany, the Continent's biggest economies and de facto leaders. In parts of Eastern and Central Europe, notably Poland and Hungary, there has been open support for Trump and his agenda, while Slovenia's prime minister, Janez Janša, tweeted congratulations to Trump after the president claimed he had won the election.
Indeed, when I asked European diplomats and officials about the future of the transatlantic alliance in the months leading up to the election, and in the days that followed it, what was most striking was how little agreement there was. Surely, I asked one EU official, European capitals would not accept a return to the status quo just because Trump was no longer going to be president? "It's a hot topic," this official replied, asking for anonymity to discuss such a sensitive issue. "But not just because of this election. The last four years have been enough of a wake-up call." And yet, this official said, any move to develop European capacity in defense and security would be "complex to pull off," because of internal divisions over how much to rock the boat with Washington.
There is another reason for Europe not wanting to drastically alter the terms of the relationship: lethargy. After years of Trump, as well as the ongoing drama over Brexit, to say nothing of the EU's own internal crises, whether over refugees, debts, or the single currency, many desire a quiet life. Why choose this moment to start reimagining the very alliance Europe has spent the past four years worrying about?
Michel Duclos, a former French ambassador to Syria and diplomat at the United Nations who is now at the Institut Montaigne, a Paris-based think tank, told me that Europe could face another Trump (or, possibly, Trump himself) in four years time, so it should use the window of a Biden presidency to put the transatlantic relationship on a better footing.
Yet he also pointed to an array of challenges to that notion. For one, he said, as long as figures such as Kramp-Karrenbauer hold the upper hand in Berlin, Paris will "not make much headway" in its efforts to reorient the Western alliance. At the same time, in Germany, particularly in Angela Merkel's conservative Christian Democrats, there remains concern that French policy is driven by anti-Americanism. And, Duclos acknowledged, without some kind of endorsement from the U.S. itself, there would not be any progress toward greater European independence. "That was impossible with Trump," he said, "and remains difficult with Biden, because the defense establishment in Washington is unable to have that kind of vision."
There is also domestic political uncertainty in some of the Continent's major capitals. Next year will see national elections in Germany and the end of Merkel's by-then-16-year chancellorship. Whoever emerges as the conservative candidate to replace Merkel will have to address Berlin's relationship with Beijing, with enormous ramifications for the rest of Europe and its alliance with the U.S., given that there is now an almost bipartisan consensus in Washington on China's emergence as a strategic rival. In the crudest terms, is it sustainable for the U.S. to maintain a security alliance with a country or bloc which does not share its central security assessment that Beijing is a competitor, not a partner?
In Britain—which is no longer a member of the EU, but remains a NATO member and arguably the Continent's most capable military power, alongside France—some feel that the EU, dependent as it is on reaching consensus internally before seeking a path forward, is structurally incapable of separating itself from the U.S. in any fundamental way. "Bottom line is that [the] EU will never be able to be assertive if they have to get unanimity," one former British cabinet minister told me, requesting anonymity to speak candidly. This former member of Theresa May's government added that the more "acceptable" the U.S. president is to European eyes, the more the likes of Germany and the Baltic states will want to make the old alliance work rather than seek any major shift.
Ultimately, any potential challenges posed by a Biden presidency pale in comparison to what a second Trump term would have meant for Europe. Forced to confront the collapse of the transatlantic security guarantee, European states might well have sought to strike their own deals with Washington to protect their core national interests. This alone would have had the capacity to divide Europe far more than any prospective differences of opinion that exist over what to do now that Trump is leaving.
Nevertheless, with Trump on his way out, pushed into the shadows for at least the next four years, the pressure for any major reassessment of the Western alliance has eased. The problem for Europe and America is that the relationship might not be broken, but it does need fixing. The question is whether it will take another Trump for anything to happen.