The Absent Bloc That Could Decide the U.S. Election
Early voting has long been the norm for Americans living overseas. This year, they're poised to turn out in record numbers.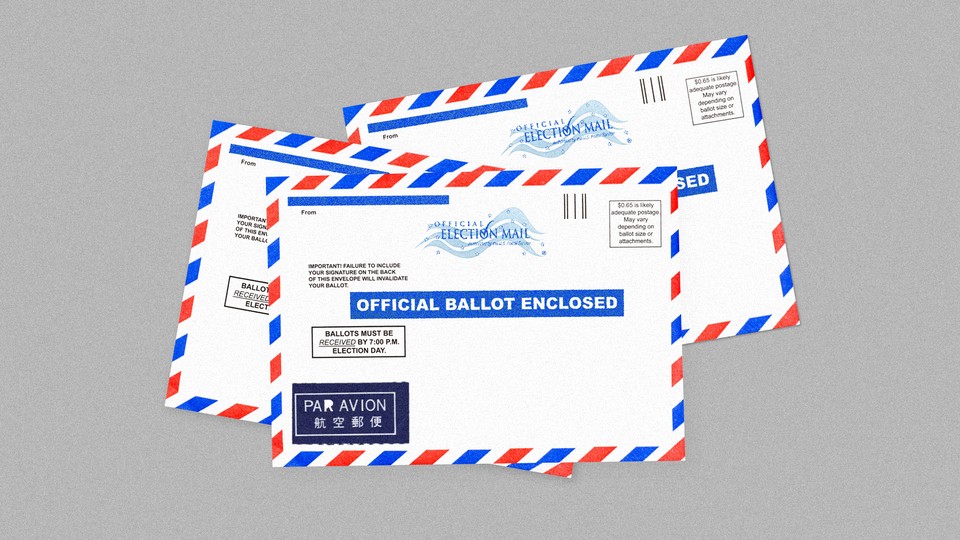 Election Day has already happened for the more than 80 million Americans who have cast their ballot via mail or early in-person voting this year, far surpassing 2016's numbers. This surge has been prompted in part by the pandemic and apprehension about crowded polling stations on November 3, as well as concerns over the Trump administration's efforts to hobble the U.S. Postal Service in the run-up to the vote (sparking worries that the service would not be able to handle a short-term surge).
For a small subset of people, though, these ostensibly new voting challenges—mail-in ballots, deadlines, and disparate state rules—aren't new at all: Americans living overseas have had to contend with absentee-voter registration and mail-in deadlines long before the pandemic. Like their stateside counterparts, these Americans want to ensure that their vote is counted. And despite belonging to a group that has historically sat out elections, this time they are poised to turn out in record numbers, as Vice reported.
If they do, overseas Americans won't just be shaking off their reputation as a relatively silent voting bloc. In some of the close contests that will decide who ultimately takes the White House—particularly in states such as Michigan and Florida—they could be a determining factor.
When it comes to elections, overseas Americans are an easy group to forget. This diverse collection of émigrés, members of the military, and children of American parents are not only physically absent, but relatively few in number: David Beirne, the director of the Federal Voting Assistance Program, told me that about 5.5 million of them are scattered across the globe—a constituency that, together, makes up the population of Minnesota. Three million of them are eligible to vote, though only a small fraction do.
This could be attributed to the fact that voting hasn't always been a straightforward process for expatriates. Susan Dzieduszycka-Suinat, a Munich-based American who has lived outside the U.S. for 25 years, told me that until the early aughts, Americans seeking to cast their vote from abroad had to fill out a blurry paper form and consult a 500-page instruction book—one that she said often included outdated information on where to send absentee-ballot requests. This archaic system inspired her to create the Overseas Vote 2004 initiative, to enable overseas citizens to register and request their ballot online. "These original civic-tech innovations that we had imbued into the system became a model for the government," Dzieduszycka-Suinat said. Now, thanks to the 2009 Military and Overseas Voter Empowerment Act, states are required to provide voter-registration and ballot-request services online and must dispatch ballots to voters at least 45 days prior to Election Day.
Though these innovations have certainly made voting easier for Americans overseas, turnout remains low: Only 7 percent of Americans abroad voted in the 2016 election, compared with 72 percent stateside, and just 4.7 percent voted in the 2018 midterms, compared with 65 percent stateside. It's a discrepancy the FVAP attributes in part to voting obstacles: Not only must Americans abroad take into account factors such as mail speeds (my ballot, for example, took just under two weeks to travel from London to California) and the wide variability of individual states' voting laws, but they also need to ensure that their ballot is perfect—mismatched signatures or a missed deadline could cause the ballot to be rejected.
Americans in the U.S. face similar challenges, but have an advantage over their overseas counterparts: While U.S.-based voters are being encouraged to hand deliver their ballots to their local clerk or ballot-drop location if they're worried it won't arrive by mail in time, Americans abroad don't have that luxury. Instead, many have to opt for commercial couriers, which can be prohibitively expensive (though some companies are offering discounts for overseas ballots from select countries). The heavy curtailment of international flights as a result of the pandemic has also meant that many of those willing to fly home to cast their ballot cannot do so.
The factors that have made voting more challenging this year are paradoxically the same ones that appear to be driving more Americans to vote early, including those living abroad. Dzieduszycka-Suinat, now the president and CEO of the U.S. Vote Foundation, said that its Overseas Vote initiative has seen a 150 percent increase in website traffic and absentee-ballot request-form generation compared with 2016—a rise that began as early as June. Beirne from the FVAP, which also provides online voter-registration services, said that upwards of 648,000 overseas ballot-request forms had been downloaded from its website as of October 13, far surpassing the 384,180 forms downloaded ahead of the 2016 vote. Nearly 37,000 federal write-in absentee ballots, an emergency backup for citizens who don't receive a ballot from their state election officials in time to meet the voting deadline, were also downloaded. Vote From Abroad, an online voter-registration platform run by Democrats Abroad, the international arm of the Democratic Party, has seen more than two and a half times as many visitors this year as it did in 2016.
A number of states, which like the FVAP and other online services also field ballot requests directly from voters, are reporting increases over previous years too. "Many voters contacting us … have never voted in an American election," Debra O'Malley, a spokesperson for the Secretary of the Commonwealth of Massachusetts, told me in an email, noting that the state has fielded nearly 17,000 overseas ballot requests this year, compared with 10,513 in 2016. Increases have also been observed in Michigan (20,316 ballots, up from 14,782 in 2016), New York (58,330 ballots, up from 47,000), Washington (42,285, up from 27,917), South Carolina (13,465, up from 8,621), and Vermont (3,245, up from 2,723).
Ballot requests don't tell the full story, though: Of the total number of ballots that are mailed out to overseas voters each election, as few as half are returned. During the 2018 midterm elections, for example, just over a quarter of Americans in Germany requested a ballot, and only about half of them ultimately cast it. Similar discrepancies were seen among American voters in Canada, the U.K., France, Switzerland, and Japan. And it's not just a midterm phenomenon: Of the 930,000 ballots sent to overseas and military voters during the 2016 election, 633,000 were returned. Of those, just 512,696 were counted.
None of this is to say that overseas voters don't make a difference. To the contrary, they could tip the balance in close races—particularly in competitive states such as Florida, which are poised to determine which party takes the White House. "This is where we can really come back and make a difference," Julia Bryan, the global chair of Democrats Abroad, told me, noting that nearly half of overseas voters cast their ballot in swing states in the last presidential election.
Overseas voters have emerged as the deciding factor in previous contests, perhaps most notably during the 2000 presidential contest, in which delayed overseas ballots gave George W. Bush a narrow 537-vote lead over Al Gore in Florida. The same could happen again: As my colleague Edward-Isaac Dovere reported, Trump won the battleground state of Michigan by a narrow margin of 11,000 votes in 2016—a state where an estimated 21,000 overseas Americans are registered, but where only 17,000 cast their ballot. More than 20,000 have requested ballots from Michigan this year. If enough of them actually vote, they could play a role in deciding which way the state swings.
"It could be a banner year for overseas voters," Dzieduszycka-Suinat said. "The services are up everywhere, they're easier to use than they ever were in the past, and the voters are finding them. I think it's going to make a difference this time around."
Here in Britain, which hosts the largest population of American voters outside of North America, Republican and Democratic organizers attribute increased voter activity to the state of the U.S. itself. Though American politics has always traveled easily across the pond, this administration has attracted an unusual amount of attention—not all of it positive. "There is an unbelievably strong determination to get rid of Trump," Inge Kjemtrup, the U.K. chair of  Democrats Abroad, told me, noting that her team has been approached by Americans who haven't voted in decades. Even those who typically vote seem to be more worried about it than usual.
Sarah Elliott, the U.K. chair of Republicans Overseas, told me that she too has observed an uptick in voter activity—including among those who have never voted Republican before. "We just see America drifting very quickly [into] becoming what I would say is un-American," she said, citing some voters' concerns over issues such as cancel culture and free speech. If there's one thing Democrats and Republicans have in common, she added, it's that "both sides see the stakes equally as high, equally as unpredictable, and equally [as] important."