How Milk Tea Became an Anti-China Symbol
The Milk Tea Alliance is emblematic of the frustration many young people feel toward Beijing's grating assertiveness in the region.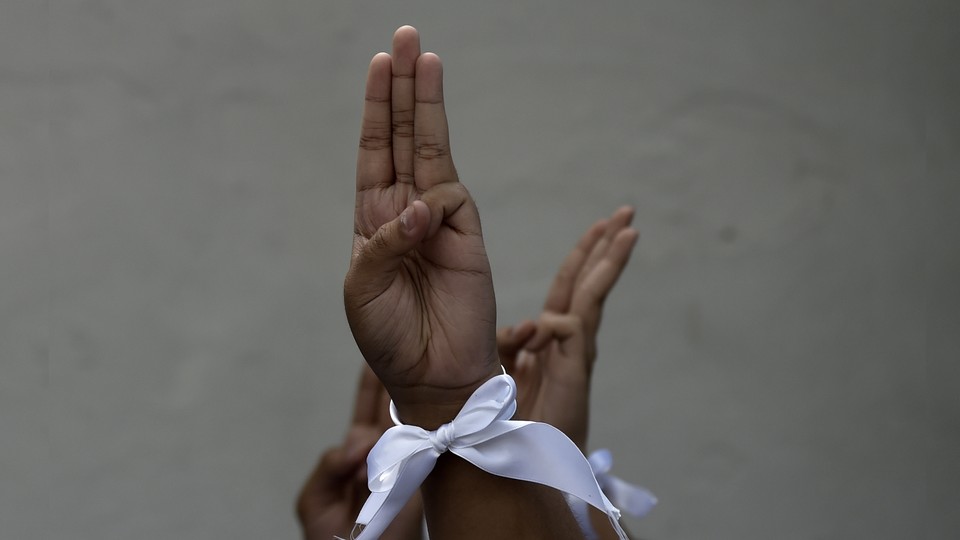 As he was exiting a Hong Kong courtroom in August, charged with rioting during the city's protests, Gregory Wong turned to the assembled reporters and photographers and held his right hand in the air, flashing a three-finger salute.
Wong, the star of a string of popular Cantonese TV shows and movies whose dating exploits serve as constant tabloid fodder, is accused of breaking into Hong Kong's Legislative Council building last year, when thousands of demonstrators smashed through the building's glass facade and stormed the hallways. His outspoken support of the pro-democracy movement is rare among celebrities in Hong Kong, who run the risk of being blacklisted from the lucrative mainland market for sharing political beliefs that run counter to Beijing's. As a result, he has become a favorite of activists in the city, and is a prominent face of the sprawling protest movement.
The salute he made is not a popular sign of resistance among Hong Kong demonstrators, however, but of those in Thailand, who co-opted it from the Hunger Games movie series. There, tens of thousands of people, many of them students and youths, have repeatedly taken to the streets in recent months, demanding that the military remove itself from politics and, more daringly, that the country's largely untouchable monarchy undergo reform. The gesture, Wong told me, was to show people facing injustice anywhere that "we are all in sync with each other; we are all [speaking] out for each other."
Wong is a self-described supporter of the Milk Tea Alliance, a loose, largely online coalition of activists primarily from Thailand, Hong Kong, and Taiwan who have rallied together this year in solidarity with their respective political struggles. The group galvanized around the hashtag #MilkTeaAlliance this spring as a way to push back against fervent, nationalistic Chinese internet users and bots who swarm social-media platforms, hijacking discourse and drowning out dissenting views with deluges of spam posts.
But the movement went beyond online trolling and became emblematic of the frustration many young people across Asia feel toward Beijing's grating assertiveness in the region. "Everyone [in the alliance] is the victim of China and its authoritarianism," Parit Chiwarak, a 22-year-old political-science student and activist who has become one of the most prominent leaders of Thailand's protests, told me. "So there is amity by nature." (Chiwarak is widely known as "Penguin"; he chose the distinctive nickname, he said, after the animal caught his attention during a trip to the zoo in elementary school. "I thought they were cute and fit my character.")
More recently, the message of the Milk Tea Alliance has broadened to encompass a pushback against autocratic governments more generally, as well as the small groups of wealthy elites who hold considerable political power in their respective countries. The alliance now "envelops people across Asia who are fed up with expanding authoritarianism and demand democratic reforms," the Taiwan Alliance for Thai Democracy, a group of Thai students living in Taiwan who have organized demonstrations in support of Thailand's protests, said in an emailed response to questions. "There is power in numbers and we as Asia's rising young generation hope to stem the tide of dictatorship and show the world that the democratic values we believe in and more equal and just society we strive for is not 'Western' but a universal sentiment as people everywhere long for self-determination and greater freedom."
The very online and very youthful coalition came into existence during a cross-national blur of late-night dunks, memes, and shitposting on social media, sparked by a Twitter "like" from Vachirawit Chivaaree, a heartthrob Thai actor. Chivaaree played a leading role in 2gether: The Series, a drama that follows two male university students who feign a relationship, then end up falling in love. The show was immensely popular across numerous Asian countries, with even the Global Times, the bombastic Chinese state tabloid, proclaiming that it helped improve "cultural communication between China and Thailand."
This popularity, however, couldn't shield Chivaaree from the contentious, sometimes ridiculously trivial trip wires of regional geopolitics. In mid-April, he liked a tweet showing pictures of four different cityscapes, including Hong Kong, alongside a caption that read, "These four pictures are taken from four countries." Labeling Hong Kong as a country separate from China, whether intentional or not, sent legions of Chinese keyboard warriors into a jingoistic rage, with Chivaaree suffering the type of digital wrath that has previously befallen major corporations that have crossed Beijing. He apologized, but this failed to quell the outrage. Instead, internet users began digging further into his social-media accounts and those of his girlfriend. In her accounts, they found more fuel—a retweet of a message speculating that the coronavirus originated in a Chinese laboratory and a comment on a three-year-old Instagram post that was perceived by some to be supporting Taiwan as a distinct country from China.
Chivaaree's fans then broke the internet's cardinal rule: Don't feed the trolls. They offered up a smorgasbord of humorous comebacks and sometimes-xenophobic insults, fueling a back-and-forth that saw millions of tweets pile up. In the process, they illustrated an array of cultural misconceptions, the biggest of which appeared to be the belief among Chinese users that the Thais responding to them felt the same type of affection as they did for their government. So when patriotic Chinese accounts lambasted the Thai government and king as inept, Thais enthusiastically agreed, deftly spinning those criticisms back. Along the way, Hong Kong pro-democracy supporters, who flocked to Twitter during last year's protests, joined in, as did Taiwanese and Filipino users.
The motley crew of online gadflies then needed a name, and, at some point, found one in three popular variations of tea: Thailand's orange-hued tea, sweetened with condensed milk; the less sugary Hong Kong version of the drink, a holdover from the British that is ubiquitous at local cafés; and Taiwan's boba tea, filled with chewy orbs of tapioca. The Milk Tea Alliance was born.
In the months since, use of the hashtag has ebbed and flowed as flash points emerged across the region. It trended in June, when Beijing handed down a national-security law concerning Hong Kong, and then alongside calls to boycott the Disney movie Mulan, over the company's decision to film in Xinjiang and the lead actor's backing of the Hong Kong police.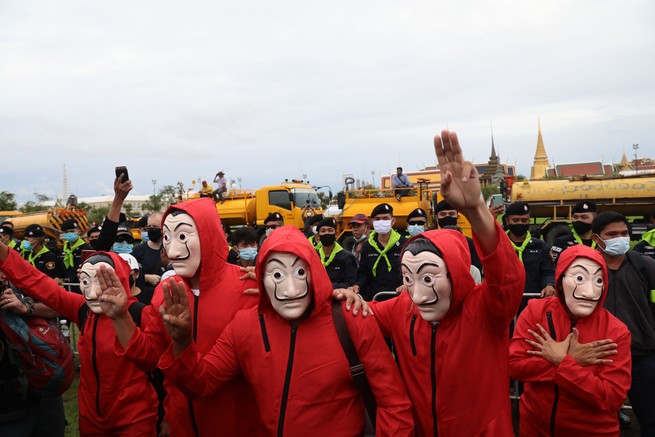 Another wave of support has come in recent weeks, as student protesters in Thailand have seen a burst of momentum. The country's current prime minister came to power during a military coup in 2014 and sought to launder his democratic credentials through elections in 2019. In February 2020, the government dissolved a formidable upstart opposition party, triggering the current demonstrations. Briefly paused by the pandemic, protesters have returned in large numbers and called for greater oversight of the country's powerful monarchy, headed by an eccentric, unpopular, and largely absent king.
Though these demonstrations ostensibly focus on democratic reforms and the role of the monarchy in Thai society—a remarkable-enough development, given the tight restrictions on any perceived criticism of the crown—they also have a deeper subtext. According to Matthew Wheeler, a senior analyst with the International Crisis Group based in Bangkok, the protests highlight "the sense among young people that the deck is stacked against them. That if you don't have the right last name, the right connections, your path is going to be more difficult than the people who are well connected." The feeling is shared in Hong Kong, which has a yawning wealth gap and tycoons who, almost entirely loyal to Beijing, play an outsize political role.
In the months since its April founding, the Milk Tea Alliance has moved into the offline world. It has spawned the Milk Tea Girls, cutesy Powder Puff–esque animated characters. A newly launched Hong Kong–based Milk Tea Alliance clothing line carries T-shirts with slogans in Thai, English, and Chinese. The owner of the line, Marcus, who asked to be identified by only one name for fear of repercussions from the authorities, told me he hoped the brand would let "people know they are not fighting alone." (One of the company's offerings is a blunt, and profane, slogan about loving Hong Kong.) In August, marchers in Bangkok held signs for the Milk Tea Alliance. And the following month, as tens of thousands of protesters camped in the Thai capital near a royal compound, at least one demonstrator flew a black bauhinia flag, a dark riff on Hong Kong's flag that was adopted by protesters in the city. Phuthanawat Chaphuwong, an 18-year-old student at Bangkok University, has attended numerous protests wearing a yellow hard hat and a magenta-and-gray respirator, the unofficial uniform of Hong Kong demonstrators. "They fight for freedom, as we do," he told me. His list of grievances was remarkably similar to those I often hear from Hong Kongers: a government that doesn't listen, a bleak economic outlook, and authorities who seemingly act with impunity.
For now, the Milk Tea Alliance is mostly restricted to Hong Kong, Taiwan, and Thailand, but activists I spoke with hope to expand that further across Asia. Joshua Wong, the prominent Hong Kong activist who frequently tweets in support of the alliance, told me he believed that the group could create a "pan-Asia" grassroots movement that would draw more attention to social causes in the region.
Joshua Wong's tweets helped Napassorn Saengduean, a 20-year-old student at Chulalongkorn University, in Bangkok, gain interest in Hong Kong's protests. On October 1, China's National Day, Saengduean covered herself in Post-it Notes, an ode to the pro-democracy Lennon Walls that once dotted Hong Kong, and joined about two dozen others protesting against China near the country's embassy in Bangkok. "I have to admit I cannot stand seeing them in pain anymore," she said of Hong Kong's protesters. "I remember the first time that I cried for them and realized that I had to do something." One participant sang "Glory to Hong Kong," a protest anthem that the city's government has attempted to snuff out. Just over a week later, as Taiwan marked its national day on October 10, Vice President Lai Ching-te marked the occasion on Twitter with the Milk Tea Alliance hashtag, the tweet racked up nearly 47,000 likes.
On a recent afternoon at a café in a leafy back alley in Hong Kong, Gregory Wong watched on his phone as Joshua Wong stood outside a police station and discussed his latest arrest. The situation in Hong Kong was getting more ridiculous "by the day," the actor told me. His passport had been seized because of the charges against him, and the national-security law—as well as COVID-19 restrictions selectively deployed by the government and aggressive police tactics—made street protests difficult.
Still, Wong continued, the solidarity shown by supporters in other countries had helped keep spirits up. "Be it Belarus, or Thailand, or other places where injustice is happening," he said, "we are constantly fighting for the same beliefs."
Paritta Wangkiat contributed additional reporting.