How to Beat the Nazis in 2020
The Greek far-right party Golden Dawn appeared to have unlimited momentum. A court case changed that.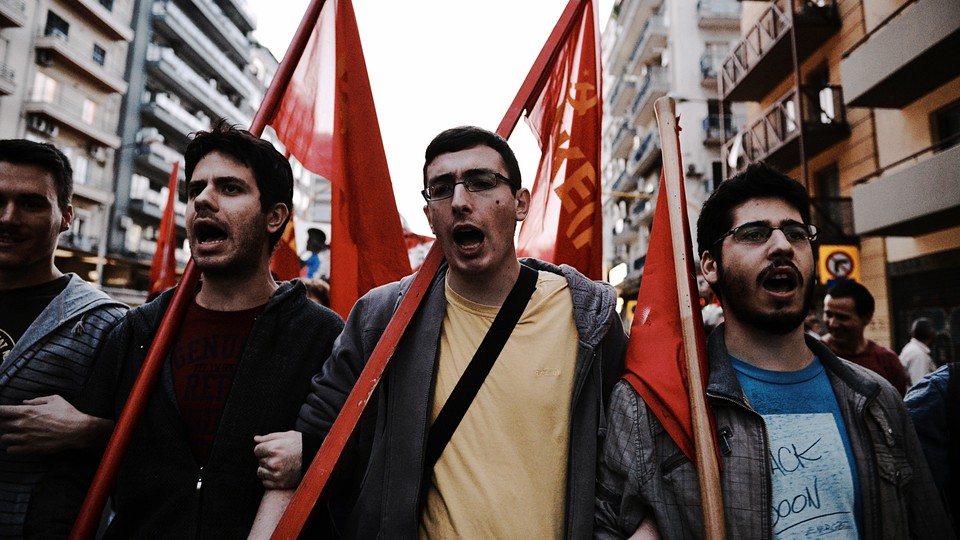 Updated at 10:10 a.m. ET on Oct. 9, 2020.
ATHENS—In 2012, life here seemed like a never-ending story of political and economic upheaval. The global financial crisis had badly damaged Europe's economy, and soon after, Greece's government revealed that huge amounts of debt had been concealed. The country's economy went into shock, shrinking by a quarter, while its public finances required an international rescue and crippling austerity measures.
Waves of unrest would follow. At one point, major squares nationwide were occupied by an anti-austerity movement. The stage was set for political change, and in May 2012, Greek voters turned on their rulers. A majority cast ballots for what had been fringe parties across the political spectrum. The radical-left Syriza group, which would go on to win elections in 2015, shot up from 3 to 16 percent of the vote. But the revolt had a dark side: Nearly 7 percent of voters supported the far-right Golden Dawn. The stunning result handed the party 21 seats in Greece's Parliament. Snap elections the following month effectively confirmed that level of support—an openly neo-Nazi party had joined the country's legislature.
In quick succession, news reports cataloged attacks on refugees, immigrants, and political activists by Golden Dawn's emboldened members. In one case, Egyptian fishermen were targeted; in another, Communist Party campaigners. In early 2013, Shehzad Luqman, a Pakistani immigrant, was stabbed to death while returning home from work on his bike. Throughout, the Greek and international media treated Golden Dawn—whose members were blamed for the violence but remained at large—with curiosity. Its deputy leader, Ilias Kasidiaris, became an item in gossip columns, described as "the playboy of the Greek far-right." The party became normalized.
Only in September 2013 did Golden Dawn appear to have gone too far, when a party member admitted to killing the Greek rapper Pavlos Fyssas. The murder, in front of multiple witnesses, spelled the beginning of the end for Golden Dawn. A host of charges were brought against the party; its leadership, including its founder, Nikolaos Michaloliakos; and its staff, accusing it of being a criminal organization. The case file ran more than 3,000 pages, alleging, among other things, that party members carried out multiple assaults, were involved in human trafficking, illegally possessed weapons and explosives, and committed murder.
Finally, yesterday, Golden Dawn's leadership was convicted of running a criminal organization. Michaloliakos and six of his deputies were found responsible for the actions of members of their party, which included Fyssas's murder. I was given access to the case file as the trial progressed, and the evidence was overwhelming: videos of meetings where Golden Dawn's leaders announced the violent actions they would take, and of paramilitary-style excursions and chanting of Nazi-era chants.
The ruling caps a remarkable period for Golden Dawn, which went from being one of the most successful far-right organizations in the world to failing to reach the threshold of votes required to enter Parliament in Greece's most recent elections. For a moment, it appeared as though the party would capitalize on growing anti-austerity and anti–European Union anger, and that liberal politics in this country, and Europe more broadly, were powerless to stop it. As the Continent grapples with gains made by far-right parties, and as moderate and establishment groups seek to reassemble, the experience of Golden Dawn—from riding high to effectively destroyed in a matter of years—offers lessons.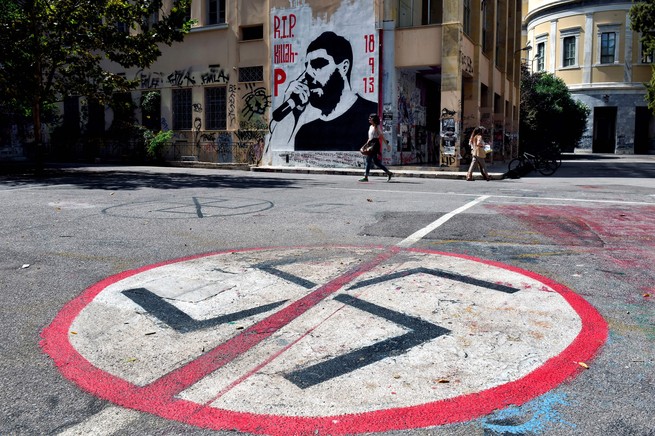 Golden Dawn traces its founding to 1980, when Michaloliakos and others began publishing an eponymous magazine. The formal political party came years later. During that period, according to the investigative journalist Dimitris Psarras, who has been following the party for decades, Golden Dawn was composed of "a fringe group of fanatics who simply gathered in their offices and praised Hitler"; Michaloliakos had already been arrested multiple times, and been imprisoned for illegally carrying weapons and explosives in 1978.
For most of its early existence, Golden Dawn made little impact on Greek electoral politics, never polling above 1 percent in a national or European election. Only when economic turmoil struck was it able to grow.
Throughout, the party barely budged on its ultranationalist beliefs. In a 2011 speech to supporters in Thermopylae—the site of the ancient battle between an alliance of Greek city-states and the Persian empire, central to the far-right imagination the world over—Michaloliakos told a torch-carrying crowd that Golden Dawn and its members "despise democratic norms" while holding his right arm aloft in a Nazi salute. "Everybody says that Golden Dawn are bad fascists, nationalists," he said. "The truth is, they are not wrong. We are all those things."
Parts of this and other speeches of a similar vintage have, over the years, been reported in news reports and through eyewitness accounts, but a video of the entire 2011 address was obtained from a confiscated hard drive as part of the investigation into the party's leadership. Viewed in their totality, Michaloliakos's remarks are notable for their utter disregard of democratic ideals. "The people and the voter are a disgraceful thing," he said during that speech, "and we will never respect them." In a different 2011 address, also captured on video, he vowed that Golden Dawn would "liberate our homelands from the Jews sitting on the neck of the entire world."
Those videos, like other party documents and files, comprised part of the case file against Golden Dawn. Internal memos and recordings include a passage in which party officials describe the Holocaust as a period when Greek Jews "took a train and went to a beautiful landscape with tall chimneys to enjoy their supernatural experience"; in another, Michaloliakos is recorded saying he would have joined the Nazis had he lived in Germany in 1933, adding that he would have been "very happy about it." Psarras himself got hold of Golden Dawn's founding charter, which notes that the party abides by the "leader principle," the term used by the Nazis to describe a system in which leaders have absolute authority. The document was used to link Michaloliakos to acts of violence committed by individual party members.
In court, Michaloliakos denied any personal responsibility for Fyssas's killing, and blamed lower-ranking Golden Dawn officials and individuals for any violence attributed to the party. (As with previous case hearings, no recording equipment was allowed in the room, but Golden Dawn Watch, a nonprofit set up to monitor the trial, provided me with minutes of Michaloliakos's appearance.) He rejected accusations that the party followed a nationalist-socialist doctrine, and pointedly told the court, "I would like to make clear that, for the first time in our history, since the founding of the Greek state, a party leader faces trial for the acts of a party member." The argument against Golden Dawn, summed up by Thanasis Kampagiannis, one of the lawyers representing the plaintiffs in the case, was that the group was "a criminal conspiracy which emanates from the leadership of the organization."*
The investigation's impact on Golden Dawn is clear. It had openly sought to undermine democracy, yet it was largely using the tools of democracy that it was defeated—through the justice system, and at the ballot box. The party is financially broken, and in recent months has been forced to close dozens of offices across Greece. At least partly as a result, its electoral support has more than halved since it first entered Parliament, with Golden Dawn failing to meet the 3 percent support threshold required to win seats in 2019 legislative elections.
Last year, Antonis Bougias, a prominent antifascist activist and founding member of Golden Dawn Watch, was in a part of central Athens characterized by a series of aging high-rises and gas stations. On one side of the street, movers were walking in and out of one such building, carrying cardboard boxes and loading them onto trucks. To outsiders, the scene would have been unremarkable.
Yet for Greeks such as Bougias and me, the structure at 131 Mesogeion Avenue was well known. The reinforced door and the guard post outside made it clear this was once no ordinary office building—Bougias snapped a few photos of the sign that identified it as Golden Dawn's national headquarters. Within hours, though, the sign was missing letters, and the movers were putting desks and sofas onto a truck. "It all carried a sense of decline, you know what I mean?" he told me of the sight.
---
* An earlier version of this article misidentified Thanasis Kampagiannis as a state prosecutor. He is a lawyer representing the plaintiffs in the case against Golden Dawn.