What Bolsonaro's COVID-19 Case Tells Us About Trump's
Donald Trump's political cousin in Brazil has followed the populist playbook to a T. It's worked wonders for him.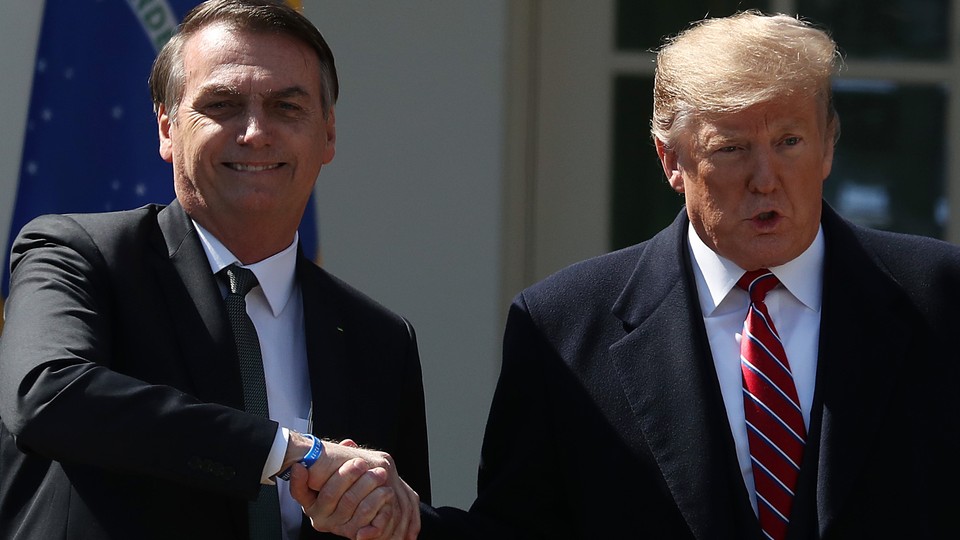 They've both resisted social distancing, lashed out against lockdowns, and compared the coronavirus to the flu. They've each played down the severity of their countries' outbreaks, attacked experts (including within their own government), attended large political events often without wearing masks, and hyped the unproven benefits of hydroxychloroquine. Now that President Donald Trump has, like his Brazilian counterpart, Jair Bolsonaro, months earlier, tested positive for COVID-19, a question remains: Will he, too, manage to emerge from this health crisis not simply physically unscathed, but politically empowered?
Well before the coronavirus pandemic, analysts, critics, and journalists had likened Bolsonaro to Trump, dubbing the Brazilian leader the "Trump of the Tropics." The pair share a nationalist worldview, a willingness to embrace authoritarian tendencies, and a commitment to a strongman persona. Since being elected, Bolsonaro has even adopted Trump's "fake news" clarion call, and seems to be the only Latin American leader who has a genuinely personal relationship with the American president.
The comparison has crystallized, however, during the pandemic. Much remains unclear about the severity of Trump's case, and the two countries obviously differ, but the similarities are striking. Brazil's response to the coronavirus has, like the United States', been roundly criticized as a failure: The country leads the region in total coronavirus infections and has racked up the third-most confirmed cases globally. With 145,000 confirmed deaths, it trails only the United States, and, like the U.S., it never imposed a national lockdown. Bolsonaro also moved quickly to reopen his country, and downplayed the risk of the disease even as more than 20 members of his circle came down with the virus—after a trip to Trump's Mar-a-Lago resort. He's been called "cavalier" and a "bomb thrower" during the course of the pandemic.
When Bolsonaro revealed his own diagnosis this summer, he strolled out of the presidential palace and, addressing reporters standing inches away from him, said his symptoms had been only mild because he had been taking hydroxychloroquine. He then removed his mask to smile and say, "You can see from my face that I'm well and I'm calm."
Illness came as an embarrassment to Bolsonaro, a seeming indictment of his handling of the pandemic and a direct attack on his strongman persona. When addressing the country in March, before he was infected, he had called COVID-19 "a little flu," suggesting that with his "history as an athlete, if I were infected by the virus, I would not have to worry."
The virus, however, made him seem vulnerable, and his popularity sagged. Bolsonaro said that his symptoms included a fever, muscle pains, and exhaustion. His political fortunes were, at least in the early stages of his infection and recovery, worsened by his health ministry's decision in June to stop reporting data on the country's coronavirus cases and deaths, which sparked outrage.
Still, Bolsonaro made sure to be seen while recovering from the disease. He emphasized that his symptoms weren't serious, videoconferenced into work meetings, was active on social media during his convalescence (posting a video of himself purportedly taking hydroxychloroquine), and, in the days leading up to his announcement that he had recovered, participated in the daily flag-lowering ceremony outside his official residence. When he finally tested negative, he tweeted the result with a photo of him holding a box of hydroxychloroquine pills, and then went for a motorcycle ride.
"He took advantage of the fact that he had COVID and that he overcame it and recovered fairly quickly as a kind of vindication of his approach," Michael Shifter, the president of the Inter-American Dialogue, a think tank, told me. "He also tried to reinforce the image of being a tough guy."
That tough-guy image is central to his appeal to so many supporters, who have long admired his authoritarian and anti-establishment rhetoric. Polls now show him with a nearly 40 percent approval rating, compared with 32 percent in June. A majority of Brazilians don't hold him responsible for the country's death toll. And he polls ahead of the popular ex-president Luiz Inácio Lula da Silva and Bolsonaro's own former justice minister in 2022 presidential matchups.
Bolsonaro also never veered from his economy-first message. The Brazilian president had opposed shutdowns and urged people to resist local lockdowns, calling it a "crime" to impose such restrictions and accusing mayors and governors of "destroying Brazil." Even while he was sick, he praised his government's economic priorities. "We saved lives and jobs without creating panic … I always maintained that the fight against the virus could not have a collateral effect worse than the virus itself," Bolsonaro tweeted, echoing Trump's own spring- and summertime message that "we cannot let the cure be worse than the problem itself." To some extent, that strategy worked—Brazil has experienced a less dramatic economic contraction than its neighbors.
Part of that economic prioritization has included direct cash payments for the poor, economic stimulus that accounts for much of his current support, Shifter told me. (Unlike Bolsonaro's remarks on the coronavirus, this does mark a shift: Bolsonaro had promised to slash government spending and run a tight budget.) "Once that program gets cut, or changed to something with smaller payments, then you could see maybe he'll be back in trouble if his popularity goes down," Anya Prusa, a senior associate at the Wilson Center's Brazil Institute, told me. "But at least for now, he seems to no longer be in imminent danger."
In fact, rather than being in any political danger, Bolsonaro seems to be winning. In a country whose political scene is so fractured, where people's hate for the political establishment facilitated the rise of a right-wing authoritarian, Bolsonaro's approval rating shows his remarkable staying power, Prusa told me. The Brazilian public was exhausted after years of corruption scandals, economic crisis, and political turmoil—"COVID is obviously a huge public-health crisis and economic crisis, but in some respects, it's just the latest crisis for Brazil," she said.
Key differences remain between the two leaders, though. For one, Bolsonaro faces no real political opposition—Brazil's political left remains fragmented, and moderates have been willing to work with Bolsonaro. He's been constrained by opponents in Congress and the Supreme Court, but his main potential rival for a second term, the former president Lula da Silva, is barred from running after two corruption convictions. Bolsonaro also had time to rehabilitate his political image. Trump, by contrast, is weeks away from an election, and trailing in the polls against an angry and determined Democratic Party.
Bolsonaro's story nevertheless illustrates that there is a political road map for Trump. When I asked Prusa what the lesson of Bolsonaro's COVID-19 diagnosis was, she told me it "certainly didn't hurt" him politically. "He was facing real challenges in Congress and in the courts. And now his popularity has grown; he and his presidency have stabilized," she said. "Six months ago, people were talking about 'Will he last? Will he be impeached?' And right now that chatter has really died down."