Trump Is a 'Necessary Evil' for Some
Despite his own assault on democratic norms, the president is lauded in parts of Asia for his hawkishness toward China.
To speak to Wan Chin, the host of a YouTube politics show, is to hear echoes of American conservative radio: An "invasion" of immigrants is crossing the border, filling public housing and sapping up limited government resources, he told me; the coronavirus is a "Frankenstein" superbug weaponized in a Chinese lab; and President Donald Trump's "Rambo way" of leadership has finally called out China for its hostilities. When Trump was diagnosed with COVID-19, Chin took to Facebook to wish him "a speedy recovery from the mild flu," parroting the president's own downplaying of the virus's severity.
Chin isn't an American shock jock, though. In fact, he doesn't even live in the United States. He is, instead, an early and prominent advocate of Hong Kong's prodemocracy movement: His 2011 book, On the Hong Kong City-State, was a formative text for the localist movement, which seeks to promote and protect Hong Kong's identity and way of life, separate from that of mainland China. Chin, a former professor, peppered his opinions with historical references to ancient Chinese dynasties and arcane tidbits from folk tales. The walls of his office are lined with Chinese and Buddhist shrines, ornately carved out of dark wood. As he spoke, a woman entered and lit a small bunch of incense, the fragrant smoke twisting upward toward a red "Make Hong Kong Great Again" T-shirt hanging near the door.
Chin is also an unapologetic cheerleader for Trump, whom he calls a "hero," and he is far from alone. This city lies at the forefront of the global fight for democracy, a place where protesters have for more than a year stood against Beijing's attack on Hong Kong's autonomy, free press, and liberal institutions. Yet support for the president—whose own assault on democratic norms, gushing over the Tiananmen Square massacre, on-again, off-again praise of Chinese President Xi Jinping, initial lukewarm support of Hong Kong's protest movement, and self-admitted slow-rolling of sanctions over Xinjiang's mass-detention camps in favor of a trade deal—remains stronger in some quarters than for his Democratic rival, Joe Biden.
These feelings are not unique to Hong Kong. Though reviled in much of Europe for his rhetoric about migrants, his questioning of NATO, and his friendliness toward Russian President Vladimir Putin, Trump has earned credit in parts of Asia for his hawkishness toward Beijing, which supporters argue has not just shifted Washington's own position, but has also emboldened other countries around the world.
In Vietnam, where anti-Chinese sentiment is rife, a vocal pro-Trump faction cheered his first, chaotic debate performance on social media. Republicans' staunch anti-Communist positions have long found an accepting audience among Vietnamese Americans. Elsewhere in Southeast Asia, Trump has seen support in the Philippines—a country that has a Trump-like leader (albeit one who has openly courted China)—as have members of that country's diaspora in America. Indeed, Vietnam and the Philippines, both countries that have seen a more hostile position from Beijing in the South China Sea, are two of a small number of countries whose people were positive on Trump and his policies, according to polling conducted by the Pew Research Center in 2017. Deeper ties with Taiwan, including a flurry of weapons sales, as well as a distrust of Biden, have also bolstered Trump's standing in Taiwan, making him the favorite there. There are even a number of Chinese liberal intellectuals who openly support the president, with "absolute, heartfelt admiration, adoration, and idolization," Yao Lin, a student at Yale Law School, wrote in a May paper exploring the topic. Many of them have undergone "a Trumpian metamorphosis," he wrote, noting that the phenomenon is "curious because it defies the conventional (and convenient) narrative in which China's pro-reform, pro-liberal-democracy, pro-universal-values intellectuals fight relentlessly against injustice, authoritarianism and narrow-minded nationalism."
In Hong Kong, it is unclear just how widespread support of Trump is. Polling conducted for Newsweek in July by Redfield & Wilton Strategies of 1,000 Hong Kongers found that respondents narrowly favored Trump to win the 2020 election, by a margin of 36 percent to 33 percent for Biden. A YouGov poll this month, however, found Biden having a slight edge over Trump. Chin and his viewers are in many ways emblematic of the city's Trump-supporting bloc. Though he has never reached the international recognition obtained by activists like Joshua Wong, Chin retains a considerable following of devoted adherents and a sizable online presence. Following Trump's election in 2016, Chin published The Trump Strategy, a book that analyzed the president's dealings with China. Last year, when enormous protests erupted in Hong Kong, Chin urged his supporters to carry Trump flags and wear Trump gear to protests as punitive legislation targeting Hong Kong was making its way through Washington, playing to the president's oversize ego and hoping to "catch his eye." Chin told me he was drawn to Trump's rhetoric on the economic risk China poses to the world, and used Hong Kong as an example of what he saw as state capture accomplished through Chinese state-owned enterprises—snatching up newspapers and swaths of real estate since the city returned to Chinese rule in 1997—as the type of threat Trump was sounding the alarm against.
Dozens heeded the call, creating scenes that looked akin to Trump rallies in the U.S.: American flags flapping in the hot Hong Kong breeze held aloft by local protesters in MAGA hats, the "Star-Spangled Banner" sometimes blaring from portable speakers in the background. Support from both Democrats and Republicans in Washington was strong, but some of the GOP's loudest voices trumpeted the images as proof that America's position in the world as a beacon of democracy remained unscathed. Visits by Republican Senators Ted Cruz and Josh Hawley during protests last year helped to further bolster the belief among some demonstrators that Republicans were decidedly more pro–Hong Kong than their Democrat counterparts, despite the fact that there was strong bipartisan support for the city in Washington. The scenes infuriated Hong Kong's pro-Beijing faction, adding fuel to the unfounded conspiracy theory that the protesters were receiving clandestine aid from abroad.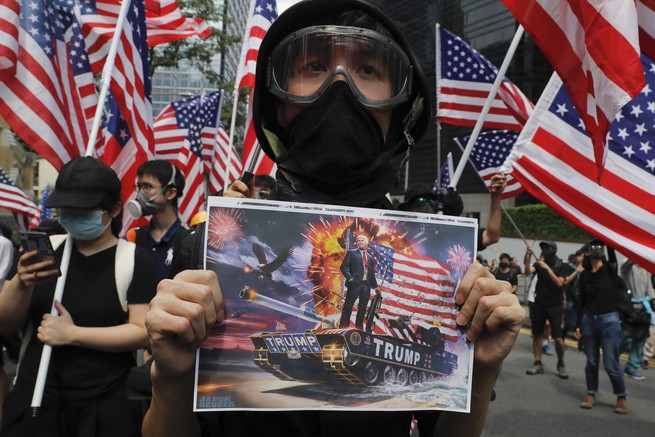 Much of the support for Trump here has its genesis in the belief that during Barack Obama's administration, warnings from Hong Kong about China's growing reach went mostly unheeded in Washington. Some see this trend extending further back, citing Bill Clinton's efforts to bring the country into the World Trade Organization and the policies of other Democratic presidents before him (even though it was Richard Nixon, a Republican, who first established ties with the Communist government in Beijing). Starting in the mid-2000s, Alan Leong, chairman of the Civic Party, Hong Kong's second-largest prodemocracy grouping, began traveling to Washington and European capitals, carrying a message of alarm arguing, he told me, "If you continue to turn a blind eye to what … China had been doing, then very soon you would end up facing a reality of having nurtured a monster that you couldn't control and you would be absolutely at the monster's mercy." In many places, including Washington, Leong said, he found an audience that was largely uninterested in what he had to say.
Leong and others cite the Hong Kong Human Rights and Democracy Act, introduced in 2014 by a bipartisan group of legislators including Republican Senator Marco Rubio, but not passed until last year, as proof of Trump's commitment to Hong Kong. But Trump was originally noncommittal on the bill and said he might veto it, before eventually signing it. The act passed almost unanimously in Congress, one of the few pieces of legislation with clear bipartisan support amid bitter divisions on Capitol Hill last year. "My experience is that Hong Kong is even more partisan when it comes to U.S. politics than Washington is when it comes to dealing with Hong Kong," Jeffrey Ngo, a prominent Hong Kong activist and doctoral student at Georgetown University, told me. Washington also imposed sanctions on Carrie Lam, Hong Kong's chief executive, and 10 other officials in August, to celebratory glee from many in the city. More Hong Kong sanctions are being considered, a congressional Democratic aide told me recently, speaking on condition of anonymity because they were not authorized to speak to the media. There are also a number of pieces of pending legislation aimed at aiding people fleeing Hong Kong for the U.S., which have support from both Republicans and Democrats.
While Trump supporters see him as the driving force behind the change in U.S. policy toward Hong Kong, this ignores, experts told me, the reality of Beijing's tightening hold on the city, which forced recalculations for Washington. Last year's protests made the situation "radically different" than when Obama was in office, Elizabeth Economy, a senior fellow for China studies at the Council on Foreign Relations, told me. U.S. policy toward China more broadly had two sides, she said: One focused on the issues Trump cared about, namely trade, while the other included "everything else," such as human rights and broader Indo-Pacific strategy, which is handled by Congress and foreign-policy professionals. "The administration and Congress have been tough on China," Economy said, "but it is because of the leadership vacuum that the president has created, not because he is a strong leader with a strategic vision for the U.S.-China relationship or the U.S. in the Asia Pacific." Indeed, recent reporting by The Wall Street Journal found that Trump was, until recently, often holding back a harder line on China.
Trump's detractors here argue that the president cares little about Hong Kong, that the United States sees it as nothing more than a geopolitical football to be punted between Washington and Beijing, and that, ultimately, the U.S. would not help the cause of the prodemocracy movement. As Black Lives Matter protests grew in the U.S. after the killing of George Floyd, many of the Republicans who were most vocal in their support of Hong Kong were loudest in their condemnations, drawing charges of hypocrisy. Discussing the White House's handling of Hong Kong–related legislation, Trump's nonreassuring responses when asked about the city, as well as revelations by former National Security Adviser John Bolton over Trump's views on the protests, confirmed some of these fears.
This nuance seems to matter little. An opinion piece in Apple Daily, a prodemocracy newspaper, declared last month following the first presidential debate that "a vote for Trump is not only for the Americans' own interests, but it is also one that is for the survival of the free world." Writing in the same paper days later, Lee Yee, a veteran columnist and political commentator, decried the Democrats dating back to Harry S. Truman for continuously bending to China's will, complaining that there is a "leftist ideology permeated in Western academia and journalism." The paper's founder, Jimmy Lai, who was arrested in August under suspicion of violating a broad new national-security law imposed on Hong Kong by Beijing, is an outspoken Trump supporter. "He plays hardball and he is a man of his word, and he is really powerful in the way he deals with dictators," Lai told the Hong Kong Free Press. (Trump himself admitted to having an affinity for dictators and autocratic leaders in an interview with the journalist Bob Woodward.) Recently, Lai has focused on alleged transgressions by Biden's son, Hunter, whose business dealings when his father was vice president have become the target of attacks in the final days before the election. In a bizarre incident, an Apple Daily official reportedly helped to finance a dossier on Hunter, which was peddled by a fictitious analyst. "The way mainstream media covers up [the] Hunter Biden scandal epitomizes what America will become, if Biden wins—a shield of hypocrisy, a country out of touch with reality," he posted on Twitter.
This support for Trump is mirrored in parts of the prodemocracy movement by a deep distrust of Biden due in large part to his time serving under Obama. Many here believe that Biden "could well sell out Hong Kong," Victoria Tin-bor Hui, an associate professor of political science at the University of Notre Dame, told me.
In his wildly popular videos, Stormtrooper, a pseudonymous YouTuber who has amassed a subscriber base of more than 140,000 people and racked up 14 million views, champions Trump as a savior for Hong Kong and disparages Biden, sometimes drifting into conspiratorial fringes of claims against the former vice president and his son. Much of the U.S. media favored Biden, he told me, adding that his own diet of news came from outlets such as The Epoch Times, a newspaper aligned with the Falun Gong spiritual movement, which has expanded aggressively in recent years and faced allegations of spreading right-wing misinformation.
Sitting at a table covered with recording equipment in a studio whose walls were plastered with fan art, protest posters, and Star Wars memorabilia, Stormtrooper told me he was unconcerned with Trump's other comments and actions outside his tough talk on China and moves against the Hong Kong government. Underpinning his argument was a belief that American democracy provided sufficient guardrails to protect against Trump's excesses. Compared to China's leadership, he argued, nothing Trump could do or say would be nearly as bad.
The president's attacks on the media had not resulted in any real harm, he said, plus, "in China the press will be locked up or even worse." Trump's racism was the same as Biden's, he continued, citing Biden's comments in May that people "ain't Black" if they vote for Trump. The president was still standing after the investigation into his connections to Russia, proof that he had done nothing illegal. Trump's only wrongdoing was paying very little in taxes, but even that was "normal," Stormtrooper said—"in Hong Kong, no rich people pay tax." A few days after we spoke, nearly 7,000 people tuned in to his YouTube channel for live translation into Cantonese of the second presidential debate.
Chin, the political commentator, said Trump had created irreversible momentum against China, but he nevertheless acknowledged the president's contradictions. He is "a good leader, but not a democratic leader," he told me. During his time in office, Trump had been "violating a lot of good practice of democracy," he added, but, in exchange for taking on China, this was a "necessary evil."