When Women Lead Protest Movements
The demonstrations in Belarus point to a broader trend.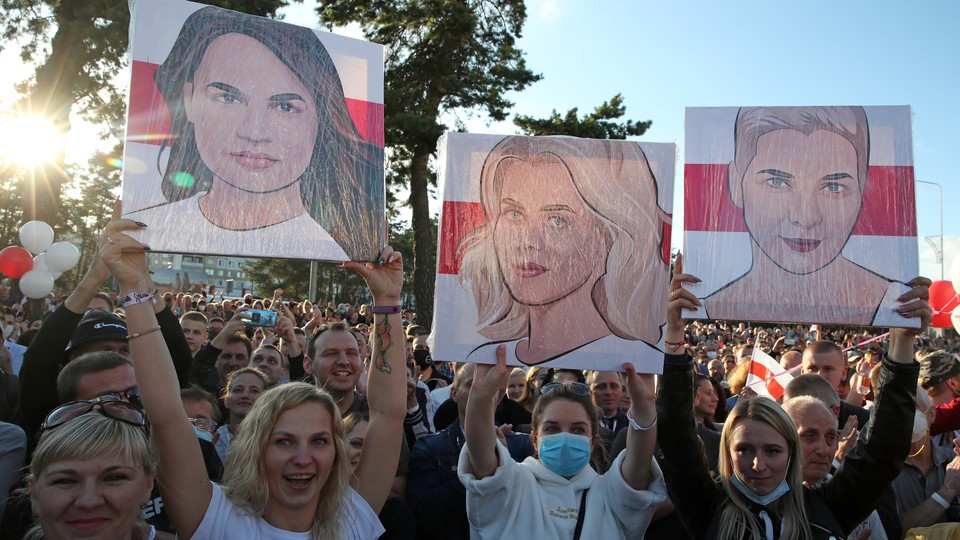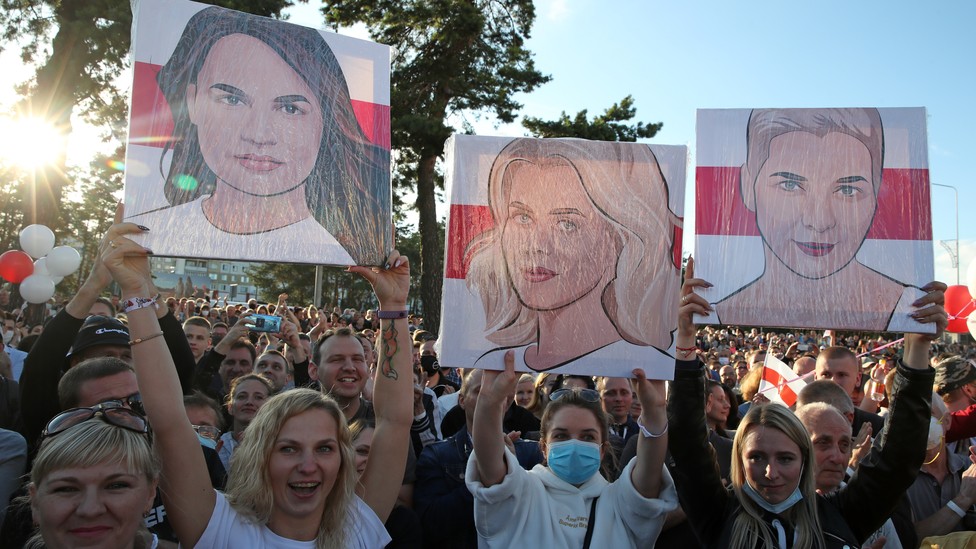 One of the most striking things about the prodemocracy protests in Belarus has been the outsize role of women. A woman, Sviatlana Tsikhanouskaya, has emerged as the unlikely political challenger to longtime Belarusian President Alexander Lukashenko. Two of the country's highest-profile opposition figures, who have been abducted or compelled to flee the country, are women. One of them, Maria Kolesnikova, tore up her passport to prevent her forced exile. And women made up some of the earliest demonstrations against the election result.
Today in Belarus, a 66-year-old strongman who has declared his country unprepared for female leadership is facing off against hundreds of thousands of demonstrators—many of them young, and many of them women—who are intent on proving him wrong. The moment demonstrates a trend in global mass movements: Protests that feature women are typically larger, less violent, and more versatile than those that do not. Most important, they are also more likely to succeed.
The prominence of women in Belarus's burgeoning opposition movement was in some ways by design—specifically, if perhaps inadvertently, Lukashenko's. Many of the country's popular, and predominantly male, opposition candidates were barred from participating in August's election or jailed before they could get the chance to declare their candidacies. Such was the case for Siarhei Tsikhanouski, a YouTube blogger and prodemocracy activist whose presidential bid was scuppered by his arrest. His wife, Tsikhanouskaya, put herself forward for the role instead. It was perhaps because Lukashenko didn't see a mother and former English teacher who had no political experience as a viable threat that her bid was allowed to go ahead unimpeded. "Our society has not matured enough to vote for a woman," Lukashenko said in May. Were one to become president, he added a month later, "she will collapse, poor thing."
Judging by the scale of the demonstrations since then, thought to be the largest in Belarus's history, Lukashenko was mistaken. Tsikhanouskaya formed a pact with two other female opposition figures, Kolesnikova and Veronika Tsepkalo, and the trio came to be seen as the new symbol of Belarusian dissent. In the lead-up to the vote, they were likened to "a female rock band," drawing large crowds of supporters as they campaigned across the country. Tsikhanouskaya and Tsepkalo have since fled Belarus, citing concerns for their families' safety. Kolesnikova, who has remained in the country to speak out against the widely denounced August election result, briefly went missing last week after reportedly being abducted in broad daylight by Belarusian authorities. (She has since been detained in Minsk.) But if the intent behind silencing these figures was to suppress unrest, it hasn't worked. That's because the Belarus protests have been largely leaderless and decentralized, borrowing tactics from mobilizations in Hong Kong, Catalonia, and elsewhere. As with many of these movements, women have had a starring role in the Belarus protests. Some of the earliest demonstrations featured thousands of women decked in white, wielding flowers, balloons, and placards.
The emergence of women at the helm of mass protests isn't unique to Belarus. Over the past decade, women have stood out as symbols of movements as far afield as Algeria, Lebanon, Sudan, and the United States. They were a driving force behind last year's demonstrations against a new citizenship law in India, the 2018 demonstrations against President Jair Bolsonaro in Brazil, and many of the revolutions that culminated in the Arab Spring.
Part of the reason women have had more visibility in recent protests has to do with the greater inclusivity of nonviolent movements around the world. According to research conducted by the Harvard University professors Erica Chenoweth and Zoe Marks, the co-authors of a forthcoming book on women in protests, as many as 70 percent of nonviolent campaigns from 2010 to 2014 included "moderate or extensive numbers of women at the front lines." Such campaigns not only proved to be much larger than gender-exclusive ones, but also proved to be more successful in achieving their objectives.
In some ways, this seems intuitive. Movements that include women necessarily open themselves up to a broader base of support and participation. But women bring more than just numbers to a movement. For one thing, protests that feature women tend to be less violent, in part because demonstrations featuring a lot of women are more difficult to suppress with force, especially in patriarchal societies such as Belarus. "Mothers and grandmothers are often seen shaming police and security forces, kind of adopting a posture of their maternal roles in society," Chenoweth told me.
This doesn't necessarily mean that women are immune to the kinds of violent crackdowns that have become a familiar response to mass demonstrations around the world. Even ahead of the Belarus vote, Amnesty International reported that women activists in the country were being disproportionately targeted with politically motivated persecution, intimidation, and harassment. Still, women have proved a more difficult force for riot police to suppress. Indeed, women were credited with keeping last year's anti-government protests in Lebanon largely peaceful by acting as "human buffers" between demonstrators and security forces.
Key to the success of nonviolent movements in recent years has been their ability to diversify beyond street demonstrations. Here, too, women have played a vital role, innovating methods of protest such as boycotts, strikes, and other forms of noncooperation that apply pressure on those in power. "It's not because they are women that they were nonviolent and innovated tactics better," Chenoweth said. "It's that their particular position, the gendered roles that they had in society, gave them access to knowledge about social power."
Women have been providing protests with these kinds of tactical innovations for centuries, Chenoweth said, noting that some of the earliest documented campaigns of nonviolent action were created by women. Nineteenth-century women in rural Ireland, for example, played a strategic role in the conception of the boycott—a technique named after its original target, Captain Charles Boycott, an English land agent who sought to evict tenants demanding a reduction in their rent. Similar tactics have been vital in Belarus, where demonstrators have been buoyed by the walkouts of factory workers, employees of state-owned media, and members of the police and security services.
But perhaps the greatest reason women have made such an impact on protests in Belarus and elsewhere has been their ability to bring further legitimacy to a movement's demands. The Mothers of the Plaza de Mayo, a 1977 movement of Argentine women whose children disappeared under the country's brutal military dictatorship, proved effective in large part because of participants' ability to leverage their status as grieving mothers. Though the government tried to portray them as las locas, or "mad women," it was ultimately reluctant to crack down, for fear of sparking backlash. The Belarus protests, though different in context, pose a similar challenge to authorities. "They wanted to take the men who stood behind our shoulders," one protester told Belarusian media. "But we said that even if they themselves want to leave, we will not let them out, because we are mothers here."
An unlikely icon of the Belarus protests is septuagenarian Nina Bahinskaya. The great-grandmother and longtime activist gained prominence after her confrontation with police who attempted to seize her flag during a demonstration went viral. By simply being there, women like Bahinskaya have been able to exploit traditional and gendered stereotypes in their favor, as though to say, Would you treat your mother this way?