What Belarus Learned From the Rest of the World
Demonstrators in the country are using strategies borrowed from other far-flung protests.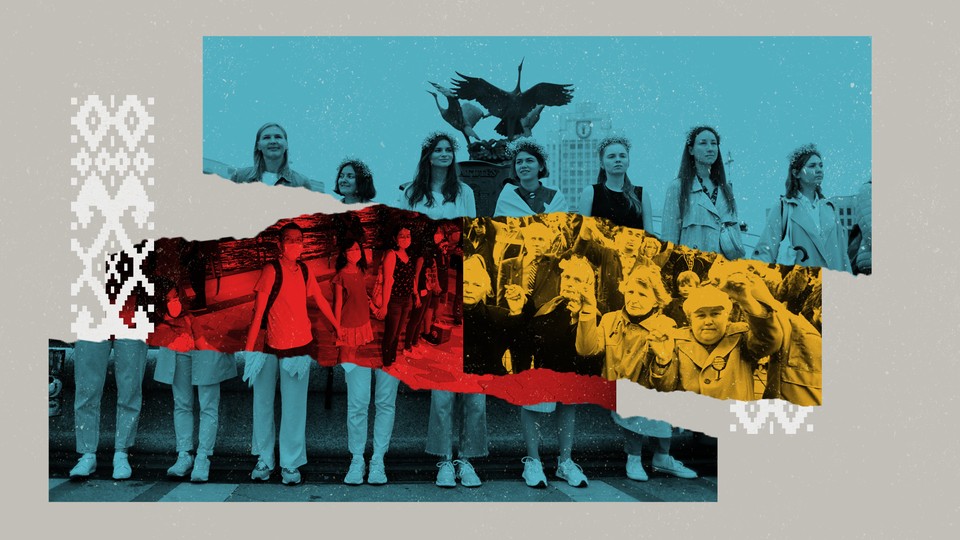 Belarus has become unrecognizable in recent weeks. Hundreds of thousands of people have turned out to protest longtime President Alexander Lukashenko and his violent crackdown in the aftermath of this month's disputed election. In cities across the former Soviet state, the official national flag has been replaced with Belarus's historical white-and-red flag, which has come to represent the growing movement. Flowers and balloons are commonplace symbols of peaceful resistance.
In some ways, though, the scenes in Belarus are all too familiar. The spontaneous, decentralized rallies across the country and the widespread adoption of social media by protesters resemble the prodemocracy movement in Hong Kong. The solidarity chains featuring thousands of Belarusians dressed in white are reminiscent of the human-chain demonstrations made popular by the Soviet-era independence movement the Baltic Way. Even the protests' leaderlessness mirrors that of other protests as far afield as Catalonia, Chile, France, India, Iraq, Lebanon, and the United States.
These overlapping approaches are emblematic of a global trend in which one country's grassroots movement adopts the best practices of others. Through the exchange of strategies, slogans, and digital resources, these movements have transcended their borders, inspired one another, and attracted international support. The context and demands might be different, but the tactics are similar.
Protests in Belarus were born out of widespread anti-government sentiment, triggered by an election that many within and outside the country deemed to be rigged. This month, Lukashenko clinched his sixth term as president. Many of the country's younger protesters haven't known any other leader. But that alone didn't prompt the unrest. Rather, discontent can be traced back months to the country's mishandling of the coronavirus, which Lukashenko erroneously claimed would kill no one in Belarus. While other countries imposed economic shutdowns and introduced social-distancing measures, Lukashenko advised his people to drink vodka, visit saunas, and drive tractors to keep the virus at bay. Any other precautions, he said, would amount to "mass psychosis."
That's not how many Belarusians—of whom tens of thousands have contracted the disease and at least 600 have died—saw it, though. "In their eyes, the state should protect them," Olga Dryndova, the editor of Belarus Analysis, an analytical journal at the University of Bremen, told me, noting that Lukashenko's comments, seeming to blame those who died for their own fate, infuriated many. When the election came, it presented them with an opportunity to voice their frustration, culminating in the prominent rise of an unlikely challenger, Sviatlana Tsikhanouskaya. Lukashenko ultimately claimed victory with 80 percent of the vote, the outcome of an election that the European Union classed as "neither free nor fair."
The scale of the subsequent protests has been unlike anything Belarus had seen—which, according to the protesters, was by design. "Hong Kong's was chosen from the very beginning as the main approach because there were already crackdowns before the elections," Franak Viačorka, a Belarusian journalist and prodemocracy activist, told me, citing reports of violence and arrests in Belarus ahead of the August 9 poll. "The only way to hide from the police was to do as Hong Kongers: to appear at one place, disappear, and appear elsewhere."
Like those in Hong Kong, the demonstrations in Belarus have been met with violence (though on a much higher scale). Riot police have cracked down with stun grenades, rubber bullets, and batons. Thousands of people, including journalists, have been arrested, and at least two people have died. Reports of torture and abuse at the hands of state security forces are widespread. Still, Viačorka said the spontaneous and agile style of the Hong Kong protests has proved effective against Belarusian authorities who for decades have had to deal with only traditional demonstrations. "When something unconventional is happening," such as a human chain or an art performance, he said, "the system is just disrupted. It doesn't know what to do."
Hong Kong hasn't been the protesters' only inspiration. A demonstration on August 16, perhaps the largest in Belarus's history, "was more like [the] Armenian revolution," Viačorka said. "The idea was to create a critical mass of people filling out the streets and to demonstrate the new majority." And so far, they've been able to do just that. In addition to its street protests, the movement has been buoyed by walkouts from farmers and factory workers—groups thought to be among Lukashenko's most loyal supporters. State-owned enterprises and state broadcasters have also joined the strike, as have people claiming to be members of the police and security services, who filmed themselves throwing out their uniforms in protest.
Central to the movement's success has been its ability to harness social media. YouTube popularized opposition figures such as Tsikhanouskaya's husband, Siarhei Tsikhanouski, whose bid for the presidency was thwarted by his arrest in May. The popular video blogger had spent the previous year traveling the country and documenting people's concerns, Dryndova said, which ultimately culminated in the announcement of his candidacy under the slogan "Stop the Cockroach," a reference to one of his viral videos about Lukashenko. After his arrest, Tsikhanouskaya stepped in to take his place.
Then, when traditional social-media platforms became less reliable, protesters turned to Telegram. The encrypted messaging service, which was similarly popular in the amorphous movements of Catalonia and Hong Kong, has played a vital role in organizing protesters and disseminating information horizontally, absent any formalized leadership. This is a "Telegram revolution," Viačorka said. It's "not the opposition, not the political parties. Everything is made by bloggers, influencers, and these Telegram channels."
Of the dozens of Telegram channels dedicated to Belarus's movement, the most popular, NEXTA (or nekh-ta, meaning "someone" in Belarusian), has more than 2 million subscribers—not an insignificant number for a country of 9.5 million people. The channel, run by the 22-year-old Belarus native Stsiapan Sviatlou, functions not only as a source of information and news for protesters, but also as the movement's virtual headquarters. "IT'S TIME TO TAKE THE LIFE OF THE COUNTRY INTO OUR HANDS!" read a message pinned at the top of the channel, including instructions for the August 16 march and a list of protest demands (Lukashenko's departure, the immediate release of all political prisoners, and justice for those who were murdered or tortured).
The channel's influence hasn't escaped the notice of the Belarusian government, which this month opened a criminal case against Sviatlou. Lukashenko also sought to undercut the protesters by disrupting the country's internet access—a tactic that has been employed by other governments, including those in India, Iran, and Egypt. Here too, though, Belarusians were able to utilize the experience of protesters in places such as Hong Kong and India to their advantage. When the internet went out, they turned to offline applications such as Firechat and Bridgefy, which enable users to communicate without an internet connection. VPN tools such as Psiphon, popular among activists in China and Iran, reported a surge in users the day after Belarus's election.
Yet as transferable as these tactics are, they can't make up for the fact that every protest is fundamentally different, both in terms of how likely a government is to consider demands and how long people are willing to fight for them. While some protest movements achieve their objectives and fade into memory, others, such as the Hong Kong prodemocracy movement and France's "yellow vest" protests, have demonstrated a remarkable staying power. But Belarusians might not have that kind of time. Like other economies, Belarus was hard-hit by the pandemic, during which more than half of the population has reported a decrease in income. Those who are currently striking may not be in a financial position to do so indefinitely. "Probably most of the people who are striking now have money for one month," Dryndova said, adding that "the Belarusian economy would be destroyed if it lasts for months."
Perhaps the greatest factor in the success of the protests is Lukashenko himself. Despite the scale of the opposition against him, as well as Russia's apparent reluctance to get involved, the president remains defiant. As Lukashenko sees it, his fate is inextricably linked to that of the country itself. "Do not kill your future, the future of your children, with your own hands," he told supporters this month. "The fall of the first president will mean the beginning of your end."
That's a risk some protesters are willing to take. "He still believes it can be as it was before," Viačorka said of Lukashenko, "but it will never be."