What the Coronavirus Proved About Homelessness
Britain's efforts to house thousands of people amid the pandemic prove that even the most intractable problems are solvable—with enough political will.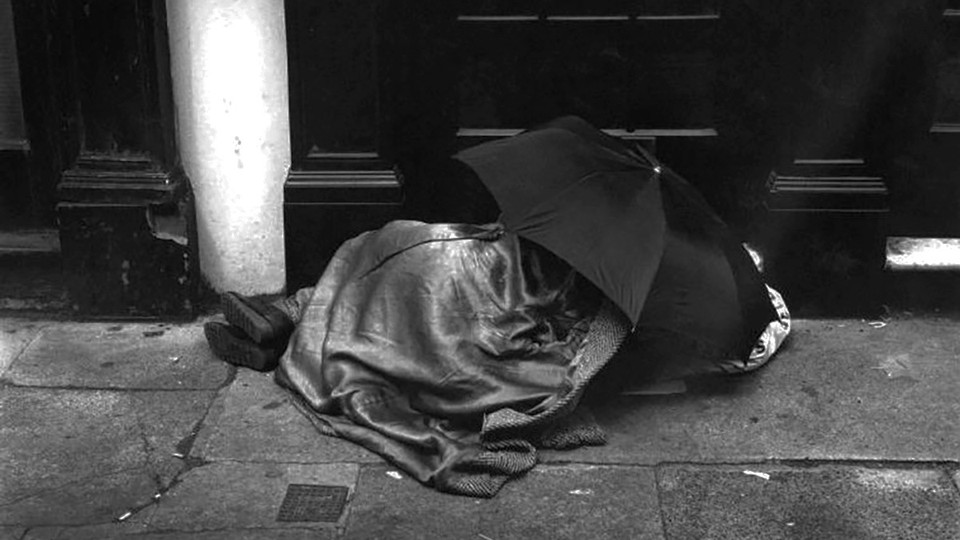 Editor's Note: This article is part of "Uncharted," a series about the world we're leaving behind, and the one being remade by the pandemic.
---
When the coronavirus forced countries into lockdown and confined people to their homes, governments had to confront an urgent question: How do stay-at-home orders apply to those without a home?
For Britain, the answer was simple: "Bring everyone in." Within days of imposing its national lockdown on March 23, the British government told local authorities to shelter any person in need of accommodation. It was an extraordinary task—one requiring millions of pounds, not to mention the efforts of huge numbers of officials and charities. But it worked. Thousands of unhoused people were placed in vacant hotel rooms, student dormitories, and other forms of temporary housing. A goal the government had given itself years to accomplish was achieved much more quickly.
For all the existing vulnerabilities the coronavirus has exposed within supply chains, health-care systems, and the global economy, it has also revealed how easily seemingly intractable problems can be fixed—with enough political will. Although the coronavirus hasn't solved Britain's homelessness problem outright, it has proved what many within the housing and charity sectors have known to be true for years: that with enough funding and prioritization, governments can bring people off the streets. The question is no longer whether or how Britain's homelessness crisis can be resolved, but whether the country's leaders will still be willing to expend the resources and political capital necessary to do so once the pandemic has passed.
Britain isn't the only country that has utilized the sudden abundance of empty hotels to house its unsheltered population during the pandemic—Australia, France, and parts of the United States have done the same—but it has arguably done so with the most success. In England alone, nearly 15,000 people, including more than 90 percent of "rough sleepers," as those who live on the streets are known, have been given some form of temporary accommodation in which to isolate during the pandemic. (Issues related to housing and homelessness are the responsibility of regional governments; similar efforts were made in Northern Ireland, Scotland, and Wales.)
Unhoused people rarely have the luxury of separating themselves from others. Conventional services available to them prior to the pandemic, such as overnight shelters, are communal and cramped, making the prospects of self-isolation all but impossible. By providing them with their own rooms, Britain managed to avoid the kind of large-scale outbreaks seen in unsheltered populations elsewhere. According to the U.K.'s Office of National Statistics, at least 16 unhoused people have died of COVID-19 in England and Wales, a figure the charity Crisis said "could have been much worse" had authorities not intervened. Though a majority of unhoused people in Britain are relatively young, they are more likely than the rest of the population to suffer from underlying medical conditions that put them at higher risk of illness. People suffering from chronic homelessness have an average life expectancy decades shorter than that of the general population, and are more likely to be vulnerable to COVID-19 as well.
This "Everyone In" campaign has done more than simply put a roof over people's heads. For many, it also provided access to vital services, including immigration advisers and charity workers. Lucy Abraham, the CEO of the London-based charity Glass Door, told me that the assistance required is often as simple as opening a bank account or replacing a lost ID—steps that could help a person secure a job and, ultimately, a path off the streets. But such help can only go so far when those seeking it don't have a fixed place to call home. "It's much harder to help people when they're on the street," Louise Casey, the former head of the government's Rough Sleepers Unit, who has been leading Britain's efforts to house rough sleepers during the pandemic, told me. "If they've had three square meals a day and a decent night's sleep and they are feeling in a better place, you can say … 'Let's get your bureaucracy sorted.'"
While Britain's success in shielding its unhoused population from the worst of the pandemic is to be lauded, it also raises a question: Why did it take a pandemic for this to happen? In the past decade, homelessness in the country has increased by 141 percent—a crisis fueled by a nationwide housing shortage, rising rents, and local budget cuts spurred by years of austerity. If more investment was the solution, what stopped the government from taking action sooner?
When I put this question to Suzanne Fitzpatrick, a professor of housing and social policy at Heriot-Watt University, in Edinburgh, and an expert on global homelessness, she told me the "housing first" model—which rests on the notion that the best and most cost-effective way to solve chronic homelessness is to give people homes first, and then help them find their footing—is already widely accepted, having been used in other places, such as Finland, which last year all but eradicated rough sleeping in its capital, Helsinki. "For the great majority of the homeless population, what they want and what they need is their own self-contained accommodation and ordinary neighborhoods with the support that they require to sustain that accommodation," Fitzpatrick said. "And that's what all the evidence of housing first tells us works best."
The "Everyone In" program has proved this as well. Lorraine Tabone, the founder of a community group called Lola's Homeless, which serves rough sleepers in the East London borough of Newham, told me that the pandemic presented a "golden opportunity" for unhoused people in her community, which has the highest rate of homelessness in the country. When I first met Tabone in early February, dozens of the people she and her volunteers worked with could be found sleeping in an old shopping center. Since the lockdown was imposed, the shopping center has closed and many of its former inhabitants have been moved into hotels. Tabone said that of the more than 200 unhoused people in Newham who were sheltered through "Everyone In," a handful have moved on to other temporary accommodations. Some have even found jobs."There are some good stories coming out of it," Tabone said. "It just shows how they can end homelessness overnight … With money, things can be done."
But solutions like the housing-first model aren't cheap, requiring the types of investment that the British government has only recently shown itself willing to spend. Finland, for example, spent about €300 million, or about $343 million, over a decade to create 3,500 new homes and hire 300 support workers. In the long term, though, studies have shown that this type of spending results in savings, particularly when it comes to emergency health care, social services, and the criminal-justice system. While the cost of ending homelessness is high, the cost of letting it continue it is significantly higher.
Though Britain's recent spending splurge offers a raft of emergency measures that address the issue, including a temporary ban on evictions and an additional £105 million ($132 million) in funding to keep those who have been housed during the pandemic off the streets, it's unclear how long that kind of funding will last, or who will have access to it. One concern facing local authorities and charities right now is whether this money will be accessible to those who are ineligible for state benefits—a group that includes possibly thousands of undocumented migrants, European nationals who are not permanent residents, and people with pending immigration cases. While the government's push to house people at the start of lockdown initially disregarded whether those being housed were eligible for public funds, charities such as Crisis and Glass Door have expressed concern that restrictions could apply to future funding.
Andrew Fraser, who chronicled his four years spent rough sleeping in a book called Invisible, told me that while the government's efforts have been life-changing for many people, they mean little if the threat of being put back on the streets remains. "The cruelest thing you can do to a homeless person is take them off the streets and tell them they're safe and then return them to it," he said. "That will push a lot of people over the edge."
When I asked Casey about whether future support would extend to those ineligible for public funds, she said there were no plans to restrict anyone from keeping their temporary accommodation during the pandemic, irrespective of immigration status. "We don't think we should be messing around with people's lives just because our own system of immigration or benefits doesn't accommodate that," she said, adding that no one wants to see a return to the status quo. "Everybody I talk to does not want to go back to mass rough sleeping in the U.K. … The responsibility for that lies not just with government, but with all the charities and local governments, to make sure we don't go back. And we don't have to. We've got enough money not to."
For now. But the homeless epidemic existed long before the viral one came around, and it will take more than a onetime influx of cash to solve it in the long term. Local authorities have warned that as many as half a million households could be at risk of homelessness once the full economic impact of the coronavirus is realized. When that challenge comes to pass, no one will be able to claim that it is an intractable problem that will take years to solve. The solution is already here.