The Costs of Europe's Soon-to-Be-Lost Summer
Restoring tourism isn't just an economic necessity for the continent, but also a cultural one.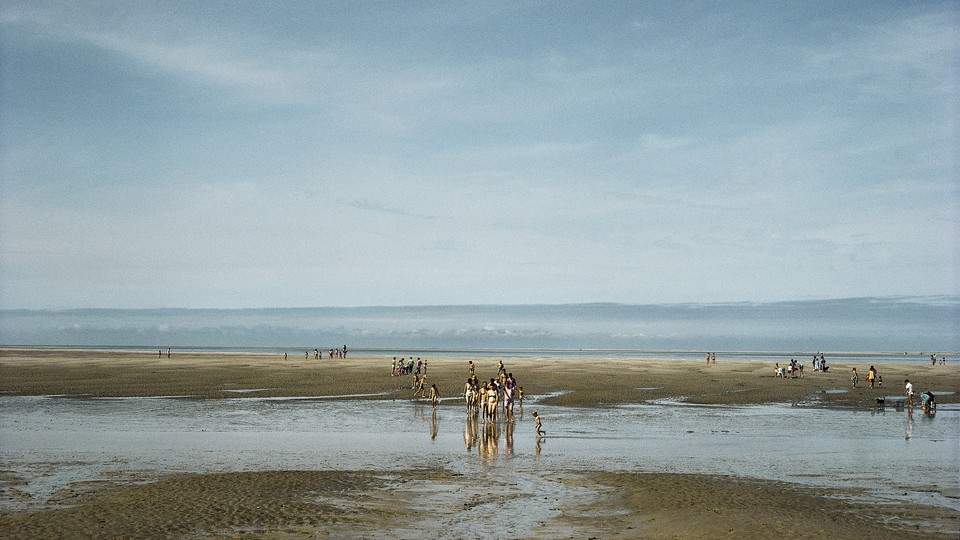 Summer is peak tourism time in Europe. The weather is nice, schools are out, and millions of people flock to popular destinations such as Athens, Barcelona, and Venice.
Not this year, though. Even with some countries reopening their economies, the coronavirus has all but ensured that this summer, and the many vacations people have booked in preparation for it, won't go ahead as planned.
Europe can't afford this. With millions of tourism jobs at stake, many European countries have decided to open up again—if not yet to international visitors, then at least to fellow Europeans. Their proposals are partly rooted in a desire to spare the tourism sector, but they also stem from something deeper—a longing to retain a fundamental part of European life. Unlike the United States, and its notorious work-life imbalance, Europe savors the summer: a sacred time in July and August when vacations are planned, shops are closed, and the continent agrees to go on a collective pause.
This calculus exposes the tension, felt around the world, between the desire to save the economy and the need to prevent a resurgence of the virus. But it also raises plenty of questions: What, after all, would the resumption of vacation travel look like? Will the readiness of European governments, airlines, and the tourism industry to reopen match that of tourists? What is at stake for Europe if it doesn't open back up?
Understanding why so many people are concerned about what this summer holds is easy. After all, this time of year is usually associated with respite, when people can look forward to longer days, warmer nights, and a bit of relaxation. For Europeans, however, the issue borders on existential. "The summer season is the lungs" of Europe, Margrethe Vestager, the Danish politician and executive vice president of the European Commission, told me. It's a time when "you breathe in order to get the energy and everything you need for the rest of the year."
Indeed, many European cities tend to empty out in July and August, as their usual inhabitants flock to various travel destinations to take advantage of their generous vacation entitlements. (Most European countries grant their workers at least four weeks of paid time off; Americans, on average, receive only half that.) It's also a time when Europe gets to know itself. "A lot of people travel internally in Europe," Vestager said. "It's very much part of being European, because you know your neighbors from some of the times that you consider the best of times …  It's an extremely important cultural element in how we live."
This year, travel faces an unprecedented crisis. The industry stands to lose as many as 100 million jobs because of the pandemic, according to one estimate, and global tourism revenue is forecast to fall by more than a third. When international travel does resume—whether that is weeks or months away—it will have to contend with an entirely new landscape. Airlines that haven't gone bankrupt could still be grounded. Hotels, restaurants, and tourist attractions might still be off-limits. New health and safety guidelines could mean a radically new standard for traveling altogether. (The European Union recommends a series of new health protocols, including increased physical distancing in restaurants and hotel lobbies, as well as a wider adoption of face masks. Some European airlines have announced that they will require face coverings on all future flights.)
The scale of this economic challenge is particularly pronounced in Europe, where the tourism industry "is dependent on a strong summer season," Zurab Pololikashvili, the secretary-general of the UN's World Tourism Organization, told me in an email. The sector employs 27 million people, according to the UNWTO, and accounts for 10 percent of the continent's GDP. For tourism-dependent economies in Italy, Spain, and Greece, that figure is closer to 13, 14, and 20 percent, respectively. The prospect of losing this vital part of European life, thus potentially exacerbating existing discrepancies between the continent's financially prosperous north and its harder-hit south, has prompted a number of governments to set out their reopening plans: Italy has already begun welcoming back European tourists this week, Greece plans to welcome visitors starting on June 15, and other European countries that are particularly reliant on tourism, such as Spain, Croatia, and Portugal, have put forward their own blueprints.
Announcing that countries are ready to welcome tourists is one thing. Ensuring that those visitors make the trip in a way that is both feasible and safe, however, is another. Though some places have managed to contain the coronavirus, it is far from eradicated on the continent. Many countries, including France, Italy, and Spain, are still under some form of lockdown. Freedom of movement between EU member states—one of the central pillars of the bloc—remains suspended. While some countries are gradually easing their restrictions, fears remain that a too-sudden return to normal could result in a new wave of infections, causing them to shut down all over again.
A number of ideas have been floated to make sure this doesn't happen, including "immunity certificates," contact-tracing apps, and on-arrival COVID-19 tests at airports. But perhaps the most promising solution being discussed by European leaders right now is the concept of "travel bubbles," or alliances between countries with similarly low rates of infection. The first such bubble debuted recently between Latvia, Lithuania, and Estonia. More agreements, including a trans-Tasman bubble between Australia and New Zealand, are expected to follow.
Another potential solution is the categorization of various European regions by how well they've contained the virus—a green label for areas where infection rates are low, and a red label where they are not. "The idea is to lift restrictions and return to normal life within and between green zones," Bary Pradelski, an associate professor of economics at the French National Centre for Scientific Research and a co-author of a policy proposal on green-zoning, told me. If, for example, Berlin and Athens were classified as green zones, people within them would be able to travel freely between the two cities. Those within red zones, however, would not.
This type of labeling is already being tried in France, and a similar system has been implemented in Spain. Elevating it to the EU level, Pradelski and his co-author, Miquel Oliu-Barton, argue, will allow the EU to set its own bloc-wide standards for what constitutes a green zone and facilitate the return of travel between those areas more quickly. Perhaps most important, they say, it could give the bloc more options should a second wave of the virus occur.
Moritz Kraemer, an epidemiology researcher at Oxford University, told me that from an infectious-disease-modeling standpoint, green-zoning "seems very plausible." But it presents some clear challenges, too. How, for example, would governments prevent people who live in red zones from flocking to green zones in order to travel? What could the bloc do to ensure that different countries, with their own geographic contexts and testing practices, are being fairly and equally assessed?
Ultimately, the return to normal travel is more than just a government decision—it's a personal one. As ready as governments and tourism vendors might be to welcome tourists back, there is no guarantee that travelers themselves will feel the same—at least not right away. A recent study by the International Air Transport Association found that 60 percent of those surveyed would wait up to two months after the pandemic is contained to resume air travel; 40 percent said they would wait at least six months.
"If people feel safe, they will start traveling again," Pololikashvili, the UNWTO chief, said, adding that people are also more likely to go where they feel safest—which, for the time being, is probably close to home.
No level of planning or upgraded health standards will change the fact that this summer will be unlike any that Europe has ever experienced. Although many people may feel that they want, or need, a vacation after months of confinement, "it's important to respect that it will be very different from person to person," Vestager said. For some, that could mean no travel this summer, or even this year. For others, it might just mean traveling differently.
"When I was a child, a lot of people would drive for their vacation," Vestager added. "That may actually come back."