Don't Build Roads, Open Schools
The idea of child care as women's (unpaid) work holds the issue back in political discussions.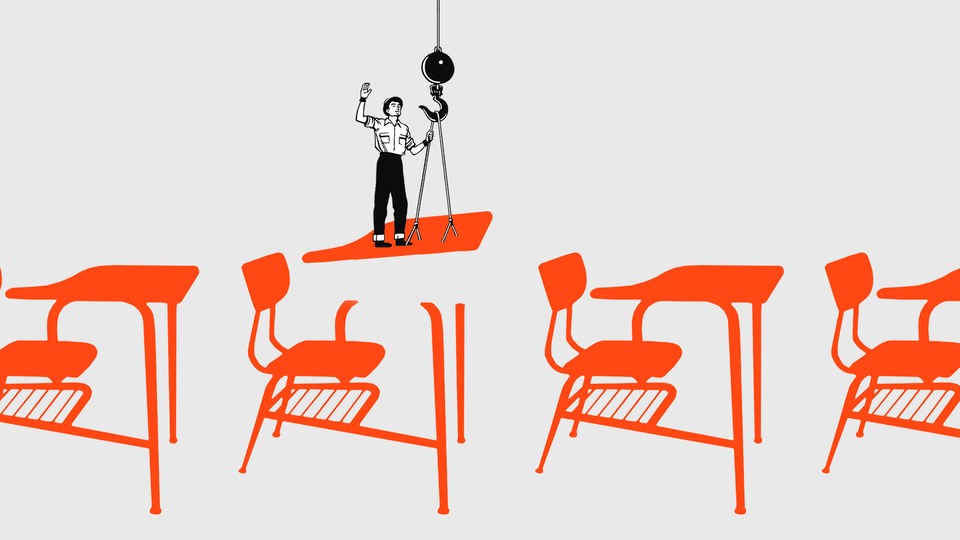 Boris Johnson loves to dress up—admittedly not an unusual pastime among alumni of Britain's most exclusive schools. But his specific kink is looking like a builder, in a hard hat and bright high-visibility jacket. Yesterday, the British prime minister filmed a wobbly video that featured himself decked out in Day-Glo yellow at a London school, laying the groundwork for his "new deal" on infrastructure. For a set-piece speech today, his lectern was positioned in front of a clothes rack full of neon work wear.
Johnson loves this stuff. He regularly poses in hard hats on visits to tea factories, engineering firms, and tramlines. During last year's election campaign, he even drove an excavator through a foam-brick wall in front of a crowd of journalists. Its scoop carried his winning campaign slogan: GET BREXIT DONE. He—like many politicians in Britain—enjoys the construction industry's association with dynamism, new starts, and fixing things up.
His announcement today of £5 billion in infrastructure spending is designed to soften the economic fallout of the coronavirus pandemic. His aides have likened the plan to Franklin D. Roosevelt's New Deal. Never mind that grandiose comparison, or the fact that much of the fund is earmarked for maintenance of crumbling roads and schools, tattered by a decade of austerity orchestrated by his Conservative Party. What is most noteworthy about the announcement is its extremely limited idea of infrastructure. After all, Johnson could invest in one thing right now that would help millions of people get to work just as surely as any road or bridge: child care.
Affordable, high-quality child care is good for gender equality, good for parents' household budgets and stress levels, and good for the economy. Any investment in care would produce 2.7 times as many jobs as an equivalent investment in construction, according to the Women's Budget Group, an independent think tank. Nurseries, day-care centers, and kindergartens have been badly hit by pandemic closures, but so have primary and secondary schools, which we should also count as child care. These are not just sites for learning, or places where children go to make friends and develop social skills. Schools are also what allow parents to go to work, earn wages, generate tax income, and contribute to economic growth.
British schools are currently only partially reopened, with considerable variations nationwide. (The situation in the United States is the same.) That has left millions of parents desperately juggling paid work and child care—and not just watching over their kids, but trying to replace a formal education. Yet full school reopening in Britain will have to wait until the autumn, if not beyond, while nonessential shops have already been allowed to open their doors, and restaurants, museums, and hair salons will follow on July 4.
School closures have widened inequalities, in a turbo version of the "summer-holiday effect," whereby pupils from poor families fall behind their wealthier peers. The children of a generation have lost months of learning, harming their future prospects, as well as those of their country, which highly prizes an educated workforce, and where the annual wage difference between university graduates and nongraduates is an average of £10,000. The failure to see schools as vital infrastructure has contributed to this. In Slate, Rebecca Onion invoked the idea of an "exposure budget" to manage the response to the coronavirus, choosing which risks to take. Applied across society, Onion argued, we could decide to spend all our exposure budget on opening schools and nurseries, if we accepted that it would mean other closures and limitations. Unfortunately, policy makers have "long been accustomed to papering over shortfalls in policy with huge sacrifices of parents' and children's well-being," she wrote.
Hundreds of thousands of workers in Britain alone have seen their future prospects directly harmed by the lack of available child care during this crisis. One female friend of mine, who wasn't eligible to be put on the government's furlough program, asked instead for paid leave to care for her children, conceding that she could not manage her job and two small children. Her request was refused, and she was told to work flexibly instead.
Parents such as her are worried that they will be the obvious casualties when government support aimed at preventing job losses is gradually withdrawn, beginning in August. Although many men will be affected, this is a feminist issue: Women in Britain are more likely to be in part-time employment, and are more likely to be the lower earner in straight couples, meaning their job is more likely to be "sacrificed" if one parent needs to pick up the slack at home. Among single parents, nine out of 10 are women.
And yet the message from governments around the world still sounds a lot like Suck it up. In May, Johnson breezily assured a member of the public that employers would be understanding about child-care issues preventing some staff from returning to work. But when the government's financial assistance for employers begins to be withdrawn, that understanding will be tested. We might see a turbocharged version of another existing inequality, in which the "motherhood penalty" already dooms women to lower average lifetime earnings. Most parents want to have jobs, and very few couples can survive comfortably on one income anyway. State-provided child care, in all its forms, is what gets those people into work, as much as roads or railways.
Britain's myopia on this subject is part of a global pattern, as politicians easing lockdowns and planning economic recovery depend on outdated, stereotypical assumptions about what work is, and who does it. Australia, for example, has just cut its coronavirus child-care subsidies, while pouring funds into its male-dominated construction industry. Women make up the majority of the country's key workers, as they do in Britain and the United States. During the pandemic, free child care allowed them to continue working, as hospital cleaners, care-home assistants, and doctors. Now they are expected to go back to the hard bargain of juggling the so-called second shift at home with the first one at work.
So why don't we hear about any of this when politicians talk about infrastructure? Why all the high-visibility jackets and mechanical diggers? In Britain, it is partly about posh male politicians wanting to seem in touch with regular people: If you went to an exclusive school, as Johnson did, it doesn't hurt to look like you know which end of a forklift is which. Plus, hard hats still belong to a man's world—90 percent of construction workers in Britain are male—so they project a kind of macho strength.
The latter point is perhaps the real problem here. In a society where the prime minister is asked whether he "helps" with changing nappies for his newborn child, the idea of child care as women's (unpaid) work holds the issue back in political discussions. It's not treated as a real job. Child care seems intangible and mundane—not a new beginning, not "shovel ready," not something you can stand next to in a hard hat.
---
Related Podcast
Listen to Helen Lewis discuss this story on an episode of Social Distance, The Atlantic's guide to the pandemic:
Subscribe to Social Distance on Apple Podcasts or Spotify (How to Listen)