Venezuela's Coronavirus Crisis Is Different
The pandemic has hit the developed world hard. How will it affect countries with fewer resources?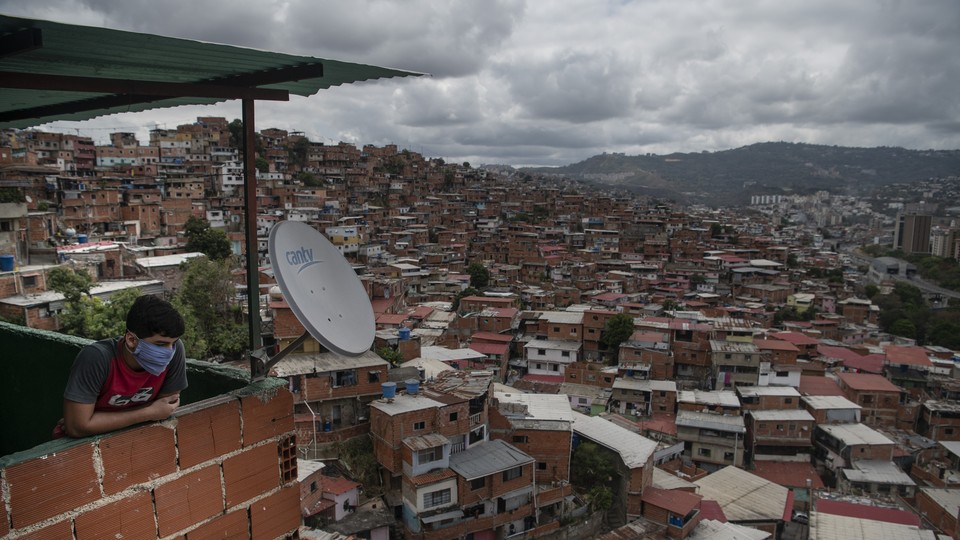 These days, Teresa buys food that doesn't need to go in the fridge. Hers broke, after a series of power outages finally wrecked its circuitry. When she can afford to buy meat, she resorts to a bygone technique—preserving it with salt. It's a burden her family has gotten used to. Others are harder to make peace with: Teresa's 8-year-old, Sara, has autism and epilepsy, and just one box of the anticonvulsant pills she needs costs $70, a hefty sum for a public-school teacher who makes barely $6 a month.
Such is life in Charallave, a city near Caracas, the Venezuelan capital, where Teresa lives with her husband, mother, and two children. And that was before the coronavirus struck.
In mid-March, with just a few dozen confirmed cases of COVID-19, Venezuelan authorities opted for a strong response. Citizens were ordered to stay home and to wear masks if they went outside. By April, some communities had added a curfew, and several others began allowing only individual family members out at a time. The military has been deployed nationwide to enforce the new controls. Though Teresa—who asked to be identified with a pseudonym, fearing retribution for speaking out—and her husband, also a public-school teacher, are still being paid, they cannot go to work and have been unable to purchase any of the medication Sara needs.
"The only source of strength I have left comes from God," Teresa told me. "The situation is really hard."
Teresa's story, and that of her country, are in many ways extreme—few states had as perilous a political and economic outlook as Venezuela did before the pandemic broke out. Yet their dual experiences illustrate a wider problem: If the coronavirus outbreak has badly hit wealthy states, what will it do to poor ones?
For one, the benefits of imposing the prevention measures first implemented by developed ones—such as extensive lockdowns—are anything but clear. Poorer countries lack the resources to offer the economic and social rescue packages that richer states, such as those in Europe and North America, have extended to their citizens. These countries are also home to hundreds of millions of informal or self-employed workers, who typically have little in the way of savings and need to venture out for money and food.
Lockdowns can thus create considerable desperation, forcing people to ignore them—sometimes at the risk of antagonizing the state. In Nairobi, Kenya, soldiers shot people who were out in the streets. In Peru, defying government restrictions can lead to jail terms of up to three years. Police in India were criticized in the early stages of that country's lockdown for punishing day laborers who, lacking a place to stay or the funds to survive, walked the often long distances back to their home villages.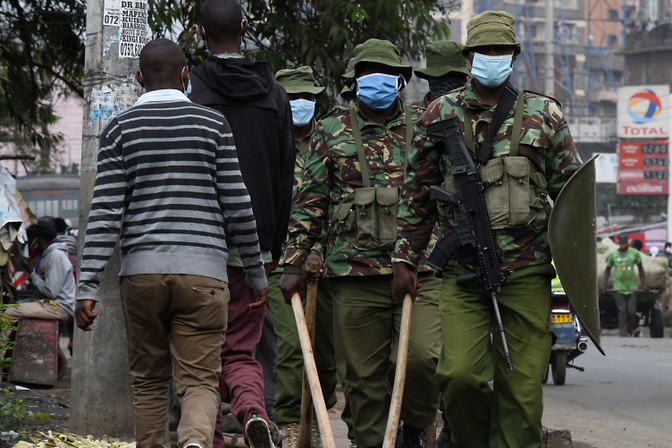 Most concerning of all, however, is the fragility of health-care systems throughout the developing world. The Central African Republic, a country of 5 million, has only three ventilators. Somalia has just one intensive-care bed for every million citizens. In Venezuela, the situation was similarly abject even before the dangers of a pandemic came into view. A survey last year found that 70 percent of hospitals in the country receive water only once or twice a week, while a fifth operate with no water at all. Reports have consistently put the number of ICU beds around 80 nationwide. Last year, the president of the Venezuelan Medical Federation said that more than half of the country's doctors had emigrated.
Before the pandemic, Venezuelans were already dying of treatable diseases such as measles, diphtheria, tuberculosis, and malaria at alarming rates. Though the country has so far registered only a few hundred cases of COVID-19, with next to no water, soap, beds, ventilators, or personal protective equipment—and, perversely for an energy-rich nation, a shortage of gas and electricity—its prospects for grappling with the coronavirus seem slim.
Some are trying to address the shortfall in any way they can. Héctor Arrechedera, a professor of medicine at the Central University of Venezuela—the country's oldest and largest university—leads one of several telemedicine initiatives that sprang up at the beginning of the quarantine. Along with dozens of other doctors and specialists, he takes calls from Venezuelans with questions about the coronavirus, and hopes to expand the service to cover malaria and childhood illnesses. Romina Cunto, a surgeon, co-founded an organization that offers a WhatsApp bot capable of answering basic coronavirus-related questions and redirecting users, if need be, to doctors on call.
The government says it has conducted more than 490,000 tests, and that most of the cases in the country, which now number above 350, have come from neighboring Colombia. According to Cunto, the authorities have also established a hotline to field questions about the virus. But, she adds, "a lot of people told us it didn't work." Nobody, it seems, ever picks up. (A lack of official capacity is evident in other ways, too: The Associated Press has reported that the official numbers are based on antibody tests, which can sometimes yield false negatives.)
Venezuela's struggles are not unique—several developing countries have sought to impose restrictions on movement, fearing the havoc the coronavirus could wreak on their health-care system. There are other options, though.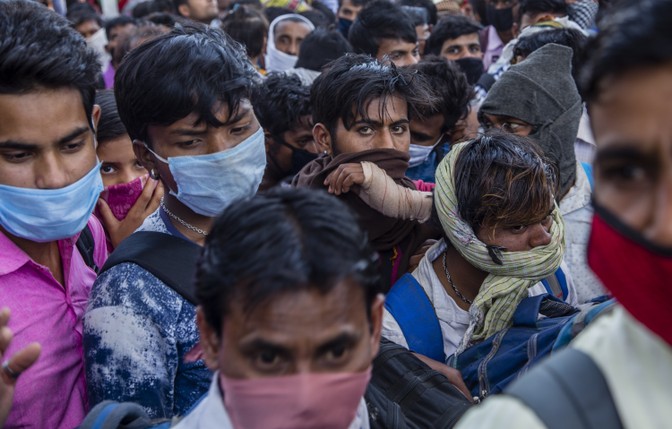 In March, Francesco Checchi, an epidemiology and international-health professor at the London School of Hygiene & Tropical Medicine, co-wrote a study on a series of realistic preventive measures that could be taken against the coronavirus in low-income settings. Among them was the recommendation that high-risk members of society—including the elderly—be isolated while household breadwinners continue going to work. From later mathematical models based on data from Mauritius, Nigeria, and Niger, Checchi and his team found that if a population's most vulnerable people were effectively shielded, "you can actually make a considerable dent into the likely death toll that you would otherwise expect," he told me. Checchi has also recommended that the least vulnerable change their behavior by avoiding large gatherings, using some form of protective gear (low-cost masks for most of the population and more substantial equipment for health-care workers), and washing their hands frequently with water and soap.
Ultimately, it's "not lives versus economy," Checchi cautioned during our conversation. "It's lives versus lives. You can save lives through a lockdown, but you will also potentially cause a lot of indirect mortality because of the lockdown, immediately or down the line."
Mushfiq Mobarak, an economics professor at Yale, also says that "poor countries should not be blindly following the lessons that we are learning from high-income areas like Europe and [the] United States." Mobarak has been working with the government and telecommunications companies in Bangladesh to ask rural residents medical questions via their cellphone. With their responses, he is identifying likely COVID-19 hot spots in the country, as well as documenting the attitudes and beliefs of people in different communities toward the outbreak. To encourage health-conscious behavior, Mobarak has set up a reward system that gives phone credit to anyone who shares accurate information about the coronavirus with those around them.
The work by researchers such as Checchi and Mobarak is gaining some traction. Mobarak—who outlined his findings to the World Bank and the Organization for Economic Cooperation and Development—has, according to Justin Sandefur, a senior fellow at the Center for Global Development, laid "out what is starting to feel like the dominant view among developing economies: skepticism of lockdowns and curfews." Similarly, Checchi told me he had briefed officials at the World Health Organization, including the director general, on his research group's recommendations.
Unfortunately, there is a greater challenge than simply devising and articulating these plans. "If you want to pursue some strategy that looks different" from what Europe or the U.S. is doing, Mobarak warns, "you have to be politically really brave." The pushback, were the revised tactics to fail, would be significant. Unlike the Zika and Ebola epidemics, the coronavirus pandemic originated in affluent countries, whose responses dominated the media coverage from the get-go—and in many ways, still do.
Absent such political bravery, ordinary people in developing countries have few options. Before the coronavirus arrived in Venezuela, María de los Ángeles García visited her neighbor Salvador almost every day. They watched telenovelas in his living room, together with García's 90-year-old mother. Salvador has pulmonary cancer and lives by himself. The three never talked much during their meetings—Salvador was in too much pain. But he seemed to enjoy their company.
García used to take him to the hospital, where he would wait for treatment. "I would drop him off at 7 a.m. and pick him up at 5 p.m.," she told me. Now, with the lockdown, Salvador is even more at his neighbors' mercy than before. García brings him breakfast every day, delivered through his door's grille, and a doctor who lives nearby lends him an oxygen pump every couple of days. There are no more visits. "I am afraid of infecting him," García said. "We are waiting for the worst to happen."