The Faucis of the World
Thrusting once-anonymous health experts into leadership creates a tension when political decisions must be made.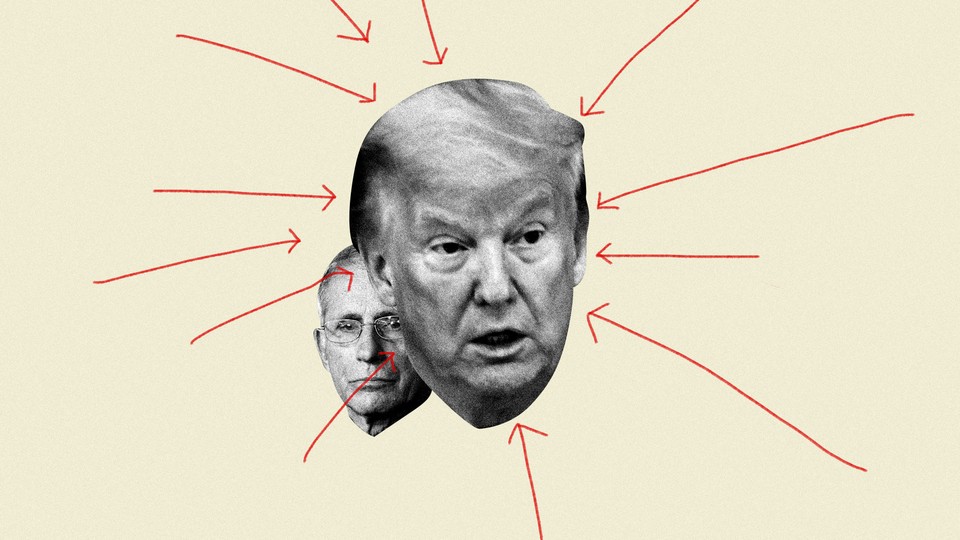 Around the corner from Dublin's historic St. Stephen's Green lie Ireland's Government Buildings. Here sit the offices of the Irish prime minister—or Taoiseach. Since February, political ownership of this most prized piece of real estate has been up for grabs, following a general-election result that left no party with a clear claim to power. Then the pandemic struck.
Ireland looked up from its own troubles to see the coronavirus outbreak hurtling toward its shores. It had a diminished leader, a political crisis, and a health system that had for decades been a source of domestic controversy, dispute, and angst. Yet, three months on, the incumbent, Leo Varadkar, remains in situ, and most pundits now expect him to stay in office as part of a power-sharing arrangement. And while Ireland's response to the pandemic has been far from perfect, particularly in relation to retirement homes and testing, its overall performance appears to have held up in comparison to many other European nations. In fact, Ireland today finds itself watching the two countries it knows best—Britain and the United States—with a partially justified (though rarely acknowledged) sense of schadenfreude.
Ireland's experience, however, illustrates only part of the pandemic's counterintuitive leadership story, in which political strength appears to offer no obvious guide to national performance. The other part is the emergence of largely anonymous public-health experts as overnight celebrities, trusted authorities, and, to varying degrees, surrogate leaders. In war, it is generals who vie with prime ministers and presidents for power and affection; today, it is chief medical officers.
Ireland, along with the U.K. and the U.S., is a prime example of this trend. Ten minutes' walk from the prime minister's office, a mural has gone up on the boarded-up window of a pub, paying tribute to the country's leadership through the pandemic. It depicts a balding, middle-aged man in a suit, opening his shirt to reveal a Superman-style top with the letters TH emblazoned across his chest. This is Tony Holohan, a physician and Ireland's chief medical officer—the man whose advice is at least partly responsible for shutting the pub in the first place.
Holohan and his counterparts Anthony Fauci in the U.S. and Chris Whitty in Britain have been thrust into positions of authority, power, and influence at a time when worried populations are looking for guidance. Their sudden prominence reveals as much about the political culture in which they operate as it does about the advice they have given. Yet it also raises questions about the nature of leadership in modern crises—and the temptation among today's leaders to avoid taking responsibility for the controversial decisions required to manage them.
In the U.S., Fauci, the plainspoken avatar of the White House's coronavirus task force, has given credibility to a president whom most Americans don't trust to tell the truth. Yet Donald Trump never likes to be upstaged, and he's begun to publicly clash with Fauci over the timetable for rebooting the economy. Fauci has called for a cautious approach, predicting that states could see a spike in infections and endure needless "suffering and death" should they reopen prematurely.
After Fauci delivered his warning at a Senate hearing last week, Trump rebuked him, renewing speculation about whether the president was preparing to part ways with the respected infectious-disease expert who has advised the past six administrations. "He wants to play all sides of the equation," Trump told reporters last week. Fauci, 79, is the rare senior government official who's unafraid to tell the president uncomfortable truths, and has shown no sign that he's inclined to back down or trim his advice to fit Trump's political imperatives.
Asked in a recent interview with The Atlantic about how he's evolved into a pop-culture icon—his face is imprinted on bobblehead dolls—Fauci said simply: "This country is looking for truth and honesty, and looking for someone who tells it like it is." He continued, "I happen to be the right person at the right time. But I really don't take that personally and say, It's about me and I'm such a great thing. It's what the country needs. I happen to be the figure that's there, and that they're latching onto."
The obvious difficulty for Fauci in particular, but also for Holohan and Whitty, is that sometimes political leaders do not like to hear how it is. Still, leaders must consider more than one truth when weighing how to act, and cannot just leave it to their generals to make decisions for them. If there is a trade-off between epidemiological and economic considerations, this is an inherently political problem, not a medical one.
In the U.S., there now appears to be a willingness to prioritize economic concerns over medical advice ahead of November's general election. By contrast, in the U.K. and Ireland, politicians remain much more closely aligned with their advisers, insisting that they are being "led by the science" and will not do anything that contradicts medical expertise. Such proximity, however, is a double-edged sword, and not only for the public in each country, but the advisers themselves. The danger for Holohan and Whitty is that while their immediate job prospects might look far more secure than Fauci's, the continued political deference to their expertise potentially leaves them more exposed to scapegoating, as well as unfair pressure that they are somehow responsible for balancing considerations that rightly belong to elected politicians.
Unlike in Britain and the U.S., where daily coronavirus updates are led by politicians, in Ireland the press conference is chaired by Holohan himself. With the country shut down, Holohan is the man with the information and the authority to whom the public has been asked to turn. In Fauci's words, he is the man telling it like it is, and the reviews have been positive.
Though it remains early in terms of Ireland's overall response, and the cause of the country's success is still up for debate, most of the people that I spoke with in Dublin—including a senior member of the government, a former senior official, and political journalists—agreed that the emergence of "Dr. T" had been an essential part of the Irish story so far, helping to foster a sense of social unity that was not as clearly on display in the U.S. and Britain, where politicians had been more obviously front and center each day.
Holohan's prominence and the lack of a permanent new government, however, is beginning to be noticed, those I spoke with said. While Holohan has thus far been accepted as a leading voice in the crisis, he cannot be expected to be responsible for the kind of trade-offs that will be necessary as Ireland tries to emerge from the lockdown. "There's a sense, now, that the absence of a government is becoming an issue," the former official, who is still in touch with senior government figures and privy to internal discussions, told me, speaking on the condition of anonymity.
Indeed, Holohan is beginning to face questions about the problems in Ireland's retirement-home sector. Given his central importance and public position, he is in the firing line as much as his political masters. The potential criticism raises questions about how government advisers can be held to account when they are not elected—and, equally, how they can be protected from being scapegoated by politicians whose job it is to make the decisions.
Similar questions are now being asked in Britain, where, contrary to the public perception, Boris Johnson is much closer in behavior and outlook to Varadkar and other European leaders than he is to Trump. Like those other leaders, Johnson has been at pains to insist throughout that he has followed the science and to ensure there is little difference in messaging between himself and his expert advisers. As in Ireland, this has led to increased support for Johnson—but also widespread trust and support for Whitty. And just like in Ireland, Whitty has also found himself depicted in public art. (In contrast to Holohan, however, he has not appeared in public every day, and when he does, he typically stands alongside the prime minister and a second adviser.) As in Ireland, attention is beginning to turn to what went wrong and the toxic question of who is to blame.
Whether in Dublin, London, or Washington, we are looking to our modern-day generals for leadership, truth, expertise, and clarity. But for their sake as much as ours, we should not forget who is in charge. The buck doesn't stop with Holohan, Whitty, or Fauci—but with Varadkar, Johnson, and Trump.
---
Peter Nicholas contributed reporting.