Hong Kong's Revolutionary Anthem Is a Challenge to China
The city's residents are forging a "sense of country," which will serve to undermine Beijing's notion of patriotism.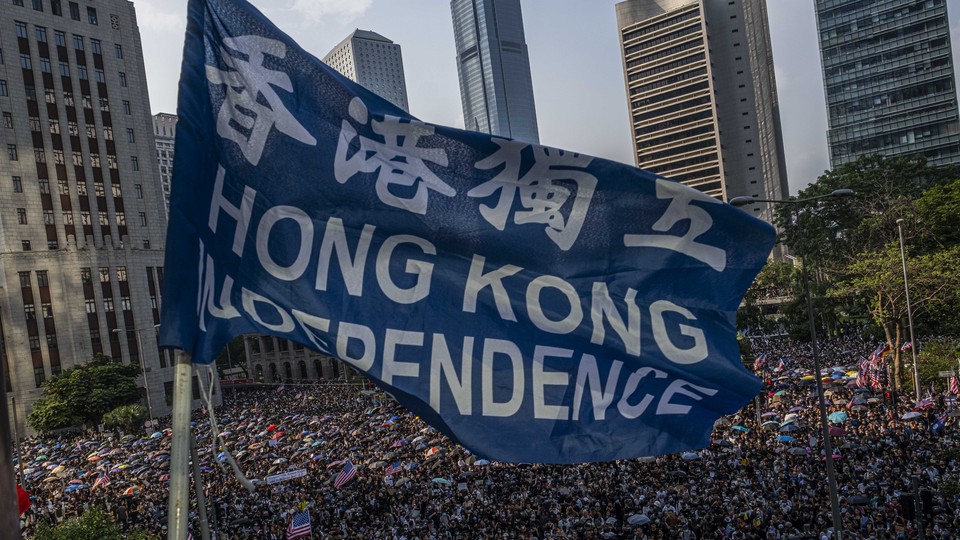 HONG KONG—Twin crises have jolted this city: one of disease, the other of dissent. Over the past year, millions of people flooded city streets, defying China's government as they demanded that Beijing honor Hong Kong's civil rights and grant the territory democracy. Those same agitators worked together this winter, at times in opposition to the territory's leaders, to limit a widespread outbreak of the coronavirus.
Certain items linger in the public consciousness as symbols of this period: yellow construction helmets, 3M respirators, open umbrellas that deflected rubber bullets. Long before people feared viral droplets, protesters feared police cameras and so obscured their features with face masks. Yet, perhaps no symbol of defiance has resonated with so many for so long than a four-stanza paean to hope.
Within the first weeks that it was sung in public, "Glory to Hong Kong" became an anthem for residents and Hong Kong's diaspora, the protest movement's most potent piece of propaganda. Last year, the song roused people during an uncertain moment in the campaign, as it confronted ever-harsher policing, as well as mulish leaders. By December, with many protesters exhausted after they were routed in a fiery campus siege, the singing sounded like a funeral dirge. Hong Kongers rested during the winter, staying home to ward off COVID-19.
This month, on Mother's Day, people met in shopping malls across the city. With spring, the government had eased limits on gatherings, and mall-goers were eager to enjoy their newfound freedoms. The hallways and escalators, however, hummed not with spenders, but with song—specifically, "Glory." This being Hong Kong, policing tends to leap from absence to 100 m.p.h. in seconds. As the final chords faded, officers in drab olive jumpsuits and riot helmets streamed in and decreed that the crowds had breached disease-control orders. One aimed a rifle at crowd members before firing pepper-spray pellets. By the early hours, police arrested more than 250 people city-wide.
For many here, "Glory" has grown from a mere protest song to one that pledges loyalty—not to a state or an ideology, but to one another. A young demonstrator I spoke with chose in December to mark months of street protests not with barricades and Molotov cocktails as others did, but with song. "To me, this is not just a way to express our identity, but a sort of resistance," Tsang told me after a rally. (He asked to be identified by only his last name to avoid arrest.) "People can feel the same sort of pain that connects them as Hong Kong people."
In other words, the bond has nothing to do with China—and that's a problem for Beijing.
China has long noted that Hong Kong has a patriotism problem. From Beijing's perspective, the nation rescued the territory from British colonial oppressors; sustained the city in 2003, when another lethal virus struck; and over the years has cemented Hong Kong's place as a global trade capital. Hong Kong residents were supposed to be grateful.
In 2019, weeks before debate began over a bill to expand the city's judicial-extradition law, the issue that ignited the current protest movement, Hong Kong's Chief Executive, Carrie Lam, ordered the city's legislature to pass a law that required China's national anthem be solemnly sung, under threat of prison. That demand—love, or be punished—helped broaden the movement beyond demands that China observe Hong Kong's legal autonomy, to a crusade for liberty and identity. As China's rubber-stamp legislature, the National People's Congress, prepares to meet in Beijing, Chinese officials are pushing Hong Kong's lawmakers to pass the law and remind Hong Kong residents that this song, and no other, is their national anthem.
Most people think of patriotism as an emotional state, a psychological bond with one's homeland. China, however, considers loyalty to the motherland a component of survival. Supporting the state ensures its sovereignty, the scholars Elaine Chan and Joseph Chan have written. In this view, patriotism is the expression of love for a secure and stable home.
Yet patriotism differs from national identity, just as there's a difference between an emotional attachment and a political one, says Ying-yi Hong, a psychologist and marketing professor at the Chinese University of Hong Kong. While some Hong Kongers respect Chinese culture and traditions, these touchstones provide no attachment for many residents. China, to them, is the Communist state, the antithesis of Hong Kong's values. In this view, Hong Kongers cherish choice, open elections, individual freedoms, and a legal system that will protect those rights.
The notion of patriotism is particularly complex here. Hong Kong is part of China, and while Hong Kongers carry separate passports and live under a different legal regime, they are by law Chinese citizens. Yet their national allegiances have long been fluid. This is understandable, given the bifurcated history of the city, a place generations of mainland residents and refugees have passed through, en route to a better life somewhere else. During the 1960s, as China frayed amid the Cultural Revolution, Hong Kongers drew confidence from their economy and artistic culture. Residents identified themselves as distinctly different—not British, not Chinese, but Hong Konger. That identity persisted for many citizens, save for the years leading up to 2008, when pride in Beijing as an Olympic host invited an appreciation for China.
When the Games concluded, however, researchers noticed that more Hong Kongers expressed ambivalence, even distaste, toward Chinese citizenship. That was initially pinned on economic factors, as many locals blamed mainland arrivals for snatching public housing and school slots. Instead, the researchers H. Christoph Steinhardt and Linda Che-lan Li concluded, after crunching 16 years of polling data, concluded that the choice to identify as Chinese correlated with trust in the central government. Hong Kong residents, they found, didn't so much become more Hong Kong as less Chinese. People expressed that sentiment by resisting the country's political and cultural symbols—most pointedly, its national anthem.
When Britain handed Hong Kong to China, British soldiers marched out after the final notes of "God Save the Queen." Their Chinese counterparts goose-stepped in to salute "March of the Volunteers" as China's five-starred flag rose. The bombastic song started out as a film score that gained popularity through mass sing-alongs, similar to how "Glory" was shared in Hong Kong's acoustically rich shopping malls. Hong Kongers never took to Beijing's tune, even though it plays nightly on local TV. One big reason is because it is sung in Mandarin, not the Hong Kong language of Cantonese.
Since a 2014 campaign failed to achieve democratic elections for the city's leader, many soccer fans have routinely jeered when the Chinese national anthem is played at local stadiums. In 2018, Beijing ordered that Hong Kong pass a law requiring the song to be played at all official events, and to be sung with dignity. Before lawmakers could act, however, Lam pushed a bill to allow judicial extraditions to China. Some residents here were already sensitive to Beijing's encroachments. Media reports of detentions north of the border between Hong Kong and the mainland fanned the anxiety. The prospect of a new law that could allow China to dragoon suspects in mainland prisons amplified fears further.
Brian Fong, a government professor at the Education University of Hong Kong, theorizes that Hong Kong is a stateless nation, a community that claims its right to self-governance, a philosophy shared by some Quebecois, Catalans, and Scots. The infrastructure of Hong Kong's separateness from China is recognized by the international community through the territory's passports (which offer differing visa requirements from China's), its currency (which is traded differently from China's), and its courts, customs, and trade laws. His is a wonkier argument of the political scientist Benedict Anderson's theory that a nation is an imagined community with a "deep horizontal comradeship," for which its members have willingly sacrificed themselves. To see the throngs on the streets of Hong Kong over the past year—peaceful marchers clogging streets, backing up frontliners in respirators who withstood rounds of tear gas, and, yes, threw Molotov cocktails, is to see Anderson's words come to life.
"Glory" was unveiled to most of the world on September 8, during a march filled with fluttering American flags. (Donald Trump would soon sign legislation that punishes Chinese officials who violate Hong Kongers' civil rights.) As one protester held a megaphone aloft, a respirator on his face, a bandage on his lower right leg where he'd been singed by a tear-gas cylinder, hundreds sang along. The composer who first posted the song's sheet music on a Reddit-like board still mulls what his two-minute creation started. "If anyone calls it an anthem of this campaign or the unofficial anthem of Hong Kong, it's the agreement among the public, I will respect it," Thomas told me. Not that he was advocating the idea, he added. (Thomas refused to divulge his last name, his background, his alma mater, even his age. He worried that the government could accuse someone who posted sheet music of subverting the state, though lawyers have assured him otherwise.)
Now, when residents gather to belt out "Glory," many seem to be expressing ideas—of independence and revolution—that they long harbored but dared not utter in public.
The song's pull has surprised even the most hardened residents, including Gordon Mathews, an anthropology professor at the Chinese University of Hong Kong who has studied Hong Kongers' bonds with Britain and China. He concluded long ago that Hong Kongers had an affiliation with an economy, not a state. Hearing residents respond to "Glory" has made him reflect on how the city has changed. "The song is really a sense of a national anthem," Mathews told me. Hong Kong, he continued, "hasn't had a sense of country before and now it does. And that's extraordinary."