The End of Hong Kong
China has moved to take away the city's autonomy, one of several aggressive actions by Beijing across the region.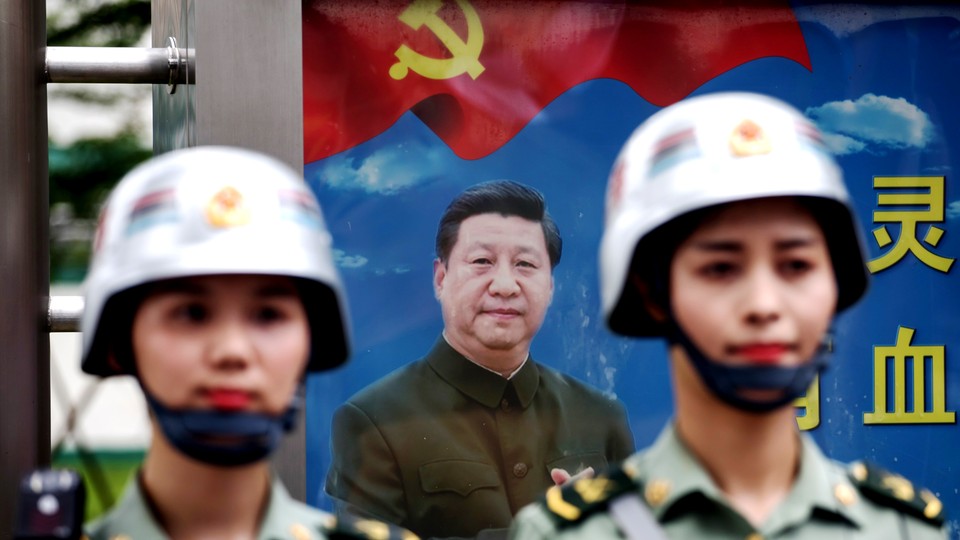 Over the course of April and throughout May, while much of the world's attention was trained on the coronavirus's spiraling death toll, hardly a day passed in Hong Kong without news of arrested activists, scuffles among lawmakers, or bombastic proclamations from mainland officials. Long-standing norms were done away with at dizzying speed.
In that time, Beijing was undertaking aggressive actions across Asia. A Chinese ship rammed a Vietnamese vessel in the contested waters of the South China Sea, sinking it. Off the coast of Malaysia, in the country's exclusive economic zone, a Chinese research vessel, accompanied by coast-guard and fishing ships—likely part of China's maritime militia, civilian vessels marshaled by Beijing in times of need—began survey work near a Malaysian oil rig. The standoff that followed drew warships from the United States and Australia, as well as China. Beijing then declared that it had created two administrative units on islands in the South China Sea that are also claimed by Vietnam. Chinese officials have reacted, too, with predictable rage to Taiwan, whose handling of the pandemic has won plaudits and begun a push for more international recognition.
The moves were capped this week when China's National People's Congress announced that it would force wide-ranging national-security laws on Hong Kong in response to last year's prodemocracy protests. In doing so, Beijing circumvented the city's autonomous legislative process and began dismantling the "one country, two systems" framework under which Hong Kong is governed, setting up what will likely be a fundamental shift in the territory's freedoms, its laws, and how it is recognized internationally.
The announcement late Thursday evening stunned prodemocracy lawmakers, diplomats, and many of the city's 7.4 million residents, who awoke Friday questioning Hong Kong's future. The stock market plunged, interest in VPNs shot up, and Hong Kongers wondered whether 2047, the year in which China was set to take back full control of the city, had arrived more than two decades early. "I'm heartbroken," Tanya Chan, the convener of the prodemocracy camp in the city's legislature, told me. "Last night was a complete setback."
Though much of the world has come to a standstill as a result of the pandemic, China's regional ambitions and grudge settling clearly have not. Beijing has offered provocations—with a dash of propaganda and medical diplomacy—pushing forward its agenda despite the unfolding public-health crisis. "This is business as usual—in the South China Sea, towards Taiwan—it's all the same," Greg Poling, a senior fellow with the Southeast Asia program at the Center for Strategic and International Studies in Washington, D.C., told me. "Business as usual during a pandemic that people partially blame on you—it is more scandalous."
Beijing's unwelcome conduct has caused alarm as it moves especially in Hong Kong to impose its will by decree. (Attempts to pass similar laws via the city's mini-Parliament in 2003 sparked mass demonstrations and the effort was scrapped.) Though China has failed to pass a law through its allies in Hong Kong that would allow extraditions to the mainland, it will, through the newly announced national-security legislation, effectively bring its law directly to Hong Kong instead: targeting "secessionist or subversive activity" and "foreign and external interference," while paving the way for mainland security forces to operate in the city, which, although part of China, has maintained its own laws, courts, and police. The legislation will give Beijing a new tool with which to crack down on protesters and dissidents, and push forward education that trumpets the successes of the Communist Party.
The American response has also fit a pattern. Secretary of State Mike Pompeo called it a "death knell" for Hong Kong's autonomy, U.S. lawmakers unveiled legislation aimed at Beijing's reach into the city, and the State Department is preparing a report on the issue. Similarly, Congress displayed rare unity last year when pushing for a bill that sought to defend Hong Kong protesters and sanction those who chip away at their freedoms. But vague and scattershot efforts, coupled with President Donald Trump's uncoordinated leadership, have left other countries in Asia questioning Washington at this inflection point.
Despite China's mixture of soft and hard power—it has sought to dull criticism of its initial response to the coronavirus outbreak with aid, while still pushing its territorial, legal, and political claims—and Beijing's growing military and diplomatic might, countries in the region have not taken kindly to its aggressive maneuvers.
The sinking of the Vietnamese ship, for example, prompted officials in Hanoi to lodge an official protest with China, but Huong Le Thu, a senior analyst at the Australian Strategic Policy Institute, told me there is a growing belief among Vietnamese leaders that these types of responses are now insufficient. Beijing, she said, "is getting into the mode of making the most of this opportune time when very few are looking." China's actions have again given rise to the possibility of a lawsuit by Vietnam in an attempt to hold China to account. (Successful legal challenges to China's maritime aggression are not unheard of: In 2013, the Philippines lodged a complaint challenging Beijing's expansive claims of sovereignty over the South China Sea. Three years later, Manila was handed a victory when the Permanent Court of Arbitration in The Hague ruled in the country's favor. By then, however, Rodrigo Duterte, who has been friendly toward China, had been elected president.)
Beyond China's actions, its messaging has also had a largely negative impact on public perceptions, oscillating between ill-advised friendly overtures and pugnacious statements. Much of the latter has come through Beijing's "wolf warrior" diplomacy, which has seen dozens of Chinese diplomats and spokespeople take to social media, predominantly Twitter, to target detractors and sow misinformation. In most places, "Chinese officials are not making any attempt to calm things down or be conciliatory," Poling said.
The attempts to play nice have been equally unsuccessful and more publicly embarrassing. In April, while much of the Philippines was under lockdown, the Chinese embassy in Manila released a song and accompanying music video that were meant to promote being "friendly neighbors across the sea." The maudlin ballad—"Iisang Dagat" ("One Sea")—was written by the Chinese ambassador, yet its timing was curious, coming just days after the Philippines had lodged a diplomatic protest over two incidents involving Chinese maritime aggression. The song was roundly panned and, perhaps aided by weeks of shut-in boredom, the perfect target for relentless online mocking and meme-ifying by netizens. An opinion piece in the Philippine Daily Inquirer declared that it had displaced Frank Sinatra's "My Way," a song linked to a string of drunken bar fights, many of them deadly, to become "the ditty most likely to provoke a brawl anywhere it is sung."
Antonio Carpio, a former supreme-court judge who retired last year and who is a critic of Beijing's provocations, told me that as long as Beijing maintains its claim to Philippine maritime territory, "China can never expect the Filipino people to trust China." It would, he continued, "always be viewed as stealing, through deceit, intimidation, and force, what lawfully belongs to the Filipino people."
The pandemic has helped accelerate growing bipartisanship in Washington around a more hawkish approach to China. And successive administrations have stated, though hardly fully articulated or implemented, goals of shifting focus, particularly in defense, to counter China. Beijing's unabated aggression, diplomatic stumbles, and poor early response to the emergence of the coronavirus would seem, then, to provide an opportune moment for the U.S. to assert itself, but American actions have gotten an uneven reception in the region.
When the U.S. sent ships to Malaysia to counter the presence of the Chinese survey vessel, Kuala Lumpur reacted with some hesitation, Shahriman Lockman, a senior analyst at the Institute of Strategic and International Studies in Malaysia, told me. Some believe that the arrival of U.S. vessels inflamed the situation, leading to further escalation by Beijing. "They [the U.S.] don't think about the potential calamity they might cause other people with all their good intentions," Lockman said. And Malaysia is not the only place the American military is less than welcome: This year, Duterte announced the termination of the U.S.-Philippines Visiting Forces Agreement, a two-decade-old troop-rotation pact.
The time difference between the U.S. and most of Asia means that Trump's unhinged outbursts often bookend the days. His rambling, falsehood-filled press conferences run into the Asian morning, and as evening rolls around, he begins firing off his trademark bellicose, difficult-to-decipher tweets. People are "pretty appalled at the lack of coherence in response from the United States, and that is drowning out a lot of other facts," Aaron Connelly, a research fellow on Southeast Asian political change and foreign policy at the International Institute for Strategic Studies in Singapore, told me.
Pompeo said during a recent call with Southeast Asian leaders that Beijing had "moved to take advantage of the distraction" created by the pandemic. He also mentioned the findings of a recent report by the Washington-based Stimson Center that Chinese dams on the Mekong River, which flows through numerous Southeast Asian countries, cause severe drought conditions downriver. But Pompeo's attempts to force Southeast Asian leaders to make a choice between the U.S. and China fell flat. By framing the situation as a competition in which countries had to pick sides, the call "played really badly in Southeast Asia," Connelly said. (Similarly, Poling described Pompeo's form of diplomacy as a "bull in a China shop.")
In Hong Kong, Chan, the prodemocracy lawmaker, told me that before she entered politics, she believed that mainland officials would honor their 1997 pledge to allow the city to operate with greater autonomy. The new legislation has made clear to her that this was certainly not the case, and that Beijing cares little about winning over Hong Kongers. "Even after 23 years," she said, "they still can't [win over] Hong Kong people."