Healing the Rift With Britain's Jews
The U.K. Labour Party's new leader wants to disown Jeremy Corbyn's toxic legacy.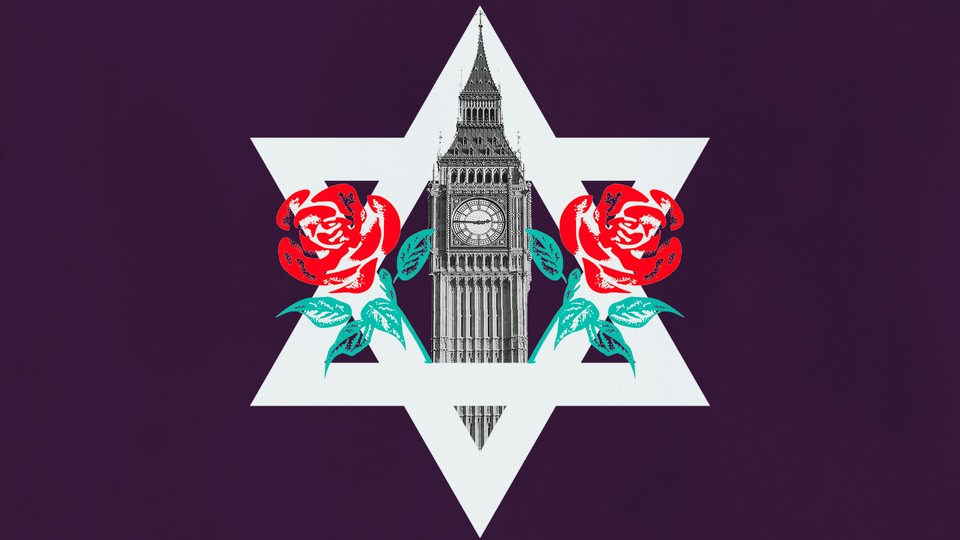 When Keir Starmer was elected leader of Britain's Labour Party last weekend, he was careful to praise his predecessor. "I want to pay tribute to Jeremy Corbyn, who led our party through some really difficult times, who energized our movement, and who's a friend as well as a colleague," he said in a prerecorded speech.
But a minute or two later, using the same measured tone of voice, he disowned Corbyn's most toxic legacy. "Anti-Semitism has been a stain on our party," Starmer said. "I have seen the grief that it's brought to so many Jewish communities. On behalf of the Labour Party, I am sorry. And I will tear out this poison by its roots."
Starmer has been described as a "sensible radical," combining strong left-wing views with a calm, even staid, manner. The 57-year-old former lawyer chooses his words, and his interventions, carefully. Throughout the leadership race, he was careful not to criticize Corbyn directly—the former leader still has a strong base among the party's membership. Apart from remarks about the coronavirus, though, Starmer's first week in charge of Labour has been about one thing only: drawing a line under the party's previous failure to tackle anti-Semitism among its members and supporters. He sees the issue as a test of both his morals and his effectiveness as a leader.
Over several years, Corbyn proved himself either unwilling or unable to confront the problem. Modern left-wing anti-Semitism is often blended with (and presented as) criticism of the Israeli government. Corbyn, a lifelong anti-imperialist and anti-colonialist, resisted the party accepting an internationally recognized definition of anti-Semitism that includes comparing Israel to the Nazis, calling its existence a "racist endeavour," and using traditionally anti-Semitic imagery or tropes (such as the "blood libel") to criticize the country. In some local Labour meetings, members called Jewish activists "Zios"—short for "Zionists." A recording surfaced of Corbyn himself saying that Zionists "don't understand English irony." (He apologized, but argued that he was using the term "in the accurate political sense and not as a euphemism for Jewish people.")
These events led to the resignation of high-profile Jewish Labour members of Parliament. At the general election in December, one of Labour's oldest affiliated societies, the Jewish Labour Movement, refused to campaign for the party. In the days before the vote, Britain's chief rabbi wrote an editorial arguing that "a new poison—sanctioned from the very top—has taken root in the Labour Party." The deep links between Labour and Britain's Jewish community, which date back to the party's popularity among working-class immigrants to the East End of London in the early 20th century, had been broken. Labour's self-image as a fundamentally anti-racist party was badly damaged.
Starmer is determined to change that. He has already spoken with representatives of four Jewish organizations—in a joint Zoom meeting, given the pandemic—and written op-eds acknowledging the issue for the Evening Standard, The Sunday Times, and The Jewish Chronicle. "We have to be honest that this is a cultural problem and only by listening and learning can we change that," he wrote in the Chronicle. "This is a moral imperative, not a political one."
Really, it is both. Corbyn never formulated a convincing answer to why there was a backlog of unresolved disciplinary cases related to anti-Semitism and why the party's treatment of whistleblowers spurred them to sue it for defamation. At one of Starmer's campaign events for the leadership, in South London on February 24, I heard him list the reasons Labour had lost the general election—worries about "the leadership" and Brexit were mentioned by voters on the doorstep, he said. "And I'm very, very sad to say, I'm afraid anti-Semitism came up. Both as a values issue and as a competence issue."
Those two words—values and competence—are key to Starmer's plan to remake Labour. Britain's Jewish community is small—0.5 percent of the population—but the issue of anti-Semitism cut through more broadly in the general election. To many Jewish voters, the party's failure to expel anti-Semitic conspiracists and cranks has been personally painful, even frightening. To the wider electorate, it sent out the message that Corbyn was either complicit or incompetent. Neither is an attractive proposition when choosing a prime minister.
Starmer's efforts to tackle the problem go beyond the personal. As well as talking with Jewish leaders and straightforwardly apologizing to the Jewish community, he has promised to undertake institutional reform of the party. He says he will receive weekly reports on disciplinary cases, create an independent complaints process, and—once the pandemic has receded—provide training on anti-Semitism for all party staff who are based at Labour's headquarters.
This focus on changing institutional culture is typical of Starmer, as is his earnest and tactical engagement with the problem. A former human-rights lawyer who was once the country's top prosecutor, he was elected to Parliament in 2015, four months before Corbyn was chosen as Labour's leader. (Starmer is therefore free of political associations with previous Labour leaders such as Tony Blair, whom many members detest, and did not vote on controversial issues, such as immigration, in the pre-Corbyn era.) As Labour's Brexit spokesman while the issue crawled through Parliament, he tried to steer a course between the party's strongly pro-European membership and the reality of an electoral map where many traditional Labour seats were dominated by Brexit voters.
In the leadership race, Starmer positioned himself as the "unity candidate," promising to end five years of civil war between Labour's pro- and anti-Corbyn factions. The institutional muscle of the party's Corbynite machinery, which includes the campaign group Momentum, had a smaller effect on the contest than many initially expected. Starmer easily defeated Corbyn's preferred candidate. In a separate election for deputy leader, Richard Burgon, the most solidly Corbynite choice, came in a disappointing third. The day after those races, pro-Corbyn candidates also failed to capture the three vacant places on Labour's national executive committee, a vital body that sets and enforces the party's rule book. The scale of Starmer's triumph—he won in the first round of voting, with 56 percent—gives him a secure mandate to contradict his predecessor.
The most common criticism of Labour's new leader is that no one is quite sure where to place him on his party's political spectrum, which runs from full-bodied socialism through social democracy and on to Blairism, an ease with capitalism and the privatization of public utilities. As a lawyer, Starmer took on environmental cases when they were still seen as the preserve of hippies and anarchists, and he once edited a socialist journal. Nonetheless, Corbyn's supporters have never seen him as one of them. "Keir Starmer is not a ghoulish neoliberal, reactionary authoritarian, or a lover of war, but he isn't a socialist," James Schneider, Corbyn's former head of strategic communications, wrote this week. "Hard to place, he appears to be on the progressive end of social reformism, the nicest possible part of the establishment. He has no strong allergy to being near socialist ideas, but they aren't to his taste or style."
Labour's anti-Semitism issues have given Starmer a chance to define himself, and to demonstrate that his interests are as much about institutional reform—what the party is for and how it will deliver change—as any particular policy issue. His attitude toward the press is another break from the bunker mentality of Corbynism and its complaints about the "biased mainstream media." Losing the general election, Starmer told his supporters at the South London event I attended in February, meant going into the next one with exactly the same media environment as before. Labour has no chance to reform ownership rules or strengthen regulation from opposition, he said; the party has to accept the hostility of Britain's mostly right-wing press as a given, and work out a strategy to counter it.
The response to Starmer's overtures to Britain's Jews has so far been positive. "While we would have fully understood the need to focus entirely on coronavirus at this time, Keir Starmer has already achieved in four days more than his predecessor [did] in four years in addressing antisemitism within the Labour party," the Jewish groups he met with said in a joint statement afterward. "It was a relief to engage in good faith again," Mike Katz of the Jewish Labour Movement told me after attending the meeting. "It's only a start. You can't change culture overnight, but it is a leadership issue."
Already, the atmosphere surrounding Labour has changed. Corbyn's surprising election as the party's leader in the fall of 2015—and the maelstrom of media criticism that followed—made him and his supporters defensive. Before the December election, some members of the Jewish community were worried that denying the extent of anti-Semitism had become a loyalty test to the Corbyn project. (What about racism in the Conservative party? was a typical knee-jerk reaction from Labour supporters.) They were hurt by suggestions that they did not have a real grievance, and that the issue was merely a "smear" cooked up in bad faith by the mainstream media.
Starmer's acknowledgment of the party's failure will stop this gaslighting. His decision to confront the issue, repeatedly and openly, also suggests that he wants to be a different kind of leader from Corbyn. Where his predecessor was factional, he aims to be expansive. Where Corbyn had to select a shadow cabinet from a narrow pool of hard-core socialists and party loyalists, Starmer has been able to gather his team from across the party. His defeated Corbynite rival, Rebecca Long-Bailey, has a plum role. The former Labour leader Ed Miliband has returned to pioneer a Green New Deal, and Blair's former flatmate Charles Falconer will give legal advice. (Falconer replaces Shami Chakrabarti, whose report into Labour anti-Semitism was widely dismissed as a whitewash.) Burgon, a Corbynite loyalist who once said that "Zionism is the enemy of peace"—and then denied it, despite the existence of a video—was sacked as justice spokesman.
The purge is unlikely to end there. Britain's Equality and Human Rights Commission has been investigating anti-Semitism in Labour since May. When I called its offices this week, it had no update on when a report would be published, but Starmer has pledged to cooperate fully with the investigation, and allow all Labour personnel to be interviewed. He believes that well-run institutions have a transparent, accountable culture. It is possible that the commission's report will directly criticize Labour's senior management over the handling of anti-Semitism allegations, putting Starmer under pressure to dismiss those responsible. But if Labour anti-Semitism is, as he has argued, a "cultural problem," then who sets an institution's culture, if not its leader? If the evidence is strong enough, would he have the integrity, or the ruthlessness, to censure—or even expel—Corbyn?
Britain's Jewish community, Starmer's colleagues, and his Conservative opponents will all be watching closely. For Starmer's Labour, the issue of anti-Semitism will endure as a test of his values—and his competence.