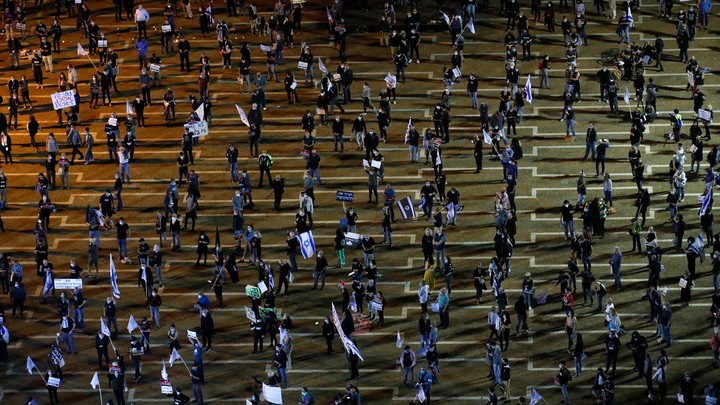 Rabin Square in Tel Aviv has always been a popular site for demonstration. Israelis gathered on this expansive plaza to protest the Gaza War in 2014 and to demand LGBT rights in 2018. It is also where, over the weekend, more than 2,000 people gathered to decry the policies of Prime Minister Benjamin Netanyahu.
This most recent protest was unlike any of its predecessors, though. For one, its attendees had their faces covered. And rather than packing the square with people shoulder to shoulder, this demonstration aimed to spread people out, assembling them on designated marks at least six feet apart. The physical distance gave the impression of a much larger protest, as attendees took up the entirety of a space that has previously accommodated tens of thousands. Some sported face masks with crime minister  written on them. Others wielded placards and flags.
Such an image might have been unthinkable only a few months ago. But as with seemingly all things, the coronavirus has changed that. Today, mass protests have had to adapt to a world of social distancing, in which the large-scale rallies emblematic of global movements have been discouraged or, in some places, banned. The pandemic hasn't spelled the end for mass protest, though; rather, the outbreak has changed it.
Read: Would you sacrifice your privacy to get out of quarantine?
Prior to the pandemic, the world was experiencing an unprecedented level of mobilization. Dubbed "the year of the street protest," 2019 saw millions of people take to the streets in 114 countries. Including the prodemocracy demonstrations in Hong Kong and the anti-government protests in Iraq, many of these grassroots movements seemed unstoppable. But then came the coronavirus. People began trading large gatherings for social distancing, and protest signs were swapped for face masks. No one yet knows when mass demonstrations will resume, if indeed some of them will be able to return at all.
The world hasn't been completely devoid of public protest, however. As many as 405 demonstrations occurred worldwide within the first week of April—though this was a 60 percent drop from that period last year, according to data from the Armed Conflict Location & Event Data Project. The majority of these protests were related to the coronavirus in one way or another, and many took place in smaller groups or from balconies and vehicles, in an apparent effort to observe social-distancing rules.
But these aren't the only ways that demonstrations have adapted to the new normal. Around the world, protesters have figured out how to mobilize while also keeping apart. In Brazil, millions have taken to banging pots and pans from their windows and balconies to signal their discontent with Jair Bolsonaro's handling of the pandemic. (The Brazilian president, who has emerged as the leader of the coronavirus-denial movement, opposes social distancing and even joined a protest calling for an end to lockdown measures meant to curb the virus's spread.) In Israel and Russia, virtual rallies have flourished, with thousands of people "attending" through mobile apps and online platforms such as Facebook Live. In Lebanon, where anti-government demonstrations emerged six months ago, people have returned to the streets—only this time protesting from the comfort and safety of their cars.
The climate movement, which attracted millions of marchers around the world last year, has found refuge in the digital sphere, hosting a three-day "global digital mobilization" this week in commemoration of Earth Day. Swedish climate activist Greta Thunberg, who reportedly came down with COVID-19 symptoms last month, also encouraged her followers to "adapt to the new circumstances" by shifting to online strikes. Indeed, a group of U.S. and U.K. academics has identified more than 100 new methods of nonviolent activism adopted during the pandemic, including car rallies, labor strikes, and consumer boycotts.
For prodemocracy organizers in Hong Kong, the shift to digital happened early. When cases of COVID-19 first began appearing in the city in late January, mass demonstrations were quickly put on hiatus. "People learned their lesson from SARS," Eric Lai, the vice convener of the Civil Human Rights Front, told me, referring to the epidemic that devastated the city in 2003. Though the outbreak of the coronavirus inhibited protesters' ability to gather as normal, Lai said it didn't put a damper on their momentum. "People stopped organizing and attending mass protests, but there are still online campaigns," he said. "The Telegram channels and groups, the Facebook pages—these are all ongoing as well."
In some ways, Hong Kong's democracy movement was particularly well suited to this moment. Social media had already proved to be an integral part of the movement's leaderless structure. It also proved a useful way of avoiding the violent crackdowns and repression that many protesters experienced on the streets. "When political movements have been repressed in the past … people take digital refuge," Samuel Brannen, a senior fellow at the Center for Strategic and International Studies, told me. In the case of Hong Kong, he added, "they retooled; they hid their identities; they went to encrypted communications."
Read: The common element uniting worldwide protests
Of course, some notable differences exist between physical street protests and their online alternatives. The obvious one is that digital campaigns don't have a physical impact in the way street protests do. Though online rallies can be viewed by anyone anywhere in the world, they cannot tangibly disrupt—those who don't want to see a demonstration can simply choose to ignore it, something, for example, commuters in central London could not do when climate-change protests took over parts of the city last year. Governments, meanwhile, have less incentive to respond to an online campaign than they do to a physical one happening on their doorstep. Moreover, while online petitions can gauge public support for an issue, they can't showcase it in the same way. Absent images of scores of people flooding streets or surrounding buildings, these digital campaigns are unlikely to attract the same level of press coverage either.
Still, keeping a movement solely online has some advantages. Unlike with a traditional demonstration, online activists don't have to worry about seeking government permits to assemble, nor do they have to fear a physical crackdown. What's more, they are not geographically confined: Online rallies can span an entire city, country, or even the globe, depending on who's taking part. Social media has the added advantage of ensuring that a particular message can spread further and faster than ever before.
Though the internet does offer some alternatives for protest movements, online activism isn't easily employed everywhere—especially in places where street protests aren't just a method of signaling dissent, but the dominant form. Such has been the case in Algeria, where twice-weekly demonstrations against the country's military-backed regime were called off last month for the first time in a year to comply with lockdown measures. The Algerian government has since imposed a year-long ban on street protests and imprisoned many of the movement's participants, prompting human-rights activists to accuse the government of exploiting the pandemic to quell dissent.
"That's a movement in particular where the regular public protest had really been the kind of tentpole," Jonathan Pinckney, a program officer at the U.S. Institute of Peace, whose research focuses on nonviolent action, democratization, and political violence, told me. "Everything had revolved around those Tuesday and Friday protests, so that's a situation where I think it will likely be challenging for the movement to adapt." The democratic threat facing protests in Algeria exists elsewhere. In Hungary, for example, Prime Minister Viktor Orbán has passed legislation that enables him to govern by decree indefinitely, giving him the power to prevent public demonstrations. In the Philippines, President Rodrigo Duterte authorized a shoot-to-kill order for those who defy the country's coronavirus lockdown, including would-be protesters. In places such as these, the digital sphere offers a safe alternative to physical protests. But in some parts of the world, the online sphere can prove to be just as vulnerable. This is particularly true in authoritarian states, where online surveillance and internet shutdowns are commonplace. "There is a huge level of protest that happens in Iran that's just online that few of us see through a variety of different platforms," Brannen said, noting that "the Iranian government is looking heavily to the Chinese and the Russians to help support and stamp out that digital piece."
Read: We are living in a failed state
Though the evolution to digital mobilization has proved a vital work-around for some movements, those relying on it admit that it's not a panacea."For me, online protests are for the purposes of sustaining the momentum and the solidarity," Lai, the Hong Kong protest organizer, said. They aren't necessarily as capable as their physical counterparts of holding the government to account or preventing it from taking further action against the prodemocracy movement. The latter was reinforced over the weekend, when Hong Kong police arrested 15 activists for their alleged part in the past year's demonstrations. The way Lai sees it, "the government wants to take the opportunity of this coronavirus to introduce more repressive measures." Ventus Lau, another demonstration organizer in Hong Kong, agreed, noting that while online protests may attract some engagement, they are "not a very good replacement for real rallies."
Both hold out hope, though, that by June, when the prodemocracy movement marks its one-year anniversary, the situation in Hong Kong could be stable enough to hold a physical protest again. "People are getting more and more angry towards the government because they are doing nothing good to fight against the virus," Lau said, citing early widespread dissatisfaction with the Hong Kong government's handling of the outbreak. "They will express their anger when it is possible to do so."
We want to hear what you think about this article. Submit a letter to the editor or write to letters@theatlantic.com.