The Fragility of the Global Nurse Supply Chain
The pandemic has exposed how richer countries, including the United States, rely on health-care workers from poorer ones, such as the Philippines.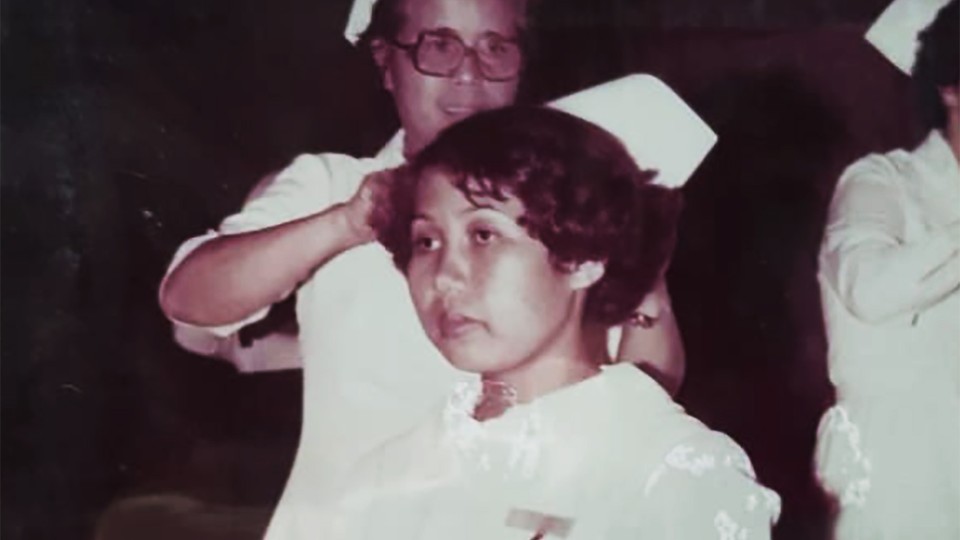 Updated at 9:15 a.m. ET on May 2, 2020.
Daisy Doronila's journey to the United States was, in many ways, typical of a nurse from the Philippines. The youngest of five, she first left her home country to work in Abu Dhabi, where one of her sisters was employed at a bank, before making her way to California in 1990. There, she cared for patients at the Martin Luther King Jr./Drew Medical Center, a troubled facility that served the poorest residents of South Los Angeles, then worked at a juvenile-detention facility. Later, she moved east, taking a position at Hudson County Correctional Center in New Jersey. The jobs were all challenging, but Doronila sought out the less fortunate.*
Health-care systems in developed countries lean heavily on people such as Doronila—immigrant workers, many from poorer nations—to keep themselves running. Figures from New American Economy, a research and advocacy organization, show that 16.5 percent of all health-care workers in the United States are immigrants, with even greater representation in specific fields such as home health aid, where nearly 37 percent of workers are immigrants. And perhaps no place has played as large a role in this as the Philippines, which for decades has provided the nurses, porters, and aides who have formed the crucial infrastructure of hospitals, clinics, and other health-care facilities in wealthier parts of the world.
"Without the immigrant population right now serving in health care, the majority of these health-care industries would probably collapse," Leo-Felix Jurado, the chair of the Nursing Department at William Paterson University, in New Jersey, and executive director of the Philippine Nurses Association of America, told me.
Yet that is not the only way in which Doronila's story is typical. In mid-March, Doronila developed a cough and began feeling unwell. Her daughter, Denise Rendor, told me that Doronila tried one doctor, then another, but was told she likely had common ailments—sinus problems, then strep throat. A friend told her about a local hospital offering tests for the new coronavirus, and Doronila made her way there on the morning of March 18, after a night of chills and body aches. She had taken Tylenol to suppress her fever, though, so when her temperature was taken, she was told she didn't qualify for testing. Less than three weeks later, on April 5, Doronila died, becoming one of the dozens of Filipino nurses working abroad who have lost their life during the pandemic.
The coronavirus outbreak has exposed the fragility and inequity baked into systems and societies around the world, among them the pipeline that has consistently brought health-care workers from poorer countries to richer ones. Even before the pandemic, the Philippines had been suffering from a shortfall of nurses in the tens of thousands. This deficit has been exacerbated by the coronavirus as nurses, as well as leading doctors, have been dying in startling numbers, Oscar Tinio, of the Philippine Medical Association, told me from Manila. The need is so great that this month the government moved to restrict some nurses from working abroad. And overseas, Filipino nurses have found themselves thrust into medical systems—even those in more developed, and theoretically more capable, countries—that have proved ill-prepared to handle a public-health crisis on the scale of what the coronavirus has brought.
Nearly 70,000 nurses migrated from the Philippines for work from 2008 to 2012, government data show, and in 2017, the Washington-based Migration Policy Institute found some 145,800 Filipinos working as registered nurses in the United States. In Britain, just over 18,500 Filipinos work for the National Health Service, according to a parliamentary report published last year. Significant populations of Filipino nurses also work in Gulf states, such as Saudi Arabia, and in Japan, caring for the country's rapidly aging population. Spain this month said it would fast-track Filipino nurses' entry into its workforce to prop up its strained health-care system.
Amid the coronavirus pandemic, this heavy representation within the health services has taken a significant toll. Six Filipino nurses, as well as one psychiatrist, have died in the U.S. because of complications from COVID-19, according to the Philippines embassy in Washington, D.C. The toll is higher in Britain: Twenty-two Filipino nurses and hospital workers employed by the NHS have died, according to the embassy there. These numbers are almost certain to rise as countries struggle to bring the pandemic under control.
Some of those who have died, such as Doronila and Noel Sinkiat, 64, a nurse at Howard University Hospital in Washington, D.C., had lived in the countries where they worked for dozens of years, and had obtained citizenship. Sinkiat was part of a wave of tens of thousands of Filipino health-care workers who emigrated in the late 1970s and early '80s. Others had left home more recently, like Warlito Valdez, who moved near Vancouver three years ago to work as a caregiver at a center for disabled people. Another treated war veterans in a Michigan hospital. Two worked as porters, moving patients and equipment through the hallways of a hospital in Oxford, England.
Significantly better pay compared with what they would make at home remains the main driver for many Filipinos to seek nursing employment abroad, but other factors are more complex, according to Catherine Ceniza Choy, a professor of ethnic studies at UC Berkeley. In her book Empire of Care, Choy traces the history of Filipino nurses in the U.S. to early-20th-century American colonialism in the Philippines, which lasted until the archipelago gained independence in 1946. The migrations have social and cultural aspects as well: "this idea of the adventure, the associations with Hollywood and M&Ms and Broadway that can mean independence and freedom and luxury," Choy told me.
By the time Sinkiat arrived in the United States in 1979, the Philippines was ruled by the dictator Ferdinand Marcos, who sought to transform the country into an export economy and promoted Philippine emigration, at least partly to address domestic unemployment. But that strategy, Choy noted, was rife with contradictions: The government advanced heavy exports of agricultural products, but the Philippines suffered widespread malnutrition; the departure of nurses carried on even though the domestic ratio of nurses to the population was poor. Now, driven by remittances sent home from abroad, what was pitched as a temporary solution persists.
Philippine ambassadors in the U.S. and Britain have praised the efforts of Filipino nurses, online memorial pages have been flooded with comments, and tens of thousands of dollars have been crowdsourced for funeral and family expenses. Even Piers Morgan, the British TV personality who was last year rebuked for a racist Asian impersonation, lauded Filipino nurses as "unsung heroes" during a recent segment. But Jean Encinas-Franco, an assistant political-science professor at the University of the Philippines in Diliman, has been critical of the hero terminology frequently deployed by the Philippine government to describe Filipinos working abroad. Encinas-Franco, whose research is focused on perceptions of overseas Filipino workers, told me that the praise often "legitimizes the suffering and sacrifice that they are experiencing abroad," including, for nurses, underpayment, employment scams, and racism in the workplace. This rhetoric, she continued, has increased during the outbreak. "They were invisible pre-COVID," she said of these nurses. Now "they have become collateral damage for governments that are ill-prepared to fight this pandemic."
Ultimately, though Sinkiat and Doronila both worked in the medical field, they ran into the same issue faced by many in the U.S.—a difficulty getting tested. Sinkiat began feeling unwell on March 14, one of his sons, Matt, told me. A week later, as his symptoms persisted, he went to a local urgent-care facility hoping to get tested for the coronavirus, but was told that, despite registering a high fever, he would have to wait because tests weren't immediately available. Sinkiat was finally tested on March 24. Two days later, while he waited for the results, Sinkiat had a video call with Matt and his new grandson, Liam, who had been born four months earlier. Hours after hanging up, he was rushed to a hospital near his home and died early the next morning. It had been three days since he was tested. Only on April 2, after Matt made a call to the CEO of the urgent-care facility, did Sinkiat's test results come back, showing he had been positive for COVID-19.
Doronila was at last able to be tested on March 21, by which time her condition had deteriorated. She was taken by ambulance to a hospital, and soon transferred to intensive care. One of the coronavirus's most sinister hallmarks is the isolation that patients must endure, even during their final moments—a cruelty Sinkiat and Doronila's families would not be spared. Rendor pleaded with nurses to slip a phone into a plastic bag and hold it near her mother so she could speak to her. "I would call at 2 a.m. and say, 'Can I just say a prayer for my mom? I know she can't talk to me. I know she won't talk back, but can I please, please say a prayer for my mom?'" she told me. "I begged; I begged all of the nurses." Social-distancing measures kept Rendor from holding a funeral for her mother, but 450 people—from across the U.S. and the Philippines—logged on for a virtual ceremony. If things had been normal, Rendor told me, the gathering at the funeral home would have been standing room only.
I asked Rendor about Doronila's career, why she had worked for so long at prisons and detention facilities. "She would say that she wanted to take care of people that no one wanted to take care of," Rendor told me. "The incarcerated, the marginalized, the vulnerable people who never really had that care and attention in their lives."
Leah Feiger contributed research.
---
* An earlier version of this article misstated how many siblings Daisy Doronila had. She was the youngest of five, not the youngest of three.