The Pubs Are Closed, but Brits Keep Quizzing
In an era of social distancing, one British institution has proven resilient.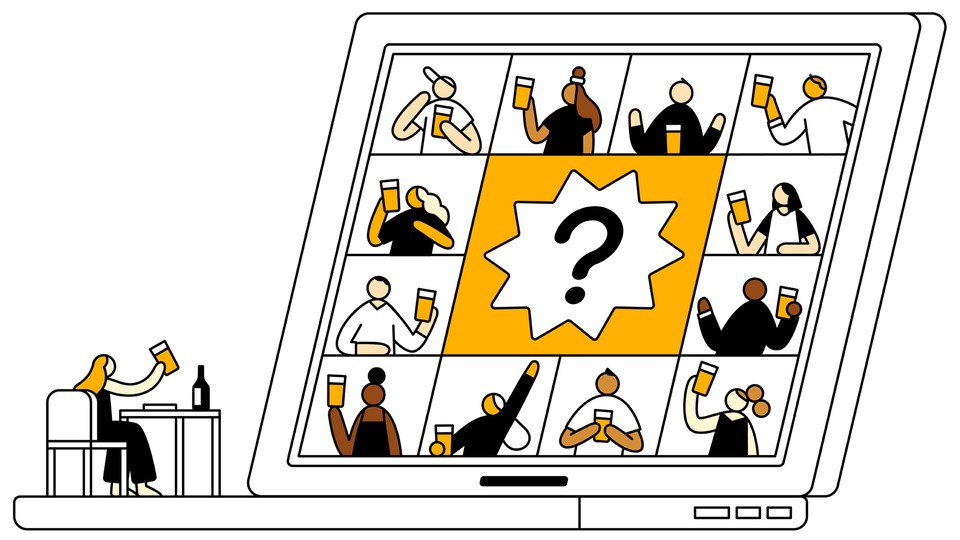 "Which country has the longest coastline?"
"Which television characters are associated with Wimbledon?"
"Sniffled Rotten is an anagram of which famous cartoon character?"
I didn't know any of the answers. And judging by the many bemused faces in front of me, I wasn't alone. Some chose to confer with their partners, making sure to turn their mouths away so that no one might read their lips, before scribbling down their response. Others, seemingly resigned to their fate, took a swig of beer and leaned back in their chair. Looking down at my own paper, I knew the chances of my team—just myself and my boyfriend—winning this pub quiz was going to be slim. But hey, there was always the next round.
The questions were challenging, perhaps not unlike those that would be asked of "punters" at any of the thousands of pub quizzes that are typically held on a given night across Britain. Only this wasn't a typical quiz night, nor was it taking place in a pub. Rather, this quiz was happening via a Zoom call at the Corona Arms, a "virtual pub" that, until a few weeks ago, had no reason to exist.
The outbreak of the coronavirus changed that. The first cases emerged in Britain earlier this year, and any semblance of normal life has since come to a grinding halt. Social-distancing measures have been put into place, and nonessential areas of congregation, including restaurants, gyms, and cinemas, are now closed. In the nationwide effort to curb the spread of the virus, not even a treasured institution like the pub—perhaps one of the most recognizable symbols of ordinary British life—was spared.
But the pubs didn't disappear entirely; instead, they adapted. Some offer food and drink to go through pickup or home delivery, while others converted into makeshift grocery stores, offering essential items such as eggs, milk, and bread. As more and more real-life pubs closed their doors, though, virtual ones began appearing to take their place. Created by existing boozers and enterprising individuals alike, these digital havens offer all the things a traditional pub might: a place to socialize with strangers, to share a drink with friends, and, of course, to take part in a weekly pub quiz—all from the comfort of one's own home.
While the coronavirus pandemic has tested the resilience of virtually every institution—from democracies to local parks—in some cases it has also reaffirmed their worth. At a time when people are being confined to the home for the foreseeable future, familiar rituals such as the pub quiz have emerged as a symbol of enduring normalcy, a cure for isolation, and, if nothing else, a way to have fun.
The last time I went to a pub quiz in real life, it was in December at the Walkers of Whitehall, a three-story pub hidden in an alleyway just minutes away from Trafalgar Square in central London. Unlike most of the pub quizzes I've been to, this one had a theme (Brexit), prizes (coffee mugs), and, unfortunately for myself, steep competition: civil servants, think tankers, and political reporters—all the sorts of people you could count on to remember exactly how many parliamentarians voted for Theresa May's Brexit deal at its first attempt of passing, precisely which years in the 20th century Britain held a general election in December, and which particular European Union politician served as the acting president of the European Commission in November. The answers were, in order: 230; 1918 and 1923; and Frans Timmermans.
But the quiz also had all the things I'd come to learn every good one should have: clever team names; an audible quizmaster who can even be heard by the teams at the very back of the room; a fair point system (in this quiz, each team graded another team's answer sheet); at least one team that all the others can quietly resent for being too good; and, of course, plenty of food and drink to fuel the evening.
Britain has long been a nation of quiz takers—though not always at the pub. Among the earliest examples dates back to January 1938, when the BBC aired its first-ever radio quiz: a transatlantic spelling bee between undergraduates at Harvard and Radcliffe Colleges in the United States and Oxford University. At the time, general-knowledge quizzes were a foreign concept in Britain, a U.S. export the BBC had to explain as being "very popular with American listeners."
The concept nonetheless took hold, and soon the BBC was broadcasting more "bees," some of which eventually had nothing to do with spelling. By April of the same year, the General Knowledge Bee was born. The radio program quizzed participants on everything from agriculture to naval intelligence. "It really started in earnest during the [Second World War], when the BBC realized they could use this format of the spelling bee for civic training," Alan Connor, the author of The Joy of Quiz and a former question editor for the BBC quiz show Only Connect, told me. In one such show, he said, "they would get air-raid wardens from Leeds and air-raid wardens from Manchester and check if they knew the protocol correctly and announce the winner of the pair of them."
For a game rooted in facts, the history of how quizzing made the transition from the radio to pubs is incredibly muddled. Still, there are a few clues: By the 1940s, quiz nights started being advertised in local newspapers. These events, which were organized by community-based organizations such as Women's Institutes and Mothers' Unions, were envisaged to be wholesome affairs at a local town hall or civic center. "As far as I can make out, this was ironically an attempt to keep menfolk away from the pub for an evening," Connor said, noting that it probably didn't take men long to realize that "if they wrote the questions themselves, they could do it in the Fox and Hounds."
That's one theory, at least. It would nevertheless take several more decades for the pub quiz to emerge as a popular concept. Though pubs have existed as a social institution in Britain for centuries, quizzes didn't really become a common feature within them until the 1990s. "I figure there were almost no pub quizzes 30 years ago," Marcus Berkmann, the author of A Matter Of Facts, told me. It was around that time that Berkmann attended his first pub quiz. He's been going to his current one at the Prince of Wales pub in Highgate, a leafy neighborhood of north London, for 25 years, and has run the quiz there for nearly as long. "That was one of the first," he said.
A lot has changed in that time. Today, it's estimated that around half of all pubs in the U.K. have a regular quiz—a reason that is primarily due to money. Though pubs tend to have no trouble filling themselves up on a Friday or Saturday, they are usually emptier on weeknights, an issue that pub quizzes were intended to fix. "Quizzes are lucrative because they cost very little," Berkmann said, noting that airing sports games, by comparison, costs pub owners tens of thousands of pounds in television fees a year with little financial return. "People who watch football tend to sit there and nurse a pint … and then go at the end of the game," Berkmann said. Quiz attendees, on the other hand, usually stick around for hours, eating and drinking all the while. "Quizzers drink like fish," he added.
Among the first to recognize the financial benefit of pub quizzes was Sharon Burns, a pub owner based in the coastal English city of Southampton. In 1983, she went into business with her former boss and mentor Tom Porter and founded Burns and Porter, a firm dedicated to organizing pub quizzes. The company dominated the nascent industry, according to a profile of Burns in the February 1988 issue of Director magazine, overseeing 6,000 teams and more than 100,000 quiz matches a year at their peak. They also published a series of books on quizzes. "Until someone tells me they never have a quiet night in their pub," Burns told Director, "I will not stop believing there is a huge market for supplying a whole range of organized activities."
Burns sold the business in 1988, but by that point quizzing had already gained plenty of ground in the U.K., appearing in the form of coin-operated pub-quiz machines, board games (Trivial Pursuit, which was first released in 1981, was a "huge hit," Berkmann said), and television shows such as Mastermind, Countdown, and Who Wants to Be a Millionaire? The phenomenon even started spreading beyond Britain. In the U.S., for example, trivia nights have become more commonplace in American bars and restaurants. "I would say the majority of bars have some sort of trivia night, even if it's just monthly," Brian Jones, a quiz host based in Washington, D.C., told me. "Bars see it as a good way to get people in. It's usually pretty cheap, and it gets recurring business."
Fundamentally, though, pub quizzes are still very much a British institution. "It combines our two great loves: drinking, and being right," the British playwright James Graham, whose play Quiz chronicles a Who Wants to Be a Millionaire? cheating scandal, told The Economist. But there are other reasons that pub quizzes have taken off over the years. "My take on why people enjoy quizzes as much as they do is that we fill up our brains with knowledge at school and we get used to getting tested for it," Alan Connor said. In adulthood, however, there are no such tests. "Nobody cares how much you know, your family and friends will not be impressed if you know that Swaziland changed its name recently … So quizzing is the one activity where you can be rewarded and feel good about having retained information."
For Berkmann, the reason behind the success of the pub quiz is more fundamental: It gives people the opportunity to go out and play. "It's like sports for the unsporting," he said. "If you can't play tennis to a high standard or you can't play football or cricket, you can nonetheless go to the pub and answer questions that nobody else knows the answers to, and you get the same buzz out of it."
These days, pub quizzes have become more than just an opportunity to flex some knowledge and compete with friends. In an era of social distancing, where traditional gatherings have been banned, the pub quiz is an unlikely savior for those in need of something to do or someone to (virtually) hang out with. In the weeks since Britain went into lockdown, dozens of online pub quizzes have emerged to meet that need—many of them adapted by existing quizmasters across the country.
Berkmann, whose weekly Prince of Wales pub quiz has since been rebranded "Quiz Night at the Covid Arms," hosts the virtual quiz Tuesday evenings using Facebook Live, with some competitions attracting more than 50 teams. Jones, whose three weekly trivia nights were canceled after the U.S. capital closed its bars and restaurants last month, has also started hosting a Tuesday trivia night via Facebook Live, to which he typically invites around 20 friends. "Any more than 20 and I just can't keep up," he said.
The Corona Arms, which boasts more than 8,000 followers, or "regulars," on Instagram, uses multiple platforms to host its weekly quiz nights. The one I attended attracted 52 participants on Zoom and an additional 200 players following along on Instagram Live, with some tuning in from as far afield as Austria, Spain, and Canada. Though I could see everyone playing alongside me on my laptop screen, I couldn't hear any of them, and they couldn't hear me. The quizmasters muted all the participants to make sure everyone could hear the questions, though that didn't stop a few stragglers (myself included) from taking to the chat window to ask for some of the questions to be repeated. (The answers to the questions I didn't know, by the way, were Canada, the Wombles, and Fred Flintstone.)
Unlike a normal pub quiz, where teams assemble at different tables, this socially distant version had members of some teams competing from multiple locations, forcing them to confer with each other through platforms such as WhatsApp and Facebook Messenger. Also unlike a normal pub quiz, the Corona Arms used its virtual setting to get creative with some of the questions. In one round, the quizmasters acted out famous movie posters and tasked players with naming the film. In another, they lip-synced to famous songs—while on mute to everyone watching—before asking players to name the song and, for a bonus point, the artist.
All of that wasn't a perfect replacement for the pub quiz, of course. For one, since the quiz depends on participants having access to a phone or laptop, there is no way to police against cheating—something that could be easily called out in a pub-like setting. Both the Covid Arms and the Corona Arms ask their teams to keep track of their own scores, which they are then invited to submit after the game ends for tallying. Virtual quizzes also tend to lack the competitive and jocular atmosphere of a traditional one. Though some platforms allow you to see the other players on your screen, you are rarely allowed to hear them. The lack of jeering and cheering makes it hard to figure out which team is the one to beat. "You can't replicate the rivalry in the room and the semi-joking resentment toward the smart-ass team in the corner," Connor said.
For many participants in virtual pub quizzes, however, the point isn't to replicate what has been lost; it's about savoring what, even in these most unprecedented of times, can be retained. For the best of quizzes, this means making the questions challenging, but not impossible (no dull questions, Berkmann said, such as "What's the capital of Peru?"); keeping the competition vibrant, but low stakes (most online pub quizzes don't have prizes or entry costs, though the Corona Arms does encourage participants to contribute to their weekly fundraiser for select charities); and ensuring that the quiz is fun enough for people to want to come back the following week (even if they probably don't have much going on at the moment anyway).
But perhaps most importantly for this moment, a good pub quiz must provide a source of levity. As the Corona Arms quiz wound down, with many of the participants choosing to stick around after the quiz had ended to chat with friends and compare scores, it was clear that it had.
"Don't forget to be kind; stay indoors," Harry, one of the hosts, said. "And wash your bloody hands!"