The Coronavirus's Real and Immediate Threat to Democracy
How do you carry out a vote during a pandemic?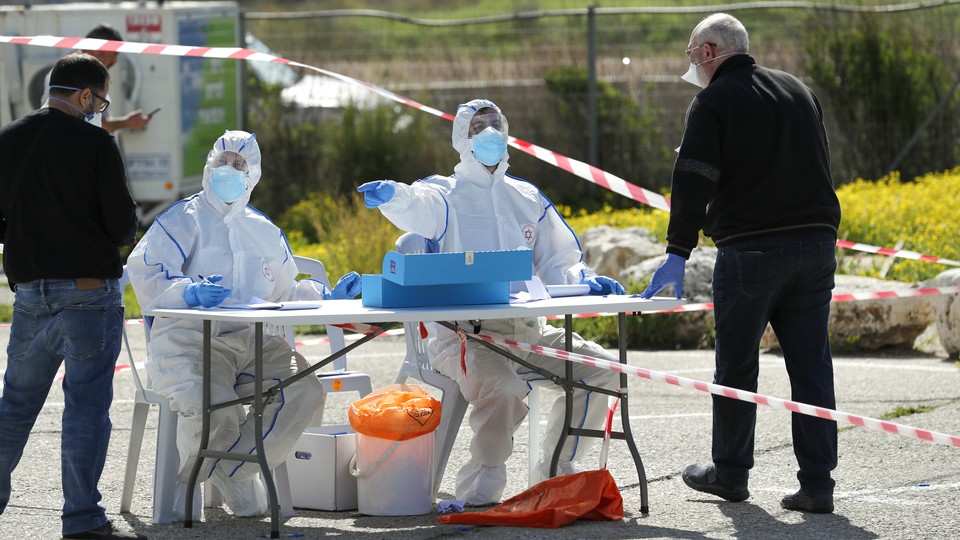 Britain has so far avoided imposing the most extreme measures to curb the spread of the novel coronavirus and the disease it causes, COVID-19. Unlike Italy, for example, it is not under lockdown. Schools and universities remain open. Public transit is still running (albeit with an enhanced cleaning regimen).
And for now, officially at least, the country's upcoming local elections—including London's mayoral contest—are still scheduled to go ahead on May 7. Though possibly not for much longer: The United Kingdom's Electoral Commission has recommended that the elections be postponed until the fall, citing concerns about voters' ability to participate safely. Although postal voting is an option in Britain, the commission warned that increased dependence on casting ballots that way "would create further and additional pressures and risks in other parts of the system." Added to the commission's worries is the risk that voters may not be able to fully consider all candidates and parties as a result of being under quarantine or self-isolation.
Democracy will no doubt be tested by this viral outbreak. In some places where everyday life has virtually come to a standstill, it already has been. But perhaps none of these tests is more literal or more immediate than the postponement of a scheduled election, calling into question what countries should do to ensure that democratic processes continue as normal during moments of such uncertainty. How much responsibility are governments willing to take if upholding these processes means further exposing people to infection?
The last time an election was postponed in Britain was in 2001. A viral epidemic was spreading across the country and the prime minister at the time, Tony Blair, determined that a delay would be needed to give the government more time to address the crisis. The gravity of the decision—marking the first time an election would be postponed in Britain since the Second World War—wasn't lost on Blair, who reaffirmed that the one-month delay would be finite because the country "cannot, should not, and will not indefinitely suspend the democratic process."
The situation Britain faced then was a whole lot different from the one it faces now. Whereas the 2001 outbreak of foot-and-mouth disease resulted in the slaughter of more than 6 million livestock, wreaking havoc on the country's agriculture and tourism industries, humans were not directly affected. The coronavirus, by comparison, has infected hundreds of people in the country, and more than half a dozen have died. A government assessment suggests that, in a worst-case scenario, up to 80 percent of the U.K. population could contract the disease. In an address to the nation today, Prime Minister Boris Johnson declared the coronavirus "the worst public-health crisis for a generation," in which "many more families are going to lose loved ones before their time."
Still, Britain has more or less carried on as normal. Were the government to follow through on the Electoral Commission's recommendation, it would be the first announcement of a major national event being postponed over the coronavirus. The elections, which span 118 local councils and eight major cities, including London, Manchester, and Liverpool, are set to draw hundreds of thousands of people to the polls in May. For context, that's hundreds of thousands of people gathering at polling stations, waiting in line together, and—as is standard in Britain—marking paper ballots with communal pencils. For the people tasked with counting the ballots, this also means additional hours spent with hundreds of other volunteers. All at a time when the best advice is to maintain social distance.
When I asked the candidates running for mayor of London—a city with just under a quarter of the U.K.'s confirmed cases—about their position on campaigning and voting during a pandemic, their responses were mixed. A spokesman for Mayor Sadiq Khan, the favorite to win, directed me to remarks Khan had made on LBC radio, in which he said there is "no logical reason" to postpone the vote, adding that it is "really important to make postal votes as easy as possible" for concerned voters. A spokesperson for the Conservative Party candidate, Shaun Bailey, whose campaign will continue "until the time comes when experts advise to change tack," said that following government guidance was crucial. And a spokesperson for the Liberal Democrat candidate, Siobhan Benita, said her campaign would also wait to act until the government provided direction.
Others, however, have called for more stringent action. The independent candidate, Rory Stewart, and the Green Party candidate, Siân Berry, announced the temporary suspension of their campaigns today, including large gatherings and door-to-door canvassing. Stewart, who has been a vocal critic of the government's response to the outbreak, welcomed the call for postponement as a "sensible recommendation."
Britain isn't the only country that has been forced to contend with the risks of holding an election amid a pandemic. In an effort to accommodate thousands of quarantined voters in its election this month, Israel created dedicated polling stations where poll workers wore full protective gear. In South Korea, which is among the countries with the most cases of the coronavirus, parliamentary elections are due to go on as planned next month, despite calls from lawmakers for postponement. In a bid to ease the voting process, however, the government announced that those in quarantine or in the hospital would be permitted to cast ballots remotely. In Poland, where just 49 cases exist, the government has declared it too early to consider postponing the presidential election, which is currently scheduled for early May. (Of course, the United States is holding its own set of state party primaries ahead of a presidential election in the fall.)
It's understandable why governments would be reluctant to delay an election. Postponing a vote can easily be seen by critics as a failure to maintain stability during a time of crisis, or, worse yet, as a fundamental breach of democratic norms. But if the coronavirus outbreak has demonstrated anything, it's that these are not normal times, nor would any vote taking place anywhere in the world result in a normal election.