Italy's Coronavirus Response Is a Warning From the Future
The country placed severe travel restrictions on a swath of its north. Other democracies are watching closely.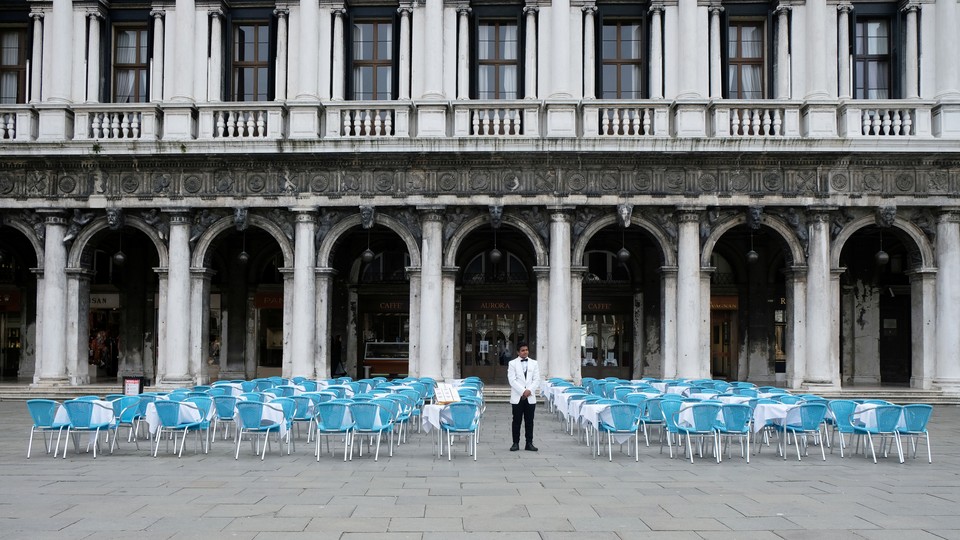 Italians woke up on Sunday morning, and it was already the future. Overnight, the government announced the most dramatic measures yet taken by a democracy to try to prevent the spread of the coronavirus. Other Western countries are watching closely, worried they may soon have to follow Italy's lead.
Rome placed severe travel restrictions on the entire Lombardy region surrounding Milan—the country's economic, fashion, and media capital—and on 14 other provinces across the wealthy north, including Venice and parts of the Emilia Romagna region. In this area of 16 million people, the coronavirus's European epicenter, where the number of cases has been rising rapidly, Italy banned all public gatherings—no weddings, funerals, concerts, sporting events, discos, bingo games, video arcades, or Mass—until April 3. While trains and planes are still operational, and running on time, the government is forbidding people from leaving unless absolutely necessary.
Restaurants and bars can open but only from 6 a.m. to 6 p.m., and only if they can ensure three feet of space between each guest. Nationwide, the government ordered the closure of all cinemas, theaters, concert halls, libraries, and museums, as well as the quarantine of anyone with a fever above 37.5 degrees Celsius (99.5 degrees Fahrenheit), and anyone who's tested positive for the virus. Last week, Italy closed all schools, day-care facilities, and universities, until mid-March at the earliest. Pope Francis, who has been fighting a cold, delivered his weekly Angelus message on Sunday via video from a Vatican library, not, as is typical, from a window overlooking Saint Peter's Square. "I'll use a strong expression," Francis said. "This pope is caged in the library."
These steps are dramatic, and have caused significant uncertainty and growing panic across Italy. They are also quite confusing, and how they'll even be enforced remains unclear. They came to light in an atmosphere of total chaos, after a draft bill outlining the measures was leaked to the press yesterday evening. The proposal suggested that northern Italy would be on total lockdown, and so thousands of people rushed to hop on overcrowded trains heading south. Finally, at 2 a.m. local time, Prime Minister Giuseppe Conte gave a press conference, clarifying that Lombardy and the other provinces wouldn't seal their borders, just that citizens would be "obligated" to practice "reduced mobility" and could leave only for emergencies.
What, Italians wondered, does that mean? Who will enforce these new rules? And will they even work?
Italy has long been a political laboratory, for better or worse, and a harbinger of developments that later spread. It's also a rule-bound country where rules are often ignored, a place that often falls short on long-term planning but rises to the occasion in emergencies and has a knack for improvisation that its northern neighbors lack. It is a free society in which information is often unreliable and politicized. Today, it is an experiment in which free movement of people and goods meets free movement of a deadly virus. Countries across Europe and the world are watching how Italy handles an epidemic that knows no borders, has been putting tremendous strain on public-health structures, and is pushing the country's already fragile economy to the brink. Lombardy alone is responsible for more than 20 percent of national gross domestic product, and tourism is one of Italy's most important sectors.
The European debt crisis revealed the flaws in a bloc that shares a currency but not a fiscal policy. The migration crisis of 2015 revealed that individual European countries want to protect their own borders and control the number of immigrants arriving, in a zone built on the ideal of visa-free travel and burden sharing. The coronavirus could pose an even greater test for the European Union, which has free movement of people but no standard health protocols across countries. Will the EU's member states band together to work with Italy, or will they cordon it off? Will richer northern-European countries hoard medical equipment, or partner with poorer southern- and eastern-European ones to slow the outbreak? Is Italy overreacting, or is the rest of the continent underreacting?
Each European country is handling things in its own way. Italy has a fragile coalition government and strong regions, and its response has been rapid, if chaotic. Germany, which has 939 cases and so far no reported deaths, has a highly federal structure, in which regions have a lot of autonomy in handling crises of this type. As of this weekend, Germany was still holding soccer matches with tens of thousands of fans—to the distress of some German doctors, who feel the country isn't taking the threat seriously—though its health minister has urged organizers of events with more than 1,000 attendees to cancel them. He has said he was more concerned about panic stemming from the virus than the virus itself.
France has a strong centralized government, and its message has so far been dispassionate concern—President Emmanuel Macron has canceled all public events with more than 5,000 people, though that hasn't entirely been respected: On Sunday, people gathered in France for a march for International Women's Day.
Even in their behavior, the region's leaders have differed, at least for now. On Friday, Macron and his wife went to the theater, and encouraged others to do so, too. In Italy, that has changed. Last month, when the government was trying to present a "business as usual" approach, Nicola Zingaretti, the leader of the center-left Democratic Party and president of the Lazio region, surrounding Rome, traveled to Milan to have an aperitivo, and met with young people, promoting the message "#MilanDoesn'tStop." On Saturday, Zingaretti said he had tested positive, and was staying home to be monitored. (The president of the Piedmont region has also tested positive, as has the head of the Italian army.)
Now Milan has stopped. Will the rest of Europe follow Italy's lead and impose heavy restrictions? Britain's politicians are debating whether to go into extended recess to prevent members of Parliament from accelerating the spread. The European Parliament has moved a scheduled session away from the French city of Strasbourg over coronavirus concerns. Last week, a spokeswoman for the French government, Sibeth Ndiye, said it was likely only a matter of time before France became a "Level 3," or epidemic level, country in which all public events would be canceled. (Within Italy, the COVID-19 crisis has taken the wind out of the sails of the League party, whose nativist motto of "Italians First" and criticism of illegal immigration are less convincing now that Italians have become international pariahs: The prime minster of the Czech Republic said Italy should ban all citizens from traveling abroad.)
In Italy on Sunday, there was confusion about the new measures. If people got in their cars to leave Lombardy, would they be stopped? What kinds of papers would people be required to obtain to leave the lockdown zone, and who would issue those papers? The Italian media on Sunday was filled with questions and little clarity.
Even high-ranking officials don't know exactly how the new measures will work. Can I go to lunch? Can I go to work? are among the questions Italians are asking, Luca Zaia, the governor of the Veneto region, which is part of the affected zone, said in a news conference on Sunday. "These are some of the weaknesses in the decree." There are political tensions: Zaia and the presidents of the Lombardy and Piedmont regions are from the League, which is the main national opposition party and has been harshly critical of the government's handling of the crisis.
In his overnight news conference, Conte said the heath-care system risked becoming "overwhelmed" and that Italians should not leave the house unless absolutely necessary in order to be mindful of the health of their "grandparents," given that older people are at greater risk of infection. The issue isn't just the number of people who have tested positive or even the death rate, it's the number of beds available in intensive-care units. The head of Lombardy's intensive-care crisis unit, Antonio Pesenti, told Corriere Della Sera, Italy's leading daily newspaper, that his region's health-care system, the best in the country, was "on the brink of collapse" and that they had had to set up intensive care in hallways.
Italy has had thousands of cases and hundreds of deaths, far more than any other European country. Pesenti predicted that in less than three weeks, about 18,000 people would be hospitalized in Lombardy, of which about 3,000 would likely require intensive care—10 times the region's current capacity. "If the population doesn't understand that it needs to stay home, the situation will become catastrophic," he said.
His words are a warning for public-health officials worldwide. Italy has universal public health care, which protects even people who are unemployed, and salaried employees are generally entitled to sick days. But there's no doubt that the virus is placing more strain on the system than it can easily handle. What about elsewhere in Europe—are French hospitals prepared? German ones?
In Paris, where I live, life goes on, business as usual. There hasn't been a run on toilet paper or groceries that I've observed, although food buying is definitely up. A friend in northern Italy was surprised on Sunday when I told him movie theaters were still open here. France has 949 confirmed cases of the coronavirus, and 11 deaths, the second-highest figures in Europe after Italy's. Two members of the National Assembly have tested positive, as has a mayor in the French Alps. The Val d'Oise region near Paris has become the hardest-hit area in France, and schools have been closed there.
My friend in Italy was already adjusting to the new normal. Italy's measures this weekend may not be the exception. They may soon become the rule.