The Other China Emergency
Hong Kong's courts long provided assurances of some transparency, even equity. For how much longer?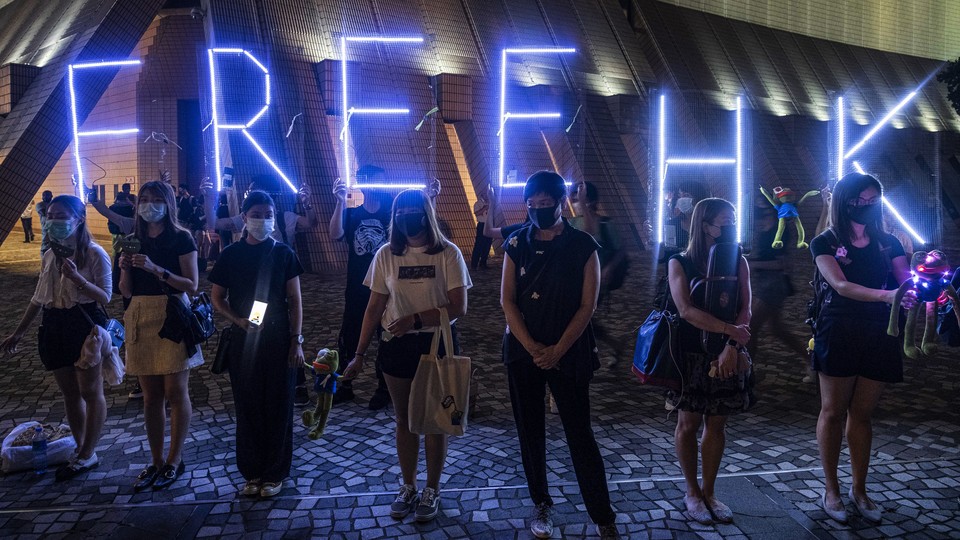 HONG KONG—Well before police surrounded Jackie Chen, pepper-sprayed her face, and led her away with wrists tied, she was a fixture of Hong Kong's era of dissent. For weeks, she had cautioned officers at demonstrations to let protesters gather in peace, and give people time and space to disperse safely. The social worker, along with her colleagues, acted as witness, counselor, and referee as angry Hong Kongers and police officers faced off, a portable microphone in her hand throughout.
That was back in August, when Hong Kong's demonstrations were at their peak, a seemingly nonstop showdown between people seeking democratic rights and police seeking unobstructed streets. Rallies have quieted considerably as most residents hunker down at home to avoid being sickened by the novel coronavirus. Smaller protests nevertheless flare, and arrests continue. All the while, court cases against demonstrators grind on, Chen's included. She was charged with riot and, if convicted, could spend up to seven years in prison.
Chen is among the more than 7,000 people arrested in the campaign that began last June to stop a bill allowing extraditions to China. Police have filed riot charges against more than 500, some as young as 13. A number of these defendants likely blocked police at the barricades, or threw punches or bricks or Molotov cocktails. Yet also facing trial are medics, first-aid volunteers, a cameraman, and several other social workers. (Police are pursuing cases against hundreds of others accused of unlawful assembly, assault, arson, criminal damage, and an array of other acts as well.)
As more city residents weigh futures as convicted criminals, activists have complained about the unchecked powers of the police, an erosion of academic independence, and an assault on media freedom. The diminishment of civil rights has occurred in a city whose constitution details those rights extensively. Despite the setbacks, many residents here maintain a flicker of faith in the judiciary. The protests have strained that hope.
Most criticisms concern decisions by prosecutors to pursue cases against unlikely defendants, including people who aided protesters. Half a dozen defense attorneys I spoke with said that in recent months, prosecutors routinely presented insufficient proof to justify charges. This fanned worries that the government had engaged in politicized prosecutions that criminalized the lawful act of protest. "Police and the prosecution seem to be spreading the net wide open to arrest and charge people with the hideous purpose of driving people out of the street," Lawrence Lau, a barrister who is defending several protesters, told me.
Lawyers and one legal scholar point to an apparent shift in how judges treat defendants early in the process: In the past, when prosecutors brought wobbly cases, judges would demand more proof and free the defendants on bail with few restrictions, Lau and Kenneth Lam, a solicitor for many protesters, told me. Since last June, they said, some judges appear to have deferred to Hong Kong's Department of Justice, which oversees prosecutions, and moved cases to trial without demanding videos, photos, or eyewitness statements to indicate the criminal nature of the defendants' actions other than merely being present. A department of justice spokesman declined to comment for this story, but in February, the government issued a statement to address concerns that its prosecutors were behaving politically: "The DoJ makes each prosecutorial decision based on evidence, applicable law and the Prosecution Code … All cases will be handled in the same manner irrespective of the political beliefs, requests and background of the persons involved."
One morning last fall, as more than 90 people appeared in one court, accused of riot, prosecutors informed some defense attorneys that the final charges still weren't known or ready, Lam told me later—a situation that would make it nearly impossible for a lawyer to prepare a sound argument for a client's release. In another case, Tsang Chi-kin, a teenager who was shot by an officer on October 1 after he appeared to have struck a different officer during a brawl, was arraigned on riot charges as he lay in a hospital, recovering from emergency surgery. Tsang's counsel, Linda Wong, decried the "completely inappropriate circumstances" that left her with minimal information and impeded the young man's defense.
Other attorneys have raised their objections with judges. Starting in July, the barrister Douglas Kwok told me, he began routinely criticizing prosecutors in open court for bringing charges without concrete evidence. After one such episode, the room erupted into applause, fellow barrister Chris Ng said. (Even Chen's counsel complained to the courts about the prosecution's tactics, telling a judge in December that the justice department had disclosed "zero evidence," concerning her case, despite three months of requests. She is free on bail.)
If judges seem to give prosecutors leeway, that's by tradition. Scholars note that the British-derived common-law system used in Hong Kong allows prosecutors broad powers intended to be used with discretion. At the same time, Hong Kong still carries many laws that have not been revised, revoked, or reinterpreted since the territory's colonial days. Hong Kong's version of the 1714 Riot Act of Great Britain, for example, was passed to bar another Communist-backed uprising, which terrorized residents in the 1960s. The ordinance tightly restricts groups and their behavior. In the strictest interpretation, even legal protests staged during the past year might not pass muster. (One challenge of prosecuting people who joined what became a broader democracy movement is the absence of historical cases that might define what it means to engage in a riot, Simon Young, a law professor at the University of Hong Kong, told me. Is merely being present enough to convict? Must the defendant breach the peace? Does that person have to share the intention of everyone else who disturbed the peace and riotously assembled? With few precedents, judges have given prosecutors ample time and space to shape their claims.)
Prosecutorial discretion offers ripe chances for abuse in a system that already lacks full transparency or much constraint, Alvin Cheung, a Hong Kong barrister and doctoral candidate at NYU School of Law, told me. The system's weaknesses have permitted officials to wield Hong Kong's ordinances, backed by common-law rulings, in novel ways that can stymie the government's dogged critics.
In 2016, a magistrate convicted three student activists, including Joshua Wong, of leading a crowd into a locked government courtyard two years prior, the incident that sparked an unsuccessful occupation for democratic rights. After two of the three students finished their sentences, a dissatisfied secretary of justice petitioned the Court of Appeal to impose prison terms. Cheung believes that the prosecution was "motivated by political animus," citing news articles in which unnamed career prosecutors advised the justice secretary to forgo additional punishment. The city's highest court released the young men after several weeks behind bars, ruling that the appellate bench had erred. (Similar dissent surfaced last year, too: In late July, several people claiming to be public prosecutors signed an open letter denouncing the current justice secretary for her support of the police and what they termed political calculations in cases against demonstrators.) While the protesters were held, Cheung noted, prosecutors routinely declined to press serious charges against pro-Beijing demonstrators accused of attacking their opponents. More recently, nine pro-democracy activists and lawmakers were tried in 2018 for organizing and leading the 2014 protest. All were convicted last April, and two, both university professors, were imprisoned.
The influence of the justice department was on full display in 2018, when a young politician named Edward Leung was tried on charges that he had incited and joined a riot two years earlier. Leung admitted to kicking a fallen police officer during the melee, and the prosecution convinced a jury that the defendant's other actions—throwing a trash can and wielding a wooden pallet—constituted rioting. Leung was sentenced to six years in prison. When prosecutors retried him on a riot charge that the earlier jury failed to agree on, he was acquitted.
Politics, Lau and other defense attorneys told me, tinged the charges filed after a university-campus siege in November. After police and protesters battled for hours—pitting a water cannon and a barrage of rubber bullets against hundreds of Molotovs and bricks—officers announced that the protest would be labeled a riot and that anyone who remained inside the complex after 10 p.m. would be charged. And yet, some people who said they tried to leave before the deadline were arrested. "The DOJ prosecutes anyone the police puts forward. That is absurd," Lau told me. In another era, he argued, prosecutors would have asked the police to present clearer proof, waited and conducted a deeper investigation, or dropped the cases entirely. An arrested person would have been released by police with few, if any, restrictions. Lau said the cases being presented have been so weak, he would not be surprised if after six months, many of the arrestees were released. By then, though, some will have lost jobs and opportunities because of onerous bail restrictions, such as evening curfews. Many will be fearful of joining future demonstrations.
A government's fairness can be measured by its treatment of its harshest critics. Trials confer legitimacy, establishing an official record for history, Carolijn Terwindt notes in her book When Protest Becomes Crime. However, when the public senses a thumb on the scale, it dissolves confidence that courts operate without prejudice, hurting trust and further polarizing society. Hong Kong's hollowed-out executive branch serves at Beijing's pleasure, and its legislature is hobbled by constitutional limits. The city's courts long provided assurances of some transparency, even equity, all while operating under China's one-party state. Yet, for how much longer might Beijing allow this arrangement?
When a political party or a civic group is targeted by the authorities, the public will naturally be wary, even if the group's aims match their own. In this way, governments defang their civil opponents, Terwindt warns. This is how a union of social workers or defense advocates or a protest sponsor lose legitimacy and come to be seen as agitators who promote violence.
In January, Ventus Lau, a spokesperson for a protest group, presided over a legal rally to implore other countries to sanction Hong Kong officials. A plainclothes policeman approached and told the young man to end the event, after a few protesters had lit fires and dug up bricks. After Lau viewed the officer's identification, he announced over the mic that he was canceling the demonstration. Riot police then arrested him. In court two days later, he was charged with inciting unlawful assembly and willfully neglecting police orders. As the charges were read out, the activist choked back tears. He told reporters outside of court, "This is a suppression."