Sexts, Lies, and Kompromat?
The era in which French public figures were able to keep their private life private is quite possibly over.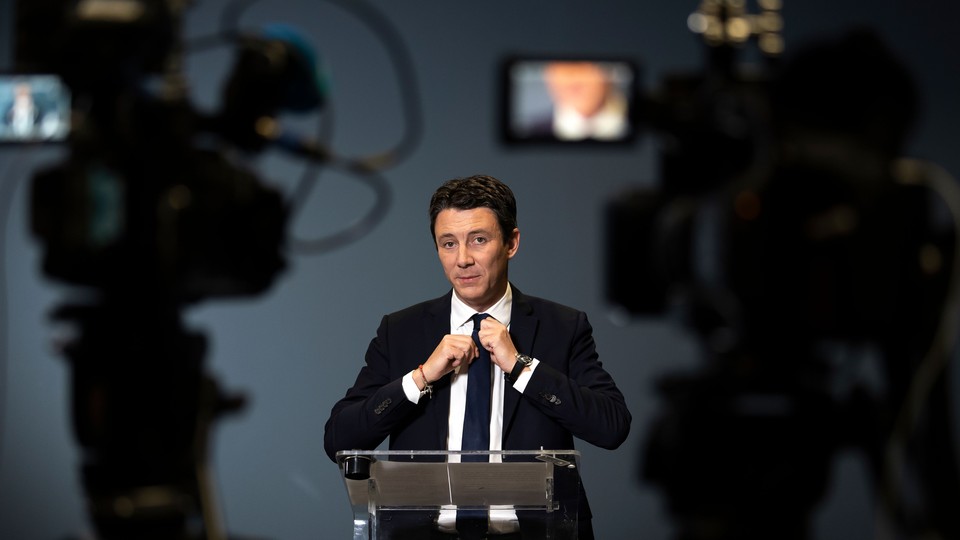 Until this month, Benjamin Griveaux was a rather lackluster candidate for mayor of Paris, treading water in third place. He'd been the French government spokesman under President Emmanuel Macron and his weak mayoral run seemed faintly emblematic of Macron's dimming political fortunes. And then, suddenly, came the leaked texts and videos, in which Griveaux tells—and shows!—a woman who's not his wife just how excited he is to see her.
The repercussions were swift. Griveaux, ashen-faced, withdrew from the race. Jaws dropped across France. Not from the shock that he had apparently cheated on his wife, with whom he has three young children. Or even from the surprise that Griveaux, who is 42, took the risk of filming himself masturbating. But rather because the exchange had been leaked, and had led to something that never happens in France: a politician stepping down because of something in his private life.
It seems weirdly fitting that the story begins with the Russian performance artist Pyotr Pavlensky, who leaked Griveaux's messages on a self-made website called pornopolique.com. Pavlensky, 35, is best known for nailing his scrotum to the cobblestones of Red Square, a 2013 action he said should be seen as "a metaphor for the apathy, political indifference and fatalism of contemporary Russian society." In posting the messages, the artist, who has political-refugee status in France, decried the "hypocrisy" of Griveaux, who had depicted himself as a family man during his campaign. French media have identified the woman with whom Griveaux exchanged the messages in 2018 as Alexandra De Taddeo, a 29-year-old student who subsequently became involved with Pavlensky. (She has confirmed that she was the recipient of the messages, but denies active involvement in publishing them, according to Le Monde. Pavlensky has said that he stole the material from her computer.)
Far more than a titillating local curiosity, or even just France's version of the Anthony Weiner scandal, #GriveauxGate has brought together not only sex, politics, and morality in the #MeToo era, but also digital surveillance, possible Russia connections, conspiracy theories, a whiff of kompromat, and a cast of characters that's Quai d'Orsay meets Call My Agent meets Black Mirror. With each passing day, it becomes less clear whether #GriveauxGate reflects the influence of America on French political life, or whether something more sinister is afoot, at a time when privacy is eroding everywhere.
Griveaux is widely seen as a victim of a nasty sting, even by people who condemn his behavior. Politicians and citizens across the political spectrum have denounced what they see as the Americanization of French political life—an apparent intrusion of an irritating puritan morality. How dare this happen here, where private life is sacred! Except this time around, the outrage is combined with the cold shower brought about by the era of social media and Big Data surveillance, in which politicians have discovered that they're as vulnerable as anyone else to online leaks.
In the weekly newspaper Le Journal du Dimanche, Richard Ferrand, the president of the National Assembly and a Socialist, warned: "Let's not confuse transparency and voyeurism, the prelude to a kind of inquisition. At this rate, who will take the risk of public life if it could become the ante-chamber of a permanent lynching?" The columnist Philippe Val declared that "the opacity of private life is the foundation, the primordial motivation of all democratic construction. Without it, liberty is an empty word." The only two politicians who probably didn't "have coitus," Val continued, were Robespierre, "who started the Terror and sent his friends and almost all the intellectuals of his era to the guillotine; and Hitler." (Yes, believe it or not, this has been the tenor of the debate.)
Other commentators think Griveaux could have been more careful. Anne Roumanoff, also in Le Journal du Dimanche, offered a list of suggestions: "1. You have the right to have extramarital relations. This is France, everyone understands that sometimes you need to reduce the pressure a bit. You don't have to be irreproachable, but you should be discreet. 2. Avoid showcasing your marriage on the covers of magazines and talking about your family with a loving voice if you're not irreproachable."
She advised Griveaux to use a dedicated cellphone that doesn't display his name. Then: "4. Don't send sexts, you're not a teenager." Rather than writing, "Can't wait to see you and your magnificent breasts again this evening. Look what a state you've got me in this morning"—which is what the leaked texts read—she suggested something like, "See you at 7 p.m. to review the documents. We need to dig deep, the problem is getting harder."
Griveaux hasn't verified that it's him in the video on Pavlensky's site, which the French government has shut down. But his lawyer, Richard Malka, is suing for illegally publishing private material. (This scandal has expanded my French vocabulary considerably, but the French term for revenge porn turns out to be … revenge porn.)
In the United States, a politician's private life is generally seen as fair game for public scrutiny. But America has several times elected leaders whose personal lives are not, shall we say, beyond reproach. And France has also previously violated the private lives of its public figures, not least in 2014, when a tabloid published images of then-President François Hollande showing up on a moped to deliver croissants to Julie Gayet, the actress with whom he was having an affair.
Publishing the photos marked a big change. President François Mitterrand famously kept a second family out of the public eye. (In 2016, Anne Pingeot, the president's former lover with whom he had a daughter, published a collection of 1,200 of their love letters, some of which are truly beautiful.) It was an open secret in France that Dominique Strauss-Kahn, the Socialist politician and former managing director of the International Monetary Fund, had a penchant for swingers' clubs. In 2012, he was arrested on charges of assaulting a hotel maid in New York, charges that were subsequently dropped. In 2015, he was acquitted on charges of soliciting prostitution. (As a young Socialist, Griveaux in fact worked with Strauss-Kahn.)
If #GriveauxGate marks a watershed moment in France, it's not entirely because of the Americanization of French morals. But I doubt that Griveaux would have stepped down before the #MeToo era. Today, things men got away with in the past no longer fly, even in France. A prime example (and far more egregious than the Griveaux case) is Gabriel Matzneff, a French writer of middling reputation who bragged and wrote about engaging in pedophilia and was protected for decades by friends in the French establishment. After a woman published a stunning memoir last month, Consent, about a relationship she had with Matzneff when she was a teenager, French police opened a rape investigation, and invited other potential victims to come forward—also a turning point in France.
But beyond the broader context in which #GriveauxGate has erupted are the facts of the case. Griveaux's lawyer has said that he doesn't think Pavlensky acted alone. Without naming names, the French government spokeswoman echoed the suspicion, saying Pavlensky "surely did not act alone." Did he publish the messages at someone's behest? The French media are thrumming with speculation. The lack of clarity has fomented an atmosphere of confusion and uncertainties, in which conspiracy theories thrive.
French police detained Pavlensky and charged him with illegally publishing the messages. Cornered by television reporters as he left a courthouse last week, he said that he stood by his actions. Whether he'll keep his political-refugee status in France is unclear. Police detained and questioned De Taddeo, too, over the leaked exchange. She made the cover of this week's Paris Match, France's preeminent weekly tabloid, with the headline "The Trap."
Pavlensky and De Taddeo were apparently introduced by Juan Branco, a French lawyer who was part of Julian Assange's defense team and who has been a vocal supporter of the anti-Macron "yellow vest" movement. The story gets weirder. The leaked exchange on an obscure website drew attention when it was tweeted, including by Joachim Son-Forget, a French lawmaker who quit Macron's party. (Son-Forget's tweets were subsequently taken down.)
I wonder what Pavlensky's aim is here, besides anarchic provocation. His performances usually involve self-mutilation—sewing his lips shut, cutting off part of his ear—to make a political point. In 2015, he set fire to the door of Moscow's Lubyanka prison. In Paris in 2017, after receiving refugee status, he set fire to a branch of the Bank of France to protest the power of finance, and wound up spending nearly a year in jail.
Is the leaked Griveaux exchange off-brand for Pavlensky, or a new direction for his art? In both Russia and France, Pavlensky has incorporated his police interrogations into his work. "What I'm doing is turning the tables, drawing the government into the process of making art," he told The New York Times Magazine in an illuminating profile last year. "The power relations shift, the state enters into the work of art and becomes an object, an actor." Making Griveaux's private life public may be Pavlensky's most daring performance yet. It certainly has found the largest audience. And quite possibly has ended an era in which French public figures were able to keep their private life private.