Coronavirus Is Devastating Chinese Tourism
Countries have closed off their borders with China, airlines have slashed flights, and hotels have seen a big drop-off in bookings.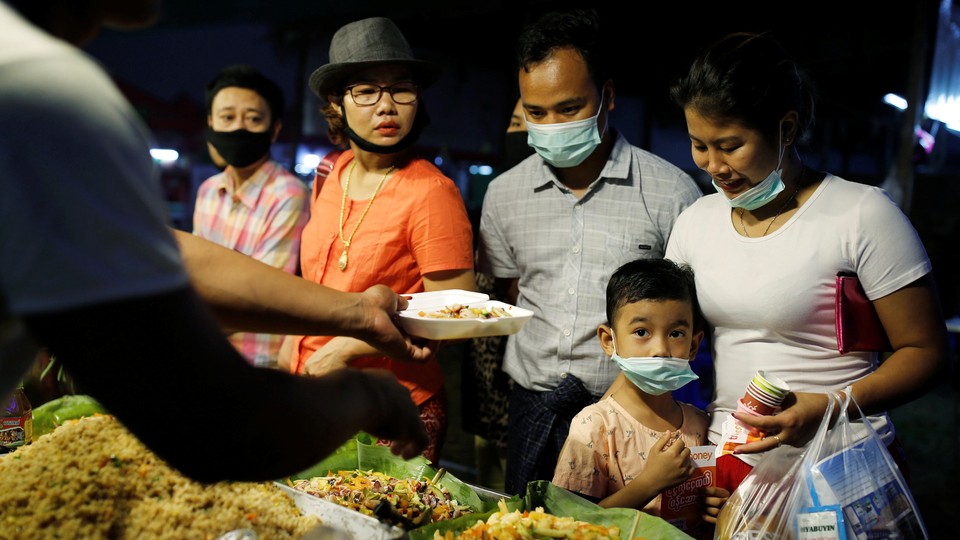 YANGON—Last month, on January 19, Myanmar's state-run newspaper left no question as to what was the biggest story of the day. The paper carried page after page of dry reports documenting the movements and meetings of visiting Chinese President Xi Jinping. Inside were photos of Xi and Myanmar's leader, Aung San Suu Kyi, sitting in gilded chairs behind a table draped in red, yellow, and green fabric, the colors of Myanmar's flag. A parade of officials had taken turns posing in front of them, clutching red folios that each contained one of the dozens of freshly signed agreements between the two countries. The visit marked the start of the "Myanmar-China Bilateral Cultural and Tourism Year."
Buried inside the same edition of the paper was a single article, plucked from the AFP newswire, detailing alarm by medical experts in London over the spread of a "mysterious SARS-like virus in China" and warning that the scale of the outbreak was "likely far bigger than officially reported." Of the two stories, this is the one proving to be more important to Myanmar, Southeast Asia, and the world.
The illness, now officially labeled COVID-19, has raced across the globe, infecting tens of thousands of people and killing more than 2,000, predominantly in China. Countries have closed their borders to Chinese travelers; airlines have slashed flights and limited routes. Points of transit across Asia—train stations, bus depots, airports—have seen traffic plummet, and some are nearly deserted. Leaders in Beijing are undertaking a sprawling lockdown and quarantine on a scale that is difficult to comprehend. The impact on the global economy is still yet to be fully understood.
Powered by a middle class expanding in both wealth and size, the Chinese tourism market has seen staggering growth over the past two decades. Travel departures from China, according to the United Nations World Tourism Organization, increased from 4.5 million in 2000 to 150 million in 2018. These travelers have become their own economic force, spending $277 billion, and many countries have rushed to embrace them. Yet if Western countries have experienced the growing number of Chinese tourists as simply a boon for the economy, around Asia the influx of visitors has been even more transformative. All of the top 10 destinations for Chinese visitors last year were in Asia, according to the China Outbound Tourism Research Institute, and the results are evident to any traveler in the region: signs at travel hubs that include directions in Chinese, tourism staff who speak at least a smattering of the language, shops that accept mobile payments from Chinese apps. (At the same time, stories of Chinese tourists behaving badly and complaints of "zero dollar" tourism, whereby locals see little money from inbound visitors, have also risen.)
But now, as COVID-19 sharply curtails travel across the region, analysts and governments of countries that have become heavily reliant on Chinese visitors—some overly so—are dampening their forecasts. More than 40,000 hotel bookings on the Indonesian island of Bali have been canceled, according to officials there, and the outbreak could shave up to 0.3 percentage points off the country's GDP growth. Billions of dollars in tourism spending are projected to be lost by Vietnam. Tourists from China are the largest group of visitors to Thailand, but the government expects the annual number of Chinese travelers to fall by at least 2 million. A hotel manager in the Thai city of Chiang Mai told me the situation was a "total mess," as travel agents and hotels scrambled to reschedule and collect payments from canceled tour groups. Immigration figures for the city's airport show a near-total collapse in the number of arrivals from China starting in late January. Casinos in Macau, the world's gambling capital, normally teeming with players from the mainland, are shuttered. Lisa Wan, a professor at Chinese University of Hong Kong Business School, was blunt in her assessment: "The global tourism industry is expected to suffer massively during the outbreak," she told me.*
Few places illustrate this economic relationship with China—capitalizing on an incredible growth in tourism and trade, thereby building a dependence that creates a vulnerability—like Myanmar. The country's tourism sector has rapidly expanded since the government undertook political and economic reforms in 2011, but in 2018, arrivals from the United States and Europe dropped 50 percent, in part because of a military campaign carried out near Myanmar's western border. Looking to rebound, the government aggressively courted the Asian market, rolling out visa exemptions and new flight connections to numerous Chinese cities, including Chongqing, Haikou, and Wuhan, the center of the latest virus outbreak—the international airport in Mandalay now almost exclusively services China. Arrivals from there rose from 20 percent of the overall figure in 2018 to 38 percent in 2019, according to the World Bank. May Myat Mon Win, a vice chair of the Myanmar Tourism Federation, told me that tour organizers from China had in recent years taken to booking all the rooms in some budget hotels for every night of the year, sometimes for two years at a time—unlike tourists from elsewhere, Chinese visitors traveled year-round.
Thant Zin Tun, a hotel owner with properties across Myanmar managed by international brands, began to cater to the new guests, hiring Chinese speakers and expanding menu options. The first offerings of the day needed adapting, for example, because Chinese tourists "don't really fancy the European, Western breakfast," he said he had learned. But since the COVID-19 outbreak, he said he had seen an 85 percent drop in business at his hotels in Mandalay and Bagan, an area covered with ancient temples, both places where Chinese tourists have flocked to in recent years.
And at Yangon's Bogyoke Market on a recent Saturday, tourists, particularly those from China, were largely missing. Saleswomen with no customers to entertain chatted among themselves and tapped on their phones behind glass cases displaying bracelets, pendants, and jade ornaments in shades varying from milky white to deep emerald. Sitting under one of the market's covered walkways, Zin Min Tun, who has run half a dozen pearl and gem shops since 1996, estimated that the number of Chinese tourists over the previous month had dropped roughly 70 percent compared with last year. His fingers wrapped in thick ruby and agate rings, Zin Min Tun said Chinese tourists were the biggest buyers of jade, mined in Myanmar's north, and the country's pearls, which have a champagne-colored sheen. "The whole world depends on China," he said. "Now they have money; they can spend around the world, not just Myanmar."
The concerns Thant Zin Tun and other spoke of were reflected by analysts at Fitch Solutions, who last week said they were lowering their forecast for Myanmar's GDP growth, noting that tourism would be "subdued over the coming months due to lower Chinese visitors from China's ban on travel agent bookings, and also risk aversion from tourists of other nationalities due to Myanmar's weak patient tracking capability." (Upon my flight's arrival into Yangon airport, workers in hazmat suits armed with thermometers entered the plane and took our temperatures.)
While Thant Zin Tun bemoaned the lost business, May Myat Mon Win, the tourism federation vice chair, was quick to remind me that Myanmar was hardly the only country feeling the downturn and that others were even more reliant on Chinese visitors. "China is a giant, the dragon," she told me. "If the dragon is hit harder than this, I think there is going to be more consequences for the global economy and, of course, tourism."
One such area is Macau, the former Portuguese colony, which welcomed nearly 28 million visitors from mainland China last year, about 70 percent of all arrivals. (Macau is now a special administrative region that is part of China but, like Hong Kong, has a separate legal system, judiciary, and immigration regime.) Though Macau's economy is almost wholly dependent on gaming, after a string of confirmed COVID-19 cases, the government forced all 41 casinos to halt operations for a 15-day period starting on February 5. Numerous hotels have temporarily shuttered as a result, and residents are largely abiding by the government's recommendation to stay home. The gondolas used to ferry tourists through the artificial canals at the Venetian Hotel sat empty on the mouthwash-blue water, opera music echoing off the faux-Italian-building fronts. One security guard standing in front of a stopped escalator at the Parisian Hotel said that without any visitors, things had gotten "very boring." A sales attendant in a luxury boutique busied himself by styling a mannequin, removing and replacing a pair of sunglasses and tweaking a bucket hat before settling on a final look, then starting again.
The steps leading to the ruins of St. Paul's, where throngs of tourists normally gather to snap selfies, were largely empty, the drop-off in visitors not helped by a late afternoon rain shower. Near the base of the steps, an automated message booming out from a loudspeaker reminded visitors that if caught early, the virus could be cured. A video board showed a guide to proper hand-washing. The cobbled street leading up to the steps, lined with colorful historic buildings whose ground floors house snack shops and pharmacies serving mainland visitors, was also almost completely vacant. A saleswoman keen for a customer stepped outside her shop, to tout not souvenirs, but a more in-demand item. "Masks here! Masks here!" she shouted as I walked past.
Cape Diamond contributed reporting.
---
*This article originally misstated the university with which Lisa Wan is affiliated. She is a professor at Chinese University of Hong Kong Business School, not City University of Hong Kong's School of Hotel and Tourism Management.