The Moral Hazard of Dealing With China
Academic institutions must grapple with the question of when engagement becomes complicity.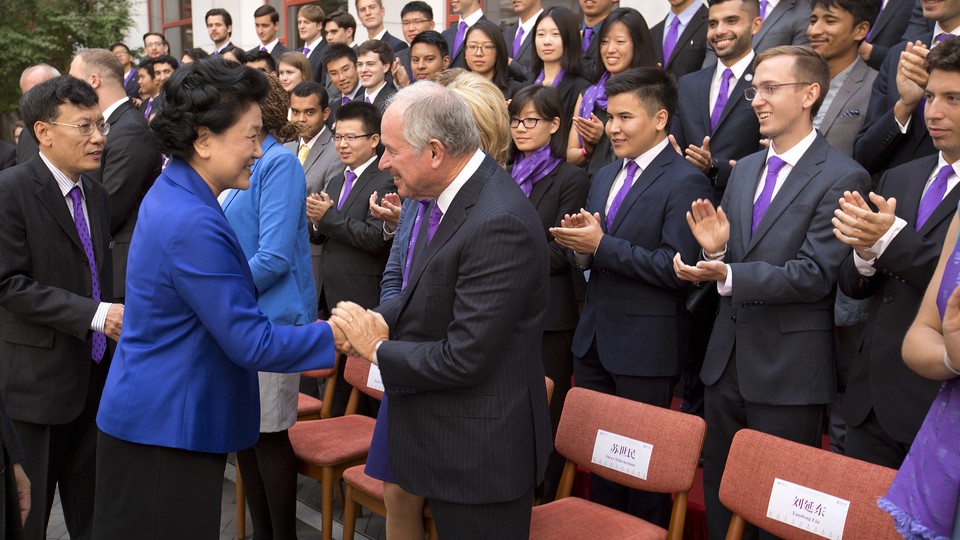 Shortly before its first-ever applications period was due to close, the Schwarzman Scholars program held an admissions seminar at the prestigious Tsinghua University in Beijing.
The elite China-based graduate program, funded by American businessman Stephen Schwarzman's personal wealth and fundraising efforts and modeled after Oxford University's Rhodes Scholarship, had recruited heavily from the world's top academic institutions, including Harvard, Yale, and Cambridge. It would kick off its inaugural academic year in fall 2016, and was aiming for a cohort comprising the best students from China and around the world. To guarantee a "scientific and fair" admissions process, the program invited a group of experts to participate in the seminar.
The meeting, held on September 20, 2015, was attended not just by academics and administrators, but also by top Chinese Communist Party luminaries, including officials from the CCP's Youth League, Central Party School, and the State Council, as well as a high-ranking member of the United Front Work Department—the party's political-influence arm. These participants "conducted an in-depth discussion on how to select China's future leaders," according to an article posted to the Tsinghua University website. The fact that such officials helped guide the Schwarzman Scholars admissions process reflects both the importance China's leaders ascribe to the program and the party's desire to leave nothing to chance.
But the program's relationship with the CCP, while offering non-Chinese participants a rare inside look at the future elite of a one-party state, highlights a growing moral hazard confronting Western universities: As Xi Jinping's China descends deeper into repression, curtailing personal as well as academic freedoms, at what point do the restrictions placed on American, British, and other institutions seeking to establish campuses and joint programs in China—a lucrative market and crucial subject of study—become too much to bear?
Dozens of Sino-foreign institutes and hundreds of joint educational programs exist in China. Among them, the Schwarzman Scholars program is particularly vulnerable to pressure from the CCP. That's because, unlike other U.S.-China education initiatives, it has no American academic institution as a partner. Its primary institutional tie to the United States is the private education foundation of Stephen Schwarzman, a billionaire with extensive business dealings in China. In 2007, a year before his private-equity firm, Blackstone, opened an office in Beijing, Schwarzman's firm announced that China Investment Corporation, China's state-investment vehicle, would acquire a $3 billion stake in the company. (China sold the stake in 2018.) Schwarzman Scholars' institutional home, Tsinghua University, is subject to Chinese laws and owes its continued existence and funding to the Chinese government's largesse. Though the program is staffed with highly respected individuals, it isn't affiliated with any Western-based academic institution that could serve as a moral counterweight, or draw a line in the sand, should the situation in China deteriorate.
The program has particularly close ties to the United Front, which is key to understanding the CCP's influence both at home and abroad. The party exercises tight discipline over its 90 million members, and the United Front is responsible for establishing ideological sway over everyone else, including foreigners and Chinese nationals who live overseas. Under Xi, the United Front has undergone a restructuring that has amplified its power and strengthened its clout both inside and outside of China. One of its bureaus focuses specifically on students and professors, and sent a top representative to participate in Schwarzman Scholars' 2015 admissions seminar. A United Front magazine, Exchange Student, has also featured the Schwarzman program.
The program and the United Front share personnel ties too. The United Front views David Daokui Li, who was the Schwarzman Scholars' founding dean and is now a finance professor at Tsinghua, as an especially reliable ally. Beijing Education, a magazine published by the Beijing Municipal Education Commission, dedicated an entire April 2017 article to praising Li as an "outstanding nonparty representative"—a term used by the United Front for people who are not official members of the CCP but who promote its goals and mission, and who "have the willingness and ability to participate in political affairs." Li's résumé is filled with recent United Front affiliations: He has served as a national representative to the Chinese People's Political Consultative Conference, a party organization of more than 2,000 delegates that is an important domestic arm of the United Front; has attended numerous conferences hosted by the State Council and the United Front, according to the Beijing Education article; and has "received a high degree of recognition from the Central United Front Work Department and the National Committee of the Chinese People's Political Consultative Conference." (Li did not respond to a request for comment.)
Julian Chang, the former Schwarzman Scholars associate dean of student life who joined the program in its inaugural year from the Harvard Kennedy School, also in 2015 became a nonresident senior fellow at the Center for China and Globalization, a Beijing-based think tank that was founded by the Western Returned Scholars Association—itself officially directed by the United Front. CCG's founder, Wang Huiyao, describes himself in an online biography as a "member of the expert advisory group of the United Front Work Department."
Schwarzman himself met with Sun Chunlan, the former national head of the United Front, in April 2018 at Zhongnanhai, the party and government headquarters in Beijing. In July 2018, Schwarzman Scholars co-hosted a conference on Chinese philanthropy with Tsinghua University and the CCG. One of the highlighted speakers was Tan Tianxing, deputy minister of the United Front.
Of course, when operating inside China, engaging with the CCP and its many departments is to some extent inevitable—these are the mechanisms by which institutions are created and sustained. It's also neither surprising nor nefarious that a party ally like Li was offered a founding position at Schwarzman and appears to have been recognized by the party for his overtures. In a China that is more and more authoritarian, major initiatives such as Schwarzman Scholars are only possible with the assistance of those whom the party trusts—and to create a new program, especially a high-profile one dedicated to a higher calling than profit, its founders must secure the support of the party.
But these kinds of compromises were far easier to accept a decade ago, when a kinder, gentler version of the party ruled.
As Beijing has become more heavy-handed in its approach to academia and civil society, universities have begun applying the brakes to partnerships there. In April 2016, the University of Notre Dame canceled plans for a partnership with Zhejiang University amid concerns about academic and religious freedom. In October 2018, Cornell University announced that it was severing ties with Renmin University after the Chinese institution punished Chinese students for labor-related activism. This year, a Cornell faculty member argued for further distancing from China, citing the country's detention of more than 1 million Muslim ethnic minorities in mass internment camps in the northwest region of Xinjiang. And Wesleyan University, a private liberal-arts college in Middletown, Connecticut, said in October that it would no longer pursue a joint campus in China. "It became clear that they were less interested in a liberal-arts approach than we initially thought," a university spokesperson, Lauren Rubenstein, told Wesleyan's student newspaper.
Several former participants in the Schwarzman Scholars program told me that the academic environment did appear, on the whole, to be free—or as free as one could expect, given that Chinese professors and students at times faced constraints on what they could and could not say. And party sway over admissions seems to extend only to Chinese participants. But such a process gives the lie to China's assurances that it enters into such partnerships based on open exchange, and out of a desire to deepen mutual understanding.
The involvement of party officials in the selection of Chinese students is "part of the program design," a Schwarzman Scholars spokesperson told me. "The intention was always for China to identify its future leaders for participation in the program." The spokesperson said the program's U.S. office has "had no engagement" with the United Front, but added that Schwarzman Scholars is "about maintaining dialogue through periods of adversity" and that the program had "appropriate dialogue around academic ethics and freedom."
To be sure, there is great value in observing authoritarianism from the inside. I once spoke with a young American who told me that she had specifically chosen to pursue a master's degree in political science from a university in China to get hands-on experience navigating an obstructed information system. She learned how Chinese academics and researchers operate, what remains possible, and what kind of knowledge is successfully stymied. That is invaluable for understanding how the party governs, and how Chinese society responds to that governance. It benefits outsiders to have an intimate understanding of that reality.
But at what point does engagement become complicity? Take this year's commencement ceremony. The program invited Tang Xiao'ou, the founder of the Chinese artificial-intelligence company SenseTime, to speak. The New York Times reported in April that SenseTime helped develop facial-recognition technology that can pick ethnic minorities out of a crowd, a capability the Chinese government is deploying against Muslim minorities in Xinjiang. During his speech, according to a published account by Schwarzman alum Noah Lachs, Tang called reports of SenseTime's involvement in human-rights violations "fake news." While the Chinese students in the audience laughed at this, wrote Lachs, the Western students reacted with "muted fury."
Upon learning that Schwarzman Scholars had chosen as its commencement speaker one of the architects of Xinjiang's minority-targeting mass surveillance, dozens of program participants had sent a joint letter to the administration, asking them to choose a different speaker. Program staff declined, and after the speech went badly, as Schwarzman participants had feared, they sent another more strongly worded letter to the administration.
"In this instance, we chose as a speaker a recognized global leader in AI, given the relevance and importance of the topic. When a subset of students raised objections, we listened and carefully considered their viewpoints," the Schwarzman Scholars spokesperson told me. "We ultimately decided that since the invitation had already been made and accepted, it was inappropriate and rude to disinvite the speaker."
Four months after the ceremony, the United States placed SenseTime and 27 other Chinese entities deemed complicit in Xinjiang human-rights abuses on the U.S. "entity list," which prohibits American companies from selling products to them without special approval.
As China becomes more and more locked down, as it carries out cultural genocide against ethnic minorities while trumpeting its governance model to the world, it requires what is approaching a stark choice: to operate fully within the party's machinery, or to stay away entirely. At what point does the price of continued ties become too high? This is the existential question that those who wish to engage with China must now ask themselves.