Boris Johnson's Impossible Choice
For decades, British leaders have sought to balance ties with the United States and Europe. Qassem Soleimani's killing illustrates why that is no longer viable.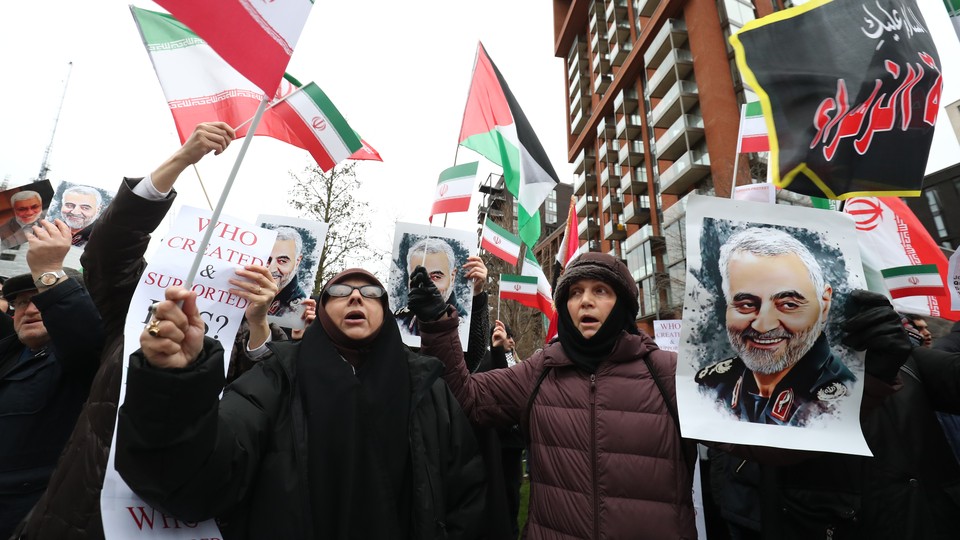 Before a single American or British soldier had officially crossed into Iraq in March 2003, U.S. President George W. Bush authorized an air strike that, if successful, would have killed Saddam Hussein. Two days earlier, Parliament had given its consent for Britain to join the American-led invasion. But the White House did not warn London that the president had ordered the attack. According to two senior U.K. officials who were working in 10 Downing Street at the time, British Prime Minister Tony Blair learned about it as it happened—not before. Washington believed that it had its most powerful enemy in its sight and needed to act.
The parallels to today are clear: When Donald Trump ordered the killing by drone strike of Qassem Soleimani, the new dominant force in Iraq, Britain again was not prewarned, despite the direct repercussions for British troops and assets dotted throughout the region. Foreign Secretary Dominic Raab confirmed in an interview with the BBC that the U.K. "became aware of it as it happened."
In the case of Saddam, the practical consequences of Bush's unilateral order were largely symbolic: Blair had already committed to the invasion, and was informed as the attack happened. Yet symbols matter. Here was a prime minister at the height of his powers at home, faced with the reality of who called the shots in the world at large.
Trump's decision not to consult Boris Johnson before issuing last week's order to kill Iran's most powerful military officer, then, reflects little more than the stark geopolitical reality that has existed for decades: America is a superpower; Britain is not. The practical realities of 21st-century war dictate that allies—even "special" ones—cannot be forewarned about unfolding events such as the killing of Osama bin Laden, Abu Bakr al-Baghdadi, or Soleimani. Trump, in this narrow sense at least, is no different from Bush, who himself followed a long line of U.S. presidents prepared to act unilaterally. Nor does the decision to act without warning signify anything about the state of the diplomatic relationship.
The issue is not practical, however. It is political. Ultimately, with Trump in the White House, do Britain and the U.S. share the same goals and values any longer (let alone a strategy on how to achieve them)? Comparing the two events—Iraq 2003 and Iraq 2020—exposes the fact that, while the age-old strategic dilemma at the heart of British foreign policy remains unchanged, the challenge of how to balance Britain's relationships with the United States and with Europe is becoming more difficult under the Trump administration and the practical realities of Brexit. How can the U.K. be sure to maintain its alliance with the U.S. and Europe while having little control over which policies are being pursued by either and while the two appear to be pulling it in opposite directions?
The same dilemma has endured for decades, but it now sits in much clearer focus, the edges—previously softened by Washington's unquestioned leadership of the West and Britain's settled membership in the EU—now much more sharply cut.
These choices are not purely philosophical, or even hypothetical, but practical and immediate. The consequences of Trump's order last week are far more uncertain than in 2003, when the course had already been set. Today, Britain and other historic American allies such as France and Germany are being forced to react to decisions with geopolitical consequences without any clear indication of what they mean or what they are intended to achieve.
One immediate question troubling British diplomats and officials is what happens if, for instance, Britain's military reliance on the U.S. and its economic reliance on European trade come into conflict as Trump ratchets up his trade war with Brussels. What if sticking close to Europe economically undermines Britain's security relationship with the United States militarily? A purely transactional relationship with the U.S., rather than a relationship based on core, shared values, leaves Britain particularly vulnerable, former British diplomats told me.
In 2003, the choice that confronted Blair was not one he wanted to make either, having sought to place Britain at the heart of the EU and the U.S.-led security order as part of a newly confident, interventionist Britain prepared to act on the world stage. The reality of events shattered that dream. The choices of others meant he could not avoid the choice between the U.S. and Europe. The decision Blair made then, allying himself tightly with Bush, defined his premiership but, because of Britain's EU membership, never threatened trade. (Harold Wilson, another former Labour prime minister, made a different choice in the 1960s, when he refused to join the U.S. in Vietnam even though Britain, then not yet a member of the precursor to the EU, was economically dependent on American loans.)
Today, Johnson is facing the same choice. Only this time, the U.S. president is flirting with a trade war with Europe at the same time as an actual war in the Middle East, and Britain's economy is no longer indebted to America but highly integrated with Europe. This reality means Johnson may soon be forced to reset Britain's economic and security strategy simultaneously, pulling the country out of the EU and renegotiating its trading relationship with the Continent, while also reacting to Washington's bellicose unilateralism.
Inside 10 Downing Street, there is a bullishness about resolving the strategic dilemma and a belief that the country has been beset by years of drift that cannot, through force of circumstance, continue. One current official and one former official who spoke with me said Brexit was not as much of a problem as often assumed—that on foreign policy and defense, the EU had shown almost no real capacity to act independently, with little capability and even less will, leaving the "E3" of Britain, France, and Germany as the only serious vehicle to coordinate "European" policy.
Under Theresa May, Britain sought to balance the relationship by acting in unison with France and Germany while trying to form a bridge between the U.S. and Europe, particularly on Iran. Johnson has begun pivoting to the United States, albeit slowly. In July 2019, Britain spurned an American proposal for a U.S.-led maritime force to protect commercial shipping from Iranian piracy following the capture of a British-flagged ship by the Islamic Revolutionary Guard Corps. By August, after Johnson replaced May, Britain signed up to the U.S.-led force, while European allies declined the invitation. Internally, British officials said the move was simply a recognition of the military reality—that whatever European capitals might wish, there is simply no alternative to American power in defense and security. Even during the presidency of Barack Obama, Britain and France were unable to carry out military action against the Libyan regime of Colonel Muammar Qaddafi without American support. "On economic questions, we're likely to stay quite close to Europe," one former British Foreign Office official told me. "But if it's a military decision, there's no choice."
The risk is that the two issues become linked. Following last week's killing of Soleimani, the U.K. has once again sought to maintain a united front with France and Germany, issuing a joint statement setting out concerns about Iran's behavior in the region and calling for "de-escalation," but failing to criticize the American attack. Johnson, notably, went further in his own statement, saying Britain would "not lament" Soleimani's death.
One senior British official who asked for anonymity to discuss internal government deliberations said the balancing act suggested that Britain's foreign policy had sharpened under Johnson's leadership, principally by accepting the reality of American hegemony and its vital interest to London. The shift, this official argued, is part of a wider Johnsonian strategy that will see Britain being more assertive in the world, clear-sighted where its interests lie in relations with France, Germany, and the U.S., while prioritizing "hard" power over "soft" influence.
Lina Khatib, the head of the Middle East and North Africa program at the London think tank Chatham House, told me that Britain was indeed "edging closer to the U.S. on the Iran issue" but suggested that it would not overturn its policies overnight. Britain, she said, though committed to the Iranian nuclear deal publicly, was also coming to terms with the fact that the deal was now dying. "The U.K. cannot afford not to side with the U.S., but it will not want to do this at the expense of damaging Britain's relations with Europe."
Herein lies Britain's eternal dilemma. It is powerless to avoid difficult choices, should they be forced upon it in the coming months and years by Brexit and Trump's decisions. If history is anything to go by, Johnson, like all British prime ministers, will seek to avoid picking sides for as long as possible. But Trump might not let him.