An Italian Flash Mob Just Pushed Back Europe's Populist Tide
A regional election offers lessons on combatting the rise of the far right, both across the Continent and in the United States.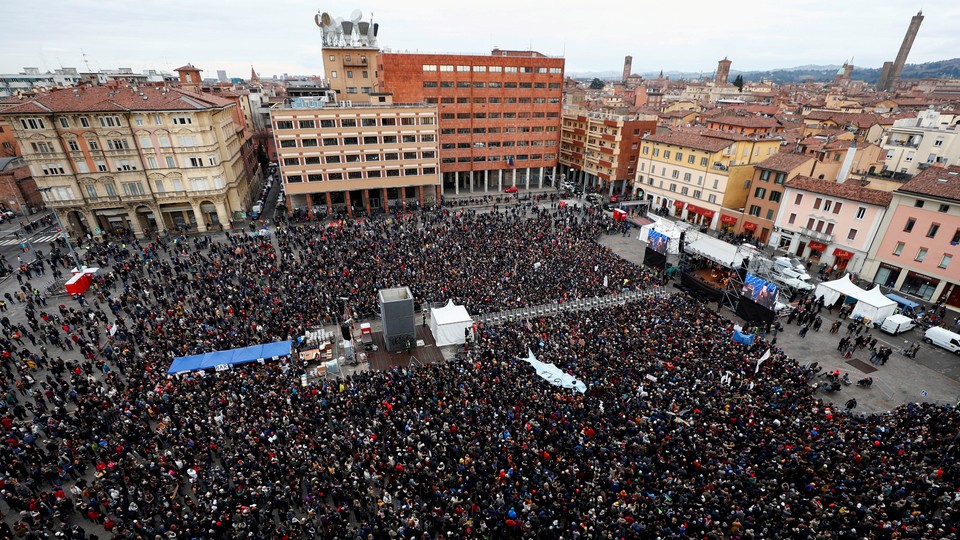 Updated at 4:55 a.m. ET on January 28, 2020.
BOLOGNA, Italy—About a week ago, 30,000 people showed up to a piazza in this elegant city, known for its porticoes and tortellini, for a free concert. The event had been organized by the Sardines, a nascent civic-minded uprising that has been holding peaceful demonstrations to contest the nativist rhetoric of Matteo Salvini, Italy's opposition leader and the head of its right-wing League party, a man who dominates airwaves and social-media channels with his sovereignist, anti-immigrant message. The atmosphere at the concert was convivial. Many waved cardboard cutouts of fish and sang along to renditions of "Bella Ciao," the old anti-fascist anthem.
Just the day before, in nearby Maranello, the home of the Ferrari race-car factory, Salvini himself had campaigned in front of the town's fascist-era city hall, wearing a red Ferrari baseball cap. The League, Salvini told the crowd, is the party of moms and dads and workers, while the left wears "cashmere socks" and "sings 'Bella Ciao' with Rolexes on their wrists." He said he would defend Italy's borders with his life and "liberate" this part of the country—one of the best-run and wealthiest regions in Italy—from 70 years of left-wing rule.
Officially, the Sardines were facing off with Salvini in a regional election here in Emilia-Romagna. Yet yesterday's vote was always far more than that. It was a test of whether the left could push back the nativist tide by defeating Western Europe's most sophisticated and politically canny far-right politician; whether the Sardines could help change Italian political discourse, tuning down Salvini's militancy to make way for a more civil conversation; whether Salvini's digital savvy could be countered. The result held significant ramifications for the future of the Italian government and the balance of power in Europe. "It's not a regional election," Salvini said from the stage in Maranello. "It's a life choice."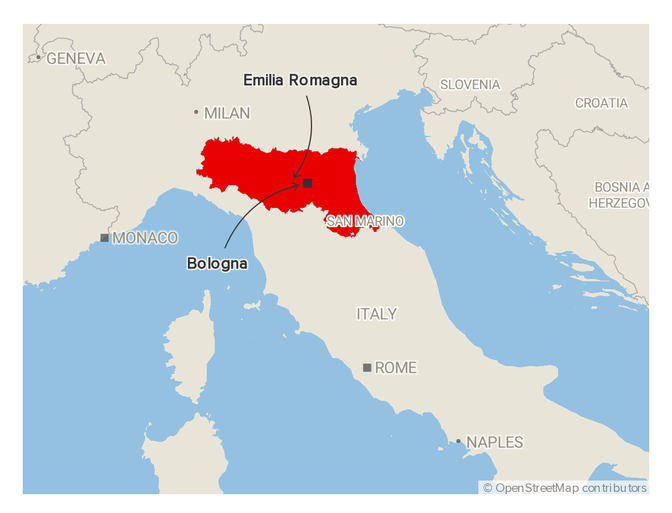 Salvini lost that gamble. The incumbent from the center-left Democratic Party, Stefano Bonaccini, held on to the regional presidency by about eight points in voting yesterday. Salvini, who thrives in a climate of permanent campaign, had turned the race into a national contest and a culture war, and this time around he failed. It would be easy to interpret these results as a status-quo decision: A historically dominant party maintained its position. But Italy's left has been in long-term decline. More important, Salvini appeared to be on an unchallenged upward trajectory, with no one in Italy able to stop him. Instead, the Sardines showed an ability to mobilize citizens in support of a more civil form of politics, one based on issues and supportive of the institutions of government, not social-media antics.
The electorate, it turned out once again, is not the same as the Twitter feed. "We're the famous antibodies who show up to present a different reality," Mattia Santori, one of four co-founders of the Sardines, said at a news conference here this month. Salvini may be a pro on social media, Santori said, but the Sardines are strong in the piazzas. Santori told me that the Emilia-Romagna election was a contest between "a physical presence and a digital presence." It was "a war between physical reality and digital reality."
Until the Sardines arrived on the scene in mid-November—when they crashed a Salvini rally here in Bologna, squeezing into the piazza like sardines inside a tin, hence the name, silently waving cutouts of fish—Salvini's rise in the polls had seemed unstoppable, thanks to his brilliant use of social media to amplify his nativist message. While President Donald Trump fires off overnight tweets attacking his opponents and making policy announcements, Salvini uses his social feeds to connect with voters—wishing them good night and good morning, posting pictures of food and cats and another of his favorite things: immigrants behaving badly. He had made the Emilia-Romagna election more about national issues—immigrants and mosques, borders and communities, us versus them—than about practical solutions to local issues.
In defeating him, Italy's left—rescued in large part by the Sardines—may have found a winning playbook. Democratic Party officials, from Bonaccini to Nicola Zingaretti, the party's secretary, claimed victory while thanking the Sardines for awakening a sense of civic engagement after years in which the left had effectively ceded grassroots engagement to the League.* "We had forgotten to show up in the piazzas, to spend time among the people," Bonaccini said.
That playbook could offer lessons for future contests far beyond Italy. "Politics flows both ways. There's no Trump without Brexit," Arun Chaudhary, who was President Barack Obama's White House videographer and then the digital creative director of Bernie Sanders's 2016 presidential campaign, told me when we met in Bologna this month. "Emilia-Romagna, Israel, the Iowa caucuses in between—these elections are all interrelated."
With the opening rounds of the 2020 U.S. presidential election due soon and a raft of other elections coming up elsewhere in the world, Emilia-Romagna, Chaudhary said, functions as a "laboratory." Chaudhary is now the creative director of Social Changes, a consulting firm that was hired by Bonaccini and five other progressive candidates in Emilia-Romagna to help refine their messages and produce campaign videos distributed on social media ahead of the regional elections. The group's temporary office in Bologna housed a dozen Italians hunched over laptops, making videos. The walls carried key quotes from Bonaccini on issues including health care, the environment, and the emigration of young Italians moving in search of better jobs. "It's a regional election, so it's manageable and things can be tested at different scales," Chaudhary told me, "but it's also one of the final barricades from Salvini simply rolling over this country and becoming prime minister with a fantastic majority."
The League, which Salvini has transformed from a northern separatist party that looked down on the Italian South to a national sovereignist one under the slogan "Italians first," now governs in about half of Italy's 21 regions and holds the presidency of the wealthy northern Lombardy and Veneto regions. Yesterday, his party also helped secure a win for the right in the southern Calabria region. But the center-left's win in Emilia-Romagna, Chaudhary told me today, shows that "upping the digital game breeds real results," and that "there is a coalition that can boost the center-left if they take bold, progressive stances."
"You can't take the base for granted," he said.
Since 2016, the year Britain voted for Brexit and the United States elected Trump, Salvini and the League have been riding the nativist wave, with a message that they'll secure Italy's borders and look out for people who feel left behind by globalization. (The party has offered mixed messages about whether it wants Italy to stay in the euro zone.) Salvini has expressed admiration for Hungary's Viktor Orbán and fascination with Vladimir Putin—his League party is under investigation in Italy for allegations of collusion with Russia. If the League ever came to power, Italy could potentially move closer to the Visegrad countries in Central and Eastern Europe than to Brussels or Washington, shifting the balance of power on the Continent.
Italy has always been a harbinger of political developments in Europe, and Europe has often exported those developments internationally. The country produced Benito Mussolini as well as Silvio Berlusconi, who created a viewership that became an electorate. It gave rise to the anti-establishment Five Star Movement, which started as an online community a little more than a decade ago and is now in government, although it is slowly imploding. More recently, Italy produced the online nativism of Salvini, whose relentless campaigning and natural-born hunger to please have made him one of the best politicians in the world today. Salvini's ubiquity on platforms such as Facebook, Twitter, Instagram, and now TikTok, where in a recent video he drank a raw egg, represents an experiment into a new form of right-wing populism, one that combines goofiness with toughness.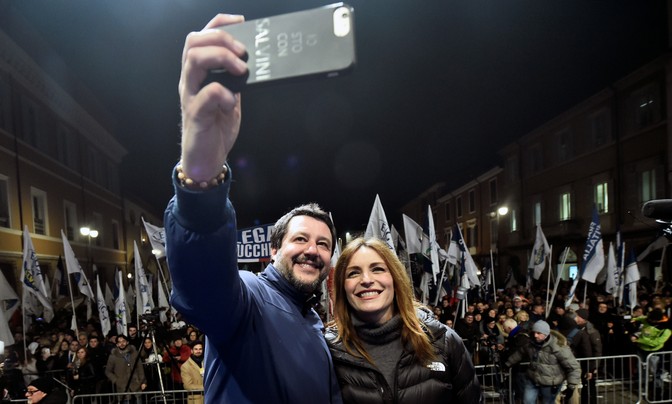 Today, Italy is at the forefront of post-party politics—and even post-politics politics. And that's where the Sardines fit in. As the Emilia-Romagna contest shows, the Sardines represent the clearest example yet seen in Europe of pushback against a nativist wave that seemed unstoppable—swimming against a populist current. Their model might be replicated elsewhere. But as what? The co-founders of the Sardines say they have no desire to become a political party, instead remaining a form of free-floating (and generally left-leaning) political energy. "We don't want to be a party. We want to bring people close to political parties," Santori said before the vote.
In mid-March, they plan to hold a meeting in Scampia, a rough suburb of Naples known as a stronghold of the Camorra, or Neapolitan Mafia, to chart their future. "Some people say it's acts of madness that change the course of history, but we think it's actually ordinary gestures that change the world we live in," they wrote on Twitter after the vote. "We weren't born for the stage. We took to it because it was the right thing to do."
Since November, Santori has become a kind of anti-Salvini—a popular figure on Italian television and social media, with his wide smile, five-day beard, rosy cheeks, sneakers and jeans, and mop of loose brown curls in a semipermanent state of bedhead. Calm and upbeat, he speaks in defense of institutions and politicians, and the hard work of governing. "We always think we're sentenced to years and decades of populism and we can do nothing," Santori told me ahead of the elections. That's not true, he said. "We have thousands more people than they do," he continued. "We're showing there is an alternative to this."
Above all, Santori said, the Sardines want to push the conversation away from social-media posturing and back to issues. He pointed out that ahead of the elections, Salvini shifted from focusing on fear of out-of-control illegal immigration to focusing on one-off attention-grabbing incidents to highlight his man-of-the-people persona. "There's nothing political about hugging a cow or signing an autograph on a Parmigiano. There's nothing about the future. There's nothing about the environment," Santori said. "There's nothing about politics."
Then, in Bologna last week, trailed by television cameras, Salvini spoke through an intercom to the apartment of a man whose neighbors said he was Tunisian and a drug dealer. "I want to rehabilitate the name of your family, since someone tells me you and your son deal drugs," Salvini told the man. The incident was posted on YouTube. Italy is a conservative country, but it's not an extreme one, and the Sardines' message of civility might have resonated.
The question today is what will become of the spirit represented by the Sardines, and what it means for the Democratic Party, which would likely not have won in Emilia-Romagna without their help. Similar to its center-left counterparts in the United States, France, and Germany, the Democratic Party has been fractured and often complacent, divided against itself, not terribly nimble on social media, and unclear of its fundamental message, especially on immigration. Bonaccini, who looks like a hipster, with his '70s-style aviator glasses, closely cropped hair, and bushy gray beard, was popular in the region but suffered from his party's flagging identity crisis at the national level. Faced with the existential threat posed by the League and its savvy messaging, the Democratic Party has struggled to articulate a strong counter-narrative. "The left has to tell an authentic story. The left has to stop explaining," Chaudhary told me ahead of the elections. "As we say in American politics, 'When you're explaining, you're losing.'"
In many ways, the Sardines are reminiscent of the Five Star Movement, the populist protest vote founded in 2009 at a rally (also in Bologna). But whereas the Five Star Movement was angry at the establishment until it came to power and became the establishment, the Sardines are different. Their events are peaceful, not rowdy; they say they want to shore up Italian institutions, not destroy them.
Like the 2016 U.S. election, the Emilia-Romagna race was about change. Voters of all stripes here told me that they were generally satisfied with how things were going in their region, but still wanted improvements locally and nationally. In the piazza at the Sardines concert, people told me of their desire for "a better kind of politics, a politics with less shouting," as Gabriele Federici, a retiree, put it. Giusi Paladino, a high-school philosophy teacher from Verona who was wearing a sequined fish on her head, told me that the Sardines had inspired her to action. "They gave us the courage to come outside, to say, 'Okay, we'll get off the couch and do something,'" she said. "Even the fact of our being here together and coming together is something important. We count; we're all for something and all against something precise." That something is Salvini.
At the League rally, many told me that they, too, believed things worked well in Emilia-Romagna, but that they could be better. Taxes are too high; health care has become less certain. But mostly they were unsettled by immigration, with a strong undercurrent of hostility toward people of color. "We need security, because letting all these people in who commit crimes, you're not even free to walk out of the house," Rosita Randi, 64, who sells clothes at street markets, told me. "You find the little black guy outside the supermarket who asks you for change; they ask you in the parking lot. These are things that normal people don't like." Randi was enamored with Salvini, and told me that she found him very handsome. "I love him, love him. Love. Him. Because he's a pure person, a humble person, a person who wants to be in contact with people. He's not arrogant."
The race was not simply about competing visions of Italy's future, but also of its past. What struck me most watching Salvini and the League campaign here was how they, like many right-wing populists, appropriated the rhetoric of the left. He and his party's candidate, Lucia Borgonzoni, said they were campaigning to "liberate" the region; the atmosphere at the League rally was one of defiance and pride.
Questions of historical memory were very much in the background during the Emilia-Romagna election. The region, which stretches from the seacoast of Rimini inland to the Apennines, has a long political history and is a part of the country where the memory of the Second World War is still very much alive. The birthplace of Mussolini, it was a cradle of fascism. During the Second World War, Communist resistance fighters fought the Nazis in the hills here; the facade of Bologna's city hall carries an entire wall of plaques with pictures of partisans who died fighting to liberate Italy from the Nazis. The Italian Communist Party dominated in the postwar period, intertwined with a prosperous Catholic middle class. Some of the retirees I spoke with at the Sardines rally told me that they were a generation fortunate enough not to have known war.
Today marks the 75th anniversary of the liberation of Auschwitz. In recent months, Italy has been convulsed by national debates about anti-Semitism. In November, Liliana Segre, an 89-year-old senator for life who escaped Auschwitz at 13 and who has become the face of historical memory in the country, was given a police escort after being targeted by thousands of anti-Semitic threats online. She proposed a committee to fight hate speech. Salvini's League and other right-wing parties abstained from the vote, saying it would restrict free speech.
This month, Salvini held a conference in the Senate in Rome about anti-Semitism and invited Segre, but she declined to attend. She said she appreciated the initiative but believed that "one should never distinguish between the fight against anti-Semitism and racism more generally." In recent weeks, Salvini has spoken out against anti-Semitism—he cited Primo Levi at the rally in Maranello—and expressed solidarity with Israel and its right-wing government, saying that today most anti-Semitism comes from Muslims. Italian media have reported on these statements, but they have been conspicuously absent from the social-media feeds that are Salvini's lifeblood.
The Emilia-Romagna race was a test of many things—whether a popular movement can help reinvent the center-left, whether mass mobilizations of civic-minded citizens can shift the prevailing winds. But it also reveals how the great battles of the 20th century still cast a shadow. During the campaign, Salvini accused the left of being stuck in the past. He's partly correct. Across Europe and the United States, the center-left has struggled to reinvent itself now that prior economic models, when labor unions and the middle class were its base, have been upended by globalization, the gig economy, and a growing lack of job protections. But for all its talk of the future, Salvini's League may also be stuck in the past, just a different one. He consistently flirts with fascist rhetoric and imagery. He has delivered a speech from the same balcony as Mussolini. But he often does this with a wink, forever raising the question of whether he's a fascist or a "fascist."
The League may still be leading in national polls in Italy, but the result in Emilia-Romagna makes clear that there's another vision of Italy that coexists with Salvini's—if only the left or center-left were able to capture that political energy. The parallels with the United States are obvious.
"We have antennas in all the Italian social realities," Santori, the Sardines co-founder, said before the vote. "It's easier to fight the forces of sovereignism when we're united. The right is united. On the left, we've never understood who's the real alternative."
---
* This story originally misstated the name of the Democratic Party's secretary. He is Nicola Zingaretti, not Luigi Zingaretti. In addition, the story and an earlier version of this correction misidentified Zingaretti as president, rather than secretary, of the party.