Hong Kong's Perfect Crisis
The city's prodemocracy protests and the threat of coronavirus build on common complaints.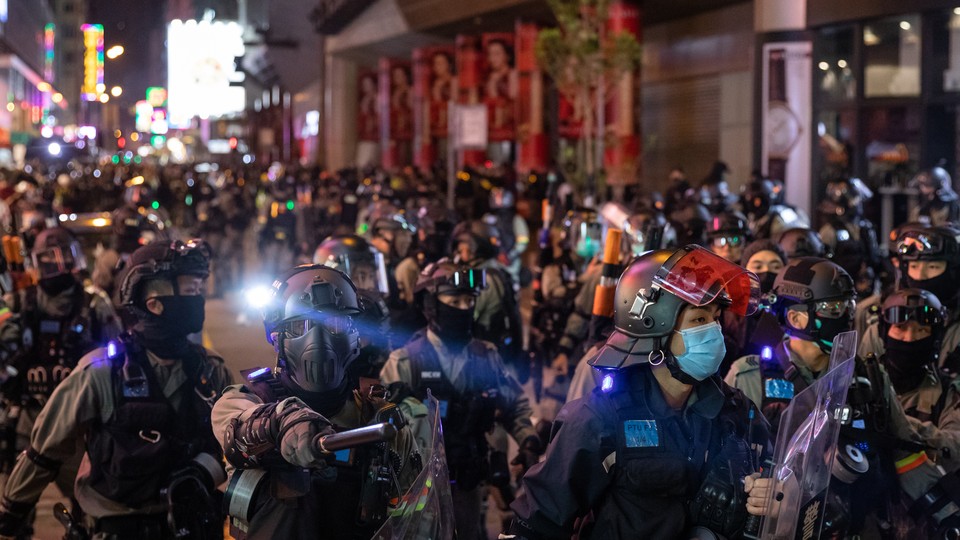 HONG KONG—The protesters gathered in a suburb here over the weekend looked much like the hundreds of thousands who have flooded this city's streets for months. Their faces were covered with masks; they spoke of anger at the government while some piled bricks, bicycles, and road signs into jumbled barricades meant to slow advancing police. At night, a few black-clad men tossed Molotov cocktails into a building lobby, sending flames racing up the walls and thick black smoke billowing out of the doorways.
This building was not a branch of a Chinese bank or a pro-Beijing business, which have over the past months become frequent targets of vandalism by anti-government demonstrators. Nor were those fortifying their neighborhood calling for the now-well-known five demands of the prodemocracy movement to be met. Their political allegiances unclear, these protesters were instead pushing back against a plan floated by the government to turn an empty housing estate into a possible quarantine site for those exposed to a new coronavirus.
Still, while the sets of demonstrations—one running for months to demand comprehensive universal suffrage; the other, more recent expressing anger over the official response to the outbreak—are clearly different, their overlaps are significant, with both building on common complaints.
On the one hand, the crisis over the coronavirus, which originated some 550 miles north, in the Chinese city of Wuhan, appears almost perfectly scripted to further agitate and compound the grievances, from allegations of an inept government to meddling from Beijing, that have exploded in Hong Kong over the past eight months. On the other, methods of civil disobedience have sharpened over that period and the public's acceptance of more radical protest tactics has grown. Organized labor, digital messaging channels with tens of thousands of users, and creatively designed posters—tools and tactics honed during the prodemocracy protests—are now being repurposed to push the government toward stronger action on public health. This latest instability also looks likely to foment broader anti-mainland sentiment, which has flared at times during the prodemocracy demonstrations, and perhaps even to unite the city's polarized camps of anti-government protesters and supporters of the police and establishment against a common enemy: Hong Kong's leader, Carrie Lam, and her administration.
The government, whose (unsuccessful) attempts to push through a bill that would have allowed extraditions to the mainland sparked the initial unrest, is widely unpopular and the source of continued anger. Polling from the Hong Kong Public Opinion Research Institute shows that just over 63 percent of survey respondents say they distrust the government. Lam has dismal public support and few remaining political allies, with even pro-establishment figures now routinely bashing her leadership. Though only eight cases of the coronavirus have been confirmed in Hong Kong, public-health experts say that number is almost certain to rise, and there is little faith that the administration can effectively respond to the problem as it develops. Furthering the misgivings is a deep mistrust of Beijing's handling of the outbreak. Speculation is rife over how political considerations between Lam and Beijing may have swayed Hong Kong's response, which until recently had been limited and criticized by medical experts in the city.
The lack of trust in Beijing when it comes to honestly and transparently reporting on an internal crisis is not unfounded and is a particularly sensitive issue here. In 2003, SARS spread through Hong Kong's densely stacked apartments and hospitals. More than 1,700 people were infected and nearly 300 died. People avoided dining out and attending group gatherings. Tourists stayed away from the city, causing an economic downturn and a spike in unemployment. The economy eventually rebounded, but the collective trauma from SARS lingers. "Every day, we saw news about how many people were infected, how many suspected cases, and how many people died. It was a very sad feeling … It was tragic," Alex Lam Chi-yau, the head of a SARS survivors' support group, told me. Few have forgotten, or forgiven, the initial attempts by Chinese officials to cover up the severity of the outbreak. These fears have been reinvigorated this week, following an admission by Wuhan's mayor that he was prevented from disclosing more information about the virus by higher-ranking officials and a growing body of reporting detailing a response hampered by Chinese politics and bureaucracy.
Lam, who served as Hong Kong's welfare secretary during the SARS outbreak, at that time showed flashes of empathy and skilled political maneuvering in her handling of the response. Those two traits have, however, been missing from her in recent months. While the government began providing information on the outbreak to the public on January 2 and took some precautionary measures, Lam herself was not in Hong Kong as the situation worsened. Rather, she flew to Davos, Switzerland, to attend the World Economic Forum, part of a charm offensive to rehabilitate the city's image, as well as her own. Lam said the trip was to show the world that Hong Kong "is very much 'ON' and will remain a globally significant city." But as she dined with global elites and posed for photos with world leaders, anxiety and worry over the spread of the disease were growing at home. Medical experts at the University of Hong Kong, many of whom were involved with countering the SARS epidemic, raised alarm over the rapid spread of the virus and urged more precautions to be taken.
Lam seemed decidedly less worried, even as other governments, including that in nearby Macau, announced more stringent protective measures. Addressing concerns in an interview with Chinese state television last week, Lam—still in Davos, apparently unwilling to cut her trip short—said her administration had made responding to the medical situation a "top, top priority." Finally, on Sunday evening, after returning from the Alps, Lam opened her press conference on a defensive note, rattling off the number of briefings and statements issued by the government. She then announced that she was raising the city's response level to "emergency," the highest in Hong Kong's three-tiered system.
Schools, already out of session for the Lunar New Year, would be closed until February 17, and flights and high-speed trains from Wuhan to Hong Kong would be suspended indefinitely, Lam said. Amusement parks, including Disneyland, were shuttered. The Hong Kong Marathon was scrapped. An awkward moment unfolded when Lam was asked about the government's attempts to overturn an earlier court decision that had ruled her ban on wearing masks unconstitutional, given that health professionals were now urging people to wear them in public.
Ho-Fung Hung, an international-relations professor at Johns Hopkins University, told me that with swift and decisive measures, the government could yet win back public support, but that early on its response looked to be "slow and behind the curve." Officials seemed to be "dominated by political consideration, such that they [did] not do anything until the Chinese government officially admitted the scale of the problem," he said. "Discussion about the virus already circulated in the media for a few weeks in Hong Kong, and the government has been aloof and denying there is any problem."
By yesterday, public pressure appeared to be having the desired effect. A new union, the Hospital Authority Employees Alliance, one of dozens that have popped up as a result of the demonstrations, blasted the government as incompetent and uncaring. If officials did not impose stricter border controls, representatives said at an afternoon press conference, they would escalate their actions and would not rule out a strike. The group said it refused to be "silenced and watch the innocent Hong Kong citizens becoming infected." The Civil Human Rights Front, the group that organized the largest protests of the past year, circulated a petition with prodemocracy lawmakers urging officials to close the border with mainland China, saying the government had "absolutely failed" to implement sufficient safeguards. Medical faculty at the City University of Hong Kong called for immigration restrictions and so did the city's largest pro-Beijing party, which met with Lam yesterday.
At her own press conference yesterday afternoon, Lam, her eyes peeking over a light-green surgical mask, announced measures to drastically reduce cross-border travel with the mainland. She stopped short of fully closing the border, but high-speed-rail and ferry services connecting Hong Kong to the rest of China would be suspended and the number of flights to mainland China would be halved, with personal travel permits to the city for mainland residents no longer being issued. Lam also reversed course on a plan to waive fees for nonlocals with coronavirus being treated at public hospitals  (the measure had led to criticism that Lam was allowing mainlanders to freeload off of Hong Kong) and said the government would scrap the plan for a quarantine center in Fanling, where the firebombing of the building had taken place. Lam admitted that "the situation is evolving and changing very rapidly," but insisted that decisions were being made based solely on health grounds and not as a result of any political pressure. "If you asked me a week ago," she said, "I perhaps would not have that determination to put in place some of the measures that we have put in place yesterday and today."
Still, whether or not the measures are sufficient from a health perspective, Lam may well draw the same response politically as when she attempted to climb down from the extradition bill: too little, too late.