How Will Brits Remember Brexit Day?
Britain's exit from the European Union is being treated by some as an "independence day." Could it actually become one?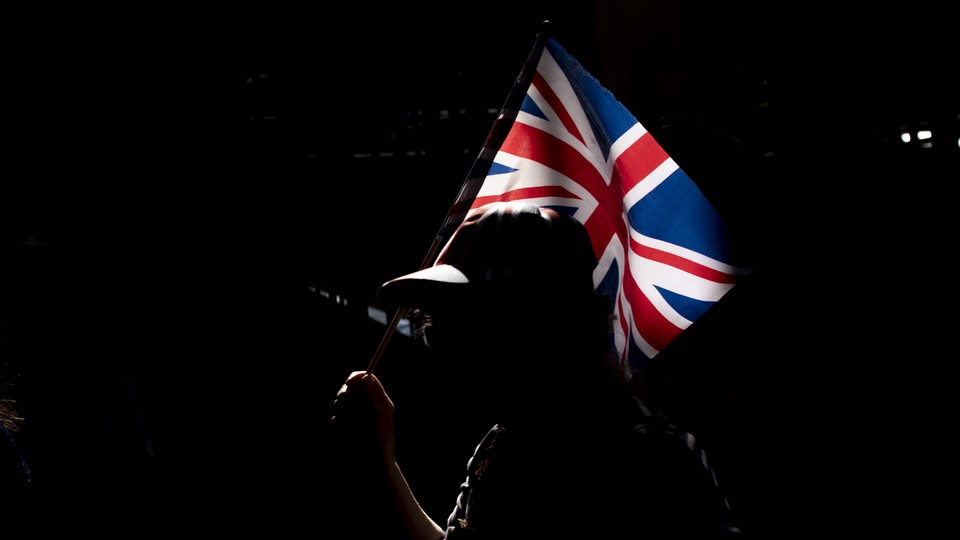 Britain's final days of European Union membership have mirrored much of the divisiveness and rancor that dominated the Brexit saga. Throughout that ordeal, Britons sparred over what to do, how to do it, and whether it was the right course of action at all. This time, the argument isn't about Brexit, but about how the country's first few moments outside the bloc, which begin tonight at 11 p.m. local time, should play out.
While Brexiteers have lobbied (unsuccessfully) for Big Ben to "bong for Brexit," those opposed to Britain's departure have called for protests and vigils to mark the occasion. Now that the day has arrived, though, these arguments have largely subsided. For those who would have preferred that Britain remain in the EU, today is a day of national mourning that marks the official defeat of their years-long struggle. For fervent supporters of Brexit, it's a day of celebration—the culmination of years of waiting for Britain's "independence day."
But it's not entirely clear if January 31 will be remembered as such a year from now, a decade from now, or even at all. Besides the British government's decision to immortalize Britain's departure with a commemorative 50-pence coin and a Downing Street light display, little effort has been made to formalize Brexit Day as anything resembling a national holiday. After all, how can a country create a new nationalist tradition around an event that has divided the nation?
How are nationalist traditions created at all?
Britain doesn't have many public holidays. Only eight, including New Year's Day and Christmas, are reserved as permanent public holidays (compared with other countries such as the United States and France, which have 10 and 14, respectively). Though St. Patrick's Day is marked in Northern Ireland and Saint Andrew's Day is held in Scotland, there are few U.K.-wide nationalist moments. Part of this is likely due to Britain not having a founding or independence day to commemorate (it being the country that most others were seeking independence from). But it also stems from British culture, which tends to steer clear of excessive and jubilant displays of national pride (outside of sports) like the Fourth of July in the U.S. or Bastille Day in France. This coyness around patriotic celebration is "an intrinsic part of being British," former Prime Minister David Cameron observed more than a decade ago. "We are understated. We don't do flags on the front lawn."
A lot has changed since then, and Brexit has prompted Britons to fly more, not fewer, flags—be they British or European. But a surge in nationalist sentiment is insufficient on its own to create a new national holiday or tradition. In Britain, national public holidays are determined by legislation, though the public can put in requests for additional public holidays to commemorate cultural, historic, military, or religious occasions. The prospect of creating a new public holiday to mark Brexit has been floated in the past, but no formal plans have been announced. The Department for Business, Energy, and Industrial Strategy, which oversees the allocation of public holidays, could not confirm if any such requests had been made.
Of course, not all national holidays are born out of government declarations. Some of the most notable ones emerged slowly, after years of tradition and unofficial observance. Take Guy Fawkes Night, Britain's annual commemoration of the failed 17th-century plot to blow up the Houses of Parliament with the country's entire political establishment inside. Though not a formal holiday in Britain, it has nonetheless been observed every November 5 with fireworks and bonfires across the country. In the U.S., Columbus Day, which honors Christopher Columbus's landfall in the New World, was observed by Italian Americans as a celebration of diversity long before it was formally adopted by the U.S. government as a federal holiday in 1934—more than four centuries after its namesake's discovery took place.
Most nationalist holidays tend to be centered on events of national importance, with many simulating traditions and customs from the past. India's annual Independence Day rituals, for example, follow the example of the first celebration that took place, on August 15, 1947. Then, Prime Minister Jawaharlal Nehru marked the occasion by delivering a public address and unfurling the national flag at the historic Red Fort, in New Delhi—a practice that has been observed by successive prime ministers ever since.
Some holidays are as much about commemorating historical events as they are about establishing new traditions. It was the end of the Civil War that prompted President Abraham Lincoln to declare the last Thursday of November a national day of unity and thanks, or Thanksgiving, not the infamous feast between pilgrims and the Wampanoag tribe on which the modern holiday is ostensibly based.
If ever Britain needed its own day of national unity, it's now. The past few years have proved incredibly divisive—not only threatening to tear apart relationships and families, but testing the very foundations of the country's political system. January 31 is unlikely to be that day, though. "National days presuppose a lack of opposition, if not enthusiasm, from the majority," David Edgerton, a British historian and the author of The Rise and Fall of the British Nation: A Twentieth-Century History, told me. Creating a national day around an event that has so divided the country would do little to bring it together. If anything, Edgerton said, "doing something big would be counterproductive, because what it's most likely to generate is a [counterprotest] that will actually be larger than any celebration [the government] might want to put on."
With or without a formal holiday, there will still be celebrations—including the selling of "Got Brexit Done" merchandise by the governing Conservative Party, as well as a party outside Parliament hosted by a pro-Brexit campaign group. But there will also be some notable absences. Conservative lawmaker Steve Baker, who was among the most ardent supporters of Brexit in his party, announced this week that he will be skipping the festivities. "Bearing in mind our need to unite this country when many people feel great sorrow about leaving the EU, I'm encouraging magnanimity from Brexit supporters," he wrote on Twitter. "It's time for big hearts."
Perhaps for this reason, Prime Minister Boris Johnson has chosen to strike a more muted, conciliatory tone to mark the occasion. "No matter how you voted in 2016, it is the time to look ahead with confidence to the global, trail-blazing country we will become over the next decade and heal past divisions," Johnson said ahead of Brexit Day. "That is what I will be doing on 31 January and I urge everyone across the U.K. to do the same."
And starting tomorrow, the government will reportedly aim to put Brexit behind it—if not in practice, then at least in official wording. But as my colleagues Tom McTague and Helen Lewis have noted, there is no getting Brexit done, at least not in the foreseeable future. With years of negotiations over Britain's relationship with the EU and over trade with other countries still to come, Brexit will at least be remembered in the short term—official holiday or not.